Do you have a 'request a call-back' form on your website? Most businesses do, especially those with a high call rate such as realtors, attorneys and brokers.
But in today's fast-paced digital era, filling in a form and waiting for a call seems a little outdated.
That's where our Live Receptionist service comes in.
Alliance's Live Receptionist service includes a meeting booking service which – you guessed it – enables clients (or prospective clients, as the case may be) to schedule a return call. Your client selects the date and time they would like to be called back, and the appointment is added to your calendar.
---
Read more: Answering Services for Small Businesses
---
Here, we'll dig a little deeper into the call-back process and how it works.
Benefits of Arranging Call-Backs
Why Do Customers Request Call-Backs?
A customer will request a call to get specific information or guidance within a timely manner. They also ask for their call to be returned in order to save money on outgoing call fees.
However, traditional call-back services often don't specify when the customer can expect a call, which is inconvenient and an inefficient use of time. If the customer is busy at the time of the call, it will go unanswered, which results in further delays and an overall poor customer service experience.
Benefits of Scheduled Call-Backs
Alliance's Live Receptionist service uses online booking technology in conjunction with our live calling service. This enables our receptionists to view a client's availability and arrange a meeting (or in this case, schedule a call-back) directly into their calendar.
Clients can select a time and date that suits their schedule, which cuts out the guesswork and reduces the potential for missed calls.

Scheduling a call-back eliminates the need for customers to call your company and wait on hold until an agent becomes available, thereby reducing call abandon rates.

When a call is planned, both you and the client have the opportunity to carry out research and make preparations ahead of time, which saves time and provides a more productive call experience.

Ultimately, a planned call improves the customer experience, which reflects positively on your business.

You can schedule all your calls in blocks, rather than randomly throughout the day which tends to interrupt other business.
So, now you know why scheduled call-backs are a useful feature in your customer service strategy, we're going to look at how to setup a call-back service with Alliance.
How to Schedule a Call-Back Through Alliance
This service forms part of our Live Receptionist plan. It works with the help of calendar management software by Appointedd, which provides a window onto your live availability and enables our receptionists to see when you're free to talk.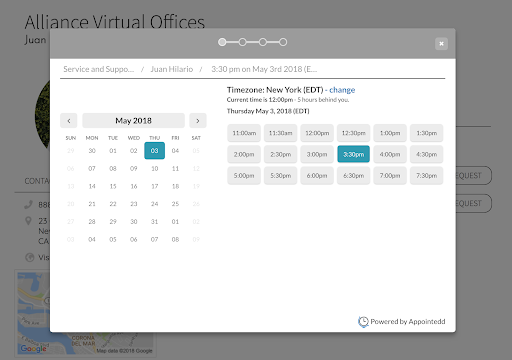 The app also enables your clients to view available time slots and schedule a call-back with you directly.
Step 1
First you'll need a Live Receptionist plan from Alliance. The calendar software and scheduling service is automatically included, so whether you choose our entry-level Live Receptionist 50 plan or the Live Receptionist 500 plan, you'll have full access to the calendar management software for bookings and scheduling.
View Live Receptionist plans and pricing here.
Step 2
During the setup of your Live Receptionist plan, our team will ask whether you want our receptionists to set bookings and call-backs for you. If you previously declined this service, don't worry – it can be started at any time.
Contact our Customer Service team to activate this service. As part of the activation, you'll be asked about the type of meetings or calls you provide, and how long each appointment lasts.
Our team will then link the booking software with your online business calendar – eg. Google, Outlook, Office 365, Microsoft Exchange, or iCloud. This will enable our receptionists to reserve bookings only when you have availability.
Step 3
Once the booking software is up and running, our Live Receptionist team can begin arranging call-backs on your behalf.
Here's how it works. If you're not available when our receptionists patch calls through to you, they ask the caller if they would like to set a call-back based on your live availability in the calendar system. Both you and the caller receive a notification along with essential information such as the caller's name, contact details, and what the call is about. You will also receive a reminder just before the call.
Step 4
You can also invite clients to schedule a call-back with you directly, without the help of a receptionist. This is done using an app version of the same software, which you can add to your website or email footer. You can send the link directly to your clients, who will choose an available time on your calendar, and fill in a quick form including their name and company details. The booking is added to your calendar and both parties receive an email notification.
It works across all time zones and automatically adjusts depending on daylight saving, too.
All Set?
So, now you know about the benefits of setting a call-back, are you ready to get started?
If you have any questions or feedback about the service, simply contact our team at any time. We're here to help.
Resources and Information
[DEMO] How to Schedule Meetings with Alliance's Live Receptionist Plan