Whether you want to save time, cut distractions, or improve your brand's customer service delivery – or all of the above – a Live Receptionist service is a proven way to handle your calls more efficiently.
Every call is received personally by professional virtual receptionists, who greet callers in your company name and forward calls, handle inquiries, and take messages on your behalf.
Suggested Reading: Top Answering Services for Small Businesses
You can determine how and when calls are answered by setting a schedule. For instance, you might start with limited call answering on specific days of the week, and as your business grows, you can extend your answering schedule to cover the full working week.
And since Alliance's Live Receptionist service provides call answering and appointment scheduling on weekends too, you have the flexibility to extend your schedule from Monday – Friday 8 am – 9 pm, and Saturdays 9 am – 7 pm (Eastern).
This is ideal for companies with nationwide coverage, as our Live Receptionist schedule provides professional customer service from 8 am in New York, to 6 pm in California, throughout the working week.
It's easy to change your call answering schedule. You can do it yourself online using this step-by-step guide, and the changes will be reflected immediately. Or, simply speak to us and we'll do it for you. Connect with us via live chat or by contacting our Customer Service team.
Step-by-Step Guide to Customizing Your Live Receptionist Schedule
In this step-by-step guide we'll show you how to change your call answering schedule online. Start by logging in to your account at alliancevirtualoffices.com, using the icon in the top right of your screen.
Once you've logged in, go to 'My Virtual Phone'. You will see the screen below: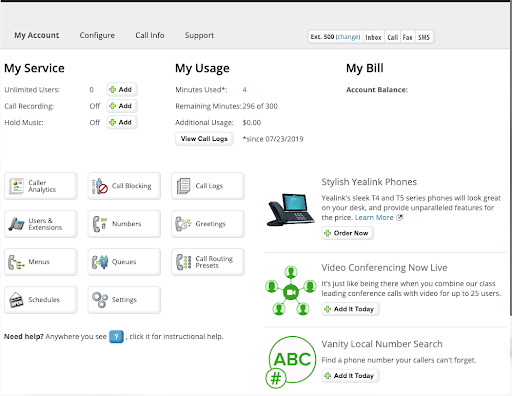 Hover over 'Configure' and you'll see a dropdown menu. Select 'Manage Schedules'.

On the 'Manage Schedules' screen, you will see your current schedule. In the example below, it is called 'Business Hours'.
If you don't have a schedule, you can create one now via the orange 'Add a New Schedule' button.

Select 'Edit' alongside your schedule ('Business Hours') and on the following screen, select 'Custom'. You can now load your required business hours according to your needs.
Our receptionists' regular hours are Monday to Friday, 8am – 9pm Eastern. We are also open on Saturdays, so if you require Saturday call answering please select hours that fall within Saturday 9am to 8pm EST.
Click 'Save'.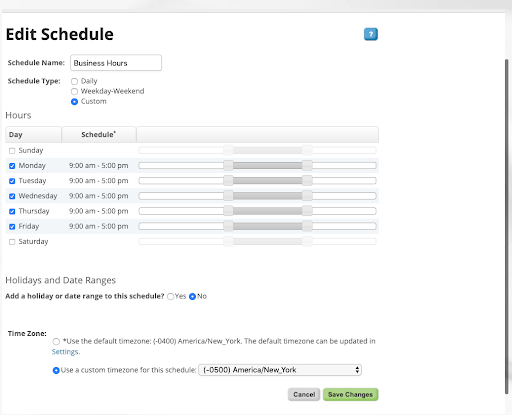 Next, hover over 'Configure' and select 'Manage Numbers'. Click 'Edit' on the number that you want to add to your new Schedule. This tells our receptionists which number applies to your new call answering schedule.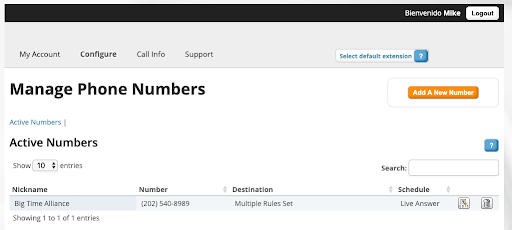 In the new screen, click 'Edit' once more: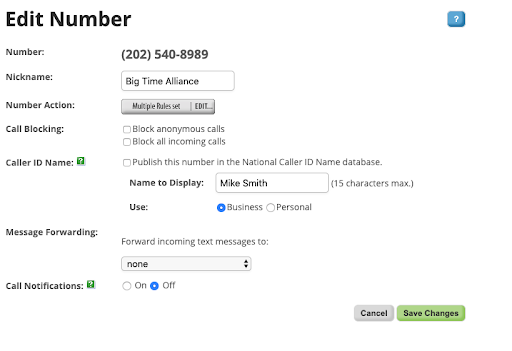 If you already have a schedule loaded, you should see a screen similar to this: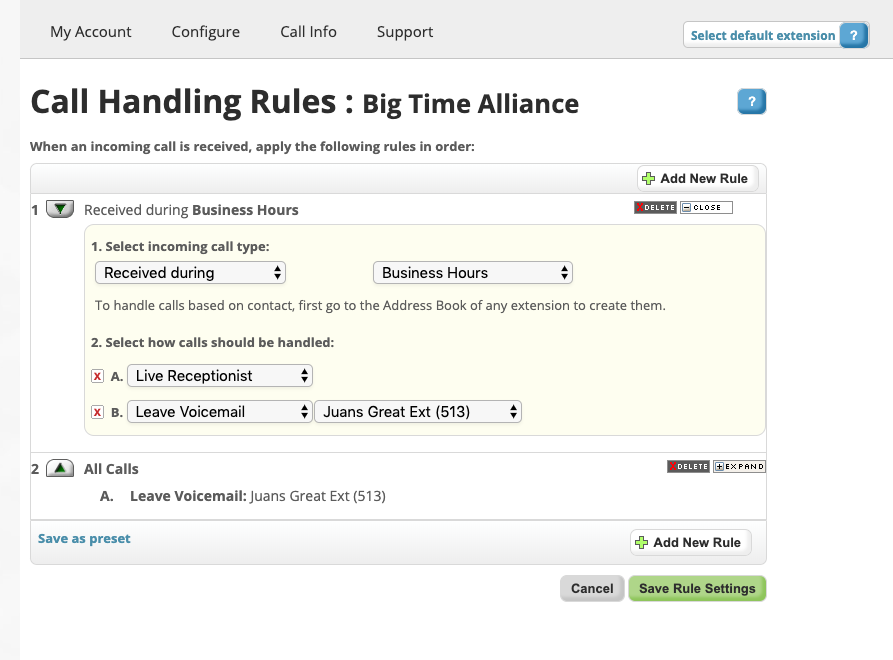 If your screen looks like this, then the process is nearly complete.
If your screen doesn't look like this, we may need to help you upload the new schedule into your call handling rules. Connect with us using live chat or contact us by phone or email to complete the process.
Okay. Under 'Select incoming call type', click 'All Calls' and you'll see a dropdown menu. Select 'Received during'.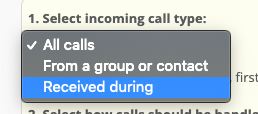 In the new menu that pops up on the right hand side, select 'Business Hours'.

Once you've selected 'Business Hours', the options under 'Select how calls should be handled' should remain the same (because you still want our receptionists to answer your phone).
At the bottom of the screen, select 'Add New Rule'. It will automatically load predetermined options: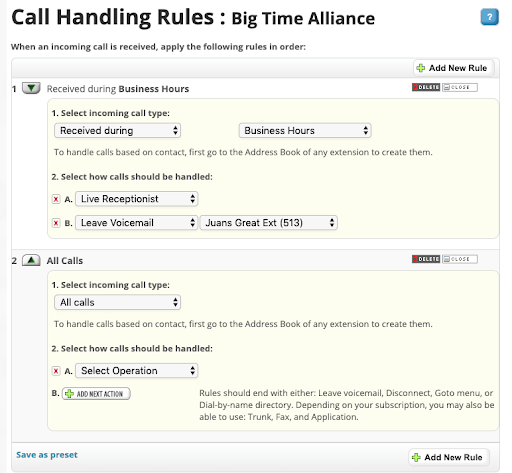 In the new section, under 'Select how calls should be handled', as option A, select 'Leave Voicemail' and the voicemail box you'd like to send callers After Hours.

Click Save at the bottom of the screen.
You're all set!
Your new Live Receptionist Schedule is now active and our team will start answering calls according to your new requirements immediately.
If you have any questions, please contact our Customer Service team or connect with us via live chat.