---
---
Q: What is a business growth stage? What can I do to continue growing my business?
A: Your business growth stage refers to one of five stages that each business goes through. If you hope to reach each stage, you'll need to create detailed plans of action for each distinct phase.
---
The long-term goal for any successful business is always growth.
Regardless of the specifics of your business, you're probably hoping to scale your business and capture more market share. Effective planning for this kind of growth is paramount to the success of your operations.
As Americans continue to try and find a new normal in our post-pandemic environment, businesses are rushing to adapt to the ever-changing market. Despite this, many of the same rules apply to running a business – especially when you're talking about small business growth.
The old, authoritarian style of management is fading into obscurity, and collaborative management is quickly taking its place.
Using business growth stages to scale your business is just as effective as it was twenty years ago.
Without paying close attention to your business growth stage, you're operating without a plan.
So, what is a business growth stage?
Although several varying definitions of the business growth stages can be found online, we'll be using the five-stage business growth model for this article.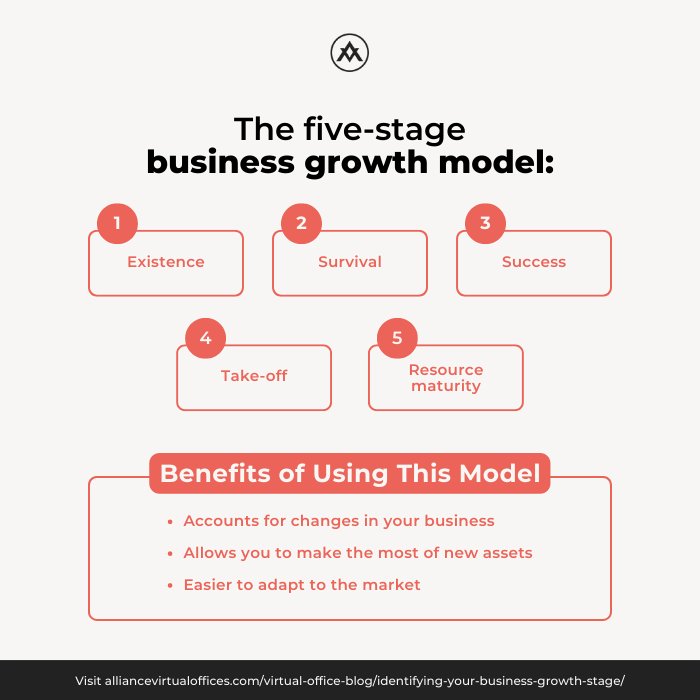 The five stages are as follows:
Existence
Survival
Success
Take-off
Resource maturity
These five stages are used to describe where your business is and what you should be focusing on during that specific phase.
In this article, we'll look at why planning your growth in stages is so important, how you can identify your current business growth stage, how to plan for future stages, and how virtual solutions can be used to scale your operations further.
---
---

Why is planning business growth in stages important?
If you've ever attempted to find an unknown area without the use of GPS or a map, you understand the importance of a detailed plan.
With small business growth, a detailed plan is equally, if not more, important.
Although there are countless positives associated with using this cycle, here are three of the biggest benefits of using business growth stages to scale your business:
Accounts for changes in your business
Allows you to make the most of new assets
Easier to adapt to the market
Allows for changes in your business
Planning business growth in stages is important because your business changes as it grows. A small, one-person business operates differently than a medium-sized business with multiple employees and streams of revenue.
Properly planning for future growth gives your business the chance to create a stronger infrastructure or hire extra employees — whatever is necessary for your business to handle higher volume and more revenue.
Allows you to make the most of new assets
Planning growth in stages also allows you to make the most of new assets.
As you grow, you'll likely acquire new tools you can use to grow further. It's important to pause and take stock of these tools so you can put them to use.
With the explosion of the digital-first market and the introduction of countless digital business tools, the knowledge and foresight to prepare for new developments is important.
Easier to adapt to the market
Finally, planning in stages helps you adapt to the ever-changing market. Your strategy will need to change as consumers' desires change.
Planning growth in stages ensures that you have a chance to adapt to new market trends.
This could involve preparing for spikes in the market — allowing your business to make extra sales and grab new market share during times of growth and speculation. This could also mean scaling down your operations when negative sentiment is ruling the market.
Regardless of how your business will adapt, using business growth stages will let your business plan for the vicissitudes of the market.
More than anything, planning business growth in stages is important because it allows business owners a chance to take stock of their progress. With this approach, you can take a detailed look at where your business is now. You can then use that information to determine where you want their business to end up.
Entrepreneurs often get caught up in the day-to-day operations of their business — constantly making sure that everything is running smoothly — only to realize that they don't really understand the "bigger picture" of their business.
---

How to identify your current business growth stage
If you've been operating without a staged growth plan, the first thing you need to do is identify your current stage.
Before we look at identifying your current business growth stages curve, let's take a detailed look at each business development stage:
Existence
During this first stage of the cycle, businesses are focused almost exclusively on customer acquisition and determining the viability of the business. During this stage, you are essentially figuring out the necessary amount of start-up capital you'll need to get your business off the ground.
Survival
The survival stage occurs after your business has proven its viability. During the survival stage, your business is focused on growing to a more sustainable size and securing the capital required to do so.
Success
Success is the stage in which a business has grown to a reasonable size and attained regular profitability. This economic growth stage is when business owners are faced with the decision of whether or not they'd like to sell the business and exit or continue growing the company.
Take-off
If the business wasn't sold during the success phase and has continued on an upward trajectory, the take-off phase is when the business experiences exponential growth and widespread brand awareness. Access to ample capital and the ability to take on good debt is paramount to the success of this stage.
Resource maturity
Once your business has completed the take-off business development stage, it's time for resource maturity. During this stage, your business is taking stock of the increased profits you've secured during the previous stage. You will also create a management network that can handle the increased volume.
These stages are incredibly business-specific, and it can be difficult to determine exactly where you're at.
There are three primary questions that you should answer:
What market are you currently targeting?
What strategies are you using to target them?
What assets do you hope to gain by doing this?

Once you have these three things identified, you can build a general picture of your current business growth stage.
For instance, if you're targeting a wide market, dealing with high-level marketing companies, and hoping to secure the funds to build out your management infrastructure, you're probably in the resource maturity business expansion stage.
Understanding your current business growth stage allows you to create a detailed plan for your business moving forward. Sure, you can make a plan without fully recognizing the business growth phases — but doing so adds unnecessary stress and difficulty to your planning.
Think of your business growth stage as a platform. If you want to use this platform effectively, you should already have a clear-cut idea of your plans and long-term goals.
With this information, it's much easier to not only create a detailed plan moving forward but it's also much easier to plan for future small business growth.
---

How to plan for future growth stages
Once you've identified your current growth stage, it's time to plan for future stages.
Your goal is to create new answers to the three questions above. That said, you want to build upon your existing answers.
Disregarding the steps you've already taken is an excellent way to alienate current customers and lose sales.
An issue often seen in small businesses is that the company will experience growth before making changes to accommodate this new growth. In trying to accommodate the new customers, the business winds up losing older business.
In this scenario, the new business gained simply replaces the old business lost. This means that despite making changes and seeing higher volume, your revenue and profit stagnates.

Think of it this way:
Let's say you are currently targeting your local market with Facebook ads with the goal of acquiring the necessary revenue to hire a marketing manager. Your next phase may be to expand to a state-wide market using a more diverse approach – which your new marketing manager can facilitate.
Planning these small business growth stages allows you to continue growing your market reach, acquiring new assets, and pushing your business forward.
One of the key considerations that you'll want to make is determining how you can free up revenue to boost your growth.
Below, we've detailed two actionable tips to assist you in freeing up capital to incentivize growth.
Business optimization
An optimized business isn't spending any more or any less than is necessary on any aspect of its operations.
While it might seem like a good idea to completely overhaul your business, cutting as many costs as possible and dropping to a threadbare team to save even more money will almost undoubtedly get your business into more trouble than it was in to begin with.
Instead of blindly cutting costs, hoping for the best, and realizing that you've accidentally sacrificed countless tools and employees in the process, you need to take a detailed look at your business and determine how each cut cost will affect your bottom line.
Remember, you want to cut back on your spending in areas that won't hurt your sales.
Business optimization functions well within the context of a business growth plan. Because each stage provides a straightforward set of goals for your business to focus on, it's easy to use these goals to determine which areas of your operations you can spend less money on.
---
Read more: When to Spend, When to Save: Your Complete Guide to Business Optimization
---
Switching to remote operations
Switching to remote work allows your business to save money while still accomplishing everything you hope to do.
With this study showing that 86% of individuals are expecting a "new normal" in our post-pandemic world and ecommerce sales continuing to blow expectations out of the water, Americans are well on their way to a "new normal".
It isn't a stretch to assume that this "new normal" will involve a greater reliance on the convenience and ease of virtual businesses and an even greater number of digital-first approaches to marketing and business registration.
Preparing for this new normal is easier than it sounds.
With several digital solutions available to even the most technically illiterate entrepreneurs, there's no reason not to adopt a digital-first mindset and bring your business into the 21st century.
Even if you aren't ready to make the full switch to remote operations, properly adding additional revenue streams is an excellent way to build capital and increase income.
With ecommerce sales set to account for more than 20% of all global retail sales by the end of the year, you'd be hard pressed to find a reason not to expand to online operations.
---
Read more: Fight the Recession by Expanding Your Revenue Streams
---
A Virtual Office from Alliance Virtual Offices is the ideal way to position your business for future success without missing out on the amenities you know and love from the past.
Your Virtual Office gives you access to a prestigious business address that solidifies your local presence and business reputation while protecting your address.
Even better, a Virtual Office from Alliance will perfectly align with any business growth stage that your business is experiencing.
Alliance Virtual Offices provides several digital solutions for established entrepreneurs.
Below, we've detailed some of these tools — as well as ways that they make managing each business growth stage more straightforward:
Live Receptionist
Our Live Receptionists are useful for every business growth stage, but they are particularly effective in the survival and success stages.
During these two stages, your business is focused on gaining market share and growing to a sustainable size. To properly onboard new customers without losing your older customers, you need to make sure that all of your customers feel like they're being treated fairly.
Hiring full-time or even part-time receptionists is expensive and time-consuming.
Alternatively, trying to answer your business's phone calls yourself leads to multitasking on the phone and a lack of attention to the caller — both of which can have adverse effects on potential customers.
With a Live Receptionist, you don't have to worry about hiring or answering the phone. Instead, our receptionists will personally answer and screen all of your calls, providing you with fewer distractions while ensuring quality customer relations.
Virtual Office
While Virtual Offices continue to provide countless benefits throughout all of the business growth stages, they are an incredible way to establish your business in the existence phase and make it through the survival stage.
With a Virtual Office, your business can buckle down during these initial phases, focusing exclusively on customer acquisition and marketing initiatives.
Historically, the cost of leasing a storefront in conjunction with stocking this location made business ownership prohibitively expensive.
This made the first stages of small business ownership difficult to get through and often left business owners with ugly choices to make regarding capital allocation.
Thankfully, our Virtual Offices are a cost-effective alternative to traditional office leases and allow business owners to save the money that traditionally would've gone to monthly fees and office supplies.
Businesses can then reinvest these funds in their business and marketing initiatives.
Additionally, with Virtual Office locations in every state, local business owners can transition to remote operations without losing their status as local businesses.
Regardless of your current business growth stage, a Virtual Office provides you with an easy way to cut down on operational costs and focus on growth without losing any of the professionalism or legitimacy associated with traditional office space.
Virtual Phone
Our Virtual Phones are useful in all of the business growth stages but are the most effective during the take-off and resource maturity phases.
In these two stages, your business is growing quickly, and connecting with your employees becomes more important than ever. Whether it's communicating with your marketing team or ironing out your management network, staying connected is important.
The process of creating a workable management network is paramount to your business's long-term success, and our Virtual Phones give you an easy way to connect with your entire team.
With unlimited extensions, you can continue adding new team members as your business grows. Additionally, our Virtual Phones allow you and your employees to keep your cell phone numbers private — an often-overlooked consideration.
With access to these digital tools, your brand can smoothly transition through each business growth stage while planning for the next.
Remember, it doesn't matter what stage you're currently experiencing. What matters is how you're planning on taking your business to the next stage.
---

Using virtual solutions to scale your operations further
The most effective and efficient way to grow your business is to plan for the growth in stages.
Identifying your current growth stage allows you to plan for future growth stages and switching to a Virtual Office is the ideal way to save money you can use to fuel future growth.
Carefully planning each of your business's growth stages allows you to have a complete understanding of all of your business's goals, both in the long and short term.
Aimlessly attempting to incentivize growth and targeting wide audiences might bring your business more customers, but without a detailed plan of your business's response to these customers, there's a strong chance you'll be unable to capitalize on the increased momentum.
There is no such thing as too much planning. With careful attention to each business growth stage, you can meticulously plan every detail of your brand's expansion, leaving nothing to chance.
---
Further Reading:
---
Alliance Virtual Offices offers several digital tools to business owners hoping to explore the virtual market.
We provide Virtual Offices, Live Receptionists, Virtual Phones, and even more tools that give entrepreneurs an easy way to break into the digital-first world.
It doesn't matter if you're a brand-new business owner, hoping to understand each business growth stage in-depth, or a long-time entrepreneur that's already made it to the later stages — we're ready to help.
Contact us today to see how Alliance Virtual Offices can help your business plan for its growth in stages!