---
---
Q: How can I improve my ecommerce operations?
A: The best way to improve your online operations is by crafting a detailed strategy and action plan that concisely explains your goals and what you hope to accomplish.
---
Thanks in part to the pandemic and in part to rapidly advancing technologies, shopping looks much different than it did even half a decade ago.
In the past, consumers had no other option but to shop in person save for rare, televised call-in-to-buy opportunities and various catalogs, both of which came with long turnaround times.
Now, consumers are changing the way they shop quicker than we can keep up, making a detailed ecommerce strategy more important than ever.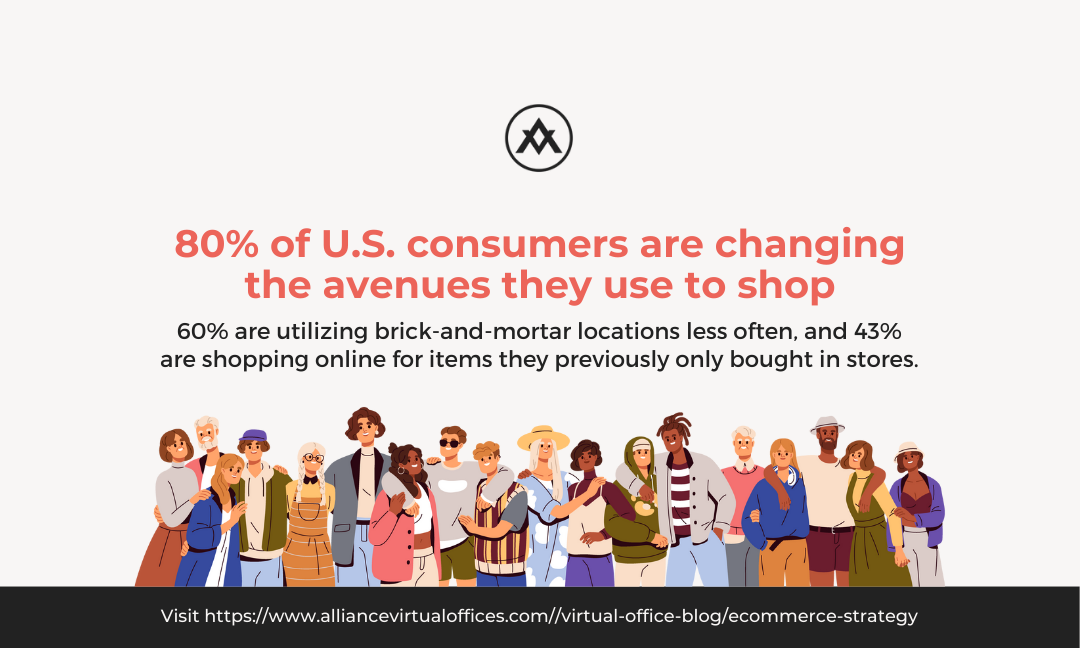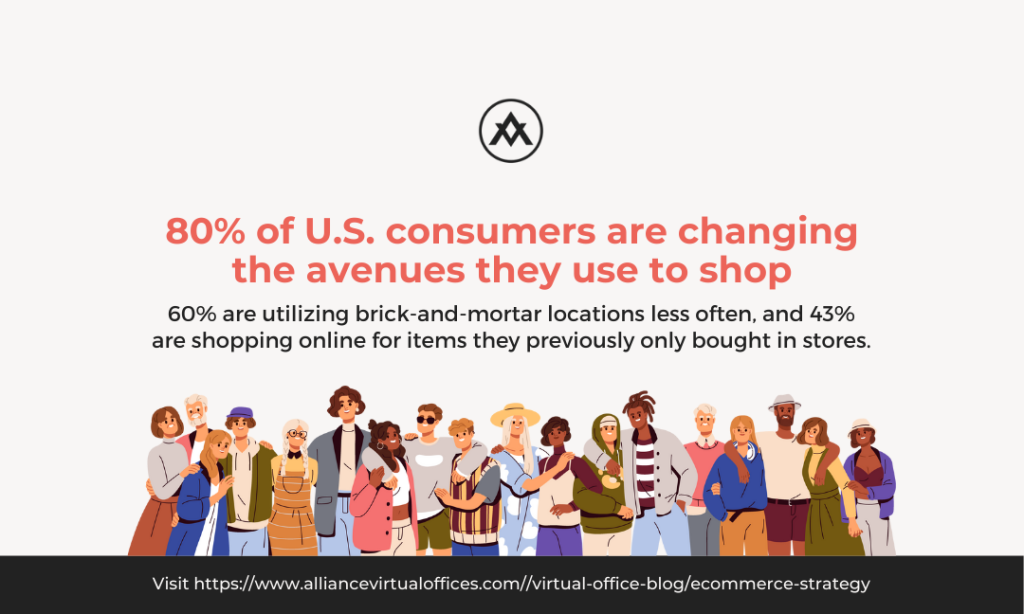 A recent Harvard Business Review article claims that in our post-pandemic world, 80% of U.S. consumers are changing the way and avenues they use to shop. 60% are utilizing brick-and-mortar locations less often, and 43% are shopping online for items they previously only bought in stores.
This information, in conjunction with Forbes' projections of an ecommerce market worth more than $8.1 trillion by 2026, paints a clear picture and reminds consumers and investors alike that ecommerce isn't just a fad.
Add in the 76% of Americans who shop online using their smartphones and it's difficult to imagine a world where ecommerce doesn't one day take the lead in market share. Consumers are constantly changing, and convenience is quickly becoming the main priority of customers all over the globe.
Small businesses that want to take advantage of these changes in consumer behavior need to have a detailed ecommerce strategy that allows them to be flexible and fast with their operations.
In this article, we'll discuss why an ecommerce strategy is so important, show how to create a strong ecommerce strategy, provide an ecommerce strategy example that shows you how to build an ecommerce support system, and finally, we'll look at how a Virtual Office can help assist you with your ecommerce strategy.
Instead of jumping right into an ecommerce strategy course, take a moment to keep reading to understand the importance of a detailed strategy for your online business.
---
---
Why ecommerce needs a strategic approach
When you're focusing on ecommerce or trying to pivot to an online business model to take advantage of the benefits offered by flexible workstyles, you need an ecommerce strategy framework to help you move forward.
A mistake that new business owners or entrepreneurs with a background in brick-and-mortar stores make is thinking that ecommerce follows the same rules as traditional commerce.
Sure, there are several parallels, but ecommerce relies almost entirely on the customer experience rather than on in-person interactions and vibrant physical advertisements in-store.
Ecommerce forces entrepreneurs to adopt a detailed strategy along with countless tools designed to make the process more straightforward. Standard commerce applies a different approach.
---
Read more: The Best Tools for E-Commerce Businesses
---
We've compiled a brief list of why an ecommerce strategy is so important to successful digital business ventures.
Competition
Customer expectations
Cost-effectiveness
Logistics and fulfillment
Scaling and growth
Competition
With the rise of ecommerce, small businesses face fierce competition from established online retailers and marketplaces. These larger corporations have access to more resources, connections, and consumers than their smaller counterparts.
A strategic approach can help small businesses identify their unique value proposition and target audience and develop a competitive advantage.
Without an ecommerce strategy framework, your business will be vying for attention against corporations that are effectively unbeatable. That said, after creating a robust strategy and identifying your target audience, you can focus on a specific demographic rather than trying to secure widespread attention.
Unsurprisingly, focusing your resources on one audience helps you overcome some of the natural advantages of larger companies.
Customer expectations
Consumers now expect a seamless, convenient, and personalized online shopping experience. A strategic approach to ecommerce can help small businesses meet and exceed these expectations by leveraging technology and data to enhance customer experiences.
Sure, your company may not be able to beat larger corporations to grab attention, but it can create an enviable customer experience that leaves your patrons feeling content and looking forward to their next visit.
In a market so saturated with competition, you need to provide consumers with something they can't find anywhere else. Whether that's high-quality products or services, an exciting customer experience, or some status-improving offering, it doesn't matter if you're providing something your customers feel they can't find elsewhere.
Cost-effectiveness
Ecommerce can be a cost-effective way for small businesses to expand their reach and grow their customer base. However, a strategic approach is necessary to ensure that resources are allocated effectively and that investments in technology and marketing yield a positive return on investment.
Because many aspects of online business ownership are markedly cheaper than traditional business ownership, it's easy for entrepreneurs to fall into the trap of spending capital that they don't need to spend or spending capital that has no effect.
Digital marketing doesn't have to be expensive, but it certainly can be. If you don't have an ecommerce strategy dialed in, you'll wind up spending money that's accomplishing nothing.
Your ecommerce strategy will help you to get the most value out of every dollar you spend.
Logistics and fulfillment
Ecommerce requires efficient logistics and fulfillment operations to ensure timely and accurate delivery of products to customers.
A strategic approach can help small businesses optimize their supply chain and fulfillment processes to minimize costs and maximize customer satisfaction.
Sometimes, your logistics and fulfillment strategies are as simple as utilizing ecommerce software that allows you to automate various processes. This may be workflow automation, ordering assistance, or other forms of automated help that allow you to focus more on the operational aspects of your company.
Scaling and growth
Ecommerce offers small businesses the opportunity to scale and grow beyond their local market.
A strategic approach can help small businesses develop a roadmap for growth, set achievable goals, and track progress over time to ensure long-term success.
Without a detailed ecommerce strategy, scaling and growth will be nearly impossible to accomplish. Increasing brand recognition and making your business into a company that consumers all over the country are familiar with requires dedicated planning and a concise plan of action.
How to create an ecommerce strategy
If you've watched ecommerce dominance rise over the past years, you may consider pivoting to online operations to take advantage of the opportunities presented.
---
Read more: Actionable Tips to Transition Your Business to a Digital First Model
---
Online operations are lower risk, require less starting capital, and with the right ecommerce strategy, can easily outperform their traditional counterparts.
This is only the case if you've crafted a detailed strategy. Some businesses employ an ecommerce strategy manager, which can be a good decision if you have the means to do so, but many newer companies simply don't have the resources to hire new employees or contractors.
Thankfully, we've put together a step-by-step guide to help you create a plan without feeling obligated to hire for ecommerce strategy jobs.
Define your target audience

Understanding who you're selling to is likely the most important task for any online business. Before you start building an ecommerce strategy, it's essential to understand who your target audience is.
Conduct market research to identify your target audience's demographics, interests, and buying behavior. This information will help you tailor your ecommerce strategy to their needs and preferences.
Outside of these behaviors and demographics, your market research should also help you find out which social media platforms your target audience frequents. Once you know where your customer base spends their time, you can allocate resources that help you target that specific platform or influencers your audience enjoys.

Set specific goals

Clearly define your ecommerce goals, such as increasing sales, improving customer retention, or expanding your market reach. Setting specific, measurable goals will help you stay focused and track progress over time.
Setting these goals helps your business to know which areas you're succeeding in as well as the areas you're failing in. If you're just getting started, your goals may not relate to increasing revenue as much as they relate to increasing brand awareness and spreading your reach.
With concise goals and measurable ways to analyze them, you don't have to worry about finding failures where they don't exist or attributing successes to efforts that fell short.

Optimize your website

Your website is the foundation of your ecommerce strategy. In many ways, it's your flagship location.
Since ecommerce operations don't typically have an in-person retailer that customers can visit, your website will fill that role.
Ensure that your website is user-friendly, mobile-optimized, and easy to navigate. You want consumers to feel comfortable using your website while they're on the go, relaxing, or anywhere else.
Optimize your product pages for search engines and provide detailed product information, reviews, and high-quality images.

Leverage social media

Social media is a powerful tool for driving traffic to your ecommerce site, building brand awareness, and engaging with your audience. Develop a social media strategy that aligns with your ecommerce goals and target audience.
Consistently post relevant content, run targeted ads, and engage with your followers.
Engaging with your followers is one of the most important aspects of social media marketing. Consumers love businesses that they feel they can easily connect with.
Regularly engaging with your followers builds a community and turns your audience into fans rather than fair-weather customers. Even better, once you've built a community of individuals who appreciate your content, you'll eventually start generating user-created content that acts as some of the best marketing materials imaginable.

Analyze and iterate

Regularly monitor and analyze your ecommerce metrics, such as conversion rates, average order value, and customer acquisition costs.
Use this data to identify areas for improvement and optimize your ecommerce strategy over time. Test new ideas, measure their impact, and adjust your approach as needed to achieve your goals.
Remember, flexibility is one of the most important aspects of a successful online operation. If you're unable to analyze incoming data and make necessary changes, you'll always be a step behind your competition.
Once you've crafted a detailed plan and created systems that allow you to react flexibly to shifts in the market and incoming data, you can start worrying about profitability and increasing your revenue.
---
Read more: Gross Profit Ratio: The Overlooked Secret to Faster Growth
---
Before you can focus on making your brand a household name, however, you need to understand the tools and services you have at your disposal to create a vibrant ecommerce support system.
Building your ecommerce support system
If you want to build an ecommerce support system, you should consider utilizing a Virtual Office.
---
Read more: How to Start a Virtual Company
---
If you're unaware of how a Virtual Office could help you create a support system, keep reading.
Professional address
Meeting rooms
Coworking spaces
Administrative support
Fully customizable
Professional address
First, a Virtual Office provides your online business with a professional address.
A professional business address can be used on your ecommerce website, business cards, and other marketing materials. This gives your business credibility and helps build trust with potential customers.
Think about it this way, if you're a consumer searching for a hard-to-find product and you're only able to find two separate businesses, both of which are nearly identical save for the address, you're far more likely to use the company that has a recognizable and prestigious address over the company that's using an address that you've never seen before.
Meeting rooms
Virtual Offices often have meeting rooms or conference rooms available for rent. If you're dealing with a virtual provider without access to meeting or conference rooms, you should search for a different provider.
Meeting rooms can be useful for conducting virtual meetings with suppliers or customers, conducting job interviews, or hosting training sessions.
Additionally, using a meeting room in conjunction with your prestigious address helps legitimize your business and shows potential consumers, investors, and clients that you're serious about your operations.
Coworking spaces
Part of the allure of flexible workstyles is the ability to work everywhere. Even when using a high-quality Virtual Office, neglecting the coworking spaces you can access can be easy.
Running your business from home is a comforting feeling, especially when a Virtual Office protects your privacy, but spending too much time at home working long days on your business is a good way to cause burnout.
Breaking the monotony of your daily routine with a visit to your Virtual Office's coworking space helps you to refresh, recharge, and approach your work with renewed interest. Not to mention, coworking spaces provide you with countless networking opportunities.
Administrative support
A full Virtual Office can provide administrative support services, like a Live Receptionist and mail forwarding. This can help free up your time to focus on growing your ecommerce business.
Live Receptionist

A Live Receptionist service is a service that provides your business with friendly and professional receptionists who personally screen and answer all your incoming phone calls.
Answering the phone while trying to run your business will often result in customer frustrations or a detriment to the work you're trying to accomplish while multitasking.
Rather than hiring full or part-time receptionists, you can utilize Alliance's Live Receptionists and provide these individuals with the administrative direction they need to help each incoming caller without distracting you from current tasks.

Mail forwarding

Another administrative benefit of using a Virtual Office is the option to add mail forwarding.
Other providers try and force virtual office owners to pay for a certain amount of mail forwarding, regardless of whether they need it.

At Alliance, we offer four separate tiers of mail forwarding that are designed for businesses in various growth stages.

Monthly mail forwarding for $10 per month is the most affordable option, but at only once-per-month forwarding, you'll have to compensate with frequent visits to your Virtual Office Center.
Twice monthly, or biweekly, mail forwarding for $20 per month is slightly more frequent than the monthly option, but will still result in compensatory visits to your Virtual Office Center.
Weekly mail forwarding for $30 per month is for businesses that are seeing a higher volume of incoming mail but are still unwilling to try the daily option.
Daily mail forwarding for $70 per month is for businesses that are seeing a substantial amount of incoming business mail and prevents you from needing to make visits to your Virtual Office Center. In addition, the daily mail forwarding option is the best value available.
As you can see, there are plenty of benefits to utilizing a Virtual Office, and doing so will help you create a helpful ecommerce support system.
How a Virtual Office fits into your ecommerce strategy
A strong ecommerce strategy helps you drive sales and grow your business in a competitive market.
A Virtual Office supports your ecommerce by solidifying your reputation and giving you full flexibility.
Your Virtual Office may fit into your ecommerce strategy in several ways.
With a Virtual Office, you can establish a presence in multiple locations without needing physical offices. This allows you to expand your ecommerce operations and target customers in different regions or countries without the costs and logistics associated with setting up and managing physical offices.
Virtual Offices also offer flexibility and scalability, allowing you to adapt your operations quickly as your business grows or changes. You can easily expand into new markets, establish remote teams, or adjust your business presence based on market demands, all without the constraints of physical office spaces.
In addition, utilizing a Virtual Office over a traditional physical office allows you to significantly reduce overhead costs like rent, utilities, maintenance, and staffing. These cost savings can be redirected to other areas of your ecommerce strategy, such as marketing, product development, or customer acquisition.
Thankfully, Alliance's Virtual Offices are fully customizable and can be integrated with a whole suite of online tools and resources. Incorporating a Virtual Office into your ecommerce strategy sets you up for long-term success by offering cost-effective methods of growth and scalability without sacrificing the benefits of using traditional office space.
---
Further reading
---
Alliance Virtual Offices provides Virtual Offices, Live Receptionists, and more for established entrepreneurs and new business ventures hoping to get their start.
Using a Virtual Office with your ecommerce strategy can help you create a healthy online business built for growth and ready to scale.
Contact us today to see how Alliance can help you create an ecommerce strategy that prepares your business for anything, and check out our Virtual Office Blog for more helpful information.