---
---
Q: How can I improve my ecommerce operations? Are all ecommerce tools created equally?
A: You can improve your online business by deciding to automate ecommerce tasks and operational duties. Unfortunately, not all ecommerce automation tools were created equally, but we've listed some excellent tools designed to help you effectively scale your business.
---
Thanks to tools like OpenAI's ChatGPT, Google's Bard, and countless other AI applications, automation is again at the forefront of the public consciousness.
Artificial intelligence is far more than traditional automation, but the popularity of these tools reminds the public of just how much work can be effectively automated if you're paying attention.
CNBC already thinks that AI is set to provide a nearly $40 billion revenue opportunity for retailers apt enough to act quickly, and simultaneously, smaller businesses apt enough to use ecommerce automation stand to increase their earning potential too.
But how? What can small business owners do, and what automation tools can they use to effectively capture this upside?
In recent years, the oversaturation of the labor market has made it challenging to identify the best tools and services for business ownership and automation, but thankfully, we've got you covered.
With the right information, you can automate ecommerce operations to streamline the more nuanced aspects of your online business in areas like inventory management, order fulfillment, marketing, and customer service.
Ecommerce automation software is designed to help companies save time and money to focus exclusively on efficiently scaling their operations.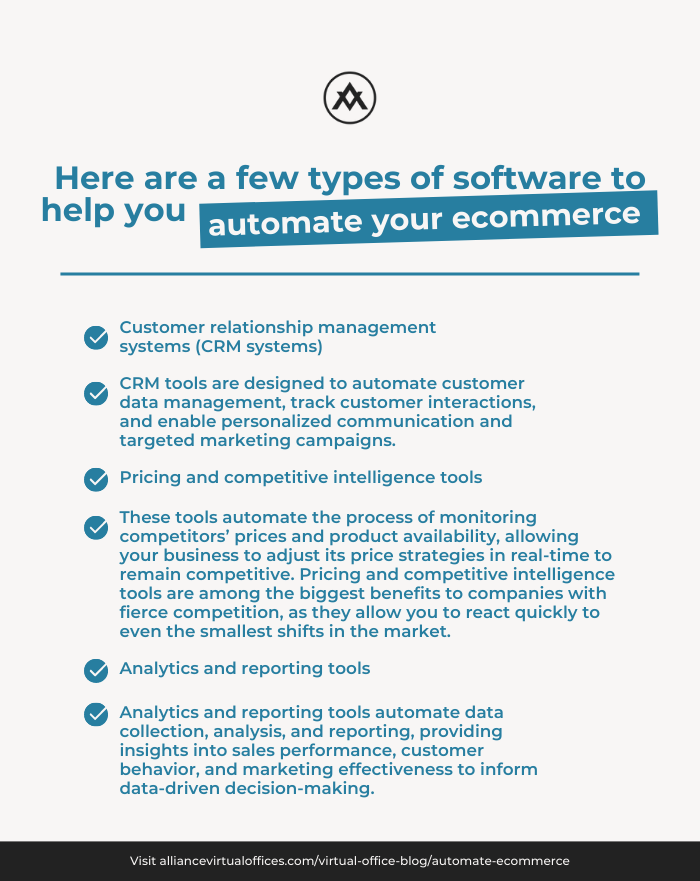 By the end of 2023, almost 21% of retail purchases will happen online. This represents a 10.4% increase in ecommerce sales throughout the year.
With the right approach and helpful ecommerce automation software, your business can take advantage of the increase in online consumers.
In this article, we'll determine if ecommerce automation is right for your business, explore various ecommerce automation strategies and tools, and then explain how you can integrate your ecommerce automation tools with one of Alliance's Virtual Offices.
If you're looking for ecommerce automation services, you're in the right place.
---
---
When is ecommerce automation right for your business?
Despite the widespread use of ecommerce automation, not all online businesses need to utilize these services.
That said, regardless of whether you need specific ecommerce automation, there are countless other ecommerce tools that you should familiarize yourself with to effectively scale your business.
---
Read more: The Best Tools for E-commerce Businesses
---
Automation allows you to focus more on the aspects of your business that no one else can handle. It helps you manage your time effectively by removing monotonous tasks that are easily handled by software.
Below, we've created a list of situations that may require you to rely on ecommerce automation companies.
When you have a high volume of orders
When you want to save time and resources
When you want to improve customer experience
When you want to scale your business
When you want to stay competitive
A high volume of orders
If your online store receives many orders daily, automating your ecommerce processes can help you handle the influx of orders more efficiently and reduce the risk of errors or delays in processing orders.
Even if you're not currently seeing a high volume of orders, preparing for seasonality or a viral marketing campaign by putting ecommerce automation tools in place before large swells in activity can help your company manage high-volume periods without missing a beat.
Saving time and resources
Ecommerce automation can help you streamline repetitive tasks like order processing, inventory management, and shipping.
Automating these tasks frees up more time and resources to focus on other aspects of your business, like marketing or product development.
One of the largest benefits of using an ecommerce automation agency or ecommerce automation tools is the ability to manage your time better.
Through automation, you can handle nearly all of your administrative and logistic tasks with the press of a button, saving you countless hours in the process.
Improving customer experience
Automated ecommerce processes can help you provide a better customer experience by reducing the time it takes to process orders, improving order accuracy, and providing real-time order tracking information.
That said, you should try to keep your customers' interactions with automated systems to a minimum or at least offer a quick way for them to contact a real person.
HubSpot's 2022 State of Service report claims that 54% of customers' largest frustration with automated customer service is the number of questions they have to answer before being transferred to a human.
By providing consumers with a quick way to speak with a human representative, you can prevent your customers from having negative experiences with your team.
Scaling your business
Ecommerce automation can help you scale your business more efficiently by enabling you to handle more orders without hiring additional staff.
This can help you grow your business without incurring significant additional costs.
Full automation in conjunction with a tight-knit and small team will help your company drive profitability rather than eating into your revenue with countless new hires.
---
Read more: Profit vs. Revenue: What's the Difference?
---
Staying competitive
When you want to stay competitive in today's fast-paced ecommerce landscape, automation is the perfect way to do so. Automation is becoming more of a prerequisite for business owners looking to stay competitive rather than an extracurricular, quality-of-life tool.
By automating your ecommerce processes, you can improve efficiency, reduce costs, and stay ahead of competitors.
As you can see, most online businesses and ecommerce operations would benefit from some kind of automation. It saves time and money and allows you to focus on the more nuanced aspects of your company, like growth and scalability.
Ecommerce automation strategies
Designing strategies for your ecommerce automation is paramount to setting your company up for long-term success.
Just like you need to build out a marketing strategy for your business's ad spending, you need an ecommerce strategy to help create measurable goals that will give you real-time updates about how your automation processes are working.
---
Read more: Online Branding for Small Business: The Best Strategies
---
These strategies provide a way to measure your progress and determine the effectiveness of your ecommerce automation. Without a concise strategy, you won't be able to easily understand which automation tools are working and which tools need reevaluation.
Fortunately, we've put together a list of ecommerce automation strategies you can use to analyze incoming data, measure results, and make changes when necessary.
Identify pain points
Evaluate software options
Integrate systems
Test and refine
Plan for the future
Identify pain points
The first step in creating an ecommerce automation strategy is identifying any pain points in your current operations.
Start by determining which tasks are time-consuming or prone to errors, which areas of the customer experience can be improved, and other operational areas that could benefit from automation.
Essentially, you should look for opportunities to streamline processes and reduce manual work.
Once you've identified the pain points, you know what kind of ecommerce automation tools you're looking for. List each pain point from most important to get fixed (most time-consuming, most expensive, etc.) to least important.
With a list, you can meticulously approach each pain point from the ones causing you the most trouble to the ones causing you the least. This will help you make actionable and noticeable changes in your ecommerce operations from the jump.
Evaluate software options
There are a wide range of ecommerce automation tools available, from inventory management software to marketing automation platforms.
Here are some additional kinds of automation software you may encounter as well.
Customer relationship management systems (CRM systems)

CRM tools are designed to automate customer data management, track customer interactions, and enable personalized communication and targeted marketing campaigns.

Pricing and competitive intelligence tools

These tools automate the process of monitoring competitors' prices and product availability, allowing your business to adjust its price strategies in real-time to remain competitive. Pricing and competitive intelligence tools are among the biggest benefits to companies with fierce competition, as they allow you to react quickly to even the smallest shifts in the market.

Analytics and reporting tools

Analytics and reporting tools automate data collection, analysis, and reporting, providing insights into sales performance, customer behavior, and marketing effectiveness to inform data-driven decision-making.
As you can see, countless ecommerce automation tools and software are available. All you need to do is determine which kind of automation will help you address your pain points.
Integrate systems
Once you've evaluated your options and cross-referenced these choices with your list of pain points, it's time to integrate the systems.
Integrating your various ecommerce systems and ensuring they're operating properly is required to fully leverage automation's benefits.
Ideally, you want the data you'll be analyzing to flow seamlessly through your systems, whether that's inventory management, order fulfillment, marketing automation, or another kind of ecommerce automation.
Keep in mind, if you're using one of Alliance's Virtual Offices to save money on overhead, rent, and utilities without sacrificing a prestigious business address, you'll need to ensure that you've integrated your new ecommerce automation systems with your office as well.
---
Read more: Get a Virtual Office for LLC Registration
---
Test and refine
As you implement automation, be sure to test and refine your processes to ensure they're working as intended.
Monitor metrics like order volume, inventory accuracy, and customer satisfaction to identify areas for improvement.
Remember, the point of using automated ecommerce systems is to save time and money and to eliminate human error. If you aren't regularly tracking how your systems operate and handling incoming data, you may not catch mistakes until it's too late.
Plan for the future
Finally, remember that ecommerce automation is not a one-time project – it's an ongoing process.
Plan by staying up to date with new technologies and evaluating your systems regularly to ensure they're still meeting your needs.
Be prepared to adjust your strategy as your business grows and evolves too. If you're unable to react to shifts in the market quickly and efficiently, your automated systems may be helpful, but they won't be what you need to take your business to the next level.
Ecommerce automation companies will give you all the tools you need to succeed, but if you aren't staying on top of independent market research and analyzing incoming data, you won't get much out of any ecommerce automation software.
Ecommerce automation tools
Now that you've explored a broad view of ecommerce automation tools and situations they may be useful, let's take a look at some specifics.
Below, we've put together a list of five different ecommerce automation platforms that have helped business owners secure digital market share for years.
Keep in mind, these are just a few of the ecommerce platforms that you have at your disposal.
Once you've decided which automation tools to use, it's time to utilize a Virtual Office.
Integrating your automation tools with a Virtual Office
Ecommerce automation is a great way to scale your business. Follow the tips in this article to unlock faster growth!
An often-unspoken service that streamlines ecommerce operations and allows you to save capital while retaining legitimacy are Virtual Offices.
A Virtual Office is a service that provides businesses with a professional and well-known business address without forcing them to secure physical office space.
In the past, businesses were forced to find a perfect location for their operations. This location came with expensive rent, utilities, other costs, and a lengthy lease time.
Unsurprisingly, there wasn't much margin for error in those situations.
With a Virtual Office, however, you're negating those exponentially decreasing overhead costs while simultaneously shortening your lease time. Not to mention, your Virtual Office's prestige can help give customers confidence that they're dealing with a legitimate and established company, which will help drive sales.
Outside of the lower barrier to entry, a Virtual Office can help streamline your online operations with the amenities it offers.
That said, it's important to ensure you're using a high-quality provider like Alliance Virtual Offices rather than a provider that doesn't offer physical space, tiered mail forwarding, and full customization.
Alliance's Virtual Offices provide access to easily reservable meeting rooms and coworking spaces, allowing you to break the monotony of working from home without forcing you to use a crowded coffee shop or an expensive conference room.
Meeting rooms are perfect for hosting important client or investor meetings, interviews, or team gatherings. Additionally, Alliance's meeting rooms are much safer than a public setting and more affordable and flexible than a hotel conference room.
With Alliance's mail forwarding and package handling, you can receive your incoming mail from anywhere in the world. For ecommerce companies that receive a significant volume of mail or need a secure location to handle packages, this is particularly useful.
Alliance's mail forwarding differs from other providers in the sense that Alliance doesn't force its partners to utilize mail forwarding if they don't need it. Other companies attempt to include mail forwarding for a flat rate, regardless of whether their clients want it or not.
Alliance also offers Live Receptionists. These friendly and professional receptionists are ready to personally screen and answer every incoming call while providing straightforward administrative assistance to your callers to help prevent you from worrying about your incoming calls.
If you want to enter a new market, Alliance's Virtual Offices can function as satellite offices in new areas to help you build a local rapport and identify your target audience in a new locality.
Regardless of what you hope to accomplish with your ecommerce operations, Alliance's Virtual Offices are designed to help you get the most out of your online business. Your Virtual Office will enhance the professionalism, convenience, and operational efficiency of your ecommerce business by providing essential services and a reputable business address.
---
Further reading
---
Alliance Virtual Offices provides online services to established entrepreneurs, new business ventures, and anyone else you can think of.
Ecommerce automation is often enough to get your online business started and operating smoothly, but adding a Virtual Office to your business plan can help you save considerable capital while bolstering your company's legitimacy.
Contact us today to see how Alliance can help you find the right ecommerce automation tools to help secure your company's future.