---
---
Q: Is ecommerce more profitable than traditional styles of commerce? How can I maximize my profits through ecommerce?
A: Yes, ecommerce is traditionally more profitable than other styles of commerce because ecommerce businesses have exponentially lower costs and overhead and aren't limited by location. The best way to maximize your profits is by foregoing traditional physical office space and using one of Alliance's Virtual Offices to build your ecommerce business.
---
Shopping online is popular for many reasons. It's convenient, it's often cheaper than buying items in person, and thanks to quick shipping methods, the old complaint about immediately wanting items purchased has been summarily negated.
Unsurprisingly, as ecommerce becomes more convenient and cost-effective, the more it will replace traditional shopping methods.
According to Forbes, 24% of all retail purchases are expected to occur online by 2026. By the same year, the total e-commerce market value is expected to eclipse $8.1 trillion.
Considering that the United States' first trillion-dollar ecommerce year occurred in 2022, it's fair to say that digital commerce isn't going anywhere.
Outside of the ease and convenience that ecommerce provides for consumers, businesses also stand to gain a lot from the digital market.
Harvard Business Review claims that retailers made approximately $10 billion in various ecommerce investments during three months in 2020.
So, what can your business do to carve out a piece of the ever-growing ecommerce market?
The first step, unsurprisingly, is understanding how to boost your ecommerce profit margins.
Unlike traditional business ownership, ecommerce operations rely on your ability to connect with consumers and offer a customer experience they can't find anywhere else.
In this article, we'll determine whether e-commerce profit margin statistics are better than traditional forms of commerce, how to optimize your ecommerce profit margins, how to set your business up for sustained growth, and finally, how you can use one of Alliance's Virtual Offices to bolster your online operations.
So, if you're already considering the benefits of an ecommerce operation and searching for things like, "ecommerce profit margin Reddit" or trying to find the perfect e commerce gross margins, you're in the right place.
Keep reading to understand how much ecommerce has to offer!
---
---
Why ecommerce has so much potential
What originally draws many to ecommerce is the opportunity for exponentially better profitability. Ecommerce profit margins are exponentially higher than the margins that traditional retailers encounter.
For traditional retailers, 10% profitability is considered good. Many retailers hover between 5-10%.
Smaller profit margins are adequate for large corporations seeing thousands of shoppers daily. But for smaller businesses, ecommerce is attractive because of the opportunity to make much more money with fewer customers.
Not to mention, ecommerce tools, like automation, platforms, and other services make it easier than ever for new business owners and established companies alike to transition to online operations.
---
Read more: The Best Tools for Ecommerce Businesses
---
We've listed some additional reasons that ecommerce is so attractive to entrepreneurs below.
Convenience
Wider selection
Lower costs
Personalization
Accessibility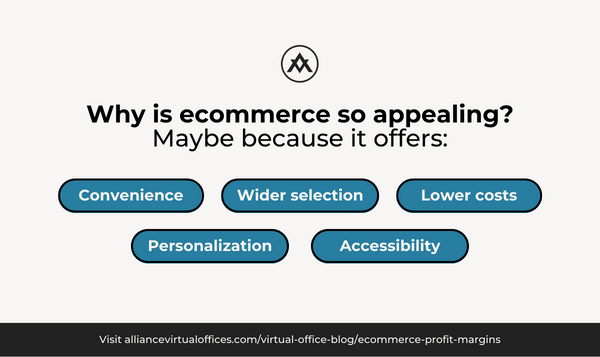 Convenience
Convenience is quickly becoming a primary concern for consumers everywhere. Considering that 76% of American adults do their online shopping from their smartphones, the importance of providing consumers with an easy and convenient way to make purchases should be obvious.
Ecommerce allows customers to shop from the comfort of their homes, without the need to travel to a physical store. This saves time and money on transportation and provides the ability to shop at any time, day or night.
Outside of the convenience of making purchases, consumers also have an easy way to compare prices, read reviews, and gather information before making a purchase.
Overall, convenience is likely the most important aspect of an ecommerce operation. If you're not providing a convenient and streamlined customer service experience, your customers will simply go to a business that is.
Wider selection
Traveling to a brick-and-mortar storefront only to realize that the store doesn't have the item you were looking for is frustrating. Ecommerce negates this issue.
Online stores can offer a wider range of products than physical stores, as they don't have to worry about physical space limitations. This can also make it easier for customers to find exactly what they're looking for and provides an opportunity for niche or specialized products to find a market.
Healthy ecommerce profit margins rely on a vast product selection that eliminates the frustration of limited inventory in physical stores and provides customers with a greater chance of finding precisely what they need while opening the doors for unique and specialized products to thrive in the market.
Lower costs
The lower barrier to entry for ecommerce is something that draws countless entrepreneurs to run online operations. Traditionally, owning a business is an expensive endeavor associated with countless risks.
First, you have to ensure that you're choosing a high-quality location that will draw in customers.
Then, you have to ensure that you have the capital to handle the first few months of utility payments, rent, and other overhead costs. Finally, if things don't go as planned, you have no easy way to pack up and try again in a different location.
Reduced overhead is a key reason ecommerce operations can offer lower prices than their brick-and-mortar counterparts.
Online retailers don't need to rent or maintain physical storefronts, which can translate to lower prices for customers.
The lower barrier to entry and reduced overhead costs enable ecommerce operations to offer competitive prices and higher ecommerce profit margins than traditional, in-person businesses.
Personalization
According to HubSpot's 2022 State of Service report, 63% of consumers want businesses to know their unique needs and expectations. Additionally, 89% of consumers are likely to make repeat purchases after enjoying a positive customer service experience.
This means that personalization and a high-quality customer service experience matter, and unfortunately, personalization in physical storefronts is almost impossible.
Ecommerce platforms can use data and analytics to personalize the shopping experience for individual customers, showing them products that may be of interest based on their browsing history or past purchases.
This can create a more engaging and tailored shopping experience, resulting in more repeat customers, better retention, and, ultimately, more sales.
Accessibility
Not everyone has an easy time traveling to and from various stores to find the products they need. Physicality is a luxury often taken for granted by those without reason to consider it.
Ecommerce can be particularly beneficial for customers with physical limitations that make it difficult to shop in person, such as those with mobility issues.
Online shopping can provide a more accessible and inclusive experience for these customers.
As you can see, there are countless reasons to utilize ecommerce outside of the attractive ecommerce profit margins.
Remember, the ecommerce profit margin formula is no different from the profit margin formula for traditional businesses. Use this formula to help you determine your profit margins: gross profit margins = (revenue – cost of goods sold/revenue) * 100
---
Read more: Profit vs Revenue: What's the Difference?
---
How to optimize ecommerce profit margins
Now that you understand why ecommerce profit margins are so much higher than traditional retailers, let's take a look at how you can optimize your online company's performance.
Keep in mind, as artificial intelligence continues improving and becoming more ubiquitous, your ecommerce strategy should change to reflect these advancements. The tools, software, and platforms you use today will be exponentially more powerful, (or replaced by a more powerful alternative) as technology improves.
It's easy to rest on your laurels after you've created a robust ecommerce platform, but you need to remember that it's a process rather than a single project.
Below, we've listed some actionable ways to optimize your ecommerce profit margins.
Streamline operations
Optimize pricing
Offer upsells and cross-sells
Focus on customer retention
Improve website conversion rates
Streamline operations
Ecommerce retailers can optimize their profit margins by streamlining their operations and minimizing costs wherever possible.
This may include ecommerce automation, reducing waste, and negotiating better rates with suppliers. The more streamlined your operations are, the better the customer experience is.
From the same HubSpot State of Service, 90% of Americans use their customer service experience to determine whether or not they'd like to do business with a company.
Optimize pricing
Careful pricing strategies can help businesses maximize their ecommerce profit margins.
This may involve dynamic pricing algorithms that adjust prices in real time based on factors like demand, competition, and inventory levels.
In addition, there are ecommerce automation tools that track competitor pricing and consumer demand to help you update your offerings in real time.
Offer upsells and cross-sells
By offering complementary products or services, ecommerce retailers can increase the average order value and boost profit margins.
This may involve suggesting related items during the checkout process or offering bundled packages at a discount.
Ideally, you want your customers to purchase enough to make your shipping costs as inconsequential as possible.
If you're selling one item at a time, you have to consider shipping costs for each item. Alternatively, selling several items at once helps your business improve its profitability and saves money on your shipping and handling costs.
Focus on customer retention
Acquiring new customers can be expensive, so ecommerce retailers can focus on retaining existing customers to maximize their profit margins.
This may involve offering loyalty rewards, personalized recommendations, or targeted promotions to keep customers engaged and coming back for more.
Another interesting ecommerce statistic to consider is that increasing customer retention rates by a mere 5% may increase your company's profits by anywhere from 25% to 95%.
Improve website conversion rates
By optimizing their website's design and user experience, ecommerce retailers can increase their conversion rates and boost profit margins.
This may involve A/B testing different design elements, improving site speed and performance, and simplifying the checkout process to reduce cart abandonment.
Traditional retailers have a flagship location that acts as the hub for their business, and most of them take the time and effort required to make that location a symbol of what their business stands for and what they hope to accomplish.
Many online retailers are under the impression that a centralized hub that customers know and respond to is outdated when in reality, the modern equivalent is your business's website.
You want your site to be fast, easy to use, and attractive to consumers.
The better your website functions, the more trustworthy your business seems. In addition, the better the customer experience is while using your site, the higher your sales will be.
Setting your business up for sustained growth
To outpace average ecommerce profit margins and set your business up for real, sustained growth, you should consider using a Virtual Office.
---
Read more: How to Make Virtual Office Set Up Fast and Easy
---
A Virtual Office is a service that gives your business a prestigious and well-known business address without forcing you to secure expensive physical space.
That said, not all Virtual Offices offer the same benefits. Low-quality virtual offices are often nothing more than a PO box attached to scheduling software and should be avoided.
On the other hand, high-quality Virtual Offices come with a slew of effective amenities you can use to further bolster your ecommerce business infrastructure.
Here are some of the benefits you can expect to find when utilizing a high-quality Virtual Office.
A Virtual Office can help to create a professional image for an ecommerce business. This may include a prestigious business address, a dedicated phone number and receptionist, and access to meeting rooms and conference facilities.
Your Virtual Office address will help you present an air of legitimacy and professionality, which translates to more trusting consumers, clients, and investors alike.
With the right provider, a Virtual Office provides a flexible workspace solution that can grow and adapt to the needs of an ecommerce business.
Flexibility and adaptability are two of the most important features in the modern market. The business that can react the quickest to shifts in the market will be rewarded, while the businesses that react slowly will suffer by being beaten to action by their competition.
As ecommerce businesses often rely on remote workers, a Virtual Office can provide the tools and resources necessary to manage and communicate with a distributed team. This may include virtual meeting software, project management tools, and virtual assistants.
One of these tools is a Live Receptionist. Offered by Alliance, a Live Receptionist is an alternative to hiring a full-time or part-time employee to handle administrative tasks and phone answering.
---
Read more: Is a Virtual Receptionist Your Secret E-Commerce Weapon?
---
By using a Virtual Office instead of traditional office space, ecommerce businesses can save on overhead costs like rent, utilities, and maintenance. This frees up capital to be invested in other business areas, such as marketing or product development.
The cost savings associated with your ecommerce operations are complemented perfectly by the cost savings associated with using a Virtual Office. By pairing the two, you're able to save an inordinate amount of capital that you can use to bolster several other aspects of your operations.
A Virtual Office can provide ecommerce businesses with a global presence, allowing them to establish a foothold in new markets without the need for a physical presence. This may include access to local phone numbers and addresses, as well as translation and localization services to adapt to different languages and cultures.
Using a Virtual Office as a satellite office is a cost-efficient way to explore these new markets without risking so much capital that it damages your existing business.
Utilizing Alliance's Virtual Offices to bolster your ecommerce profit margins
Ecommerce eliminates many financial barriers and allows you to connect with a global market.
By following the above tips and getting a Virtual Office, you set your business up for sustained and flexible growth into the future.
Even better, the ecommerce profit margins you can expect from utilizing both approaches are exponentially higher than the profit margins you could expect to find in a traditional retail location.
Alliance Virtual Offices provides high-quality Virtual Offices that provide your business with prestige, flexibility, customization, and better profit margins.
With Alliance, you have access to amenities like the following.
Prestigious address

Alliance offers Virtual Offices in every state and almost every city. Paired with our impressive network of Virtual Office centers, you can be sure that the address you're using for your business is professional, well-known, and will inspire confidence in your customers and investors alike.

Live Receptionists

Our Live Receptionists are friendly and professional and will personally screen and answer all your incoming calls. In addition, they can handle basic administrative tasks like transferring calls, scheduling callbacks, and more. Using a Live Receptionist is one of the best ways to focus on the more nuanced aspects of your ecommerce operations.

Coworking spaces

Our coworking spaces provide business owners a healthy way to break the monotony of working exclusively from home. These easily reservable meeting rooms allow entrepreneurs to work in a professional setting while still getting out of the house, and being surrounded by like-minded and motivated peers provides you with networking opportunities too.

Meeting rooms

Rather than hosting meetings in public spaces or expensive and difficult-to-reserve hotel conference rooms, you can use our easily reservable meeting rooms to wow your audience. Better yet, Alliance offers meeting rooms at all of our Virtual Office centers and can accommodate large groups or small groups, whatever you need.

Mail forwarding

Other virtual office providers try and force their partners to pay for mail forwarding regardless of whether or not they need it. At Alliance, we've created a tiered system of mail forwarding that changes based on your specific business's needs.
As you can see, Alliance's Virtual Offices provide businesses with a clear path forward while ensuring that their ecommerce profit margins never suffer. Isn't that a better option than whatever information you can find on the ecommerce profit margin Reddit page?
---
Further reading
---
Alliance Virtual Offices provides a suite of digital tools and services designed for established entrepreneurs, new business ventures, and everyone in between.
If you want the best ecommerce profit margins imaginable, consider using Alliance's Virtual Offices in conjunction with your other ecommerce tools and automated services.
Doing so will help you provide long-term sustainability to your operations while saving you excess capital in the meantime.
Contact us today to see how Alliance can help you create vibrant operations with an impressive ecommerce profit margin.