---
---
Q: How can I help my ecommerce business grow? What is an ecommerce growth strategy?
A: The best way to grow your ecommerce business is by identifying your audience, applying the 20/80 rule to connect with your best customers, and utilizing the countless tools and services at your fingertips to help increase brand awareness. An ecommerce growth strategy is a detailed plan of action that looks at what you hope to accomplish and creates actionable ways for your business to achieve these goals.
---
The ecommerce market is exploding. Thanks in part to the pandemic that forced businesses online and in part to years of technological advancements and improved infrastructure, ecommerce is anticipated to account for more than 20% of all global retail sales by the end of 2023.
From achieving global sales of over $4.2 trillion in 2020 to eclipsing $1 trillion in the United States alone in 2022, ecommerce's continued ascent isn't surprising.
Businesses everywhere are pivoting to digital-first operations or allocating resources to position themselves for online sales.
Considering that 76% of American adults are already doing their online shopping with their smartphones, this is a prudent decision.
If you want your business to carve out a piece of this market for itself, however, you'll be competing against some of the largest corporations in the world and vying for attention in a market that uses it as currency.
Unfortunately, there isn't a one-size-fits-all ecommerce business development strategy that will walk you through the process. Instead, you need to create a detailed ecommerce growth strategy that caters to your specific business.
With an ecommerce growth strategy, you determine what you want, how you plan to get there, and the steps you'll take if things aren't going as planned. Despite the competition, creating a detailed action plan can quickly set your company up for success.
In this article, we'll explain how ecommerce differs from traditional forms of commerce and an ecommerce strategy example, how to develop a winning ecommerce growth strategy, and how to set your ecommerce business up for maximum profitability. Finally, we'll look at how Alliance fits into your growth strategy.
Keep reading to understand what it takes to create a winning ecommerce expansion strategy!
---
---
How ecommerce differs from traditional forms of commerce
At their core, ecommerce and traditional commerce are the same things: selling products or services to consumers.
Despite this, you'll need to understand major differences in their applications if you want to create a successful ecommerce growth strategy. In addition, understanding these differences will help you increase profitability, improve your business infrastructure, and give you a renewed understanding of the market.
---
Read more: Gross Profit Ratio: The Overlooked Secret to Faster Growth
---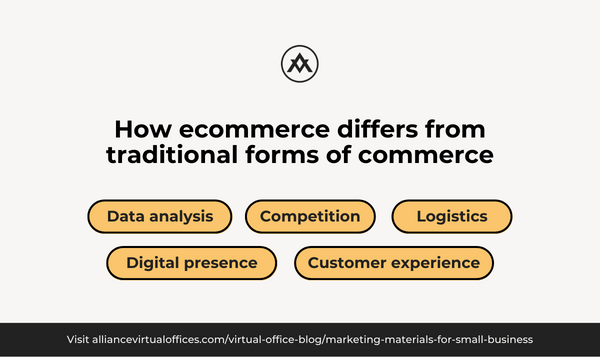 To help illustrate these differences, take a look at some of the more noticeable differences.
Digital presence
Customer experience
Data analysis
Logistics
Competition
Digital presence
Creating a digital persona, for your brand or otherwise, is a reasonably new concept considering how relatively new the internet is.
In the past, brands had no digital identity. They may have had some kind of identity based on their advertisements and tv spots, but a digital presence is a new concept.
A business's digital presence refers simply to how active that business is online.
Ecommerce businesses need a strong digital presence with a user-friendly website, mobile app, and social media presence. In contrast, regular commerce relies more on physical storefronts and traditional advertising methods.
Think about your business's digital presence the same way you'd imagine your business's brand recognition. You need to be active online to connect with consumers, provide customer support, and cultivate user-generated content.
Customer experience
In ecommerce, the customer experience is critical.
Although customer service has been harped on for years before the ecommerce boom, your ecommerce customer experience is make-or-break for your company's success.
As the market continues to saturate and customers have access to more options than ever before, a unique and high-quality customer experience is one of the single most important aspects of your operations.
According to a recently posted HubSpot State of Service for 2022, 90% of American adults use customer service as a factor in deciding whether they want to purchase goods or services from a business.
Consumers expect easy navigation, fast page load times, and a seamless checkout process. Traditional commerce may rely more on in-person customer service and physical product displays.
Data analysis
Data analysis is so important to ecommerce businesses because of how flexible digital-first companies are. No other business style can react as quickly to data analysis that suggests a change in approach as ecommerce businesses.
Ecommerce businesses have access to vast amounts of data, which they can use to track customer behavior, preferences, and purchase history. Then, they can use this data to personalize marketing messages and improve the customer experience.
Traditional commerce may have less access to data or rely on more manual methods of collecting and analyzing customer information.
Logistics
Ecommerce businesses need efficient supply chain management and shipping processes to ensure timely delivery of products.
Traditional commerce may rely on local suppliers and a more traditional distribution network.
Competition
The competition in ecommerce is global, with businesses competing against each other on a worldwide scale.
In contrast, traditional commerce may have a more localized market and competition linked to the surrounding area.
As a result, ecommerce businesses need a more robust and innovative marketing strategy to stand out in a crowded online marketplace.
How to develop a winning ecommerce growth strategy
Just like traditional businesses require detailed business plans to ensure they're growing effectively, ecommerce businesses need a growth strategy that considers business stages and concise goals.
---
Read more: Identify Your Business Growth Stage to Maximize Profits
---
This ecommerce expansion strategy will be used excessively as your business moves forward, which is why it's so important to create a business plan that considers as many variables as possible. The more you plan, the better and faster you can respond to unexpected problems.
Some business owners are under the impression that all they need is high-quality ecommerce content marketing to increase brand recognition, but without a detailed plan, marketing strategies won't be enough.
Below, we've put together a list of steps you can take to develop a winning ecommerce strategy.
Focus on customer experience
Optimize for mobile
Leverage data analytics
Embrace digital marketing
Expand your reach
Focus on customer experience
The customer experience and, by extension, your company's customer service may be the most important aspect of your business's operational duties.
More than half of American consumers will switch companies because of poor customer service, and a whopping 93% of American consumers are more likely to make additional purchases with companies that provide high-quality customer service.
If this isn't evidence enough for why you should focus on customer service, the fact that more than 60% of customers are willing to switch brands after one poor experience and that customer acquisition is exponentially higher than simply retaining existing customers should be enough to convince you otherwise.
Build a seamless and personalized ecommerce customer experience by investing in user-friendly design, personalized product recommendations, and customer service.
Engage with customers through social media and email marketing to build a relationship that encourages repeat purchases.
The better your customer experience is, the more forgiving your customers will be toward any mistakes you may make and the more likely they are to recommend your company to their friends and family.
Optimize for mobile
Optimizing for mobile may have been an extracurricular activity for ecommerce businesses a few years ago, but now, it's imperative. American consumers shop from their smartphones with surprising regularity, and countless other Americans have no personal computer or desktop, so they can only access the internet from their smartphones.
This means that when you forego mobile optimization in your ecommerce strategy, you're preventing a considerable portion of consumers from accessing your store.
Thankfully, this is easy to avoid. Ensure that your ecommerce website is optimized for mobile devices, as more and more customers are using smartphones and tablets to shop online.
A mobile-friendly site will improve the customer experience and drive more traffic to your site.
Many website builders have mobile optimization options too, so ensuring your customers can access your website from their phones isn't nearly as difficult as it once was.
Leverage data analytics
One of the best aspects of running an online business is easy access to more data than you know what to do with.
Marketing initiatives, customer acquisition costs, overhead, and more are all easier to track and analyze than ever before. In addition, your ecommerce strategy will create a substantial amount of data you can use to address problems in real time.
You can use data analytics to gain insights into customer behavior, preferences, and purchase history. Use this data to personalize marketing messages, improve the customer experience, and make data-driven decisions on product offerings, pricing, and promotions.
Through data analytics, you can react quickly to changes in the market. Considering how strong your ecommerce competitors are, the businesses that react efficiently and quickly to shifting market sentiment are the businesses that will succeed.
Embrace digital marketing
Digital marketing is paramount to the success of your ecommerce strategy.
Embrace these techniques, like search engine optimization (SEO), pay-per-click (PPC) advertising, and social media advertising to drive traffic to your website.
Use targeted campaigns to reach specific customer segments and retarget customers who have shown an interest in your products.
The beauty of the internet lies in its unparalleled ability to connect; use this to your advantage. You have more opportunities to create lifelong customers through the use of specific digital marketing techniques than any business owner had before the internet existed.
Expand your reach
Expand your reach by offering products on popular marketplaces like Amazon and eBay.
This will increase your exposure and help you reach new customers who may not have discovered your website. Additionally, consider expanding your product line or entering new markets to drive growth and increase revenue.
Using these steps, you can create a specific ecommerce strategy that's catered to your business and will set you up for long-term success.
Setting up your ecommerce business for maximum profitability
Maximum profitability is the end goal of any for-profit business, online or otherwise.
With the right ecommerce tools and strategies, you can set your business up for continued success, regardless of market conditions.
---
Read more: The Best Tools For Ecommerce Businesses
---
Check out these helpful methods you can use to ensure that your business is prepared to make as much as possible.
Optimize pricing
Streamline operations
Upsell and cross-sell
Utilize technology
Operating remotely
Optimize pricing
Conduct market research to determine the optimal pricing strategy for your products.
Sometimes, if larger corporations sell similar products for a substantial markup, the best thing to do is nothing. Sure, if you're already making enough money, you can sell some items at a loss, but generally, you want to sell products on which you can make money.
Consider using dynamic pricing techniques to adjust prices in real time based on demand and competition.
Remember, the large corporations who've entered the online market have more money and resources and can take larger losses than your small business. This isn't necessarily a bad thing, but it requires you to keep up with the market and understand where and when to change prices to stay competitive.
Streamline operations
Optimize your supply chain, logistics, and shipping processes to reduce costs and improve efficiency.
You want your company to function like a well-oiled machine, and with access to outsourced labor, automation tools, and other ecommerce services, you can do so with ease.
Consider outsourcing certain tasks, like fulfillment, to third-party providers to free up internal resources.
The more streamlined your operations are, the more you can focus on building out your brand and creating a robust business infrastructure that can handle as many customers as possible.
Upsell and cross-sell
Implement upsell and cross-sell techniques to increase the average order value.
Offer complementary products, bundle certain products together, or offer discounts on larger orders to encourage customers to spend more.
To better understand upselling and cross-selling, take the time to visit the most successful ecommerce platforms to try and understand how they use these techniques with their customer base. It may be a small pop-up that reminds customers of other items they've looked at in the past, a screen that shows consumers what other customers purchased after making a similar purchase, or anything that causes the consumer to stop for a moment to consider other offerings they want to purchase.
Utilize technology
Utilize technology to automate processes and increase efficiency. Implement inventory management software, chatbots for customer service, and artificial intelligence for personalized product recommendations.
You have access to more tools and services than any business owner before you, so take advantage of the opportunities you've been provided.
The list of failed businesses is filled with entrepreneurs that were too stuck in their ways and unwilling to adopt new technologies.
Operating remotely
Consider operating remotely using an Alliance Virtual Office.
---
Read more: Getting Started with Alliance Virtual Offices
---
This will help you save money on rent, utilities, and other overhead costs associated with physical office space, allowing you to allocate more resources toward growing your business.
Additionally, remote work allows you to hire the best talent from around the world, expanding your talent pool and potentially reducing labor costs.
Using the tips above will help you prepare your company for long-term growth, profitability, and a sustainable business model.
Utilizing Alliance in your ecommerce growth strategy
Ecommerce is a thriving and highly lucrative way to build and grow a business.
Operating remotely through an Alliance Virtual Office will help you make the most of ecommerce without surrendering your profits to an expensive office rental.
Although Virtual Offices can be used for traditional businesses, they're built for ecommerce operations and will help your business save capital, be more efficient, and increase flexibility.
First, you have access to a prestigious and professional business address that helps improve your company's legitimacy in the eyes of investors, clients, lenders, and even customers.
Not to mention, Alliance's Virtual Offices come with access to physical space and can be found in any state and almost any city.
Other virtual office providers use PO boxes and other less-than-legitimate addresses that provide no benefits or amenities. Additionally, because these lower-quality providers use addresses that don't work for LLC registration, business owners may be expected to use their home addresses.
The spaces that you have access to are coworking spaces and meeting rooms.
If you have an important presentation and don't want to risk upsetting attendees by looking unprofessional, you can host the meeting in one of our easily reservable rooms. For the coworking spaces, you have a perfect place to use when you want to break the monotony of working from home.
Additionally, Alliance provides helpful onsite support when using one of our Virtual Offices and easy-to-contact offsite support should you have any issues on the remote side.
Alliance also provides mail forwarding for business owners that don't want to deal with constantly picking up their mail. Our tiered system is built to accompany your business through various growth stages.
Other providers try to force their clients to pay for amenities they may not need, but Alliance takes a different approach. You only pay for what you need.
With these tools, you can build a strong ecommerce strategy for your business while saving capital, being flexible, and impressing investors.
---
Further reading
---
Alliance Virtual Offices offers Virtual Offices, Live Receptionists, and more for new entrepreneurs and established business owners alike to create robust ecommerce operations.
Instead of asking yourself, "How is ecommerce growing?" take the time to create a detailed ecommerce strategy that's acutely designed to help your business prosper.
Contact us today to see how Alliance's Virtual Offices can benefit your ecommerce strategy and be sure to check out our Virtual Office blog for more tips!