---
---
Q: What is ecommerce content marketing? How can I ensure my business's content is reaching the right audience?
A: Ecommerce content marketing is a strategic advertising approach that involves creating and distributing in-house or third-party generated content. The best way to ensure your content marketing reaches your target audience is by gathering as much data as possible on your preferred consumers and creating a detailed description of what they respond to.
---
It's no secret that the digital market is saturated.
Thanks to the pandemic, countless businesses were forced online. During the same period, the technological advancements and ecommerce tools created have made it easier than ever to start an online business.
Global ecommerce sales reached a surprising $4.2 trillion in 2020, and it doesn't look like that trend will be reversing anytime soon.
To secure a piece of the exploding ecommerce market, businesses need to determine what marketing strategies will help them gather attention and, most importantly, retain it. One way of doing this is by employing ecommerce content marketing tactics.
With ecommerce content marketing, companies can develop content that is perfectly catered to their target audience. Businesses can use this content to build brand recognition, clarify their values, and better align with their preferred consumers.
If you want to use content marketing to boost your ecommerce operations, you just need to know your audience and the online content they respond to. Once you've determined this, you can start creating or outsourcing content that checks the necessary boxes.
The more addictive your content is, the better.
76% of American adults already use their smartphones to shop online. With mobile-friendly ecommerce content marketing, you can take advantage of the high number of mobile online shoppers.
In this article, we'll discuss the unique benefits of ecommerce content marketing, how to build an ecommerce content marketing strategy, adapt an existing strategy to ecommerce, and other digital tools and services that bolster your content marketing.
If you're looking for ecommerce content marketing case studies or other examples of why content marketing is so impressive, you're in the right place. Keep reading for more!
---
---
The unique benefits of ecommerce content marketing
If you've already built an ecommerce site, content marketing is the obvious next step.
The ROI of ecommerce content marketing is impressive; data analytics give you a good idea of what your target audience wants to consume, and producing content helps you stand out from competitors who aren't doing the same.
---
Read more: The ROI on Small Business Content Marketing is Higher Than You Think
---
Through content marketing, your business is given the unique opportunity to connect with customers in a medium they already appreciate without requiring a reallocation of capital that other marketing initiatives insist on.
Exploring ecommerce content marketing examples is a great way to get a feel for what works for other businesses. Still, if you don't understand why you're using content marketing or the benefits associated with content marketing, you'll be a step behind your competition.
Let's take a look at some more of the unique benefits of ecommerce content marketing.
Drives traffic
Builds trust and credibility
Increases engagement
Supports SEO efforts
Provides value beyond product pages
Drives traffic
Building a website for your ecommerce store should be one of the first things you set out to accomplish when you launch your business. Unfortunately, just building a website isn't enough to guarantee traffic.
By creating high-quality content optimized for search engines, ecommerce businesses can attract potential customers to their websites.
Search engine optimization will help ensure your brand lands near the top of Google's search page. Once your content shows up regularly enough and for enough keywords, converting new customers becomes simple.
This traffic can then be directed to product pages or other website areas, increasing the chances of conversion.
Builds trust and credibility
By consistently producing informative and valuable content, ecommerce businesses can establish themselves as authorities in their industry. This helps build trust and credibility with potential customers, ultimately leading to more sales.
A perfect scenario is when your brand becomes an authority that individuals outside of your target audience use for information and research purposes. The more high-quality content you release, the more credibility you'll have, not just in the eyes of your customers, but in the eyes of other individuals who stumble upon your content too.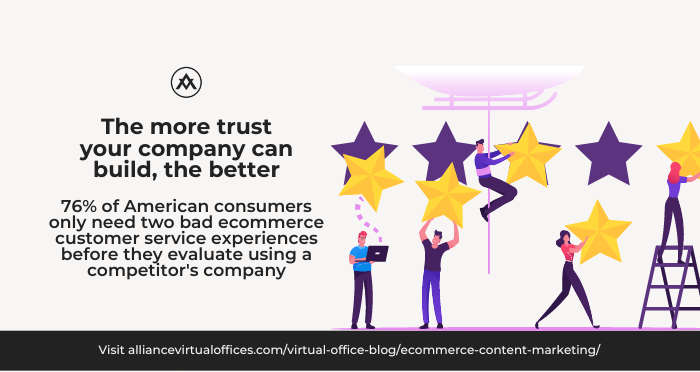 Considering that 76% of American consumers only need two bad ecommerce customer service experiences before they evaluate using a competitor's company, the more trust your company can build, the better.
Consumers are much more likely to give you the benefit of the doubt if you've established yourself as a trustworthy and credible authority in the market you're participating in.
Increases engagement
Ecommerce content marketing can help increase engagement with potential customers by providing them with a variety of content formats to interact with, such as email marketing videos, blog posts, general videos, and social media posts.
---
Read more: Should You Use Video Marketing Emails?
---
This can help to keep them interested and engaged with the brand over time.
The market values attention over almost anything, so using your ecommerce content marketing to connect with consumers following your social media pages is a great way to build connections, retain attention, and convert social media users into new customers.
Giving your business robust social media profiles that can then be used to deliver content, promotions, and other relevant information is one of the best ways to turn standard customers into fans of your brand.
The more you engage with your online communities, the more they'll engage with you. The more engagement your brand gets, the more people see your work.
This doesn't mean that you need to have social media profiles for your brand on every platform, but it does mean that you should use the data you have available to determine which platforms your target audience frequents. Once you've accomplished this, you can focus your efforts on building a following on those specific sites.
Supports SEO efforts
Search engine optimization, or SEO, is the practice of using keywords, backlinks, and more to move a website up the ranks in search engine results. In addition, SEO considers what people are regularly searching for and uses popular phrases and terms as keywords to help move a website up the list.
By creating high-quality content that is optimized for relevant keywords, ecommerce businesses can improve their search engine rankings.
This can lead to increased traffic, visibility, and higher conversion rates.
Because ecommerce content marketing pieces can be as long or as short as you want, you have an opportunity to load your content with applicable keywords that your target audience is already searching for. This will help ensure that your content is being seen not only by those looking for it but by those searching for relevant or related information.
Provides value beyond product pages
Content marketing allows ecommerce businesses to provide value to potential customers beyond just product pages.
By creating informative and helpful content, businesses can establish themselves as resources for their target audience, which can help build loyalty and repeat business over time.
Consumers love getting free stuff. Unfortunately, most successful businesses don't get where they are by giving away free products or services.
That said, providing free content makes consumers feel like your company provides value instead of simply taking their money.
Now that you're familiar with the unique benefits of ecommerce content marketing, let's explore how to build a detailed strategy that includes your content.
Building an ecommerce content marketing strategy
Regardless of what kind of marketing initiatives you're focused on, an ecommerce growth strategy is necessary to provide you with a detailed plan of action for your business.
There are countless tools and services available designed to help you create a strategy, but before you start outsourcing work, take a moment to determine what your goals are for your business, how long you think it will take to attain them, and any possible hiccups you may encounter while deploying this strategy.
---
Read more: The Best Tools for Ecommerce Businesses
---
New businesses are in a better position than existing brands for their content marketing strategies because new businesses don't have to reprogram their customers in the same way that existing companies do.
Define your audience
Conduct keyword research
Choose the right content formats
Plan a content calendar
Measure and adjust
Define your audience
Defining your audience is the first step you should take before you start trying to sell goods or services online.
It's crucial to have a clear understanding of who your target audience is so that you can create content that speaks directly to them.
Create a rough work-up of what your target customer looks like. Consider factors such as age, gender, interests, and pain points to help you develop a content strategy that resonates with your audience.
Once you've created a profile that includes this information and information about where this demographic spends their time online, you'll have a much easier time knowing where to allocate your resources.
Conduct keyword research
Keyword research can help you identify the phrases and terms your target audience is searching for. This will enable you to optimize your content for search engines, increase your visibility, and drive more traffic to your website.
Keyword research is important because you need to know what people are already searching for organically. You could have the highest search result for "virtual ice cream cones," but if no one is searching for that keyword, it won't drive additional traffic to your site.
Choose the right content formats
Ecommerce businesses have various content formats, such as blog posts, videos, infographics, and social media posts. Choose the most effective formats for reaching your target audience and delivering your message most engagingly and compelling as possible.
Part of what makes ecommerce so effective is the ability to analyze an inordinate amount of data you receive through basic operational duties. Once you know where your target audience spends time, you can allocate resources specifically to those platforms rather than trying to build a following on half a dozen social media websites at once.
Plan a content calendar
Consistency is key when it comes to content marketing, so it's important to create a content calendar that outlines what content you will create and when you will publish it.
This will help you stay organized and ensure that you're consistently delivering valuable content to your audience.
Just like you want as detailed a plan as possible for your ecommerce growth strategy, the more detailed your content calendar is, the better off you are.
Measure and adjust
Finally, it's important to regularly measure the effectiveness of your content strategy and adjust as needed.
Use analytics tools to track your traffic, engagement, and conversion rates. Use this data to refine your strategy over time to ensure you deliver your audience the best possible content.
As an ecommerce business, flexibility is paramount to your long-term success.
Not everything you try will work, and sometimes you'll fall short when you think you are destined for success. That said, this isn't an issue if you have the flexibility and the foresight to fix these issues as they arise.
In a market that values attention and efficiency, the companies that react quickest to vicissitudes in the market are the companies that will be the most successful.
These are great tips for newer businesses hoping to break into the ecommerce market, but what about adapting existing strategies?
Adapting an existing content strategy to ecommerce
Adapting an existing strategy to an ecommerce growth strategy requires a bit more work than simply starting from scratch.
Occasionally, business owners are under the impression that they can simply end their lease, retain a high-quality Virtual Office, and quickly find success with an online store.
---
Read more: How to Make Virtual Office Set Up Fast and Easy
---
Unfortunately, although a Virtual Office is a huge help for any ecommerce operations, success will require more effort than this.
You'll need to figure out how to transition your existing customers to ecommerce customers without losing the support you've built in the period before your transition.
If you're already online but pivoting to a new ecommerce content marketing strategy, you'll have to do the same.
Thankfully, we've compiled a list of some steps you can take to ensure that your adaptive strategy functions properly.
Keep reading to understand how to turn a struggling ecommerce content marketing initiative into a strategy that increases sales, increases customer retention, and bolsters your brand image.
Update product descriptions
Create product guides
Add calls to action
Optimize for SEO
Repurpose content into video
Update product descriptions
If you have old product descriptions that are no longer accurate or relevant, update them to reflect the current state of your inventory.
This will help to ensure that your customers have accurate information about the products they're interested in buying.
You should update descriptions and do routine maintenance on your ecommerce store as often as possible. This way, your content marketing can be as applicable as possible, leading to better keyword results and hopefully driving more traffic to your website.
Create product guides
If you have a lot of old blog posts or other content related to specific products, consider repurposing this content into product guides.
These guides can provide in-depth product information and help customers make more informed purchasing decisions.
In addition, your ecommerce content marketing can be released in conjunction with these guides. You can use content to explain scenarios where the product would be useful before linking your audience to a product guide that concisely explains how the product works.
Add calls to action
If you have old content that doesn't include any calls to action or CTAs, consider updating it to include CTAs that encourage readers to take specific actions, like visiting your ecommerce store or signing up for a newsletter.
CTAs are effective because you're providing your customers with actionable steps they can take. Thanks to the sheer amount of content online, you can't expect your customers to do anything you haven't explicitly asked them to do.
With a call to action, you're offering your target audience a step-by-step guide to accessing your offerings, leading to higher sales and better brand recognition.
Optimize for SEO
If you have old content not optimized for search engines, consider updating it to include relevant keywords and improve its visibility.
This can help drive more traffic to your ecommerce store and increase the chances of making a sale.
Remember, you need to determine what keywords your target audience is using and repurpose those keywords in your content. If you're using keywords that your target audience never searches for, search engine optimization won't be nearly as helpful.
Repurpose content into video
If you have old blog posts or other content that would work well in video format, consider repurposing this content into a video that you can use to promote your ecommerce store on social media and other platforms.
Consumers love videos. They're easy to watch, can serve as background noise, and require less attention than written content while still providing ample information.
Videos are a highly engaging and effective way to showcase your products and drive sales.
Integrating ecommerce content marketing with your other digital operations
Content marketing and ecommerce go hand in hand.
Build a successful funnel using ecommerce content marketing and make it easy for your audience to find and purchase from you.
To make your ecommerce content marketing even more effective, consider utilizing one of Alliance's Virtual Offices to provide you with more flexibility by allowing you to work from anywhere, more legitimacy by providing you with a prestigious and well-known business address, and more capital by offering a cost-efficient alternative to physical office space.
With the tools you have at your disposal, your ecommerce store can compete with even the strongest competitors. Just be sure your ecommerce content marketing strategy is detailed, fine-tuned, and ready to change if necessary.
---
Further reading
---
Alliance Virtual Offices offers Virtual Office services and a whole range of other services and tools for discerning and established entrepreneurs, new business owners, and anyone else hoping to break into ecommerce.
With the right ecommerce content marketing strategy, you can establish your company as an authority in your specific industry and garner your customers' favor, trust, and credibility while improving your sales and saving money.
Contact us to see how Alliance can assist with your ecommerce content marketing needs and be sure to check out our Virtual Office Blog.