---
---
Q: What are the worst jobs to have during a recession? What should I do if I'm working in one of these positions?
A: The worst jobs to have during a recession are the positions that aren't necessary, jobs that exist namely when consumers are spending extra money. If you're working in one of these positions, it's never too late to start a business to create recession-proof jobs.
---
Recessions are scary for everyone; new business owners, established entrepreneurs, and workers alike each have something to fear if the economy takes a turn for the worse.
As recession concerns steadily rise in conjunction with rising consumer confidence, some economists smell blood in the water. It's important to understand if you're in a secure position or in one of the worst jobs during recession periods.
If you own a business, planning for recessions is slightly easier because you can dictate your business's finances and prepare for these downturns before they become a problem.
Some workers are in similar positions; maybe they're working at businesses that value their employees and plan for recessions, maybe they're making enough to coast through periods of low income, or maybe they're working recession proof jobs. Whatever the case may be, not everyone is in this position.
For those in the worst jobs in recession times, fears that may seem relatively trivial or situational to others are means for genuine concern.
In this article, we will illuminate the worst jobs during recession, explore any options you have if you're in one of these positions, determine the best way to hedge against a recession, and finally, we'll see how Alliance's Virtual Offices may help you out of the worst jobs in recessions.
So, if you're worried about your long-term employment, you're in the right place. Don't waste time searching for things like "Worst jobs during recession Reddit" – instead, keep reading to understand what jobs are safe during a recession and which are not.
---
---
What are the worst jobs during a recession?
Unfortunately, some jobs are better than others. This is especially true during times of economic duress.
The financial stress of recessions hits different industries in different ways, so understanding the worst jobs during recession periods is as simple as understanding which industries can stay active during these kinds of downturns.
Before we dive too deep into the worst jobs during a recession and how to make money during a recession, let's take a moment to ensure that there isn't any confusion about inflation vs. a recession.
---
Read more: Inflation vs. Recession: What's the Difference?
---
While inflation may lead to a recession, and a recession most likely includes high inflation, the two are different concepts.
Essentially, inflation is just an increase in prices. Some inflation is natural, as prices tend to rise as the market matures, but when it gets out of hand, inflation can make even everyday items so prohibitively expensive that the country's currency becomes effectively worthless.
To date, America isn't anywhere close to experiencing the kind of hyperinflation that countries like Venezuela and Zimbabwe are experiencing, but American inflation is still a good indication that further economic strife is on the way.
On the other hand, a recession is a period of temporary economic decline. Typically, this occurs when the economy has shrunk for two consecutive quarters. Ultimately, the National Bureau of Economic Research, or NBER, decides whether or not the country is in a recession.
Now that we've covered the differences between inflation and a recession, let's take a moment to explore the worst jobs during recession.
Retail and sales
Construction and real estate
Manufacturing and production
Financial services
Hospitality and tourism
Retail and sales
During a recession, consumer spending decreases, reducing demand for products and services. This can make jobs in retail and sales particularly challenging as businesses face declining sales and may be forced to downsize or shut down altogether.
Retail workers often face job insecurity, reduced hours, or layoffs during an economic downturn.
Some specific retail positions may be slightly safer than others, like positions in grocery stores or all-purpose stores that see business regardless of economic outlook. Still, retail and sales positions are generally very tough to keep through recessions.
For sales positions, it's not easy to make the kind of repeated sales necessary to guarantee consistent income. Recessions are indicative of a lack of money flowing through the economy; when this is the case, it's difficult to get people to spend money frivolously.
Construction and real estate
The construction and real estate industries heavily rely on economic growth and consumer confidence.
During a recession, the demand for new construction projects and real estate purchases declines significantly. As a result, construction workers, contractors, and real estate agents may experience a lack of job opportunities, delayed projects, and financial instability.
Think about it: people aren't typically spending the money required to build new homes or buildings during times of market-wide fear. Savvy investors may be doing this, but if the market was made entirely of savvy investors, no one would ever make any money.
Although some construction or real estate positions may be available during recessions, these positions will be highly sought after, very competitive, and still may not pay all that well.
Manufacturing and production
When the economy slows, businesses often reduce production to align with lower demand. This can result in layoffs, reduced work hours, or even plant closures in manufacturing industries.
Workers employed in manufacturing sectors, such as automobile, steel, or consumer goods, may face significant challenges in securing stable employment during a recession.
As you may have picked up, the jobs that suffer the most during times of economic strife are in industries that people are quick to forego if necessary.
Manufacturing and production only make sense when there's a third party available who wants to purchase the product. During recessions, there's often little to no consumer interest, paired with distributors and other businesses dealing with problems of their own, and manufacturing and production plants simply do not have the demand required to keep all of their staff employed.
Financial services
While the financial sector plays a crucial role in supporting economic activities, it is not immune to the effects of a recession.
During an economic downturn, financial institutions may face increased risk, reduced lending, and declining investment opportunities.
Consequently, professionals working in banking, investment firms, or insurance companies may face layoffs, salary cuts, or reduced bonuses.
Sure, consumers will always need banks to keep their checking and savings accounts in, but a lot of the more specific financial services that deal with extraneous savings will rarely, if at all, be used during economic downturns.
Unfortunately, recessions are often when the American public learns of nefarious banking practices, whether those practices are near-fraudulent loans, like in 2007, or wildly irresponsible lending, like with Silvergate. So, although recessions are scary, they're often necessary.
Hospitality and tourism
The hospitality and tourism industries heavily rely on discretionary spending and consumer confidence.
During a recession, people often cut back on non-essential travel, dining out, and leisure activities, which can severely impact these sectors. Hotel staff, restaurant workers, travel agents, and tour guides may experience job losses, reduced tips, and decreased business during economic downturns.
Again, as soon as you consider that most consumers simply don't have the means to travel during recessions, it makes sense.
What are your options if you're in one of them?
Fortunately, despite the multitude of positions that make up the worst jobs during recession in the UK and beyond, there are alternatives.
If you're able, starting a business is a great way to avoid dealing with the frustrations of working for another business that isn't as prepared as you'd like it to be for a recession.
If you're willing to take the steps to recession-proof your business before you're faced with economic insecurity, this can be a great way to protect your assets and income.
---
Read more: The Complete Guide to Making Your Business Recession Proof
---
That said, not everyone can wake up and start a business without warning.
For those individuals, we've created a list of what you might do to protect yourself in each industry mentioned above.
Retail and sales

If you're in the retail or sales industry during a recession, consider exploring other related sectors that may be experiencing growth, such as e-commerce or online retail.
Acquiring new skills, such as digital marketing or customer service, can make you more marketable. Additionally, consider applying for jobs in industries less affected by economic downturns, like healthcare or essential services.

Construction and real estate

During a recession, diversifying your skills can be beneficial.
Consider expanding your expertise into renovations or remodeling projects, which may see increased demand as homeowners focus on improving existing properties rather than purchasing new ones.
Alternatively, explore opportunities in public infrastructure projects or government-funded initiatives that can provide more stability.

Manufacturing and production

Look for opportunities to upskill or reskill yourself to adapt to changing market demands.
Consider gaining expertise in emerging technologies or industries, such as renewable energy or advanced manufacturing.
Additionally, explore alternative career paths in logistics, supply chain management, or operations, which can offer transferable skills and job opportunities.

Financial services

During a recession, the financial services sector may experience layoffs, but there may still be opportunities in specific areas.
Consider focusing on risk management, compliance, or financial consulting, which becomes more critical during economic downturns.
Networking, obtaining relevant certifications, and building a strong professional network can help you stay connected to potential job opportunities.

Starting a business
For those who are tired of working for someone else's money, starting a business may be your best bet.
In addition, starting a business is a great way to add revenue streams to your income, helping you stay as financially secure as possible.
---
Read more: The Key to a Recession Proof Business? More Revenue Streams
---
Consider entrepreneurship as an option during a recession. Assess market gaps or emerging needs and explore business ideas that cater to those demands.
Conduct thorough market research, develop a solid business plan, and seek guidance from entrepreneurial support organizations or mentors.
Utilize online platforms and social media to reach potential customers and keep your costs low.
Starting a business can be challenging, but careful planning and adaptation can provide more control over your career and potential for your growth.
The best way to hedge against a recession
Unsurprisingly, the best way to hedge your bets during a recession, regardless of whether you're working in one of the worst jobs during recession periods or not, is to start a business yourself.
In the past, starting a business was a huge risk, a ton of work, and required a sizable reserve of capital (or the ability to borrow money).
You had to find a location consumers would respond to, pay the first and last month's rent on this space, not to mention applicable security deposits. Then, you had to pay monthly rent, utilities, and regular upkeep costs.
Needless to say, this was an endeavor that wasn't something everyone could try their hand at. Now, this isn't the case.
Thanks to tools like Alliance's Virtual Offices, individuals can start a business from the comfort of their home that comes with a professional business address, access to physical space, tiered mail forwarding, and more.
---
Read more: A Cheap Virtual Office Space That Grows With You
---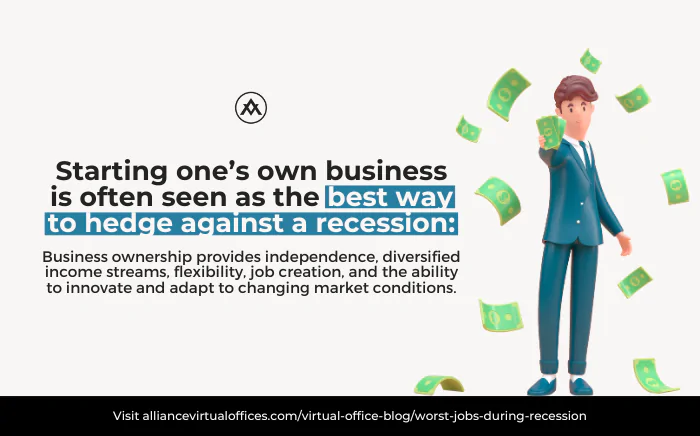 So, now that we've explained the worst jobs during recession periods and how to make money during a recession, let's explore why starting a business is such a good idea.
Independence and control
Diversified income streams
Flexibility and adaptability
Job creation
Innovation and resilience
Independence and control
Starting a business allows you to have greater control over your financial future and career path.
Instead of relying on an employer's decisions or potential layoffs, you can shape your business strategy and adapt to changing market conditions during a recession.
Moving from traditional employment to business ownership is often so impactful because you're able to identify clear problems you have with your current workplace. In turn, this helps you create a culture at your business that answers some of these problems, creating a healthier
workplace for everyone.
Diversified income streams
By starting a business, you can create multiple income streams.
Diversifying your revenue sources can help mitigate the impact of a recession by reducing reliance on a single source of income.
For example, offering a combination of products and services, or targeting different customer segments can help ensure a more stable income during economic downturns.
Diversified income streams are attractive for obvious reasons: the more money you bring in, the better, especially when the economic outlook is bleak.
Flexibility and adaptability
Entrepreneurship provides the flexibility to pivot your business model and quickly respond to changing market dynamics.
During a recession, consumer needs and preferences may shift, and having your own business allows you to adjust your offerings accordingly.
This agility can help you stay relevant and capture new opportunities, even in challenging economic times.
Job creation
Starting a business during a recession benefits you personally and contributes to the overall economy's health.
By creating job opportunities, you can help combat unemployment and stimulate local economic growth. This positive impact can extend beyond your business and have a ripple effect on the community.
Outside of helping yourself prepare for an economic downturn, owning a business allows you to make the period easier on your peers within the community as well as your employees.
Innovation and resilience
Recessions often create an environment where new solutions and innovative approaches are in demand.
As an entrepreneur, you have the freedom to bring fresh ideas and disruptive innovations to the market.
By identifying unmet needs and providing innovative solutions, you can position your business as a resilient player that can thrive despite economic challenges.
Moreover, the experience gained from navigating a recession can make your business more resilient in the long run, enabling you to weather future economic downturns.
As you can see, there is always an option. Don't allow yourself to get into a rut because you're worried about having one of the worst jobs during recession periods.
Instead, take the steps to ensure that you can continue earning money through any kind of economic period, good or bad.
Remember, knowing what jobs survive a recession won't help you if you aren't willing to take advantage of these jobs when they're available.
Going from the worst jobs during a recession to learning how to make money during a recession
During a recession, jobs in retail, sales, construction, manufacturing, and hospitality tend to be among the worst affected.
However, individuals in these industries have options, such as exploring related sectors, diversifying skills, and seeking opportunities in less impacted fields.
Alternatively, starting one's own business is often seen as the best way to hedge against a recession, offering independence, diversified income streams, flexibility, job creation, and the ability to innovate and adapt to changing market conditions. Entrepreneurship empowers individuals to take control of their financial future and navigate economic downturns with resilience and agility.
Through Alliance, entrepreneurs can get a reasonably priced Virtual Office, complete with a professional business address, as well as access to physical space via coworking rooms and meeting spaces, mail forwarding, and other amenities like Live Receptionists.
With Alliance's suite of tools, business ownership is doable for anyone.
---
Further reading
---
Alliance Virtual Offices offers Virtual Offices, Live Receptionists, and more for established entrepreneurs, new business owners, and everyone in between.
Instead of worrying about having one of the worst jobs during recession periods, take the time to understand how starting a business may eliminate some of your worries. Whether you're starting a side hustle to bring in additional income, trying to do entrepreneurship while keeping your traditional job, or even transitioning to a full-time business owner, the opportunities are endless.
Contact us today to see how Alliance can help you work through the worst jobs during recession periods, and be sure to check out our Virtual Office Blog for more helpful information.