---
---
Q: What is a small business marketing coach? Should I hire a small business marketing coach to help drive sales?
A: A small business marketing coach is a professional your business hires to help you design a healthy and effective marketing plan. Whether you should hire a small business marketing coach or not depends on a few different metrics, but the regular questions you should ask yourself are what you're hoping to accomplish, your business's current standing, and how much you know about marketing yourself.
---
Although the country was experiencing widespread social and work-related change before the pandemic, COVID-19 accelerated many of the issues we'd seen gaining traction.
Many of these changes happened in the workplace and were related to employees feeling taken advantage of. This happened as the country experienced mass shutdowns and forced countless employees to work from home.
Along with these changes in the work experience itself, we've seen countless other changes that have come about because of other large-scale shifts.
Marketing is one of these industries. HubSpot's List of Marketing Statistics for 2022 showcases some of these constant shifts.
With information about the efficacy of SEO marketing, the importance of content marketing strategies, and more, this report would be virtually unreadable to marketers even 20 years ago.
This rapidly changing pace has created an environment wherein even established business owners are being forced to learn marketing tactics that didn't exist a short time ago.
To assist with these changes, some entrepreneurs are calling upon the help of small business marketing coaches to bridge the technical and logistic gap.
In this article, we'll explain what a small business marketing coach is, the benefits of hiring a small business marketing coach, the drawbacks of hiring a small business marketing coach, and finally, how to prepare your online business to handle an influx of sales that comes from successful marketing initiatives.
So, if you're searching for key marketing strategies for small business, you're in the right place. Outsourcing marketing for small business can be a great way to save time, money, and effort; the key is ensuring that you're dealing with trustworthy marketing companies for small businesses and have concise and attainable goals in mind.
---
---
What is a small business marketing coach?
A small business marketing coach is a professional who specializes in guiding and assisting small business owners in developing effective marketing strategies and campaigns to promote their products or services.
A small business marketing coach is a tool and service that helps you spend marketing money more effectively.
As you may know, marketing is easy to overspend on, and poor marketing decisions can lead to financial insecurity in companies very quickly.
---
Read more: The Complete Guide to Making Your Business Recession Proof
---
A small business marketing coach provides personalized guidance to small business owners, helping them understand their target market, identify their unique selling propositions, and create marketing plans tailored to their specific goals and budget.
Many modern entrepreneurs feel wildly out of depth with the new marketing practices permeating the market. A small business marketing coach can help quell these feelings of anxiety by providing a concise and clear idea of what's next, how to accomplish it, and the best branding for the situation.
A marketing coach helps small business owners navigate various marketing channels, like social media, email marketing, content marketing, search engine optimization (SEO), and paid advertising, providing insights and best practices for each platform.
Unfortunately, marketing strategies are not straightforward. The old approach of constantly bombarding consumers into submission is no longer effective, so determining effective new strategies may require a new set of eyes.
---
Read more: Empower Your Small Business: Unconventional Marketing Strategies for Success
---
With a small business marketing coach, you're paying for valuable knowledge and expertise. Sure, it's nice to get a list of marketing strategies for small business, but the real reason you're spending money is for the knowledge, expertise, and information your coach can provide.
Naturally, you need to ensure you're dealing with a trustworthy small business marketing coach, but the right consultant can do wonders for your business. They offer valuable expertise and industry knowledge, staying updated with the latest marketing trends and techniques, and helping small businesses adapt to changes in the marketplace.
A small business marketing coach acts as a mentor and accountability partner, keeping entrepreneurs focused and motivated to implement marketing strategies, track their progress, and achieve measurable results for their business growth and success.
Unsurprisingly, the quality of small business marketing coaches varies greatly. This is why it's so important to make your goals, expectations, and values clear as early as possible.
In addition, you need to ensure that you're doing your due diligence and searching for client reviews, past performances, and relevant certificates for each potential small business marketing coach you consider hiring.
The benefits of hiring a small business marketing coach
The benefits of hiring a small business marketing coach are largely similar to other forms of outsourced marketing initiatives.
---
Read more: When and Why Should Businesses Outsource Marketing? Unveiling the Key Factors for Success
---
Below, we've put together a brief list of some of the amenities that hiring a small business marketing coach may make available.
Enhanced marketing strategy
Cost and time efficiency
Fresh perspectives and ideas
Skill development
Accountability and support
Enhanced marketing strategy
Hiring a small business marketing coach provides access to expert guidance and insights, allowing you to develop a well-defined marketing strategy. They can help you identify your target audience, understand their needs, and create effective marketing campaigns that resonate with your customers.
Unfortunately, simply knowing "my product is for children" is no longer enough to act as a basis for creating marketing initiatives.
Now, you need to know if these children are old enough to have social media profiles and, if they are, which platforms they are using. You need to know what similar products this demographic has previously enjoyed, how much they're willing to spend on it, and what sets your product aside from the competition.
The sheer amount of information about your target audience that you should know leaves a lot of room for outside help. Remember, if you're in a position where you know nothing about marketing within your industry and you feel genuinely lost, the best course of action is almost always outsourcing help and using that outsourced help to learn as much as humanly possible.
Cost and time efficiency
A marketing coach can save you valuable time and money by helping you prioritize your marketing efforts. They assist in streamlining your strategies, focusing on the most impactful activities, and avoiding costly trial-and-error approaches.
Their expertise enables you to make informed decisions and allocate resources efficiently.
When spending money on marketing initiatives, throwing good money over bad is incredibly easy, especially if you don't have ironclad goals in mind before you start these initiatives.
With a small business marketing coach, you can ensure that you aren't wasting time, effort, or money on faulty initiatives that don't have a measurable metric by which to gauge success.
Fresh perspectives and ideas
Marketing coaches bring an outsider's perspective to your business, enabling them to identify untapped opportunities and innovative marketing approaches.
They can offer creative ideas, brainstorm small business marketing solutions to challenges, and provide objective feedback on your existing marketing efforts.
These fresh perspectives are incredibly difficult to receive from employees in-house. Whether it's fear of being against the crowd, shyness, or another less obvious reason, you get more honest feedback from individuals who aren't regular employees.
Outside of the obvious benefits, getting fresh perspectives and ideas allows you to get a feeling for what your branding inspires in an individual who is seeing your company for the first time. These initial impressions are invaluable and very difficult to come by.
Skill development
Working with a marketing coach allows you to acquire valuable marketing skills.
They can provide training sessions, workshops, and resources to help you improve your marketing knowledge and capabilities. These newly acquired skills can empower you to take charge of your marketing initiatives in the long run.
Remember, you don't have to outsource your work forever.
If you're an individual who truly feels lost when thinking about modern marketing, it's likely worthwhile to find a marketing coach who can provide you with the information you need to succeed on your own.
The more you retain from your time with a small business marketing coach, the better prepared you'll be for future endeavors.
Even if it's basic information like applicable keyword searches for SEO within your content marketing, analytic tools that help you gauge the efficacy of your marketing initiatives, and more, this information is difficult to learn yourself but easy to teach.
Take advantage of the information you have at your disposal to ensure you only have to outsource marketing when necessary.
Accountability and support
A marketing coach acts as an accountability partner, keeping you on track with your marketing goals. They provide support and motivation, ensuring you stay focused and committed to implementing your marketing strategies.
With their guidance, you can measure your progress, make adjustments when necessary, and achieve desired outcomes for your small business.
Running a business is great because it provides freedom and flexibility, but it's easy to struggle with the lack of accountability.
A small business marketing coach plays the role of an authority figure and helps you keep timely goals and measurable initiatives that you can constantly check your progress on.
Unfortunately, there are drawbacks associated with hiring a small business marketing coach, too.
The drawbacks of hiring a small business marketing coach
It may come as no surprise, but even something as beneficial as a small business marketing coach comes with its own set of drawbacks and problems that you may experience.
Naturally, if you've built proper business infrastructure early and are doing the required due diligence, you can avoid several of these drawbacks, but you should still be aware of their existence.
---
Read more: Get a Virtual Address for LLC Registration
---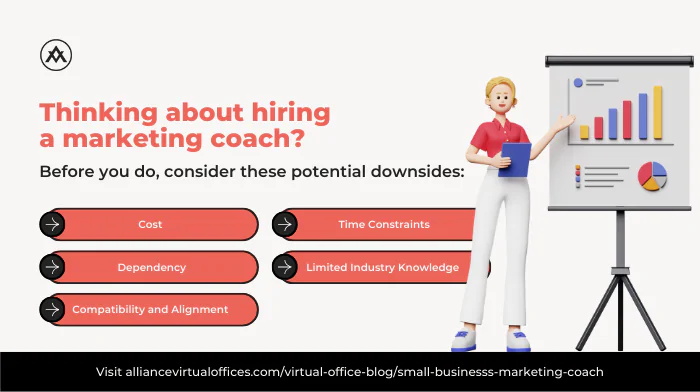 Below, we've created a list of some of these drawbacks.
Cost
Dependency
Compatibility and Alignment
Time Constraints
Limited Industry Knowledge
Cost
Hiring a small business marketing coach can be an additional expense for your business. Depending on their expertise and level of involvement, their fees may vary and might not be affordable for every small business owner, especially those with limited budgets.
Ultimately, the cost question comes down to whether you'd spend more on the trial-and-error period of determining your future marketing initiatives or if the expensive small business marketing coach would save you money in the long term.
Dependency
Relying too heavily on a marketing coach can create a dependency on external guidance.
While their expertise is valuable, it's important to develop your understanding of marketing principles and strategies to maintain control and adaptability in the long run.
Remember, the goal is to retain as much information as possible so that you don't feel obligated to retain outside help for future endeavors.
Yes, it's nice having someone who serves as an authority figure, but as a business owner, you need to understand that the only authority figure you should be trying to impress is yourself.
Creating dependence on an outsourced individual can ultimately create an inordinate number of problems because this individual gains power over you and your business the more you feel like you can't survive without them.
You should take advantage of the knowledge, information, and expertise that these coaches provide while ensuring that you're retaining as much of this data as possible.
Compatibility and Alignment
Finding the right marketing coach who aligns with your business goals, values, and working style can be a challenge.
There is a risk of hiring someone whose approach or recommendations may not resonate with your business vision, leading to a potential mismatch and ineffective collaboration.
Ultimately, you face this possibility anytime you hire a new employee. This is why it's so important to keep a level head and never allow yourself to get caught up in the stories of past successes when dealing with a potential small business marketing coach.
Remember, you are dealing with individuals who have had one express purpose for the past several decades of their lives: to sell. They will do everything in their power to convince you that they are right for your company.
It's up to you to ensure you're only hiring individuals who will mesh well with your business's values, alignments, and goals.
Time Constraints
Engaging with a marketing coach requires time and availability for meetings, consultations, and follow-up discussions.
For small business owners already juggling multiple responsibilities, finding the necessary time to dedicate to coaching sessions may be difficult, potentially affecting the effectiveness of the coaching relationship.
At the end of the day, only you know how busy you are.
Again, you should weigh the potential time constraints against the time you can expect to spend figuring out an effective marketing strategy.
Remember, every decision you make as a business owner needs to be for the long-term good of your business's operations. Time constraints now that equate to valuable information and data later may be worth the trade.
Limited Industry Knowledge
While marketing coaches possess expertise in marketing strategies and tactics, they may not be well-versed in the specific nuances and dynamics of your industry.
This can sometimes result in generic or less tailored advice that may not fully address the unique challenges and opportunities within your particular niche or market.
This isn't to say that you need someone with direct experience in your specific market, but you want to ensure they're at the very least familiar with what your business is trying to accomplish.
With the sheer influx of new industries that exist in the American workforce today, finding someone with hyper-specific expertise may be near impossible. Thankfully, you can still meet with marketers who recognize this and have actionable plans to combat their inexperience.
Creating operational infrastructure with Alliance before finding a small business marketing coach
Hiring a small business marketing coach offers numerous benefits, including access to expert guidance in developing a robust marketing strategy, cost and time efficiency, fresh perspectives, skill development, and accountability and support.
However, it's important to consider the drawbacks, such as the cost of hiring a coach, potential dependency on external guidance, the challenge of finding the right fit, time constraints, and the potential limitations in industry knowledge.
Overall, carefully weighing the pros and cons can help small business owners determine whether hiring a marketing coach aligns with their specific needs and resources.
Before making this decision, however, it's worth it to take the time to secure one of Alliance's Virtual Offices for your business address needs.
Not only does Alliance provide you with a professional and well-known street address that's available in every state and almost every city, but we also offer a professional phone number and a litany of other amenities that can help you cultivate a strong business infrastructure as soon as you get started.
By taking the time to create a hub for your business before you start seeking new sales and income, you're preparing yourself for an influx of revenue.
The better prepared you are for this higher volume of sales, the better you can respond to your new customers.
---
Further reading
---
Alliance Virtual Offices offers Virtual Offices, Live Receptionists, Virtual Phone Numbers, and more for any individual looking to start a company of their own.
If you're looking for a small business marketing coach, you want to ensure that the work they do can be reflected in your fulfillment department.
Contact us today to see how you can create a business address that's perfectly designed for any small business marketing coach.