---
---
Q: Should I outsource my small business marketing? How will I know my business is large enough to begin outsourcing marketing initiatives?
A: Whether you should outsource your small business marketing efforts depends largely on the kind of content you're hoping to create, your goals, and your time constraints. If you have the funds, are hoping to create a viral marketing initiative sooner rather than later, and are already struggling with managing your time, you should outsource your marketing for your small business.
---
The labor market may have evolved exponentially in the last few years, but the marketing world has exploded.
In an environment that rewards retaining attention and punishes companies that cannot stay relevant, marketing is more important than ever.
For small business owners in particular, deciphering modern marketing tactics is the single most effective way to cement your company in the public consciousness.
The question is, what are the most effective small business marketing solutions?
Do you need a small business marketing coach? Should you outsource these initiatives, or should you focus exclusively on creating in-house content?
The answer depends largely on your goals, your business, and your budget.
Outsourcing marketing for small business solutions can be a great way to increase brand recognition and engagement, but you have to have a clear and concise vision. According to HubSpot's 2022 State of Marketing report, ecommerce customers are the most frustrated with inconsistent brand messaging.
This means that regardless of whether you outsource or not, you need to be consistent.
In this article, we'll be explaining the benefits of outsourcing marketing for small business, the drawbacks and limitations of outsourced marketing, whether you should outsource your marketing or not, and finally, how to determine the right time for small business marketing solutions.
So, if you're hoping to understand marketing companies for small businesses or asking questions like "How much should a small business spend on marketing?" – you're in the right place.
Keep reading for more about outsourcing marketing for small businesses and understanding when this is the route you should take.
---
---
The benefits of outsourcing marketing for small business
To properly understand whether you should outsource your small business marketing or not, you need to understand both the benefits of outsourced marketing and your work style.
For your workstyle, this is saying that some individuals are more creative than others. If you're naturally creative and you're filled with ideas about your business's branding (and these ideas are concise and straightforward), you should try to utilize these ideas before leaping into outsourced branding help.
---
Read more: Use Your Work Style to Your Advantage
---
Outside of helping with marketing, understanding your workstyle gives you a clear advantage as your scale your company. The more you know about yourself, the better you'll understand how to best help your business.
Take the time to understand how you work the best, where you work the best, how you learn most effectively, and where you're the most efficient, and this information will help you with virtually every aspect of your business's operations.
Remember, outsourced marketing is highly specific for each business looking for help with the matter. You shouldn't be Googling questions like "How much does a small business spend on marketing?" – instead, you should be trying to figure out how much your business will need to spend.
To more effectively explain the benefits of outsourcing marketing for small business, we've created a brief list of some associated positives below.
Cost savings
Access to expertise
Focus on core competencies
Scalability and flexibility
Fresh perspectives and creativity
Cost savings
Outsourcing marketing allows small businesses to save on costs associated with hiring, training, and retaining a dedicated in-house marketing team.
Instead, they can partner with a marketing agency or freelancer to pay for specific services or projects, resulting in lower overhead expenses.
When you outsource specific jobs, you can take the time to ensure brand cohesion with the third party. This allows you to enjoy the cost-savings of outsourced marketing labor vs in-house content creation while keeping your brand consistent with your consumers.
Access to expertise
By outsourcing marketing, small businesses can tap into the expertise of experienced professionals who specialize in various marketing disciplines.
These experts stay up-to-date with the latest trends, strategies, and technologies, providing small businesses with access to a higher level of marketing knowledge and skills.
You may be good at branding ideas and even helped your company secure some real attention. Still, chances are high that your expertise lies with your company's industry rather than the industry's marketing.
Allow professionals to do what they do best and utilize this expertise to understand as much about the marketing world as possible.
Remember, the more you know, the better fit you are to help your business scale.
Focus on core competencies
Outsourcing marketing activities frees up valuable time and resources for small business owners and employees to focus on their core competencies.
Instead of investing time in marketing research, campaign planning, and execution, they can concentrate on their product/service development, customer service, and day-to-day operations.
Think about it this way; if you were running a marketing agency, you wouldn't insist on showing the tech company how to create new software.
By outsourcing marketing for small business, you can focus on doing what you're passionate about while trusting marketing professionals to help take your brand to the next level.
Scalability and flexibility
Outsourcing marketing provides small businesses with scalability and flexibility.
As their marketing needs fluctuate, they can easily adjust the scope of work with the marketing agency or freelancer. Whether it's expanding or scaling back marketing efforts, outsourcing allows for agility in adapting to changing business requirements.
When hiring in-house, you have to keep a good eye on your marketing team to ensure that you're properly positioned for your business's marketing needs at the time.
If you have particularly busy seasons, you don't want to hire a year-round marketing team that burns money whenever you're not in this busy period.
Outsourced marketing allows you to better plan for periods of increased interest by causing you to only use third-party marketing agencies when you need increased attention.
Fresh perspectives and creativity
External marketing professionals bring fresh perspectives and new ideas to the table.
They can provide a fresh set of eyes and bring a different creative approach to marketing campaigns. This infusion of creativity can help small businesses stand out in a competitive market and develop innovative strategies to attract and engage their target audience.
Yes, a cohesive brand vision is important, but introducing new perspectives and more creative influences is a great way to help your company evolve.
Remember, consumers aren't worried about companies changing; they're worried about companies being inconsistent. Your brand can go through evolutions as often as necessary, and if you're keeping to the core tenets you used to create the business, your customers shouldn't mind too much.
The drawbacks and limitations
Unfortunately, you won't know if you should outsource marketing for small businesses unless you understand the drawbacks and limitations of outsourced marketing.
Despite these drawbacks and limitations, many of the problems with outsourced marketing relate to companies' inability to prepare for economic downturns.
---
Read more: The Complete Guide to Making Your Business Recession Proof
---
If you can take the time to ensure that your company is prepared for any macroeconomic conditions, you can better ensure that the benefits of outsourced marketing almost always outweigh the drawbacks.
Sometimes, getting organized is the simple push your business needs to understand where to spend money, where to save money, and most importantly, how to stretch money.
Understanding how to outsource marketing for a company is paramount to your brand's long-term success. Remember, knowing how to outsource includes knowing when you should forego marketing spending altogether.
Below, we've put together a list of some of the detriments associated with outsourcing marketing for small businesses.
Lack of control
Communication and coordination issues
Risk of inconsistent quality
Long-term cost concerns
Limited knowledge of the business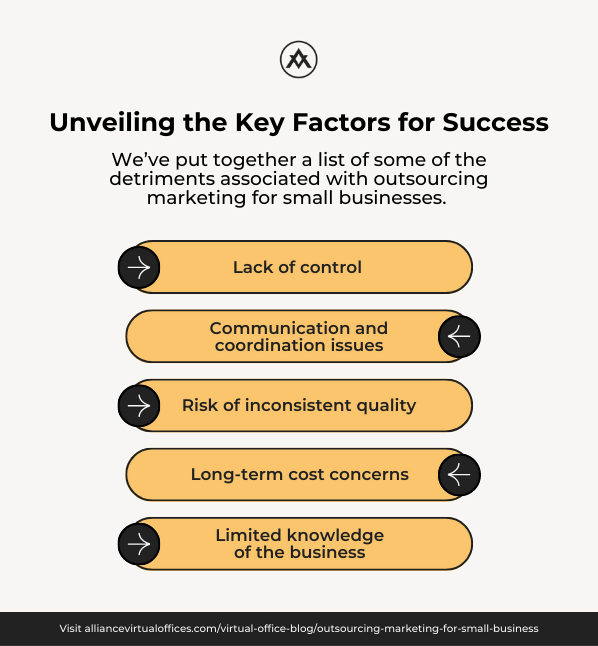 Lack of control
When outsourcing marketing, small businesses may face challenges in maintaining full control over their marketing activities.
They are reliant on the expertise and decisions of the outsourced professionals, which can sometimes lead to a loss of total control over branding, messaging, and overall marketing strategy.
Situations like these are why it's so important to have a clear and concise plan for the marketing agency, complete with materials and branding directions they should avoid and other directions you may want them to focus on.
Similarly, this is why it's important to have a strong contract in place when outsourcing marketing for your small business.
Communication and coordination issues
Effective communication and coordination between the small business and the outsourced marketing team can be a potential challenge.
Miscommunication, delays in response, or a lack of understanding of the business's unique needs and goals may occur, hindering the effectiveness of marketing efforts.
In addition to creating clear and straightforward plans for your outsourced marketing agencies, you should establish clear and quick lines of communication before the agency begins working on your marketing initiatives.
The better you can communicate with the outsourced teams, the better.
Risk of inconsistent quality
Depending on the chosen outsourcing provider, there is a risk of inconsistent quality in the marketing deliverables.
Small businesses may encounter variations in the quality of work or a lack of alignment with their brand identity, resulting in a negative impact on their overall marketing performance.
You must ensure you're dealing with professional and high-quality third-party providers. Ask the marketing agencies you're contacting to provide you with sample work, a portfolio of previous work, and analytics on how successful previous initiatives were.
Long-term cost concerns
While outsourcing marketing can initially save costs, over time, the cumulative expenses may increase.
If a small business relies heavily on outsourcing for all marketing activities, the recurring fees or project-based costs can add up significantly.
It's important to carefully consider the long-term financial implications and evaluate the cost-effectiveness of outsourcing.
For example, if your first outsourced marketing initiative goes super well and you want to continue the traction, you should probably begin considering hiring an in-house team to take over the outsourced teams' duties as time goes on.
Limited knowledge of the business
External marketing professionals may lack an in-depth understanding of the small business's industry, target audience, and unique value proposition.
This can result in a disconnect between the outsourced marketing efforts and the specific needs of the business, potentially leading to less effective campaigns and missed opportunities in the target market.
Unfortunately, marketing requires more specified proficiencies than other easily outsourced industries, like receptionist services.
---
Read more: Outsourcing Reception Services Saves up to $163 Million
---
As you can see, there are several problems associated with outsourcing marketing for small business, but most of these issues can be avoided through due diligence and careful planning.
To avoid poor experiences with outsourced marketing initiatives for your small business, ensure that you've created a detailed plan with concise goals, you're using a high-quality marketing agency, you've established open lines of communication, and you've already been adhering to clear brand narratives.
Should you outsource your marketing?
Ultimately, if you want to know whether you should outsource your marketing, you need a fundamental understanding of your business.
Regardless of whether or not you decide on in-house marketing initiatives or third-party agencies, you'll need to acknowledge that context is important.
---
Read more: Context is Everything: Your Guide to Contextual Marketing
---
As behavioral advertisements fall out of public favor, contextual advertisements are quickly taking their place. Understanding this, independently of your outsourced marketing needs, will help you take full advantage of the digital and physical advertisements your business spends money on.
Additionally, utilizing the shared experiences of marketers who've been successful in recent years is another great way to give yourself and your business additional context and inspiration.
To help you know if you should outsource your marketing, we've put together another brief list of situations in which you may find yourself and your business.
Strategic alignment
Internal resources and expertise
Cost-benefit analysis
Scalability and growth potential
Control and communication
Strategic alignment
Before deciding to outsource marketing, it is crucial to assess whether outsourcing aligns with your overall business strategy.
Consider whether outsourcing will help you achieve your marketing goals, reach your target audience effectively, and align with your brand values and messaging.
Remember, you should never engage in marketing for no reason; it's a quick way to lose money with no results. Your marketing spending needs to be intentioned and for a specific reason.
Internal resources and expertise
Evaluate the resources and expertise available internally within your small business.
If you lack the necessary marketing skills or have limited resources to dedicate to marketing efforts, outsourcing can be a viable option to tap into specialized knowledge and capabilities.
Business owners need to accept that they can't be experts in every area at once. At times, outsourcing labor is the most prudent decision.
Cost-benefit analysis
Conduct a thorough cost-benefit analysis to determine the financial implications of outsourcing marketing.
Compare the costs of outsourcing to the potential return on investment you expect to achieve.
Consider factors like long-term costs, potential savings, and the impact on your bottom line.
At the end of the day, if the outsourced marketing doesn't fit the budget, you need to make other changes to ensure that your business can handle the costs.
Scalability and growth potential
Assess your business's growth potential and scalability requirements. If your marketing needs are likely to change and expand over time, outsourcing can offer the flexibility to adapt and scale your marketing efforts accordingly without the need for constant hiring and training.
Don't build an in-house team before you can effectively assess that team's duties for the next 2-3 years.
Control and communication
Evaluate how comfortable you are with relinquishing control over certain aspects of your marketing.
Consider the level of control you wish to maintain and assess the communication channels and processes that would be in place with the outsourced marketing team to ensure effective collaboration and alignment with your business goals.
How to determine the right time for small business marketing solutions
Outsourcing marketing for small businesses offers numerous benefits, including cost savings, access to expertise, the ability to focus on core competencies, scalability, and fresh perspectives.
However, drawbacks such as a lack of control, communication issues, inconsistent quality, long-term cost concerns, and limited knowledge of the business should be considered.
When deciding whether to outsource marketing, it is important to align it with your business strategy, evaluate internal resources, conduct a cost-benefit analysis, assess scalability and growth potential, and consider control and communication factors.
One of the most important things to keep in mind when determining the right time for outsourcing marketing for small businesses is understanding the intention behind your marketing.
Are you hoping to drive engagement to your website? Are you hoping to increase your reach on a particular platform? Are you trying to better connect with your existing target audience on a particular social media platform?
Asking yourself questions like these will help you understand when outsourcing marketing for small businesses is relevant and when you should sit on your hands.
---
Further reading
---
Alliance Virtual Offices offers Virtual Offices, Live Receptionists, and more to established entrepreneurs, new business owners, and everyone in between.
Regardless of the services you're looking for, Alliance Virtual Offices is designed to help small business owners save capital, increase legitimacy, and scale effectively.
If you're trying to determine whether you want to focus on outsourcing marketing for small business needs, ensure you're already utilizing Alliance's services first.
Contact us to see how Alliance can help you eliminate the need for a small business marketing coach, and check out our Virtual Office Blog for more tips on outsourcing marketing for your small business.