---
---
Q: How can I improve my small business management skills? Are there ways to make managing employees, finance, and growth more streamlined?
A: Switching to remote work is one of the easiest ways to level up your small business management skills. The collaborative nature and ability to work from anywhere make remote work the best method of employing collaborative management styles. Additionally, there are countless virtual tools available that can help you manage employees, finances, and growth.
---
In 2021, Americans saw swathes of workers leave their jobs to start their own businesses, seek freelancing positions, or take different positions.
While many individuals chalked up these quitting workers to Covid aftershock, the reality is that most left their jobs to find new positions with better pay.
This mass exodus — now called The Great Resignation — highlighted a deeper issue for the modern labor market:
Workers are unwilling to work for substandard pay in hostile conditions.
Historically, small business management looked a lot like an authoritarian government — complete with a hierarchical management ladder.
This authoritarian style typically saw one individual acting as manager — in charge of making all the important decisions with hundreds or thousands of employees serving as their underlings.
In recent years, this authoritarian management style has been shown to dampen innovation, reduce productivity, and occasionally create a hostile work environment.
Thankfully, authoritarian management is slowly fading into obscurity while collaborative management takes its place.
Collaborative management does away with the idea that one person makes all the important decisions — opting instead for an environment of cooperation that helps all employees feel heard, appreciated, and productive.
Collaboration is now quickly becoming the go-to for small business management, and while collaboration works in any capacity, it works particularly well for remote work.
In this article, we'll be discussing how remote work impacts small business management, how remote work can change your business's finance management, how remote work makes growth management easier, and various virtual tools that make small business management more streamlined.
---
---

How does remote work impact employee management?
Before we dive in, let's take a closer look at what small business management means in our progressive and digital world:
As more people transition to remote work, managing a small business has become an increasingly virtual process. With industry reports claiming that ecommerce will account for more than 20% of all global retail sales by the end of the year, you should understand the relationship between small business management and remote work.
Effective small business management means that you're able to coordinate your business's operations, streamline your employees' tasks, and react flexibly to any changes in the market.
Occasionally, people confuse small business management and small business administration — especially with so many businesses operating remotely.
Small business management focuses on leadership and the actual running of the business, while administration focuses more on daily operations.
While you can get degrees and certificates for both areas, a small business management certificate increases your legitimacy and shows that you're serious about running your business.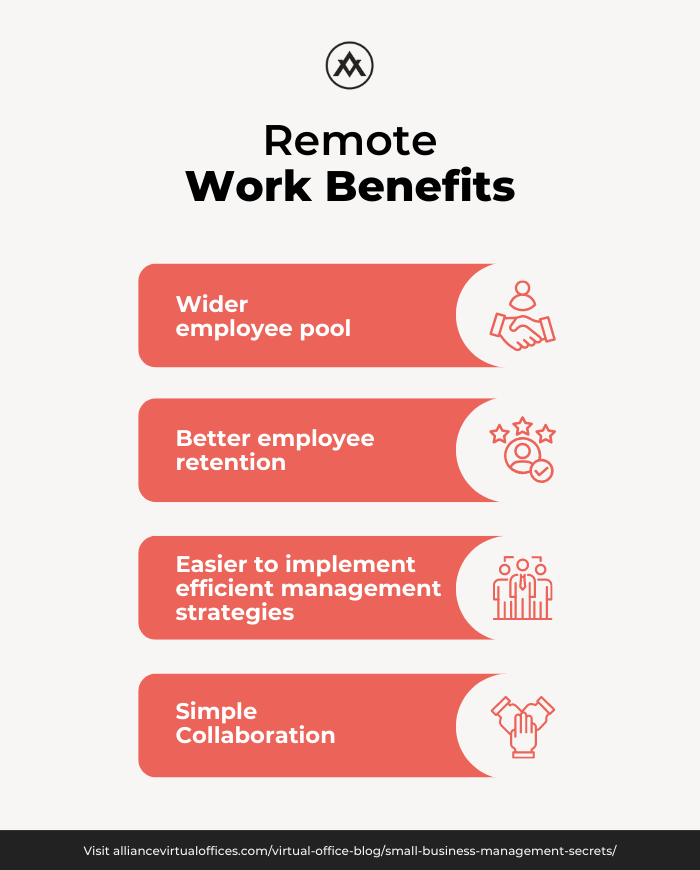 Remote work benefits employee management in several ways. Below, we'll be taking a closer look at some actionable benefits that traditional work simply can't offer:
Wider employee pool
Better employee retention
Easier to implement efficient management strategies
Collaboration made simple
Wider employee pool
For starters, remote work gives you a much wider range of candidates.
Effective small business management requires employees who are willing to be managed. With the widened pool of applicants that remote work provides, you can ensure that you're hiring individuals that share your company's values and passion.
In traditional employee pools, you're limited by the individuals in your immediate vicinity. Working remotely allows you to pull from a pool of candidates across the country, which makes it easier to put together a talented, well-balanced team.
Better employee retention
A wider employee pool will also improve employee retention. Financial management is only one aspect of your operations, and you also need to connect with your employees who are actually committed to your organization.
According to Forbes, companies that offer remote work experience a turnover rate that's more than 25% lower than the national average. As we saw during the Great Resignation, employees are increasingly valuing freedom and autonomy at work.
Providing employees with the option to work from home empowers them, allows them to bring their best to your business, makes your business seem more attractive, and keeps them loyal to your company.
Easier to implement efficient management strategies
You don't need a small business management degree to know that micromanaging can be detrimental to your company's productivity.
Working remotely allows you to implement efficient management strategies that help you avoid micromanagement while keeping your employees content.
Micromanaging kills any loyalty your employees might have, decreases productivity, and can even create a toxic work environment.
With remote work, micromanaging your employees becomes far less likely and allows you to focus on more important tasks.
Collaboration made simple
The benefits of collaborative management considerably outweigh its traditional, authoritarian counterpart.
In our increasingly digital-first world, innovation is required.
Collaboration breeds innovation. By giving your employees the freedom to communicate openly and honestly, they become far more willing to bring ideas and solutions to the table.
Remote work and online small business management tools make collaborating simple. The immediate and streamlined nature of these tools allows you to connect immediately with your peers, quickly edit content, and set clear and defined deadlines.
Remember, while small business management classes will help you with these concepts, they aren't necessary. Employee management can be complicated — and the best way to improve is through experience.
---

How remote work impacts your financial management
Remote work also helps you simplify your financial management. Below, we've listed two key ways that remote work has a direct impact on your business's finances.
Reduced operational costs
Easier to track business expenses and income
Reduced operational costs
Remote work allows you to make the most of your money by paying for space as you need it and avoiding the high fees associated with a traditional office rental.
Historically, traditional office rentals have leases that may involve a three-year minimum, making these buildings a sizable commitment.
Thankfully, Alliance Virtual Offices has the perfect alternative.
Our Virtual Offices are a cost-efficient way to keep the physical amenities associated with these spaces without being forced to buy multi-year leases. Not only are our Virtual Offices priced competitively, but our 6-month minimum plans involve a lower commitment compared to traditional office leases.
---
Read more: How to Set Up a Virtual Office
---
Easier to track business expenses and income
Remote work also makes it easier for you to track your business' expenses and income.
When working remotely, you tend to shift toward e-commerce and digital transactions. This means that everything can be easily organized with software or by simply keeping files of online receipts.
Thanks to the continued flow of individuals transitioning to remote work, there are countless virtual tools and small business management software that will make accounting a breeze.
Intuit QuickBooks, Gusto, and Paychex are just a few examples of the available accounting software.
These methods provide a much easier way to manage your business's finances.
Even if you consider yourself to be technologically illiterate, many of these applications offer small business management courses that familiarize you with the software and other virtual management techniques.
Reports show that over 70% of self-employed individuals are already doing self accounting.
---
Read more: Your Complete Guide to Self-Accounting as an Entrepreneur
---
If you make the switch to wholly remote operations, you'll only be handling one kind of transaction.
When you're only handling one kind of transaction and utilizing small business management software, you'll have a much easier time keeping clean books.
---

How remote work makes small business growth management easier
Finally, small business growth becomes much more manageable when you work remotely.
In traditional business, growth is an expensive, time-consuming, and dangerous task. In contrast, remote work provides the perfect alternative.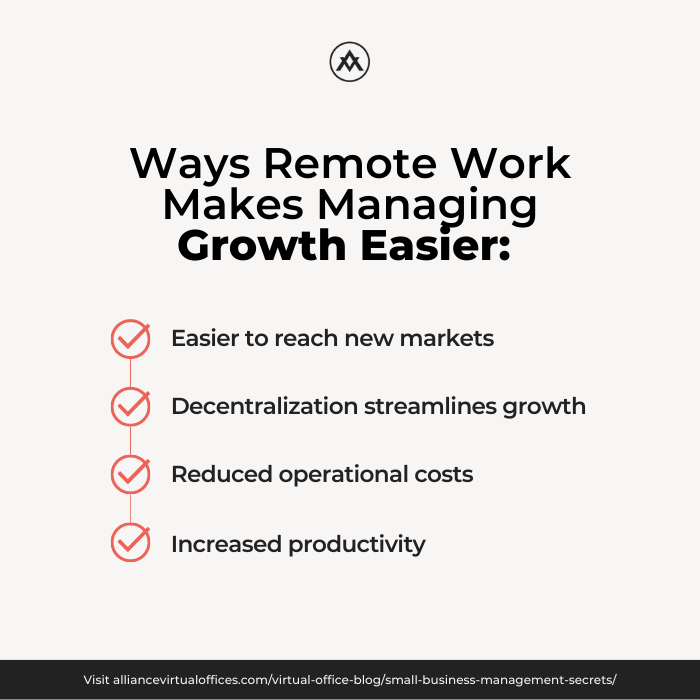 Below, we've listed some ways that remote work makes managing growth much easier:
Easier to reach new markets
Decentralization streamlines growth
Reduced operational costs
Increased productivity
Easier to reach new markets
One of the biggest drawbacks of reaching new markets with a traditionally structured business is the prohibitively high cost of testing and interacting with those markets.
With virtual operations, you aren't limited by your local geography.
Digital marketing can reach your target audience with surprising accuracy, so you can sell to consumers all over the globe.
This high-level flexibility allows you to react quickly to any market shifts or economic downturns by seeking out new markets and capitalizing on them.
Countless Americans are certain that a recession is coming, while some believe that it's already here.
In these high-pressure situations, quick and pointed decision-making is paramount to your business's success. This includes taking advantage of new global markets.
Decentralization streamlines growth
Merriam-Webster defines decentralization as the "dispersion or distribution of functions and powers."
For your business, this means spreading lower-level decision-making powers to more employees and removing yourself from the equation as much as possible.
You want your business to function like a well-oiled machine. A decentralized business is, by definition, capable of running without your oversight.
While your business keeps up its day-to-day operations, you can focus on growth. This means exploring new markets, landing new clients, and making more sales.
When your business is running at such a high capacity in a remote environment, the training process is vastly simplified. This is because all of your systems are in place, and new hires can reach out to more people for any issues.
Reduced operational costs
Effective financial management means using your money as wisely as possible.
Because Virtual Offices are so much more cost-efficient than their traditional alternatives, you can take the money you save on office rentals and reinvest it in new growth strategies.
In the modern world, you need to be able to react quickly and efficiently to any vicissitudes in the market. With lower operational costs, you can keep money on hand — ready to strike when the iron is hot at any opportunity the market provides.
This could mean exploring new markets, expanding locally, or purchasing assets when prices have depreciated.
Most small businesses fail because of a lack of capital, an inability to connect with the right investors, or because they've rushed to market. Lower operational costs fix two of these issues almost immediately.
Rushing to market is mostly an issue for startups, but a lack of capital and the inability to connect with the right investors can be solved with capital reserves.
With extra money, you can meet with investors at your own pace without feeling obliged to rush into meetings.
More than anything, you want to put your business into an upward spiral, continuously taking advantage of the opportunities that the internet's fast-paced, easy access provides.
Increased productivity
Small business management is much easier when you have employees or contractors that are working productively.
In a well-managed business, remote work increases productivity in your employees as well as employee happiness.
Remote work gives you the chance to use small business management to ensure that everything is running smoothly.
This simple act of giving your employees more breathing room in conjunction with clearly established deadlines and expectations makes your employees much easier to manage.
The more productive your employees are, the more innovation and growth your business can strive for.
---

Virtual tools that benefit small business management
Business management is one of the most complicated aspects of being an entrepreneur.
Luckily, going remote can make almost every aspect of your small business management easier.
A Virtual Office from Alliance Virtual Offices is the best way to shift to remote work while maintaining your business's reputation.
We're dedicated to outstanding service and support. All you need to do is look at our 90% positive ratings on TrustPilot to understand our commitment to our customers.
Our Virtual Offices have a smooth signup process, and our staff works diligently to provide nothing but world-class service from the day you sign on.
First, we have offices available in every state. This means that managing your growth and onboarding employees anywhere in the country is easier than ever.
Next, all our offices have professional addresses in well-known locations, so you can register at addresses that boost your company's image.
As you can imagine, a tech company that is registered in a rural area in Oklahoma will not have the same reputation as a tech company registered with an address in Silicon Valley.
Remote work continues to gain traction but working in the same place where you eat, and sleep can get frustrating — especially if you don't have a designated home office.
Burnout is a very real issue for countless modern workers, and anything you can do to prevent this for you and your employees is a plus.
Because our Virtual Offices are all backed by physical space, you have a way to break the monotony of working from your home each day whenever you feel like it's necessary.
Additionally, once you've signed on for a Virtual Office, you have access to easily reservable meeting rooms that you can use for presentations, training sessions, or meetings with investors.
Using your home or a public coffee shop for these kinds of meetings is generally seen as a bad business practice and will give the people the wrong idea.
With our meeting rooms, you can maintain a professional image without breaking the bank.
Finally, an Alliance Virtual Office gives you an address where you can register your business, protecting the privacy of your home address. If you use your home to register your business, your address is added to the public domain.
Once you've given that information out, it's difficult to retract it. This easy access makes it simple for disgruntled customers, frustrated ex-employees, and incessant spammers to contact you.
Using your home address also detracts from your business's image and legitimacy.
Outside of our Virtual Offices, you can check out our website to see the other tools that we provide to entrepreneurs.
Small business management takes some work, but with the right tools, you can run an efficient remote business — complete with a professional address and access to a workspace.
---
Further reading
---
Alliance Virtual Offices provides several different tools for entrepreneurs looking to take advantage of remote work with small business management.
With our Live Receptionists, all of your calls can be personally answered by our friendly and professional service.
Don't risk trying to multitask through important conversations or frustrating first-time callers with inattention — let our receptionists handle the phone so you can focus on your business's growth.
Our Virtual Phones allow you to easily connect with your employees, making communication and collaboration as streamlined as possible. You and your employees can protect your cellphone numbers, keeping your personal information private.
Having a designated business number for your business is necessary for a healthy work-life balance. Additionally, you can easily integrate new team members with unlimited extensions.
Regardless of your needs, Alliance Virtual Offices has the tools to help your business scale efficiently.
Whether you're an established entrepreneur solely looking for small business management help or a brand new business owner hoping to create a robust virtual business, we've got you covered.
Contact us today to see what Alliance Virtual Offices can do for your small business management efforts.