---
---
Q: What kind of shared workspace is right for my business?
A: There are three main types of shared workspaces and each of these options has its own set of advantages and disadvantages. Your best option is either a virtual office or a coworking space.
---
Whether it's due to the pandemic or recent technological advancements, online businesses are taking on a larger role in the market than ever before.
In an effort to adapt to this new "digital-first" world, companies are using wildly different methods to scale and keep employees content. These methods are a far cry from the traditional, hierarchical, and authoritarian strategies of the past.
Collaboration and flexibility are quickly becoming the two most important characteristics for any business seeking success in the modern labor market.
59% of American workers who can work remotely are already doing so, and a flexible business can accommodate the growing number of individuals who have no intention of returning to in-person operations.
Similarly, the millions of Americans who quit their jobs during the Great Resignation have made it abundantly clear that modern workers aren't as willing to work in unfavorable conditions as their predecessors. Collaboration is an easy way for management and employees to stay on the same page.
A shared workspace offers the perfect environment for small businesses, providing a collaborative and flexible environment for employees while scaling operations.
A shared workspace is an office space that's shared by numerous individuals or organizations. Using a shared workspace is a cost-effective way to support remote work operations in a quiet, professional setting.
In this article, we'll be exploring the three main types of shared workspaces, the pros and cons of using a shared workspace, the right workspace for your business, and how to use this space moving forward.
So, if you've ever searched for "shared workspace near me", keep reading — because you are in the right place.
---
---

What are the types of shared workspaces?
There are three main types of shared workspaces. Below, we've covered each of these types in detail to help you get some shared workspace ideas for your remote operations.
Virtual collaborative workspace
Virtual Office
Coworking space
Virtual collaborative workspace
A virtual collaborative workspace is the only shared workspace that is not tied to a physical space.
Instead, a virtual collaborative workspace is an online platform that connects you and your team and allows you to work together in real time.
Virtual Office
A true, high-quality Virtual Office includes on-demand access to a physical workspace that you can use when you need to get out of the home office.
Burnout is a problem for all styles of workers, but an online routine can be particularly burdensome for remote workers working exclusively from home.
A Virtual Office gives remote workers a way to break that routine with physically-backed workspaces. Other virtual office providers neglect to include this feature, making them little more than glorified PO boxes.
---
Read more: Does Your Business Need a Physical Address?
---
While some lower-quality offices might not be backed by actual addresses, high-quality Virtual Offices are associated with well-known and professional addresses that you can use to register your business.
This is a key distinction to consider as you choose your shared workspace.
If you're hoping to use the space to register your business, you need to choose an option that's tied to an actual address with access to a shared workspace. Otherwise, you're out of luck.
Coworking space
When you're searching for a shared workspace definition, you'll likely come across coworking spaces first.
A coworking space is the most common kind of shared workspace and can be shared between businesses, freelancers, or small businesses.
Essentially, a coworking space is a physical space where many professionals come together to work independently.
Verifying shared workspace providers
According to Forbes, more people than ever are getting scammed.
To protect against fraudulent businesses, follow these actionable tips as you search for a shared workspace:
Check reviews
Check points of contact
Ask around
Checking reviews
Reviews are notoriously difficult for fraudsters to fake. When you're looking for a provider, check websites like TrustPilot to see what other consumers have to say.
One point of reference to consider is that Alliance Virtual Offices is an industry-leading company and has about 90% positive ratings on TrustPilot.
Checking points of contact
Another great way to check the legitimacy of a shared workspace provider is by observing how easily you can contact the company should any issues arise. If you're able to contact customer service without any real issues, you are most likely dealing with a legitimate business.
Asking around
Personal references are probably the single most effective method of verifying a company's professionality and legitimacy – but only if you trust the person giving you pointers.
With a trusted friend or business associate's recommendation, you can be pretty sure that you're dealing with a legitimate business. That said, it's always best to double-check the business yourself before you commit.
Now that you've seen a detailed shared workspace definition, let's look at the pros and cons of the different workspaces.
---

The pros and cons of each type of workspace
Each type of shared workspace has its own set of pros and cons.
To enjoy the most benefits, you need to ensure that you're dealing with high-quality, trusted providers like Alliance.
Below, we've listed some pros and cons of each style of shared workspace:
Virtual workspace
Pros:
Virtual workspaces can be great for businesses that only need to come together for brief periods during the day.
If you have employees that are spread apart throughout the nation (or even the entire planet), virtual workspaces as satellite offices are a good way for your team to work remotely with less isolation.
Make connecting across wide geographic distances easy.
Help your team work independently and autonomously.
Can be free to use depending on the virtual workspace.
Cons:
Despite the small amount of comfort these virtual workspaces might provide, they can never serve as a real substitute for real workspaces. Here's why:
These workspaces don't truly provide the collaborative environment that you need to engage with your team. Sure, a few brief meetings can foster minor collaboration. But for detail-oriented projects and time-sensitive deadlines, a virtual workspace just doesn't work.
Without a physical workspace, you don't have the escape that you occasionally need from your home office.
Virtual Offices
Pros:
Virtual Offices are a great choice for established business owners looking to support their flexible workstyle.
With a Virtual Office, you're able to register your business in prestigious addresses all over the world.
True Virtual Offices provide access to physical, on-demand meeting spaces.
Virtual Offices offer incredible value. Traditional leases are prohibitively expensive and lengthy, while a Virtual Office is a welcome, cost-efficient alternative.
The addition of a physical workspace gives you countless opportunities to network with other entrepreneurs.
Cons:
Most of the negatives associated with virtual offices are associated with substandard companies, and do not reflect all virtual office companies.
Other virtual offices are nothing more than PO boxes, meaning all you're paying for is an additional mailing address.
Most states won't allow businesses to register with a PO box or an address that isn't backed by physical space. This means that if you're paying for a virtual office that uses a PO box or non-existent space, you won't even be able to register for an LLC using that address. Choose a space-backed virtual office and avoid the headache..
With these lower-quality virtual offices, you don't have a way to break the sometimes-monotonous routine of remote work. Not having a reprieve from the monotony of working from home is a big negative of space-less virtual offices.
Not all virtual offices incentivize a culture of shared workspace etiquette.

---
Read more: How to Get a Virtual Office Address: Everything You Need to Know
---
Coworking space
Pros:
Some entrepreneurs and freelancers aren't looking for a way to register a business, so a legitimate address doesn't mean as much to them.
Coworking spaces are excellent for individuals who want a consistent, convenient alternative to working from home.
With coworking space, you have access to an affordable, flexible workspace.
Professional coworking spaces provide convenient amenities and a professional work environment.
With a coworking space, you don't have to feel nearly as isolated as working from home can make you feel.
By extension, there are ample networking opportunities in coworking spaces.
Cons:
Similar to the differences between high-quality Virtual Offices and their less-than-legitimate counterparts, coworking spaces depend heavily on the professionality of their provider.
Some coworking spaces are inconvenient. If you don't pick a location close to your home, you're subject to the brunt of your city's traffic.
Not all coworking spaces provide business amenities, which can cause you to interrupt your workday in the search for supplies.
Without a history of excellent service, you don't know what kind of environment you're walking into. It's best to choose battle-tested coworking spaces with positive reviews online.

---
Read more: Coworking guide for entrepreneurs and freelancers
---
As you can see, the "best" shared workspace depends on your unique needs. Several businesses have employed a shared workspace business model, using these spaces to severely cut down on office leasing expenses and other operational costs.
Regardless of which shared workspace you choose, you should make the decision that best benefits your style of work. Keep reading to see how to effectively make that decision.
---

How to choose the right shared workspace for your business
Choosing the right shared workspace for your operations is paramount to your business's long-term success.
Below, we've detailed two actionable questions that can help you make the right decision. Answering these questions will help you make that all-important decision.
What do you need to get out of your workspace?
Are you a freelancer, entrepreneur/independent contractor, or small business owner?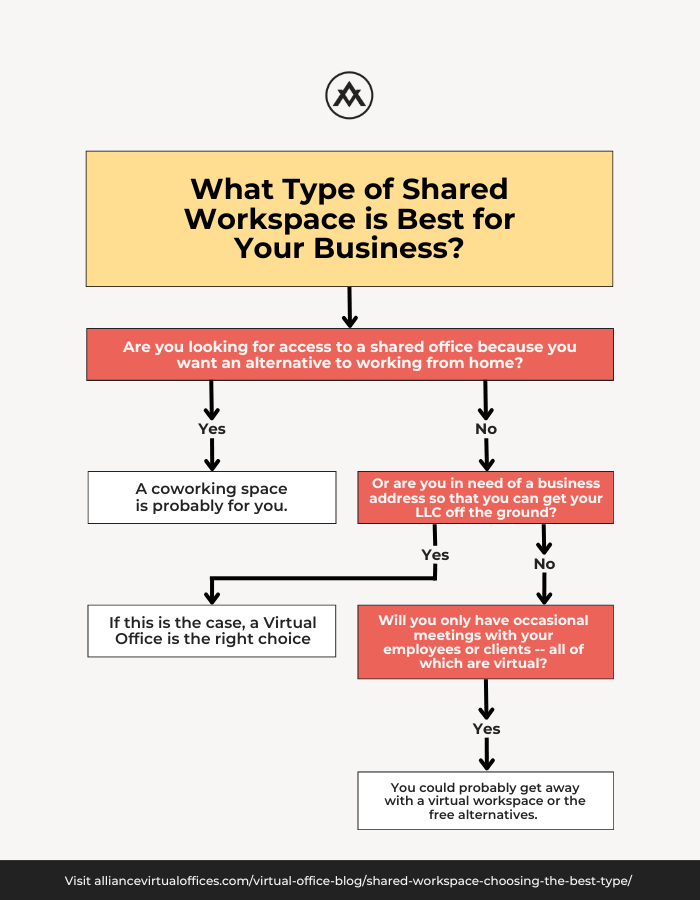 What do you need to get out of your shared workspace?
First things first: You need to ask yourself what you're hoping to get out of your shared workspace.
Q: Are you looking for access to a shared office because you want an alternative to working from home?
A: coworking space is probably for you.
Q: Or are you in need of a business address so that you can get your LLC off the ground?
A: If this is the case, a Virtual Office is the right choice.
Q: Will you only have occasional meetings with your employees or clients — all of which are virtual?
A: You could probably get away with a virtual workspace or the free alternatives.
Q: Do you plan on meeting with clients or employees a bit more regularly in a private and professional setting?
A: Again, a Virtual Office from Alliance provides the most effective and flexible way for you to host meetings, training sessions, and much more.
Are you a freelancer, entrepreneur/independent contractor, or small business owner?
Freelancer:
Freelancers are usually better off going with a professional coworking space. Because most freelancers aren't starting businesses, there's no reason to have access to a legitimate business address to publicize on marketing collateral or entity formation documents.
A coworking space allows freelancers to interact with other motivated professionals — without putting their privacy at risk in a crowded coffee shop or another public place.
A coworking space is a flexible, professional alternative to working from home, and freelancers get the added benefit of countless networking opportunities.
For individuals hunting gigs and other remote work, a coworking space is the perfect shared workspace.
Entrepreneurs/Independent contractors:
Like freelancers, entrepreneurs and independent contractors usually don't need access to a professional and well-known address unless they're starting a business. Due to this, coworking spaces are also recommended for these individuals.
That said, many entrepreneurs are just a step away from registering an LLC. If you're planning on starting a business, you should go ahead and opt for a Virtual Office.
If you have no plans to start a business, coworking spaces provide a great way to build business networks and boost productivity.
Small business owners:
If you are registering an LLC, already own an LLC, or you want to start a business, a Virtual Office is always going to be your safest bet.
With a Virtual Office, the first thing to keep in mind is ensuring that you're dealing with a well-known provider. Alliance Virtual Offices is an industry-leading company that provides several virtual tools to established entrepreneurs all over the world.
Regardless of the provider you choose, it's important to understand what you're paying for as well as the amenities that you're going to be receiving.
A Virtual Office guarantees access to on-demand meeting rooms, shared workspaces, and a professional address to use for business registration.
It's essential to make sure that your shared workspace provider is offering top-tier service, convenient locations, and clean, quiet, professional office space.
Alliance Virtual Offices does all the above.
---

Moving forward with your coworking space or Virtual Office
A shared workspace can be a game-changer for any freelancer or entrepreneur.
In most cases, it isn't worth paying for online workspace support, as you can usually collaborate online using the countless free tools that you have at your disposal.
Coworking
A coworking or Virtual Office plan from Alliance Virtual Offices ensures that you always have a quiet, professional workspace to support your flexible style.
With our coworking spaces, entrepreneurs, independent contractors, and freelancers have access to a professionally managed workspace that is frequently cleaned and provides a safe, healthy environment.
With our numerous coworking locations, you can find a workspace that is close to your home — allowing you to save time and money on your travel expenses.
Professional flexibility is more important than ever, and our coworking spaces give individuals an efficient way to build their business network — without sacrificing the flexibility that remote work is known for.
Virtual Office
For small business owners or individuals looking to start their own business, Alliance Virtual Offices provides the best shared workspaces by a considerable margin.
Our Virtual Offices have several locations and are available in every state. This means that no matter where you're hoping to launch your business – we've got you covered.
Since our addresses are so recognizable and cost-efficient, you have a low-risk method of entering new markets with a prime location. Location is important, and consumers will almost always search for your company before doing business with you.
Thankfully, Alliance's Virtual Offices give business owners a way to make an amazing first impression.
You also get the benefit of a flexible workspace at a cost-efficient price point. Traditional business leases can have minimums from three to five years, while our Virtual Office plans allow you to commit for a minimum of six months.
Our Virtual Office plans come with access to meeting rooms and private offices, so none of your business needs are ever going unmet.
Friendly and recognizable onsite staff are available to help with any technical difficulties or other misgivings you might experience while using the workspace.
Regardless of which shared workspace you decide on, Alliance Virtual Offices is ready to provide stellar service.
---
Further Reading:
---
Independently of our Virtual Office and coworking plans, Alliance Virtual Offices offers several digital tools for established entrepreneurs and other digital-first businesses.
With our live receptionists, you can ensure that you never miss a call or get distracted while you're speaking with a customer.
Our friendly and professional receptionists will screen every call, providing a great first impression for potential customers while letting you focus on your business's core operations.
Alliance Virtual Offices also provides virtual phone numbers that can effectively connect your business while protecting privacy.
Because we also allow unlimited extensions, scaling your business's network has never been easier.
Additionally, listing a business phone number is a great way to build your brand's reputation by showing financial institutions and potential investors that you're a stable and legitimate business.
It doesn't matter if you're a brand-new entrepreneur hoping to break into the digital-first market or an established business owner hoping to expand their operations. Alliance Virtual Offices is always ready to help you reach your goals.
Contact us today to see what shared workspace is right for you!