---
---
Q: Should your business start a podcast?
A: Podcasting for small business represents an excellent form of marketing that is low-cost, engaging, and traffic-generating. The digital world today is littered with podcasting success stories, whether it's Joe Rogan, Dave Ramsey, or Georgia Hardstark. If you're looking for a marketing strategy that helps you stand out from the crowd and communicate directly with your customers, podcasting is a solid option.
---
---
According to a recent global survey, more than half of podcast listeners have made purchases due to advertisements on the shows they frequent.
Podcast listeners are also on the rise, growing by almost one-third within the past three years alone.
Over 120 million people in the United States listen to podcasts regularly, while another study has determined that almost 200 million Americans tune in to podcasts each week.
One poll found that podcast ads are the easiest to remember, with 86% of listeners saying that they can recall the advertisements they've heard on podcasts.
Compare that with the "hit or miss" nature of social media advertising or pay-per-click. What's the last social media advertisement you remember clearly?
When was the last time a Facebook ad actually made you want to buy something?
Podcasting for small business can be an excellent choice.
But is podcasting a good idea for your specific niche? What exactly makes podcasting an effective marketing tool, and what kind of results can you realistically expect?
Perhaps most importantly, how do you start a podcast for your business?
Let's find out.
---
---

What are the benefits of podcasting for small business?
The first question you need to ask yourself is whether podcasting for small businesses is worth it.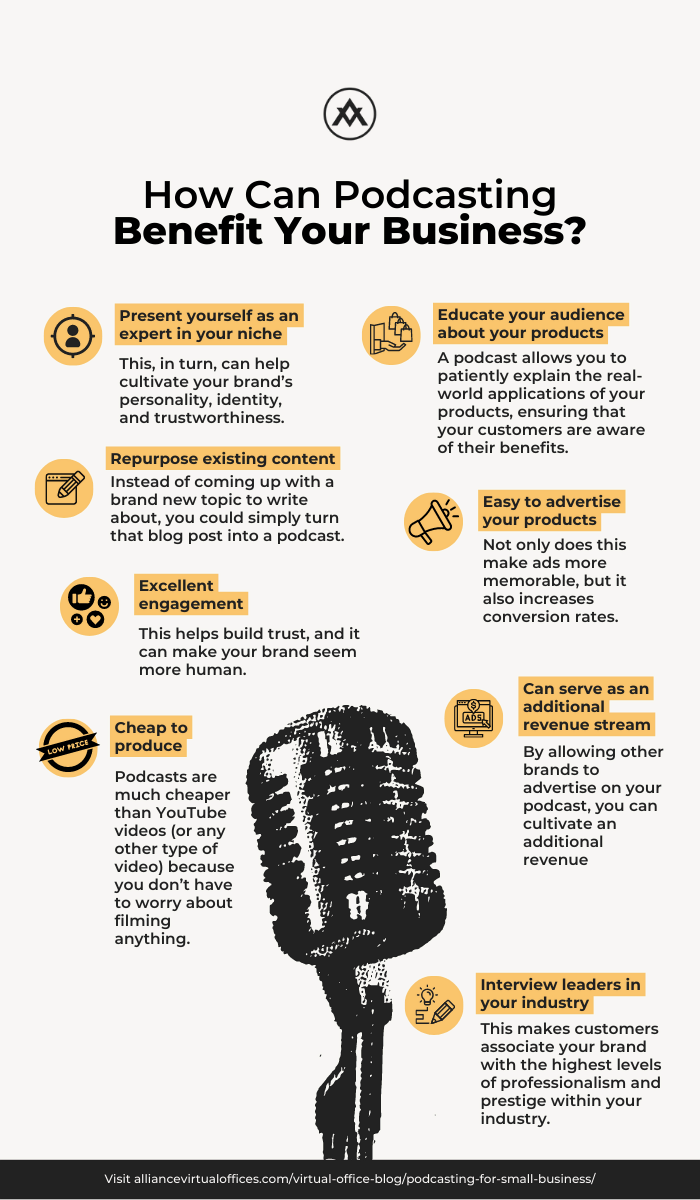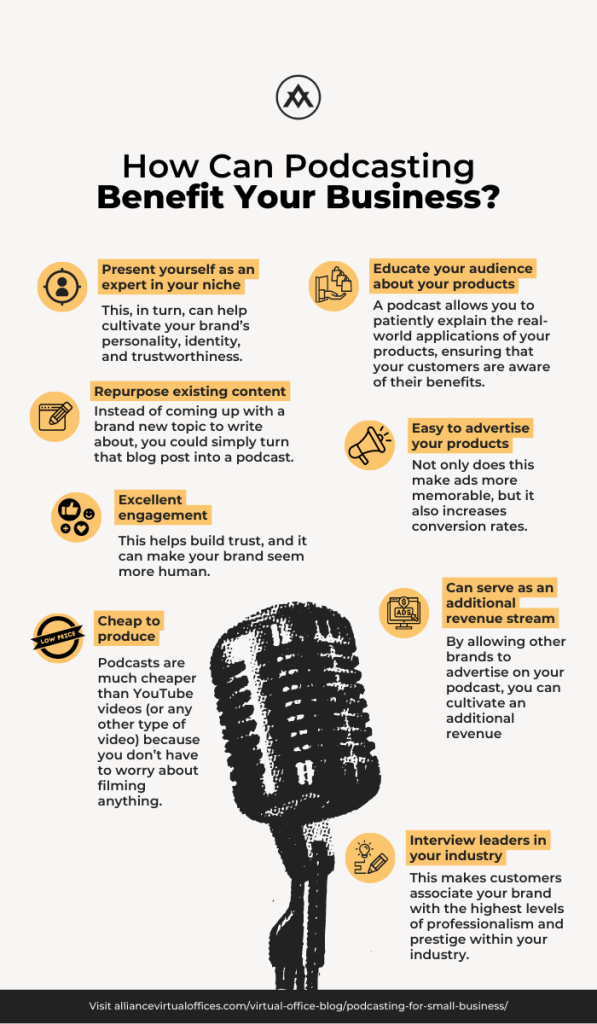 Here are a few benefits to consider:
Present yourself as an expert in your niche
Podcasting for small business owners allows them to present themselves as experts within their niche.
This in turn can help cultivate your brand's personality, identity, and trustworthiness.
For example, you might run a law firm as a solopreneur. Your podcast could include in-depth discussions about the latest legal debates in the nation, providing your audience with a clear and concise explanation of these issues from the perspective of a legal expert.
Not only would this serve as a form of entertainment for those interested in legal issues, but it would also highlight your legal knowledge.
People listening to your podcast might think to themselves:
"Wow, this person knows what they're talking about."
Many of your audience members might never become clients. But even if your podcast brings in one additional client per week, this could represent a serious boost in income – especially when a single case can result in a multi-million-dollar settlement.
The same logic applies to real estate agents, architects, and many other experts in their respective fields. Your podcast allows you to boost your reputation and show the world just how knowledgeable you are.
Repurpose existing content
Another major benefit of podcasting is the ability to recycle existing content and reuse it in a new format.
For example, you might have written a 4,000-word blog for your real estate agent website about the latest trends in the housing market.
Instead of coming up with a brand new topic to write about, you could simply turn that blog post into a podcast. This could be as easy as reading the blog aloud while recording it and speaking in a more natural, conversational tone.
This strategy can allow you to diversify and double your content production without doing double the work.
Excellent engagement
There are few marketing strategies more engaging than podcasts.
This format allows you to speak directly to your audience. Suddenly, your brand has a voice. When people think about your company, they have an idea of who they're doing business with.
After listening to a few episodes of your podcast, your customers might start to feel like they know you personally. They might listen to your podcast while doing chores or driving to work.
You can even give your audience members the chance to interact directly with your podcast by answering questions that they send in, or by reading comments left on previous podcasts.
While blogs can be incredibly informative, there is something much more intimate about listening to someone's voice. This helps build trust, and it can make your brand seem more human.
Interview leaders in your industry
Podcasting also allows you to connect with leaders in your industry.
For example, you might be an architect who runs a house-building company in your local community. Your podcast could feature an interview with a famous European architect or a professor of architecture at a prestigious university.
Associating your brand with leaders and intellectuals within your niche is an excellent marketing strategy.
This makes customers associate your brand with the highest levels of professionalism and prestige within your industry – even if you're relatively new to the scene.
Even if you need to pay interviewees to appear on your podcast, it could be well worth the investment.
Easy to advertise your products
Here's the thing about podcast advertisements:
They're almost impossible to skip.
While web users have devised all kinds of strategies to avoid YouTube ads and popups, a podcast mid-roll is difficult to avoid.
Podcast advertisements typically occur midway through the recording. You can read these 30-second ads out loud before transitioning back into the main content, which doesn't give listeners a chance to fast-forward and skip the ads.
Often, people are preoccupied with chores or driving while listening to podcasts, so skipping forward is essentially impossible. It's just not worth the effort, which means that most people patiently listen to the ad.
Not only does this make ads more memorable, but it also increases conversion rates. Giving your products or services a shout-out midway through your podcast is straightforward and convenient.
Educate your audience about your products
Podcasts are also highly informative.
This is great news if your products are fairly complex, and you're not quite sure whether your customers know how to use them effectively.
For example, you might have developed a game-changing app or SaaS.
But if no one understands why your software is so revolutionary, you'll struggle to make much of an impact.
A podcast allows you to patiently explain the real-world applications of your products, ensuring that your customers are aware of their benefits.
A podcast is perhaps the easiest way to educate your customers.
Cheap to produce
Podcasts are very easy to produce – especially if you're fine with a fairly basic setup.
All you truly need is a decent mic.
Even then, you can usually get away with using your smartphone's built-in mic – at least for the first few episodes.
Podcasts are much cheaper than YouTube videos (or any other type of video) because you don't have to worry about filming anything.
Of course, you could always film yourself conducting interviews or speaking straight into the camera, but the setup will still be cheaper than elaborate commercials or photoshoots.
If you're running a small business, podcasts represent one of the cheapest and most cost-effective marketing tools at your disposal.
Can serve as an additional revenue stream
Podcasts can be even more cost-effective because of their ability to generate money. By allowing other brands to advertise on your podcast, you can cultivate an additional revenue stream.
For example, Peter Schiff's podcast hosts advertisements from a wide range of brands, including Shopify and Indeed. But he also has his own investing company called Euro Pacific Capital, which he speaks about more organically throughout his podcasts.
This is a smart choice for businesses of all types and sizes.
---

What are the steps to podcasting for small businesses?
After reading about the benefits of podcasting, you might be ready to start your own.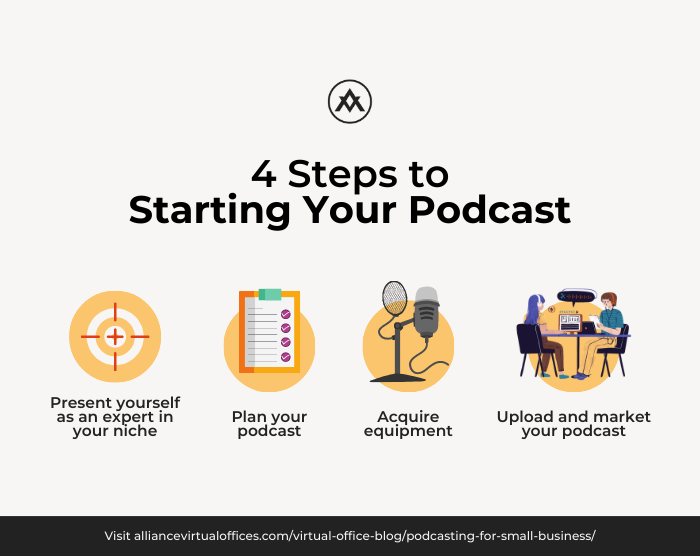 This is how you should get started:
Identify your niche
The first step to creating a podcast is probably the most important:
Identify your niche.
This seemingly simple process will affect virtually every aspect of your podcast going forward, so choose carefully.
Fortunately, you probably already thought about this when you created your business. Your podcast's niche should mirror your overall business niche very closely.
For example, you might be a financial advisor. Your initial instinct might be to create a very broad podcast about finances. But there are probably tens of thousands of finance podcasts out there already, so you need to get a little more specific.
Ask yourself what area of finance you're most familiar with. What's your specialty? What topic can you talk about for hours without stopping?
By choosing specific podcasting business ideas, you can capture the attention of targeted audiences who are more likely to purchase your products or services.
An obvious strategy is to create a podcast that covers a topic that very few podcasters are currently talking about.
Once you've figured out your niche, you can plan your podcast more effectively.
Plan your podcast
Planning your podcast is probably the most time-consuming step of the entire process.
For starters, you need a captivating and interesting name for your podcast.
Next, you'll need to figure out the length of each podcast episode and how often you want to upload new episodes. It's a good idea to keep these parameters as consistent as possible.
For example, you might choose to record podcasts that are about 45 minutes in length. You might also choose to publish episodes every Tuesday.
You'll also want to think about the general style of your podcasts.
Will you record your podcasts alone?
Or will someone else join you each week, such as a business partner or a creative director?
Will you interview different guests each week?
Finally, you'll need to choose a podcasting platform. Options include Spotify, iTunes, YouTube, Rumble, and many others. Each platform has some unique pros and cons.
Of course, nothing is stopping you from posting your podcasts on numerous platforms for great exposure.
Acquire equipment
Depending on how seriously you're taking your new podcast, you might want to gather some equipment before you get started on your first episode.
Sure, a smartphone mic is more than enough to get started.
But if you invest just a few hundred dollars in some basic recording equipment, the increase in quality is noticeable.
Remember, your voice is your main selling point here. Bad audio quality might dissuade listeners, while a silky-smooth mic can keep your audience coming back for more each week.
You might also want to purchase audio recording software. There are many free apps out there that can handle the demands of a basic podcast, but spending a little extra gives you access to interesting features that help you stand out.
Every good podcast needs an introduction of some kind. This could be a simple jingle, a professional voice actor reading out the title of your podcast, or something even more creative. Don't forget to add an outro as well.
Upload and market your podcast
Last but not least, you need to upload your podcast episodes to your chosen platforms and start promoting your podcast.
Use the same basic strategies for blogs and social media posts, and try to spread the word about your new podcast using solid SEO principles.
Finally, don't forget to explore various monetization strategies such as affiliate marketing and sponsorships.
---

Why meeting rooms are essential to podcasting for small business
One of the most overlooked aspects of starting a podcast is the need for a quiet, reliable, and professional recording space.
If you're running a business from the comfort of your own home, this can be surprisingly difficult to organize. After all, homes can be quite noisy – especially when you factor in pets, kids, and that construction site down the street that seems to use heavy machinery 24/7.
If you're planning on filming your podcast, a professional, consistent environment is even more crucial.
Fortunately, there are professional, flexible workspaces that you can book on an hourly basis.
For example, Alliance Virtual Offices provides businesses with on-demand meeting rooms in locations throughout the nation. Whether you live in Silicon Valley, New York City, or a more rural location, there's probably an Alliance office nearby that you can use.
With a clean, professional office vibe, these workspaces immediately give your podcasts an air of professionalism. More importantly, they're quiet and private enough to let you focus on your recordings.
Alliance even offers meeting rooms on an international scale, allowing you to film your podcasts while you're on a business trip. Even if you prefer to record your podcasts at a home studio, Alliance Virtual Offices gives you the freedom to keep your episodes consistent even when you're traveling the globe.
In terms of the United States, Alliance offers meeting rooms in almost every single state, allowing you to book a reliable recording space from virtually anywhere in the nation.
Of course, you can also use your meeting space for interviews, meetings with investors, photoshoots… You name it!
---

How to start a podcast with the right resources
Podcasting for small business allows you to take advantage of one of the best marketing strategies in the modern era.
But creating a podcast isn't as simple as speaking into a microphone.
Like any other aspect of your business's marketing strategy, you need to carefully plan your podcast before getting started.
---
Further Reading
---
With the right resources, you can make sure that your new podcast is a resounding success – helping you engage with more customers while boosting your reputation and perhaps even creating additional revenue streams.
The possibilities are endless when you book professional workspaces for marketing projects like podcasting.
Reach out to Alliance Virtual Offices today and experience the full benefits of a professional workspace at a much lower cost than a traditional office.