---
---
Q: Should I hire a receptionist? If not, is there a phone answering service that provides similar services?
A: Hiring a receptionist is often prohibitively expensive and unnecessary, especially for new businesses or companies operating remotely. Instead of a receptionist, consider using one of Alliance's Live Receptionists to receive the benefits of a human receptionist without the negatives of hiring for another position.
---
For modern companies, brand loyalty is paramount.
If your customers are loyal to your brand, you have a bit more leeway than if your customers were all new buyers who frequent your business out of convenience.
Brand loyalty essentially provides a cushion that your company can use should anything go wrong. If your customers feel a sense of loyalty, they're more willing to give you the benefit of the doubt.
Essentially, you want customers that feel emotionally connected to your business. According to Gallup, companies that maintain an emotional connection with their customers make an added 23% of revenue.
Unfortunately, there's no easy way to magically improve your customers' brand loyalty. Some claim that a phone answering service for small business creates that loyalty, but what kind of service is the best?
Automated services aren't personal enough, and hiring a full-time receptionist can be prohibitively expensive. Additionally, a poor consumer experience is one of the quickest ways to lose valuable customers.
The modern consumer wants to be heard and doesn't want to feel forced into automated services when they want to speak with human representatives.
So, what can your company do to avoid relying on an automated system without breaking the bank?
In this article, we'll first discuss how the modern consumer views businesses and then explore why a personal connection is so important. Next, we'll explore what kind of phone answering service benefits your company, and finally, we'll look at how a small business phone fits in with other Alliance offerings.
If you've been on the hunt for the cheapest call answering service for small businesses or are determined to find the answering service for small business cost, you're in the right place.
Keep reading to explore a cheap answering service for small business and to understand why an automated phone answering service for small business is never the best path forward.
---
---
How do customers relate to businesses?
The modern consumer expects more out of the businesses they frequent than ever.
Consumers want brands they're aligned with. They want businesses to share their values, they want businesses to position themselves politically, they want businesses to support the same movements they support, and if these strictures aren't met, the market is so saturated that consumers will happily find a business that does meet these needs.
Naturally, you can't please everyone, but you can try your best to emotionally connect with consumers and build brand loyalty. How you do this is up to your specific business.
According to Forbes, a recent survey showed that 56% of business owners claimed that their customers' most preferred method of communication was still the telephone.
Unsurprisingly, this clarifies why a phone answering service for smallbusinesses can be so helpful.
---
Read more: The ROI of Using a Virtual Receptionist Business Phone Number
---
Below, we've put together a more cohesive list of some ways customers relate to businesses that operate mostly online.
Lack of face-to-face interaction
Automated customer service
Limited personalization
Over-reliance on technology
Lack of face-to-face interactions
Online businesses primarily operate through digital channels, limiting customers' opportunity for customers to interact with a business face-to-face.
This lack of personal interaction can make customers feel distant from the brand and may result in a more impersonal relationship.
Online businesses are at a distinct disadvantage because there's not much they can do to provide a face-to-face experience for their customers. That said, some of the lack of personality can be negated by focusing on human interactions with potential customers and existing clients.
Automated customer service
Online and brick-and-mortar businesses often use automated customer service systems to handle customer inquiries, which can make customers feel like they're interacting with a machine rather than a person.
When you automate your customer service, you're risking poor customer perception that can have a lasting effect on your company.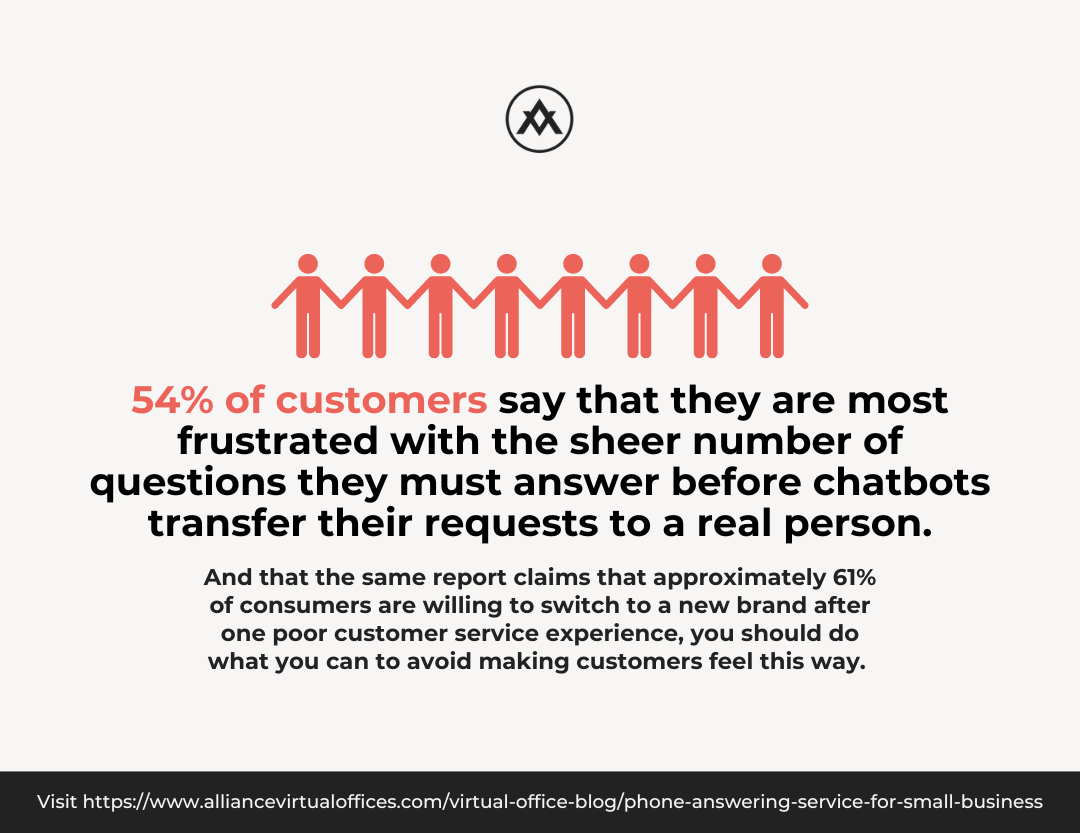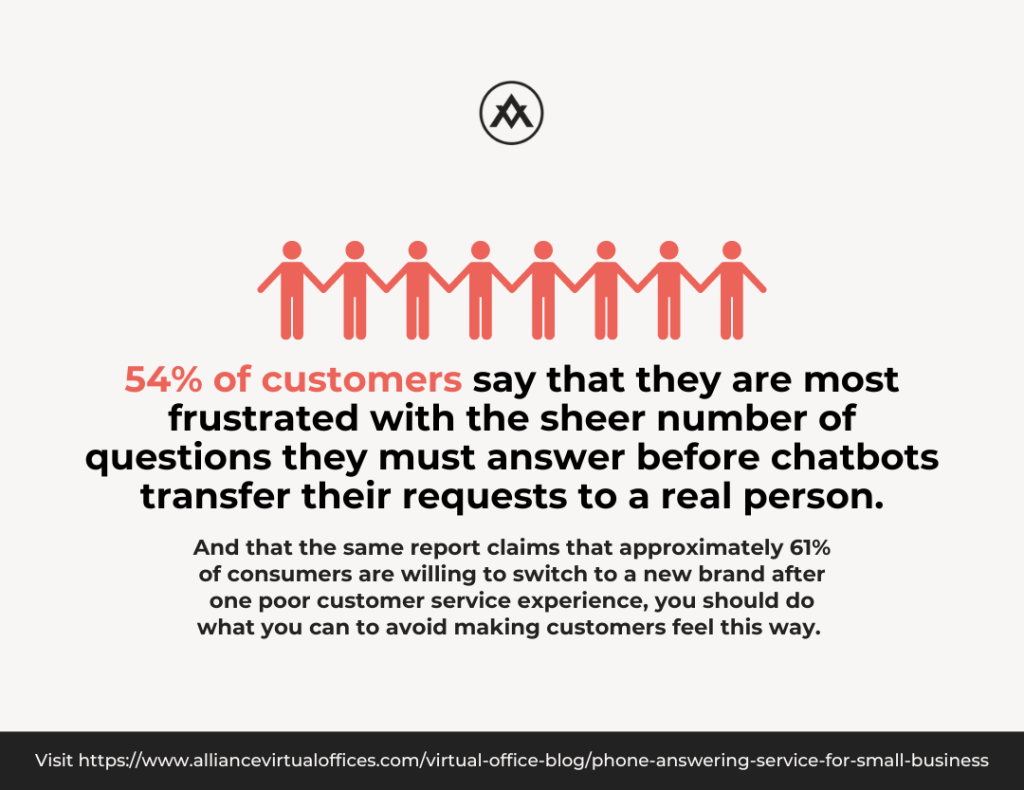 According to HubSpot's 2022 Annual State of Service report, 54% of customers say that they are most frustrated with the sheer number of questions they must answer before chatbots transfer their requests to a real person.
Considering that the same report claims that approximately 61% of consumersare willing to switch to a new brand after one poor customer service experience, you should do what you can to avoid making customers feel this way.
Automated services can lead to a sense of detachment that makes customers feel like their needs simply aren't being fully addressed.
Limited personalization
Online businesses may not have the same level of insight into individual customers as traditional brick-and-mortar businesses.
As a result, customers may not receive personalized attention and feel like they are just another number in the system.
Although you may not recognize specific customers, the data you're collecting and your bookkeeping should show you the individuals making frequent purchases from your company. You can offset this limited personalization by sending these customers notes, emails, or thank-you messages to let them know you appreciate their business.
Over-reliance on technology
When running an online business, you rely heavily on technology to manage your operations.
Customers may feel like the business focuses more on efficiency than building personal relationships.
Even though building relationships isn't your primary goal, it should be tertiary at least to help increase brand loyalty and recognition while increasing revenue.
The modern market requires businesses to connect to their customers however they can.
But why does a personal connection matter, even if no one knows it?
Why a personal connection matters
To run a successful modern business, entrepreneurs have to familiarize themselves with the idea that virtual connections are equally as meaningful as physical ones.
Whether you're using a Virtual Office or a Live Receptionist for your business's customer service, you'll be rewarded if you pay the same attention to digital interactions that you would physical interactions.
---
Read more: What Makes a Virtual Office Rental Unique?
---
Even if your customers aren't aware of the connection being built, paying the same attention to the digital interactions pays dividends over time. The stronger the connection between your company and your customers, the more effective your marketing will be, and the stronger your brand loyalty will become.
We've put together another list of some of the reasons why it's so important to focus on building a connection with your customers, even if it doesn't seem important at the moment.
Builds customer loyalty
Improves customer experience
Generates positive word-of-mouth
Increases customer lifetime value
Builds customer loyalty
Developing a personal connection with customers can help build trust and loyalty.
Customers are much more likely to continue doing business with a brand they feel a personal connection with.
A recent Forbes article interviewed Zhecho Dobrev, a consultant and author specializing in brand loyalty, on how companies can create more emotionally connected customers.
According to Dobrev, "Emotional connection creates preference over the competition. Customers don't just come back out of convenience. They see a difference between doing business with your company and other companies."
Online businesses are in a tough spot. Building customer loyalty requires an emotional connection, but many assume that emotional connections are exclusively a result of physical interactions.
This simply isn't the case. If you treat digital interactions with the same care you treat physical ones (by rewarding both similarly), you'll quickly realize that building a connection online isn't just easy, it's fun too.
Improves customer experience
When businesses take the time to get to know their customers, they can tailor their products and services to better meet their needs.
This can lead to a better overall customer experience, which is crucial for retaining customers.
From the HubSpot report, 78% of consumers are willing to give a company another try after experiencing a customer service mistake.
Considering that 58% of American consumers are willing to switch companies after experiencing poor customer service, this is a massive benefit to your business.
You don't plan to make mistakes, but they happen regardless. If you've built a strong customer experience, you can deal with mistakes without losing customers or revenue.
Generates positive word-of-mouth
Customers who feel a personal connection with a business are more likely to recommend that business to their friends and family. This word-of-mouth advertising is invaluable for small businesses that may not have large marketing budgets.
In our increasingly digital age, word-of-mouth doesn't look quite the same as it used to.
Sure, you want customers to tell their family and friends how much they like your business. That word-of-mouth style is very effective, but you also want your customers to use the internet to sing your praises.
A 2022 survey claims that 95% of potential customers read online reviews before making a purchase, and a surprising 58% are willing to pay more for products with good reviews.
Part of owning a business today is being flexible in branding and operations. You can't apply traditional business metrics to your online business just like you can't apply virtual business metrics to a traditional brick-and-mortar.
---
Read more: Online Branding for Small Business: The Best Strategies
---
You should want your customers to speak positively about your business online just as badly as you want them to speak positively about your business in their day-to-day lives.
Increases customer lifetime value
When customers feel valued and appreciated, they're more likely to continue doing business with a brand over the long term.
This can increase the 'lifetime value' of a customer, which is the revenue a customer generates for a business throughout their relationship.
Ideally, high-quality customer service and an easy-to-handle customer experience will lead to exponentially higher lifetime values for your customers.
Instead of searching for the best phone answering service for small business in Australia, Europe, the United States, or wherever you want to work, you should consider exploring a Live Receptionist.
Why a Live Receptionist is beneficial to your business
A recent Harvard Business Review article questions whether or not most companies are tracking the customer service metrics that matter.
Many businesses focus only on daily customer service problems and those problems' respective fixes. While this may work in the short term, it doesn't ever address the underlying issues causing these problems.
Rather than focusing exclusively on your customer service and the way it's applied in specific situations, you need to worry about your customers' perception of your service.
For many, this is as simple as addressing the processes and employees directly in charge of dealing with customers. Instead of trying to fix issues on a case-by-case business, identify key issues and tackle them from a top-down approach.
For small businesses and online businesses alike, the easiest fix for your customer service woes may be as simple as securing one of Alliance's Live Receptionists.
Before we explain, let's look at what a Live Receptionist is.
---
Read more: Live Receptionist Guide: How to Change Your Call Answering Schedule
---
A Live Receptionist is a service that provides your business with real individuals who can answer your incoming calls, handle simple administrative tasks, schedule callbacks and meetings, forward calls, and more.
Essentially, a Live Receptionist is a receptionist that you don't have to worry about hiring full-time or part-time.
Utilizing a phone answering service for small business can be great, but what you can accomplish with a Live Receptionist blows any average phone answering service out of the water.
But how is a Live Receptionist helpful to your business? We've put together a final list below.
Provides a human touch
Offers personalized service
Increases availability
Saves time and money
Provides a human touch
A Live Receptionist can offer callers a warm and personalized greeting, which can help build a personal connection and leave a positive first impression.
Remember, your goal needs to be humanizing the digital experience for your customers.
Unfortunately, you can't use AI (yet) to create this personal connection. A recent PwC study showed that 59% of customers feel that companies have lost or are losing touch with the human aspects of the customer experience.
With a Live Receptionist, you can quell some of these feelings by providing your customers with a friendly and professional voice that isn't trying to force callers into using an automated menu.
Offers personalized service
Live Receptionists can handle calls and inquiries in a personalized way, tailoring responses to individual callers and addressing their specific needs.
In a world filled with impersonal drop-down menus and automated phone answering services for small businesses, this is a welcome change.
You want your customers to feel valued and appreciated, and a Live Receptionist can accomplish this.
Not to mention, our friendly and professional receptionists are ready to screen and answer every call personally. This means you won't have to worry about your customers' questions going unanswered, leading to a negative customer experience.
Increases availability
Live Receptionists can offer extended hours of availability, including weekends and holidays. This means that customers can reach a live person at any time, increasing their sense of connection and trust in the business.
So many other companies rely almost entirely on automation and other styles of phone answering services. Simply utilizing a real human voice is often enough to help your business stand out among its competitors.
Saves time and money
A Live Receptionist can handle routine calls and inquiries, freeing up small business owners to focus on other aspects of their business.
This can save time and money and increase overall efficiency while maintaining a personal touch with customers.
Alliance offers three separate tiers for our Live Receptionists, so you can utilize each tier as your incoming call volume increases. Other providers want to charge you a flat rate that forces you to use a specific number of minutes each month, but Alliance allows you to cycle through tiers as needed.
With plans starting around $125 per month, even the newest businesses can afford to improve their customer experience from start to finish.
Alliance's phone answering service for small business
Customers no longer expect a personal connection with businesses. That's why building one is more impactful than ever.
In a market filled with impersonal automated phone answering services and chatbots, you want your business to stand out.
The average phone answering service for small business is nothing more than an automated voice directing consumers through a menu of increasingly benign questions.
A Live Receptionist offers more than that, which is why one of Alliance's Live Receptionists is the best phone answering service for your small business.
As a small business owner, you may be dealing with incessant incoming calls that distract you from key operations.
Answering these phone calls yourself presents two equally detrimental options to your long-term success.
The first is that you answer the phone and try to multitask.
You're busy, have more to do than you realized, and want to answer the phone, provide a quick answer, and move on.
Unfortunately, the customer has a lot of questions. In the spirit of getting things done, you split your focus, working on the task at hand while simultaneously trying to answer any questions the caller has.
After a few moments, you realize that you haven't been listening well enough, and now you must risk upsetting the caller to have them repeat pertinent information. To make matters worse, splitting your attention prevented you from doing your best work.
Now, you have operational tasks that aren't being handled as proficiently as they should be, and you have an upset customer on the line too.
The second is that you answer the phone and stop what you're doing to give the caller your full attention.
Unfortunately, you keep getting calls. Each call is anywhere from 3-6 minutes, and every time you stop doing what you were doing to answer, you have to restart the task you were initially working on.
Soon enough, you've wasted an entire day going back and forth on the phone. Your operational tasks are still incomplete, the phone keeps ringing, and you're nowhere closer to being finished than when the workday started.
As you can see, neither of these scenarios is ideal.
To make matters worse, you don't have the capital to hire a full-time or part-time employee either, and you're unwilling to force your relatively new customers to deal with automated phone answering services.
This is where your Live Receptionist comes in.
Now, you have friendly and professional receptionists answering all of your calls, allowing you to focus on the more nuanced aspects of your company.
These Live Receptionists not only screen and answer each call, but they handle scheduling and minor administrative tasks that continue saving you time.
With your Live Receptionist, you now stand to win increased business, providing real value and comfortability to your customers, saving time and money, capturing leads, and best of all, you can work from anywhere in the world while your Live Receptionists handle your incoming calls.
---
Further reading:
---
Alliance Virtual Offices provides Live Receptionist services and more to established entrepreneurs and new businesses alike.
Regardless of what business stage you're in, Alliance is here to help. Other phone answering services for small business want you to use automated machines and impersonal menus to deal with customers, but this is a foolish decision.
Contact us to see how Alliance can provide your company with a real phone answering service for small business via a Live Receptionist today!