---
---
Q: What is a modern business? Why do modern businesses need to focus on improving efficiency and sustaining flexibility?
A: Modern businesses are usually technology-oriented and employ a collaborative style of management rather than an authoritarian one. These companies use modern business solutions to improve efficiency and maintain flexibility because an efficient business is an effective one, and to survive an economic downturn, this is paramount.
---
The past couple of years has brought on unprecedented changes within the workforce.
The pandemic and ensuing stay-at-home orders forced millions of people inside, closed countless businesses, and helped bring an end to the authoritarian management style that was loathed by employees for so long.
As fears of a recession become more real by the day, modern business solutions are often the only way to cut costs effectively and boost employee productivity.
While these modern business solutions might not automate or optimize every facet of your business, they can certainly help. Inflation continues to rise, and saving as much money as possible allows you to reinvest in your business.
---
Read more: In the U.S. and around the world, inflation is high and getting higher
---
With the end of authoritarian management techniques, we've seen a rise in a collaborative style of management that encourages employees to think outside the box, tap into their creative side, and in turn, boost productivity.
However, these new, collaborative businesses require modern business solutions.
As more and more individuals transition to remote work or hybrid models that allow employees to work from home a certain number of days per week, the micromanagement and social pressures that made authoritarian management styles so unbearable have even less of a place.
Now, the focus is on increasing efficiency and engaging employees so that they bring their all to work. After all, engaged employees show 21% greater profitability than their unavailable counterparts.
Modern businesses are incentivized to engage employees and create collaborative environments for them to thrive. These issues, many of which didn't exist a decade ago, require modern business solutions.
In this article, we'll be discussing why businesses need to maximize their efficiency and retain flexibility, how modern business solutions allow business owners to do this, and which best business tools can help usher in modern entrepreneurs.
---
---

Why modern businesses need to increase efficiency
Modern businesses are primarily operating in the online space.
Remote work has made it possible to expand at a faster rate by connecting to a wider market and helping cut costs.
Companies like Coinbase, Lyft, Reddit, and Twitter have all begun allowing their employees to continue working from home.
Modern business software allows employees to collaborate from anywhere with an internet connection, so working from home just makes sense. In the same vein, keeping these employees as productive as possible requires modern business solutions that make collaboration seamless and encourage flexibility.
Plus, with virtual development comes increased competition.
To succeed, modern businesses need to maintain their flexibility while simultaneously increasing efficiency. This allows them to reinvest more money into their business, helping them win markets from their competitors.
The modern business theory states that increasing efficiency will lead to the following:
Cost reduction
Increased productivity
Streamlined workflows
Saved time and effort
Cost reduction
The more efficiently your business operates, the less you're frivolously spending.
With increased efficiency, your business will learn what parts of your core operations are necessary for longevity and where you can cut costs.
In the long run, these instances add up. With an efficient business, you're spending money on what you need rather than what you think you need.
Increased productivity
As the economy continues to keep workers on the edge of their seats, turnover rates continue to grow.
Just last year, the American turnover rate was hovering over 50 percent. With employees constantly willing to leave their jobs, increasing productivity is a must for any business hoping to survive.
Collaborative-styled management incentivizes employees to find the most efficient way to do things. Modern business solutions allow employees to operate as efficiently as possible.
An efficient team doesn't have time to be bored.
An efficient team is an engaged team. An engaged team is a productive team.
Not only will efficiency-driven businesses increase their productivity, but these businesses will likely reduce turnover as well.
More streamlined workflows
A collaborative approach means that documents and assignments are getting sent from one person to another on a regular basis.
However, circuitous or inefficient workflows can make work that could easily get done in hours take days.
Focusing on efficiency will remove some of the unnecessary steps that documents or assignments take, leading to a faster turnaround time for your business.
Saved time and effort
Running a business is a lot of work. Core operations take ages to set up, training employees is difficult and frustrating, and the competition makes it harder than ever to stand out.
As a business owner, you deserve to enjoy the fruits of your labor.
When your business is operating at its highest capacity, you'd be amazed at the sheer volume of time you have to focus on expansion, new markets, or simply relaxing.
Becoming a more efficient business means becoming a more effective business.
If you want to stand out in an environment filled with startups, small businesses, and entrepreneurs just as motivated as you are, focusing on efficiency will allow you to set your business apart from the increasingly crowded market.
---

How you can increase your business's efficiency
There are two primary ways a business can increase efficiency: save money and automate or streamline what you can.
Saving money
Modern business solutions provide ample opportunities for savvy business owners to save money.
Consider using modern business software designed to help you avoid hiring full-time employees while getting the important stuff done.
Similarly, securing a virtual office rather than a traditional one allows you to save money while retaining all the benefits associated with traditional office space.
Automating or streamlining what you can
Today's business software allows business owners to automate or streamline important projects like marketing. This allows them to get more done within the same number of hours each day.
Marketing emails, immediate review responses, social media posts, and even your sales process can all be automated with the use of modern business solutions.
Although both options are primary ways your business can boost efficiency, several other methods can get the job done as well.
---
Read more: Want To Improve Business Efficiency? Don't Overlook These 15 Operational Areas
---
If you're constantly rescheduling meetings and realizing those meetings could have been emails, find out how you can eliminate them from your workday.
Similarly, if your onboarding process takes a considerable amount of time, yet you're still dealing with high turnover rates, consider streamlining your onboarding process or using contract employees.
Modern business solutions provide specific answers to areas like payroll, accounting, marketing, and branding, but as you know, a business exists outside of these four areas as well.
The idea is that you want to shed your business from any excess.
If there's business software that allows you to do this, awesome. If not, get creative and start tracking as much data as you can about your business.
Once you know the areas you're overspending in, be it with time, money, or effort, you know where to start making cuts.
---

The best modern business solutions
There are several modern business solutions available for the established entrepreneur.
That said, these business tools aren't enough to make your business succeed. You must put in the time and effort to understand these tools and how to use them.
Competition is fierce at the moment, and while not always a negative, you should be taking the steps necessary to ensure that your business stands out.
---
Read more: Direct Competitors Are Your Key To Winning New Markets – Here's How
---
We've broken these modern business applications down into three separate categories and will take a closer look at specific examples for each category below.
Accounting software
Payroll software
Branding and marketing
As we dive into these categories, we'll look at actionable modern business techniques that your business can start using today to boost flexibility and efficiency.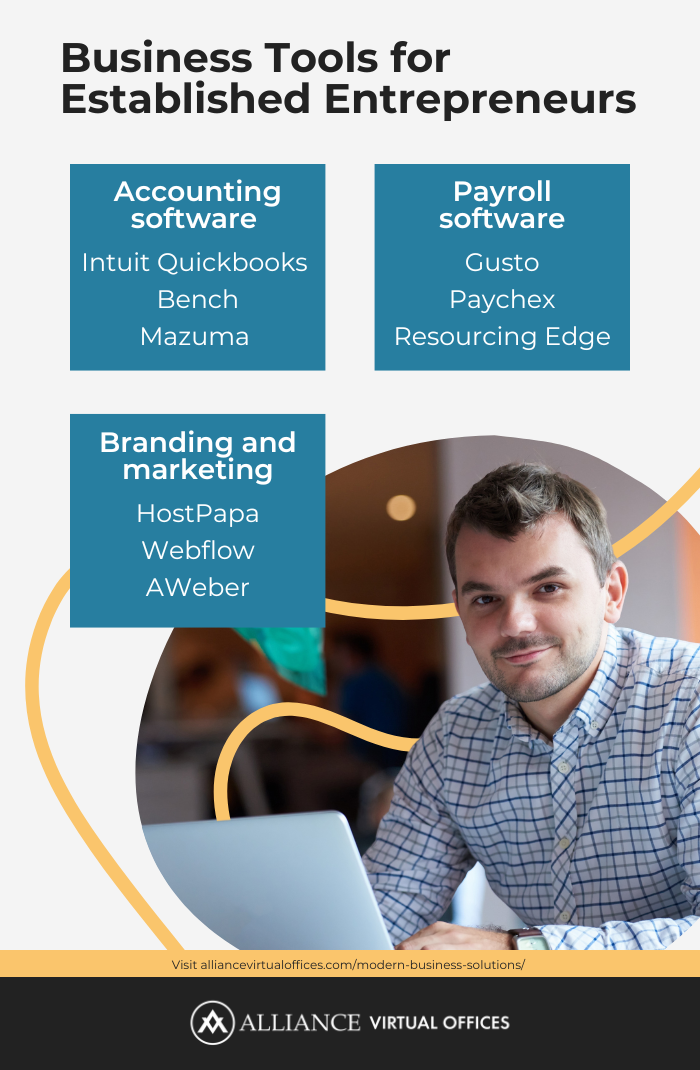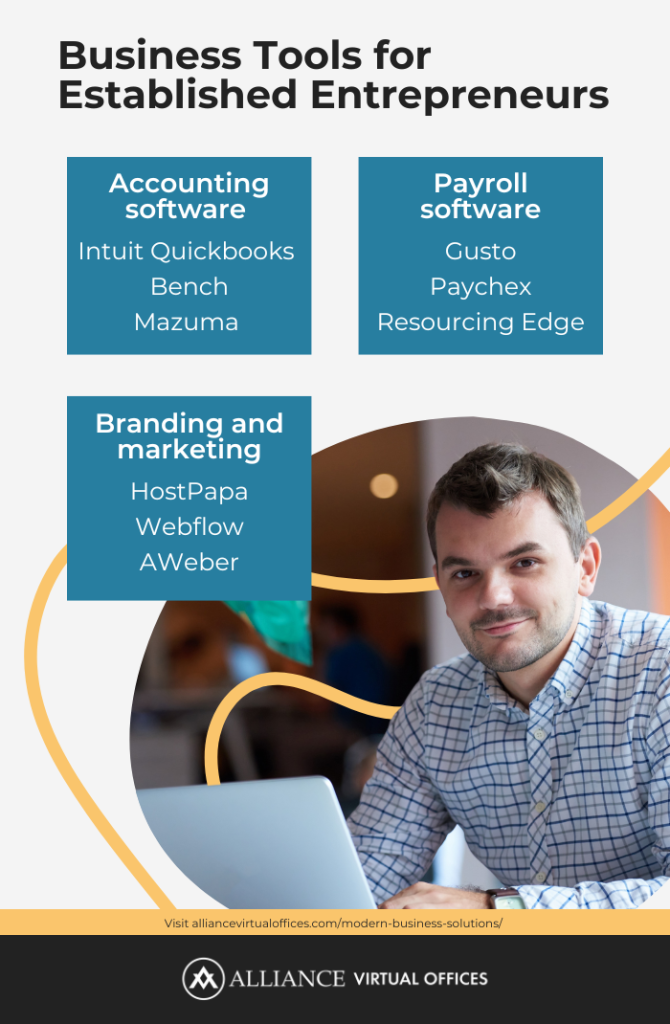 Accounting software
Accounting software is likely to be some of the most common modern business tools that you'll come across.
Here are three pieces of modern business software that will make accounting concerns a thing of the past.
Intuit QuickBooks
QuickBooks is a full-featured financial management business tool that eliminates data entry by organizing and tracking your finances for your business.
This suite of products is mostly geared towards smaller businesses with plans starting under $20 per month.
QuickBooks intuitive UI makes it easy to pick a plan and get started. One of the coolest add-on features that QuickBooks offers is a Live Bookkeeper that helps you get the entire process started with a personalized setup.
Bench
Bench was designed specifically with small businesses in mind.
While a bit more expensive than QuickBooks, Bench is a bookkeeping service that does your bookkeeping for you, rather than aiding you as QuickBooks does.
Additionally, for small business owners that are making the switch from QuickBooks to Bench, Bench offers an entire month of free service that can be canceled at any time before you start paying for the services.
Mazuma
QuickBooks is a modern business solution that helps small business owners handle bookkeeping, while Bench automates much of the process.
Mazuma is an entire team of expert CPAs and tax professionals that are working for you.
Not only will Mazuma completely handle your business taxes, but they'll also take care of your personal taxes as well if you're a sole proprietor or an LLC.
Generally, these services automate your bookkeeping by connecting your bank accounts and monitoring your transactions directly.
Payroll software
Payroll software makes it simple and easy to pay employees without having to worry about hours of calculations each month.
Check out these three examples of business software that will make handling payroll a breeze.
Gusto
Gusto is a cloud-based payroll, benefits, and HR management software that caters to US businesses.
Plans start as low as under $50 per month and $6 per person on the payroll. This fee includes the filing of W-2s and 1099s for your employees.
With Gusto, your employees are also able to request time off and view their paychecks in real-time, making it incredibly difficult for any pay discrepancies or confusion to arise.
Paychex
Another payroll and HR-centered example of modern business solutions, Paychex is used by over 700,000 individuals.
Paychex HR department is one of the highest-rated aspects of their business, and with in-app help and 24/7 support, it's easy to see why.
Not only does Paychex help handle the human resources parts of your business, but it also tracks 401(k)s and gives your employees an easy-to-set-up plan for retirement.
Resourcing Edge
Resourcing Edge handles your company's payroll, but it also offers another much-needed service to entrepreneurs in need of high-quality candidates in the form of recruitment services.
Recruiting through Resource Edge starts with a consulting meeting so they can better understand your needs. Afterward, they begin searching, recruiting, and screening a small group of candidates that would mesh well with your company.
Once they've met with the most likely candidates face-to-face, they send the hire your way.
These convenient modern business solutions allow you to keep your payroll simple and efficient without having to sacrifice any flexibility. Each of these business tools also provides other solutions to business owners like recruiting or human resources services.
Branding and marketing
Finally, these modern business solutions support your branding and marketing efforts.
These business tools allow you to take the same efficiency afforded in accounting and payroll to your branding and marketing efforts.
Host Papa
Host Papa is business software designed for website hosting. With services starting at $3.95 per month, Host Papa is a great way for any new businesses or entrepreneurs to get their website out there.
In addition to hosting the website, Host Papa has a no-code website builder that even the most technically inexperienced user could figure out with a bit of time.
Host Papa also has an Enterprise plan that allows you to use the website builder to set up an online store.
This means that even those with virtually no technical know-how can design and launch your online store.
Webflow
Webflow is another no-code website builder and hosting website that allows users to launch their custom ecommerce stores.
With over 400 free lessons covering all the basics of website building, even the most clueless individuals could learn how to create a website that catches the eyes and retains customers.
Where HostPapa's website builder isn't as intuitive in certain areas, Webflow makes sure that if there are roadblocks, there's also a lesson that will help you figure the problem out.
With numerous templates to choose from and an active community, there's guaranteed to be someone who can help you answer any questions you might have.
AWeber
AWeber is a bit different from Host Papa and Webflow in the sense that this modern business solution focuses on the marketing side of operations.
If you've built your website, you still need to get people to visit it if you want to make sales and grow your business.
With AWeber, you can create an email marketing campaign that reaches new customers, grabs attention, and builds trust and credibility with your current customers.
From no-code website building to streamlined email marketing initiatives, these modern business solutions are easy to use and can guide your business to higher engagement and more sales.
---

Using modern business solutions to thrive while others struggle
Modern businesses need to make the most of their efficiency while maintaining their flexibility. Luckily, there are numerous business tools to help you do so.
Whether you need help with accounting, payroll, marketing, or branding, there's a modern business solution that is perfect for your operations.
Standing out in current market conditions is hard enough. Startups are everywhere, small businesses are popping up with increasing regularity, and the economy is disincentivizing consumer spending.
To make it through this kind of economic downturn, your business needs to be operating as efficiently as possible.
When the market becomes as oversaturated as it is, efficiency may be the only thing standing between your business and bankruptcy.
Although we are currently on the precipice of what many are calling a recession, it doesn't look like things are going to be rushing to get better any time soon.
---
Read more: Business travel costs are expected to rise through 2023, industry report says
---
Cutting out the extraneous costs, increasing productivity, and decreasing turnaround times allow your business to shine where others falter.
Utilizing modern business solutions allows you to make these changes, while providing you with more time to focus on the core aspects of your operations.
If you're spending all of your time focusing on the logistics of your business like payroll, accounting, and marketing, you won't be able to secure market space and break into new areas.
---
Further Reading
● Want to Win New Markets? Understand Your Direct Competitors
● The Secret to Maximizing Your Business Efficiency
● Want a Simpler, Easier Workflow? These Automated Business Solutions Are the Answe
---
Alliance Virtual Offices provides several modern business solutions for established entrepreneurs.
With our virtual offices, you get all the benefits of a traditional office, including a physical workspace and access to meeting rooms, at a fraction of the cost of its traditional counterpart.
Our Live Receptionist services allow you to stop worrying about customer phone calls and get back to the core operations of your business.
Our friendly and professional receptionist will screen all of your calls. This means that you don't have to multitask with phone calls and risk upsetting the customer on the other line.
Whether you're an established entrepreneur or a fledgling business owner searching for modern business solutions, we've got you covered.
Contact us today to see how Alliance Virtual Offices can help your business maximize efficiency and retain flexibility today!