Though we believe coworking is a great resource for many professionals and companies out there and that it is here to stay, we want to help you decide if joining a coworking space is right for you. To do that, we want to share with you the benefits companies and individuals have associated with coworking spaces.
Please read on to understand how coworking has impacted entrepreneurs, small businesses, and large enterprises. Knowing this will help you determine whether coworking space is right for you and your business needs.
W
hy are coworking spaces popular?
Everyone is talking about coworking. Over the past ten years, the coworking industry has boomed and it has revolutionized the way people expect their workplaces to look and feel like. But, what's all the hype behind it? Can it really be as good as everyone makes it out to be?
---
Tip: If you're asking yourself, "What is a coworking space?" Check out our Ultimate Coworking Guide for a brief 101 intro to coworking, its history, users, types of memberships, and more.
---
Truth is, there's a reason coworking has become so popular among freelancers, entrepreneurs, startups, SMEs, and large companies. That reason is because coworking works; it helps people work and more importantly it helps people feel good about work.
Back in 2015, an article in the Harvard Business Review argued that coworking is effective because it gives people meaning, it makes them feel that they have more job control, and it makes them feel part of a community. All of this translates into motivation, collaboration, innovation, and wellbeing. Since then and with the growing adoption of coworking spaces, the benefits of it have been proven time and time again.
---
Here are the top benefits of coworking:
Flexibility
One of the greatest advantages of coworking spaces is that they enable businesses of all sizes to be flexible and resilient. Coworking spaces offer short-term and long-term leases and they offer different types of memberships.
Through coworking startups and entrepreneurs can have access to a professional business environment without having to commit to a long-term lease or make a big deposit; which will allow for more flexibility in a company's spending. Moreover, since coworking spaces offer different membership plans, companies can grow and contract as needed and their flexible nature also makes it easier for companies to enter new markets at a portion of the associated risk.
Furthermore, they allow for worker flexibility; coworking spaces typically open early in the morning and close until evening hours; some even offer 24/7 access, enabling professionals to work whenever they want.
Coworking Communities
Community is one of the founding pillars of coworking and it's one of the main value-propositions of coworking spaces, especially among freelancers and entrepreneurs who would otherwise work from home or a coffee shop. The diverse nature of coworking spaces provides individuals with connections, with access to new people, and with a culture people identify with. The sense of community of a coworking space is what gives each space it's own vibe and feel; it's what makes people want to go to a coworking space and, more importantly, it's what makes people want to stay a part of it.
Coworking Networking
This goes in-hand with the community aspect of a coworking space. Those who work from coworking spaces often come from a variety of industries and backgrounds, which makes them a perfect place to network, meet others, and forge and nurture new relationships. Within a coworking space, you are likely to find new friends, business partners, potential clients, and potential team members.
[custom_block description='Tired of working alone? Choose a local
Coworking
center and work in a friendly business community with like-minded professionals. Flexible, low-cost and affordable.' image='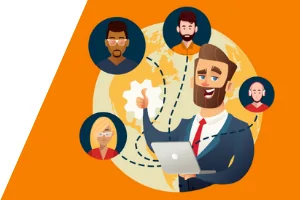 ' link='
Get started here
']
Wellness and mental health
Coworking can help individuals battle loneliness by providing them with access to a support network of like-minded individuals. Moreover, coworking spaces are helping professionals address mental and physical wellness through a variety of programs and amenities, like mindfulness sessions, carefully designed spaces that make the most of natural light, pet-friendly workspaces, coworking spaces that offer yoga sessions, flexible schedules (some coworking spaces offer 24/7 access), on-site childcare, ergonomic furniture, etc. Helping people feel their best while in the workplace helps them improve their professional performance.
Location
Coworking spaces are typically found in great locations that make a person's commute shorter and easier. Now more than ever people are likely to find coworking spaces across all sorts of locations: downtown areas, suburban neighborhoods, malls, airports, hotels, etc. Having a coworking space that's easy to get through–whether by car, bike, walking, or public transportation–helps people better organize their days, which provides them with extra time to engage in other activities (grocery shopping, going to the gym, meeting friends, etc.). It's also ideal for professionals who have to meet clients often; having a location that's easy to get to will improve a client's perception and willingness to meet with you.
Coworking Productivity
Coworking spaces are designed to help people get to work as soon as they enter the door. They are a "plug-and-play" environment and they are equipped with the necessary office tools and resources to support different types of work. Moreover, being in an environment where others around you are working serves as motivation to get you to work as well. Design elements like access to natural light and ergonomic furniture also goes a long way in helping people get to work and stay working. Simply put, coworking spaces are environments that facilitate work
and collaboration.
---
---
Coworking Culture Inspires Collaboration
Coworking space members often come from different industries and lines of work, which means people can tap into other's mind to help solve problems, test out an idea, or simply brainstorm. Furthermore, coworking spaces tend to have different community areas that encourage encounters and interactions, these unplanned and random interactions are also great at sparking new ideas and conversations that often lead to collaboration and innovation.
Business opportunities
Again, it comes back to the diverse community of each coworking space. Say you are a lawyer who needs some help with marketing; you'll likely to find a marketer within your coworking community, or if not, you might know someone there than can introduce you to one. If you're working on a project and need content writers, law advice, or a video production, you are likely to find all that support there. You're also likely to find new, long-term clients among your coworking community.
Events and learning opportunities
Most coworking spaces offer a vast programming of events and learning opportunities. These range from networking happy hours, to workshops during the lunch hour, to wellness classes (yoga, mindfulness, etc.), to short conferences given by experts. These events are a great tool to network and to learn about new trends or learn new skills.
Work-life balance
The flexible nature of coworking spaces helps individuals reach an ideal work-life balance. While in a coworking space, no one will expect you to be at your desk all day long; you can come in when it best suits you and leave when it best suits you. For those who tend to work from home, coworking spaces prove a valuable resource in separating your personal and professional lives. Moreover, since these are spaces where you have access to a community and support network, coworking spaces can help you in addressing other problems and where you can find friendly help or advice.
Financial benefits
Coworking spaces are cost-effective for startups and entrepreneurs in that they don't require a hefty starting deposit. This can help alleviate cash flow burdens and can help startups use those resources in other areas. For large companies, coworking spaces offer great financial benefits, especially as new accounting standards just came into effect. These standards require companies to report the impact their real estate has on their finances; however, leases shorter than 12 months don't need to be reported, which is why coworking can be a great tool for companies to keep their balance sheets on the positive side.
Talent attraction and retention
The new workforce generation expects more than a competitive salary. They are interested in a dynamic work culture, in a unique workplace environment, in wellness, and in social responsibility. Coworking spaces can be a great tool for HR departments; offering coworking as part of employee benefits can lead to greater flexibility and employee happiness as these spaces are well-designed, they are conveniently located, and they offer unique and valuable amenities.
Amenities
This is one of the major selling points of coworking spaces. Most coworking spaces offer basic amenities like wifi, coffee and tea, meeting room and conference room access, printing, a kitchen area, and event programming. However, some coworking spaces have taken their amenities to the next level. Some offer on-site childcare, others offer discounted gym memberships, some offer concierge services, some invite masseuses to give 15 minute massages every now and then, some are pet-friendly, you get the idea.
As you can see, coworking spaces have a lot to offer. But why should you take our word for it? Find a local coworking space and try it out, some operators offer a free trial day or you can purchase a day pass.