---
Q: How do I register my business in Idaho? Is the process the same throughout the country, or is there anything special I should keep in mind?
A: Registering an Idaho LLC is largely the same as it is in any state, with slight nuances in the process. Because each state has different laws and regulations, the general process may look the same, but there's almost always some variety in what you need to do to secure an LLC.
---
Starting a business in 2023 is easier than ever before. 
With services like Virtual Offices and countless methods of automating payroll, bookkeeping, and other streamlined operational tools, entrepreneurs have a straightforward way to get their companies off the ground and keep things running smoothly without huge investments.
 According to Pew Research Center, American workers, for the most part, aren't experiencing video conferencing fatigue, and they aren't trying to stop working from home. 
As employees continue searching for remote positions, entrepreneurs can hire workers from all over the country, regardless of where their business is located.
But we're getting ahead of ourselves. The first step in any entrepreneur's journey is to register your business as an LLC.
An LLC, or Limited Liability Company, is a business structure that American business owners use to protect themselves from personal liability. 
This includes the protection of personal assets and finances and prevents business owners from being held responsible should anything in their businesses go awry. 
In this article, we'll look specifically at Idaho LLC registration.
Idaho business registration looks similar to registration in other states, with slight differences throughout the process.
First, we'll walk you through the basic LLC registration process. Then, we'll look at how LLC registration differs in Idaho. Next, we'll determine the best address for your LLC in Idaho, and finally, we'll see how you can find a Virtual Office from Alliance that suits your Idaho business registration needs.
So, instead of googling "How to register for an LLC in Idaho?" – look no further!
---
---
What is the basic LLC registration process?
Each state has slightly different rules and regulations for registering an LLC. 
The state that you choose to register your business in will typically have a website that makes the process straightforward and provides you with the necessary forms.  
Before we explore the Idaho LLC registration fee and other state-specific regulations, let's look at the basic process of LLC registration. 
We'll only be dealing with how to form one LLC, but an excellent aspect of using this business structure is that there isn't any limit to the number of LLCs you can register. That said, you do need to take the necessary precautions to ensure you aren't getting double-taxed. 
---
Read more: How Many LLCs Can You Have? Surprising Benefits of Scaling Established Businesses With More LLCs 
---
Forming an LLC is essentially just registering your business with the federal government.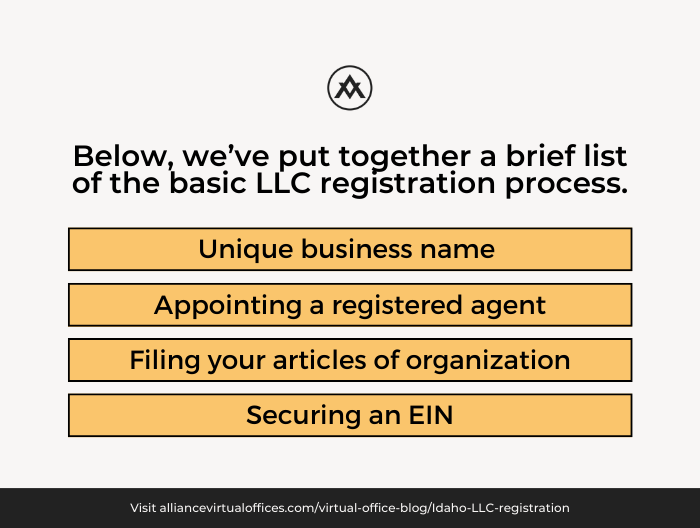 Below, we've put together a brief list of the basic LLC registration process. State of Idaho LLC registration will vary slightly, but this step-by-step list will help you understand what to expect in any state.
Unique business name
Appointing a registered agent
Filing your articles of organization
Securing an EIN
Naming your business
The first step to registering any business is creating a unique business name. 
There are some state-specific rules, but generally, your business name needs to be different from any other business in operation. It can't mislead customers; you'll typically need to include "LLC" in the name. 
That doesn't mean you have to include "LLC" in all of your company's branding, but it does mean that it should be included in official registration forms.
When coming up with a name for your business, it's important to follow any of your state's guidelines. You should also pay attention to your competitors' names and try and pick something that stands out and grabs attention.
You don't want to be too unique to the point where potential customers are uncomfortable with your decision, but you do want something memorable that allows consumers to recognize your company quickly. 
Additionally, you should pick a company name you're comfortable looking at often. When you set up a business banking account, you'll have to use your company's name when doing so.
This means that you probably shouldn't name your business something that you hate because you'll be seeing the name regularly, and changing the name requires valuable time and effort.
---
Read more: Opening a Bank Account for LLC? Here's What You Need to Know
---
Appointing a registered agent
You will then need to appoint a registered agent. 
Your registered agent is the person or entity you've appointed to receive important legal and official documents on your behalf.
A registered agent is required in every state, but the rules surrounding the agents may vary slightly depending on where you register your LLC.
Essentially, your company's registered agent acts as a point of contact between your business and the state government. 
In some localities, you can act as your business's registered agent if you'd like, but this is rarely a good idea. Doing so gives you added responsibilities and makes you more personally liable than if you had just used a service or individual you trust. 
The entities willing to act as your company's registered agent are usually cost-efficient and allow you to focus on the core operations of your business rather than worrying about receiving proper documents and legal notices when necessary.
Filing your articles of organization
The next step is filing your articles of organization with the government.
This is done through the website of the state in which you intend to register. Articles of organization are documents that explain how the LLC will be managed. 
Again, the requirements of your company's articles of organization will vary slightly depending on where you're located, but you can expect to include information like your business's name, where you're located, the purpose of your business, and more. 
The articles of organization are foundational documents that establish the existence of your LLC. Everything leading up to filing your articles of organization is logistic and theoretical until you've completed this step.
Once you have completed this step, your business exists.
Securing an EIN
The final step in every state's LLC registration process is getting your EIN.
If your company is a sole proprietorship without employees or if you're running a single-member LLC without employees, most states will allow you to forego your EIN, but this is a bad idea. 
Your EIN, or employer identification number, is essentially your company's social security number. Your business credit profile is tied directly to the number, so you'll use your EIN for hiring, forming partnerships, opening bank accounts, obtaining credit, and more. 
How is LLC registration different in Idaho?
Thankfully, the steps above give you a solid idea of how Idaho LLC registration works.

Additionally, thanks to the tools that now exist for modern entrepreneurs, you can use the following Idaho LLC registration guide to register your company in Idaho, regardless of where you live. 
---
Read more: The Best Work From Home Tools For Entrepreneurs 
---
For the most part, LLC registration in Idaho is much the same as it would be anywhere else. That said, there are some slight differences and particularities that you need to keep in mind. 
We've put together another step-by-step guide designed to help you through the Idaho business LLC registration process.
Choosing a business name
Appointing a registered agent
Creating your LLC's articles of organization
Drafting an operating agreement
Obtaining an EIN
Choosing a business name
As you can imagine, the first step in the Idaho LLC registration process is choosing a unique business name.
Another guideline when naming your Idaho LLC is that you can't add words that could confuse customers. This means you can't put the word "bank" in your bakery's name, you can't put the word "insurance" in your tech startup's name, and you can't put the word "trust" in your retail store's name.
This is designed to prevent bad actors from using intentionally misleading names to harm consumers. 
In addition, if your LLC does provide professional services like legal, accounting, medical, or so on, there may be more regulations and state approval required. 
For Idaho in particular, you can use the Secretary of State's website to check and see if you're picking a unique name.  
Follow this link to the Idaho Secretary of State Office business search and look for your business's name to ensure you've picked something unique. You can also use the website to search for companies by their EINs. 
Appointing a registered agent
The next step is appointing a registered agent. 
---
Read more: Finding a Registered Agent: A Business Owner's Guide 
---
In Idaho, your registered agent must be at least 18 years old, a resident of Idaho, or, if you're using a business, the entity must be authorized to do business in Idaho.
In addition, your registered agent needs a physical street address in Idaho, they need to be available during regular business hours to accept legal documents and other official notices, and lastly, you'll need consent from the individual or entity acting as your registered agent.
Again, you can use the Idaho Secretary of State website to get more information about appointing a registered agent.
Creating your LLC's articles of organization
You will then create your LLC's articles of organization.
For Idaho LLC registration, your articles will include the following:
LLC's name 
LLC's duration 
LLC's address 
Registered agent's name and address 
Member-managed or manager-managed distinction 
Whether your LLC will provide professional services or not 
Name and address of each organizer 
Name and address of at least one managing member 
Once you've completed the form, you'll need to pay a $100 filing fee. If you file manually or want an expedited registration process, you must pay $20-$40 extra.
You can find the form here – and after you've completed the document, you can either file it online or send it by mail to this address: 
Office of the Secretary of State
450 N 4th Street 
PO Box 83720 
Boise ID 83720-0080
Drafting an operating agreement
After you've submitted your articles of organization, you should create an operating agreement.  
This agreement outlines how the company will operate and can keep you from running into problems. 
It's used to establish ownership structure, govern decision-making, allocate PNL, define roles within the company, and resolve disputes. 
Technically, an operating agreement isn't required, but it's a good idea regardless. Taking the time to draft an agreement before you get started can save you and your business considerable time, effort, and capital as your business continues to scale.
Obtaining an EIN
Finally, you'll need to obtain an EIN by filing on the IRS website, which can be found and done for free.
If you are the sole member of the LLC and don't want to be taxed as a corporation, you don't need to obtain your EIN. 
Regardless, it's highly advised that you do, as you'll need the number for several aspects of your business.
What is the best address for your Idaho LLC registration?
Whether registering an LLC in Idaho as a local or from another location, using a Virtual Office from Alliance is the best approach.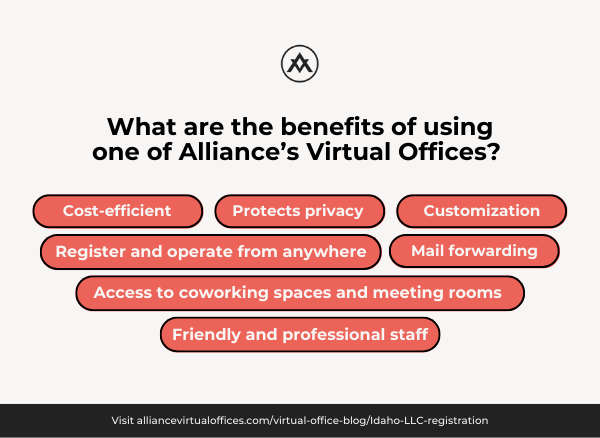 What are the benefits of using one of Alliance's Virtual Offices? Take a look below.
Cost-efficient 
Protects privacy 
Register and operate from anywhere 
Friendly and professional staff 
Access to coworking spaces and meeting rooms 
Mail forwarding 
Customization 
Cost-efficient
A Virtual Office saves you money compared to a traditional office. This makes it easier to grow your business by giving you more capital to invest in other areas.
Alliance's Offices start as low as $49 per month. Compared to the multi-thousand dollar rent you'll pay in traditional office space, that's a lot of money saved each month.
Privacy
A Virtual Office also makes it easy to protect your privacy by keeping your home address out of the public domain.
Registering your LLC adds all of your business's relevant information to the public domain. This means that using your home address as your LLC's business address will put your sensitive information at risk. 
This isn't to say you can't work from home, only that you go through with Idaho LLC registration while using exclusively your home address as your business address.
Full flexibility
Virtual Offices allow you to register and operate from anywhere. 
Whether you need Idaho foreign LLC registration or an in-state option, your Virtual Office can provide you with a centralized hub for all your business's operations.
You can work remotely from home or from halfway across the globe. All your mail can be forwarded to you so you never miss out on key communications too.
On and off-site staff
Should you have any questions or need any help, your Virtual Office staff are ready to provide friendly and attentive care. 
If you're using your Virtual Office center, this might be as simple as needing assistance with amenities or other benefits. If you're working remotely, you can call or email our support team to ensure that you're able to deal with any problems that arise.
Coworking spaces and meeting rooms
Best of all, you have access to on-demand meeting spaces and coworking rooms.
Meeting rooms allow you to host a variety of different-sized audiences and provide you with a professional and quiet room to use for in-person or virtual meetings. This simplifies your virtual operations and adds a layer of professionalism to your business. 
Coworking spaces give you a professional workspace you can use to break the monotony of working from home. This gives you a new area to use for networking and helps you stay refreshed and recharged rather than succumbing to burnout.
Mail forwarding
Some virtual office providers want their partners to pay a flat rate for the service. In some cases, this includes mail forwarding that the business or individual might not use.
At Alliance, our mail forwarding service is broken into four tiers and isn't included in the initial assessment. This means you can still have a professional address to use as a business address without paying extra for mail forwarding until you know how often you need it.
Customization
Alliance's Virtual Offices are totally customizable. 
Whether it's adding a Live Receptionist or tools and services from other companies, your Virtual Office is built to become the hub for your business's operations. 
From pricing structures to different kinds of plans, we remain flexible in our Virtual Offices so you can remain flexible in your work.
Finding a Virtual Office from Alliance for your Idaho LLC
Filing an LLC is a straightforward process that can be done from the comfort of your home.
Choose a business name, designate a registered agent, submit your articles of organization and operating agreement, obtain an EIN, and you're ready to do business in the state of Idaho.
An Alliance Virtual Office is the best way to register your business because it protects your personal information while simultaneously solidifying your business's reputation, all while supporting your remote workstyle. 
According to CNBC, Idaho is ranked third in the country in 2022 for business friendliness. With Alliance, you can take advantage of this ranking to create an Idaho LLC.
Registration looks the same in almost every state, but you should still take the time to find the state that offers you and your business the tax benefits and regulatory structures that will help your company the most.
---
Further reading:
---
Alliance Virtual Offices provides services and tools for established entrepreneurs, new ventures, and everything in between. 
Idaho LLC registration doesn't have to be difficult. With the guide above, you can get your business started today.
Be sure to contact us for more information about Virtual Offices and check out our Virtual Office Blog for additional tips!