---
Q: Can I use a PO box as my business address? If not, what kind of business address should I search for?
A: No, you shouldn't use a PO box as your business address. It's not very private and you don't get access to important amenities. Instead, consider one of Alliance's Virtual Offices.
---
Before the introduction of ecommerce and digital business operations, convenience was appreciated but unnecessary.
Tools like catalogs and mailers, which are still useful today, were the primary method of conveniently ordering products for consumers. But, thanks to the influx of digital tools and advancements in technology, convenience looks much different today. 
Additionally, convenience is no longer unnecessary.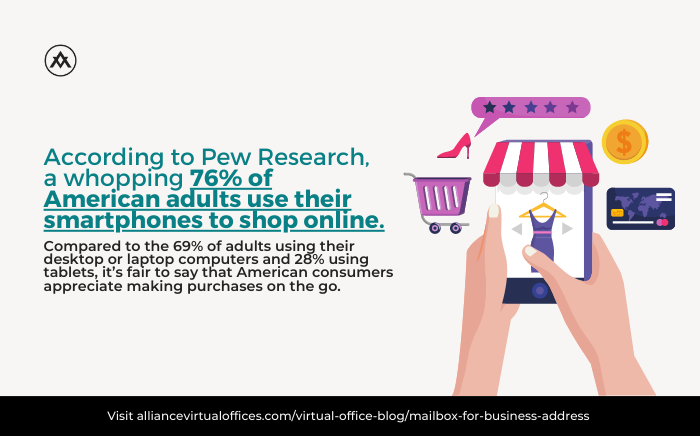 According to Pew Research, a whopping 76% of American adults use their smartphones to shop online. Compared to the 69% of adults using their desktop or laptop computers and 28% using tablets, it's fair to say that American consumers appreciate making purchases on the go. 
Unsurprisingly, that same desire for convenience has permeated the public consciousness in several ways.
Starting a business, for example, has never been more straightforward than it is today. 
Through the use of tools like Virtual Offices, potential business owners can register their LLCs with prestigious business addresses without being forced to secure physical office space. 
Unfortunately, other kinds of addresses and mailboxes aren't as legitimate as high-quality Virtual Offices that attempt to persuade entrepreneurs into using their services under the guise of convenience too.
Today, we'll be discussing whether using a mailbox for business address purposes is a good idea or not, other options that are similar to mailboxes but provide more amenities, how you can make the right choice for your specific business, and finally, how Alliance Virtual Offices provides established entrepreneurs and new business owners alike with the best business address rental available. 
So, if you're considering using a PO box as a business address, take the time to read ahead to understand why this isn't a good idea.
Remember, you don't need to ask questions like "Can I change my business address to a PO box?" if you're already using a high-quality and well-known business address in the first place.
---
---
Is using a mailbox for your business a good idea?
No, your business should not use a mailbox for business address.
Using a mailbox or another kind of PO box to have a reasonably safe address to forward incoming business mail to isn't a bad idea. The issue arises when you use the mailbox as your business's primary address.
Below, we've compiled a list of some reasons you should avoid using a mailbox for your business registration. 
Lack of professionalism 

Using a PO box for a business address can make a business appear less professional and established. This may deter potential customers or clients from doing business with the company. 
Whether you like it or not, image is important. If a customer has to pick between your business that's using a PO box in the middle of nowhere and a company that's registered to a prestigious address in New York, they will almost always pick the New York option. 
Limited credibility 

A PO box doesn't provide the same level of credibility as a physical street address, which can be a disadvantage when trying to establish a business relationship with a partner or vendor. 
Because image plays such a large role in how seriously your business is taken, especially at the beginning, you want to present a public-facing brand that inspires confidence in investors, partners, vendors, and clients alike. 
Because PO boxes are fairly noncommittal, it may be difficult to establish these relationships because the individuals you're courting could assume that your business won't even exist in a few weeks. 
Mail handling limitations 

PO boxes are designed for handling mail only and cannot accept packages or deliveries. This can create inconvenience and added expenses for businesses that regularly receive shipments or packages. 
Outside of having problems with packages and deliveries, a PO box may not provide an easy solution to your mail forwarding needs. 
Part of the appeal of hybrid and remote workstyles is the freedom not to have a set schedule. When relying on a PO box with traditional hours, you don't have as much freedom as you would with a Virtual Office that provides mail forwarding and other amenities. 
Limited accessibility 

A PO box is not a physical location and cannot be used for in-person visits or meetings. This can disadvantage businesses that require face-to-face interactions with their customers or clients. 
Even if you're only responsible for hosting virtual meetings, some options provide you with a private area to host these meetings that don't require using your home or a crowded coffee shop. 
There's nothing worse than trying to host a meeting while simultaneously dealing with distractions. Unfortunately, a PO box won't help you solve this problem. 


Compliance issues 

Some states and localities require businesses to have a physical address on file for legal and compliance purposes. 
A PO box may not meet these requirements, potentially leading to legal or regulatory issues for the business. 
Even if the state and locality you're in do allow PO box-registered businesses, the reasons above make it clear that you should avoid doing so regardless. 
 
A PO box is loaded with problems for your business. The issues you'll encounter using a PO box are much more difficult than securing a high-quality virtual mailbox business address.
Flexibility in your operations is paramount to your success in the modern market. It doesn't matter if your business focuses on in-person or remote operations; utilizing a Virtual Office allows you to quickly pivot when shifts in the market call for a quick response. 
---
Read more: Satellite Mobile Office: Unleash Full Flexibility
---
How a Virtual Office offers the same amenities
Using a Virtual Office rather than a standard mailbox for a business address or PO box gives you and your business the same amenities without compliance and credibility issues. 
Naturally, this begs the question – what is a virtual office? 
---
Read more: What is a Virtual Office and How Does it Work? 
---
Essentially, a virtual office is a service that businesses and individuals can use to secure an address that can be used to register their businesses. That said, there are several different styles of virtual offices, some of which are more useful than others.
Alliance's Virtual Offices are high-quality and provide you with countless amenities without making your life more complicated than it would be with a simple mailbox. Not to mention, Alliance's offices are fully customizable and allow partners to create plans that work specifically for them and their operations. 
We've put together another small list of some of the ways Alliance's Virtual Offices provide the same amenities as a mailbox for business address.
Flexibility 
Secure 
Location 
Flexibility
A Virtual Office from Alliance offers you the same flexibility you would get with a PO box or mailbox. 
You can work from wherever and maintain the freedom of flexible workstyles. 
Part of the appeal of remote workstyles is the ability to go where you want when you want. With Alliance, you're afforded a method of retaining this freedom that is arguably more flexible.
Secure
A Virtual Office acts as a secure mailbox for you and your business. You can drop by the center or have mail forwarded directly to your home, offering the same reliability and security.
In many ways, a Virtual Office is more secure than its traditional counterparts. 
In a standard PO box, you're only protected by a key. The post office is often closed, and when there's no one there to watch over the boxes, you're not in a particularly safe position.
Sure, this may sound unlikely, but despite the Post Office's best efforts, bad actors still get away with obscene amounts of mail theft.
At Alliance, we make a point to protect our partners – both from mail theft and reputational damage that comes with being associated with scam businesses. 
---
Read more: Scammers Hate Us: Only Legitimate Businesses Use Our Virtual Offices 
---
Our two-step identification process ensures that bad actors aren't able to use our services. 
First, we use address verification to ensure that any individual or business using our Virtual Offices provides us with an address that proves they are a legitimate entity. 
This first step helps us prevent scammers from using our services to set up scam businesses with fake identities.
Anyone with poor intentions will set up an address with as little information as possible. By requiring this verification, we can ensure that we only deal with professionals.
The second and final step is document verification. 
This step includes sending physical documents to clients that have signed up to use our services and previously sent us their address verification. 
After receiving the address verification, we send the document verification to the same address.
This allows us to further verify the address while receiving further personal information that scammers are unwilling to share.
One of the biggest issues with using lower-quality virtual offices and traditional mailboxes is the possibility of being associated with less-than-honest companies that may be using the same space. 
If you're using a space like that and another company using the same address is outed as a scam business, you'll spend a lot of time, effort, and money rectifying the damage you had virtually nothing to do with.
Location
Finally, a Virtual Office offers the same ability to choose the ideal location for your business. 
Alliance has Virtual Offices in all 50 states and almost every city. This means you can work from anywhere you want while having one of our offices act as the central hub for your operations.
How a Virtual Office goes above and beyond a mailbox
Inflation fears and concerns over a coming recession for commercial real estate have entrepreneurs and investors alike trying to figure out novel ways to circumvent traditional real estate
Professional image 
Meeting rooms and coworking spaces 
More flexible work arrangements 
Mail management 
Additional services 
Professional image
An Alliance Virtual Office provides a professional image for a business, which can help improve its reputation and credibility. It offers a physical business address, phone number, and email address that can be used for marketing and communication purposes.
This professionality helps consumers who may be hesitant to purchase from unknown companies feel more comfortable taking what they perceive as a risk. 
Think about it, if you're a customer that's been scammed or knows someone who's been scammed when shopping online, you're going to be inherently wary of buying from a business you're unfamiliar with, especially if it's an ecommerce company.
When businesses use a Virtual Office tied to a professional and prestigious address, consumers are much more likely to take a chance. Alternatively, companies using low-quality virtual offices or a standard mailbox for business addresses are more likely to scare off potential customers.
Meeting rooms and coworking spaces
As hybrid work continues to be the most popular work style, companies need to have access to physical space. 
Through Alliance, you have access to meeting rooms, conference facilities, and coworking spaces that can be used for in-person meetings, presentations, or just to break the monotony of working from home. 
This provides a significant advantage over a PO box, which is unable to provide such facilities.
Despite remote work being more productive than in-person work, the isolation of working alone in the same place you live can quickly lead to job burnout.
With coworking spaces, you have a perfect workspace that you can utilize when you just need somewhere to break your routine. Not to mention, being surrounded by like-minded professionals is a great avenue for networking.
More flexible work arrangements
With a Virtual Office, businesses are provided with flexible work arrangements that allow employees to work remotely while maintaining a professional business image. 
Alliance allows you to work from anywhere in the world regardless of where your Virtual Office is located. As long as you have an internet connection, you can receive the benefits of your office without sacrificing the amenities of a mailbox for business address.
Mail management
Virtual Offices offer a range of mail management services, including mail forwarding, scanning, and shredding.
---
Read more: Unlock Full Flexibility with Business Mail Forwarding
---
At Alliance, we understand that not everyone needs the same level of mail forwarding.
Other providers insist on including some amount of mail forwarding and increasing the cost of their virtual office packages to reflect this inclusion.
Instead of going this route, we have base plans that don't include any mail forwarding and four separate tiers designed for various business stages. Keep in mind, the price of these tiers may vary depending on where your office is located.
The first tier, monthly mail forwarding for $10 per month, is best for new businesses that just want an idea of how Alliance's mail forwarding system works. 
The second tier, biweekly, or twice-monthly, mail forwarding for $20 per month, is another tier that's better for newer businesses or entrepreneurs that are taking prolonged vacations. 
The third tier, weekly mail forwarding for $30 per month, is for companies that are seeing higher volume and don't want to miss important documents.
The final tier, daily mail forwarding for $70 per month, is the best value available. This tier is frequent enough to ensure that you aren't missing important documents and keeps you fully caught up with any of your incoming business mail. 
Regardless of the tier you choose, you can change your plan to meet your needs at any time.
Additional services
Virtual Offices often provide additional services, such as call answering, receptionist services, and administrative support. 
Alliance Virtual Offices offers all of this and more. 
These services can help businesses operate more efficiently and professionally, which can be a significant advantage over a PO box or a business mailbox with street address.
Alliance Virtual Offices' best business address
Don't use a mailbox for your business address. 
A Virtual Office from Alliance offers all the same benefits and much more. 
With our Live Receptionists, you can ensure you're never forced to multi-task during an important call. Don't risk upsetting potential customers, clients, or investors because you're trying to do too many things at once.
Instead, allow our friendly and professional Live Receptionists to personally screen and answer each of your calls while you focus on the more nuanced aspects of your business's operations.
With mail forwarding, virtual phone numbers, and access to coworking rooms and meeting spaces, you'll never have to deal with the frustrations of trying to run a fully remote business. 
Companies that operate wholly online are typically at a disadvantage when they launch because it can be difficult to incentivize potential customers to use their products or services when you're using a virtual address.
Through Alliance, you can use the amenities you have access to in conjunction with your Virtual Office's flexibility to effectively run an online business that checks all the boxes consumers look for when trying a new company without losing the workstyles employees love. 
Set your business up for success with a Virtual Office from Alliance.
---
Further reading:
---
Alliance Virtual Offices provides Virtual Office services and several other amenities to entrepreneurs and businesses looking to retain the security and prestige of a mailbox for business address without losing the flexibility of remote and nontraditional workstyles.
With a virtual mailbox business address that you receive through a Virtual Office, you don't have to worry about poor impressions and wary customers. You can pick where you want your address to be located while simultaneously ensuring that you're surrounded by other, professional businesses.
There is genuinely no reason to use a standard mailbox for business address.
Instead, utilize the best business address imaginable with one of Alliance's Virtual Offices. 
Contact us today to see how we can help you get your Virtual Office set up and operational!