---
---
Q: How much does it cost to start a courier business?
A: You can start a courier business with very little capital outlay provided you already own a vehicle and you can run the business from your home. But costs can vary depending on your approach. For instance, you can quickly start a courier business for $10,000 delivering solely for Amazon in Amazon branded vehicles.
---
In our easy step-by-step guide, we'll walk you through how to start a courier business from scratch.
Whether you're starting out as a self-employed driver or you're planning to build your own fleet of vehicles, this guide covers everything you need to know to get started.
---
---


---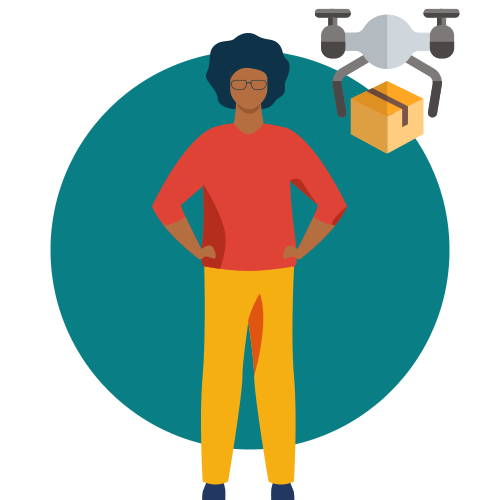 Why Start a Courier Business?
Want to work more flexibly and choose your own schedule?
Looking for an opportunity to become your own boss?
Want the opportunity to manage your own income and growth potential?
A courier business could be for you.
As you might imagine, the Covid-19 pandemic has fueled the need for delivery drivers, as more and more people have been shopping online.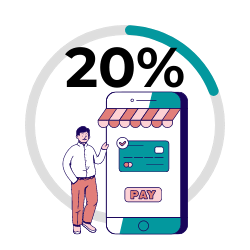 During that same time frame, 20% of consumers in the US ordered groceries online for the first time ever.
All those e-commerce sales need delivery drivers. Any uptick in online shopping has a corresponding effect on shipping requirements.
That's where couriers come in.
Even before the pandemic, demand for delivery drivers was growing.
From January 2018 to January 2020, the number of workers in the "courier and messenger" industry jumped from 690,000 to 850,000 (Bureau of Labor Statistics).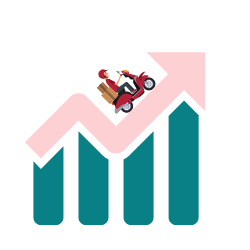 During those two years, this was the fastest growth rate of employment in any industry (with at least 500,000 people employed).
As shoppers become more comfortable shopping online, it's fair to say that there are plenty of courier business opportunities available right now — and it's an industry with good growth potential.
Not only that, the startup costs are relatively low.
Sure, you need a reliable method of transport and preferably one with large storage space, so you can carry large items and multiple orders at a time.
But you won't need an office, a warehouse, or a fixed business location.
You can theoretically start your business from home, by yourself, providing you take time to plan and cost out your venture thoroughly.
So, let's take a closer look at how to start a courier business.
---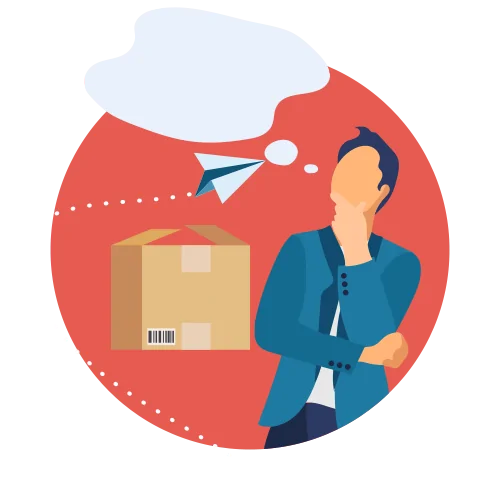 How to Start a Courier Business
The first step is to choose the type of courier business you want to run.
There are many different
types of courier businesses to choose from: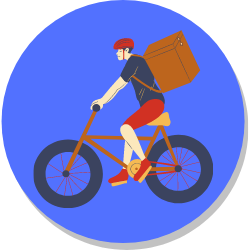 Bicycle courier
Best for big cities, as it's one of the fastest ways to get around a dense urban environment. The startup costs are lower, as bikes are obviously much cheaper to buy and run than vans or trucks.
---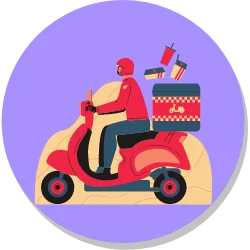 Motorcycle courier
Useful for city centers, but also good for suburban areas with more sprawl. They can carry more weight than bicycles too.

---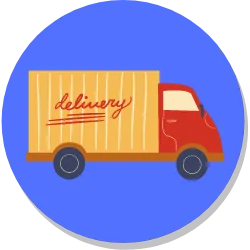 Van courier
If you're considering delivering large parcels over longer distances, a van is your best bet. You can economize by carrying multiple loads in the same vehicle.

---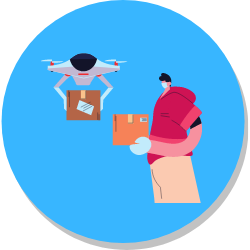 Drone delivery service
This is a very specialized and novel delivery method, but one that a growing number of suppliers are testing. There are risks involved with attempting to 'get ahead of the curve', but the advantage is that you'll also get ahead of the competition.

---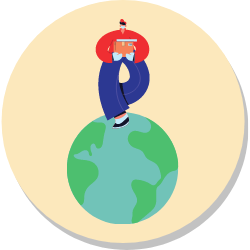 International courier service
This requires a solid business plan and a large amount of startup capital. Experience of logistics comes in handy too.

---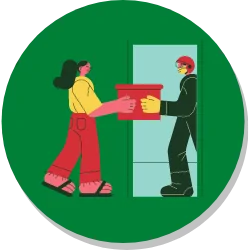 Same-day delivery courier
As more people shop online and get used to buying and receiving items the same day (think Amazon Prime), the more demand will grow for same-day courier services.

---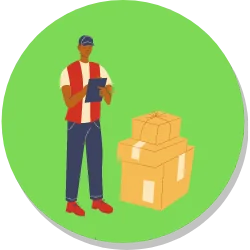 Specialist
Certain industries or suppliers require a specialist courier service. For example, medical or healthcare couriers; hazardous items; or temperature controlled delivery for frozen foods.
Each niche or business type has its advantages.
While niche or specialist requirements are typically more lucrative, the opportunities may be harder to come by.
You might find it beneficial to start out as a 'standard' courier, serving a wide range of customers, and begin specializing depending on the customers you work with.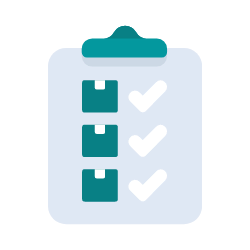 Develop a Business Plan
A business plan is an essential component of every startup business.
Think of it as a roadmap for your courier business (no pun intended).
It will guide you through each stage of starting and running your business, and will help with growth too. A future investor or partner will always ask to see your business plan, so it pays to start one sooner rather than later.
Start with plenty of research.
Read articles (like you're doing now) to identify your competition, to assess the costs involved, and to better understand current and future trends of the courier sector.
Identify where the demand exists. Are local businesses struggling with delivery? Are there "gaps" in the supply chain that can be filled? Can you offer a lower rate than existing courier services within your area?
Your business plan should also set short-term and long-term goals.
Here's what your business plan should include: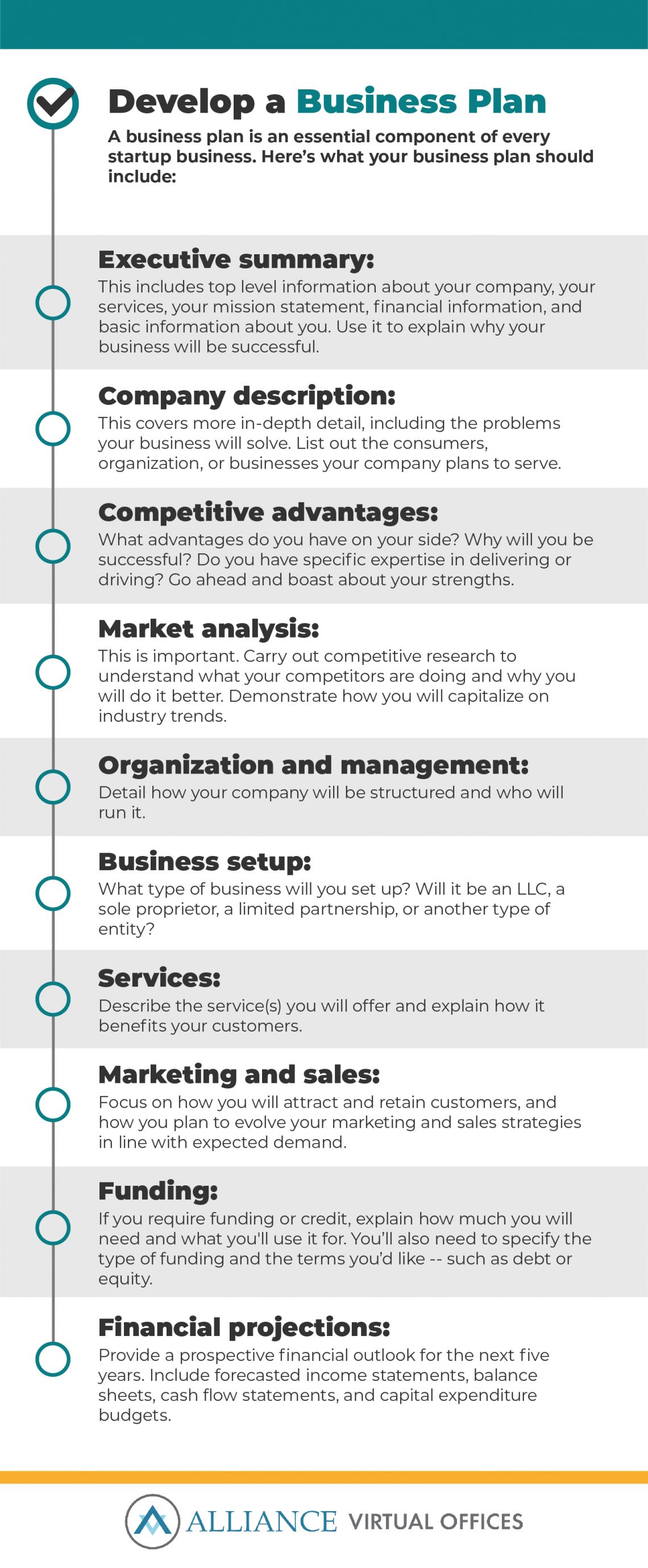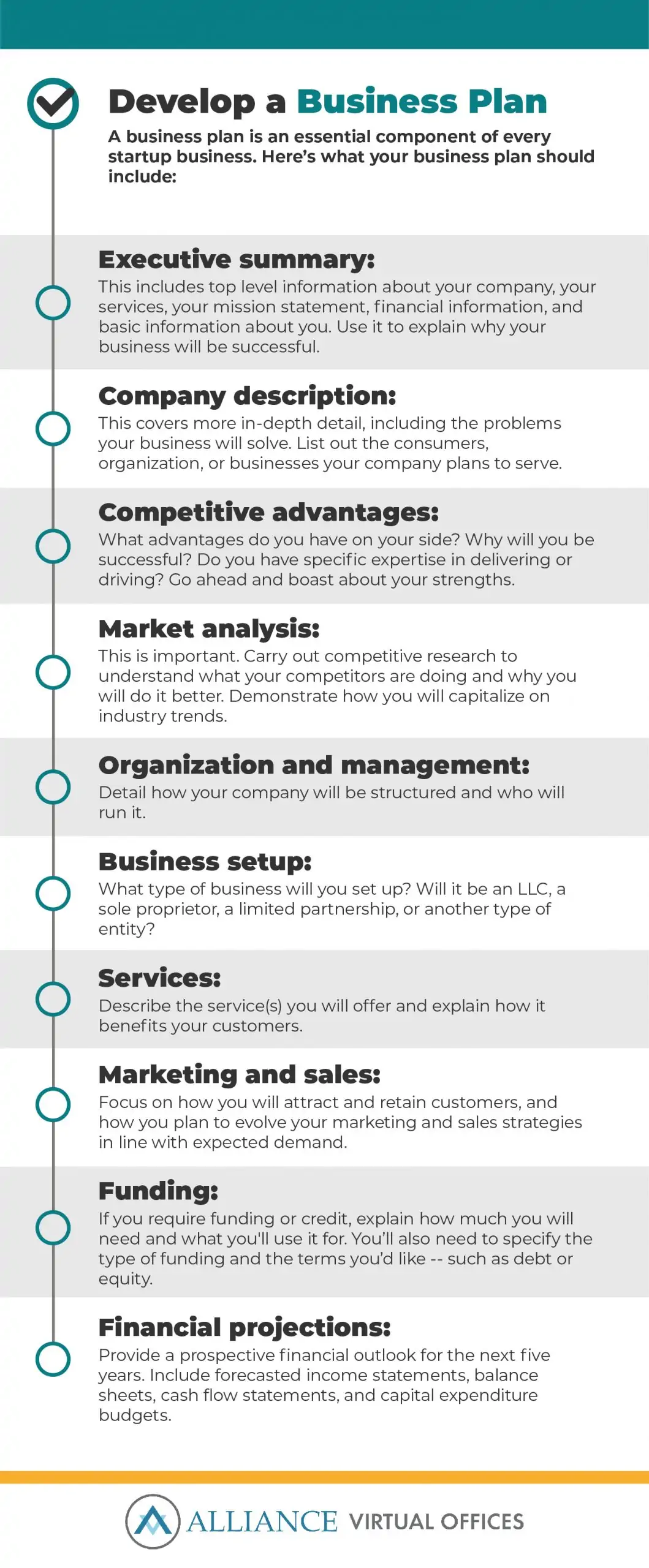 Read more about what to include in a business plan on the SBA website.
It may sound daunting, but remember that your business plan will change and grow with your business.
The key is to be as detailed as possible now, so you can get the help you need to start your business.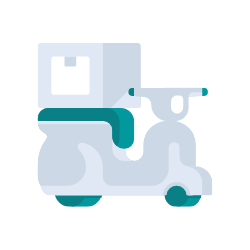 Get Your Vehicle(s) Ready
Your choice of vehicle will depend on your courier business model, or niche.
For a city-based business delivering small items, a motorbike fleet could do the trick. Or to transport large items across long distances, a comfortable van or a pickup truck with a covered bed could do the trick.
You might want to stick with your own personal vehicle to start with.
That way, you will avoid spending too much money in the early stages of your startup.
Even if you have the necessary startup capital, you might want to start with just one vehicle to minimize risk.
Regardless of your chosen vehicle, it must be safe and reliable.
In the same way that a construction worker needs good tools, and a web designer requires a powerful laptop, this vehicle will become your livelihood.
Is it reliable and cost-efficient? Can you drive it comfortably for hours on end?
Make sure your vehicle has a clean bill of health. Check into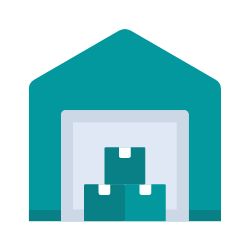 Get Your Equipment Together
You'll need to consider equipment, such as how to secure your load and how you'll transport items from van to door.
You will also need to consider logistics and communications to help you get from A to B (think sat nav, cell phones, chargers, in-car comms, etc).
Here's a handy checklist to get you started: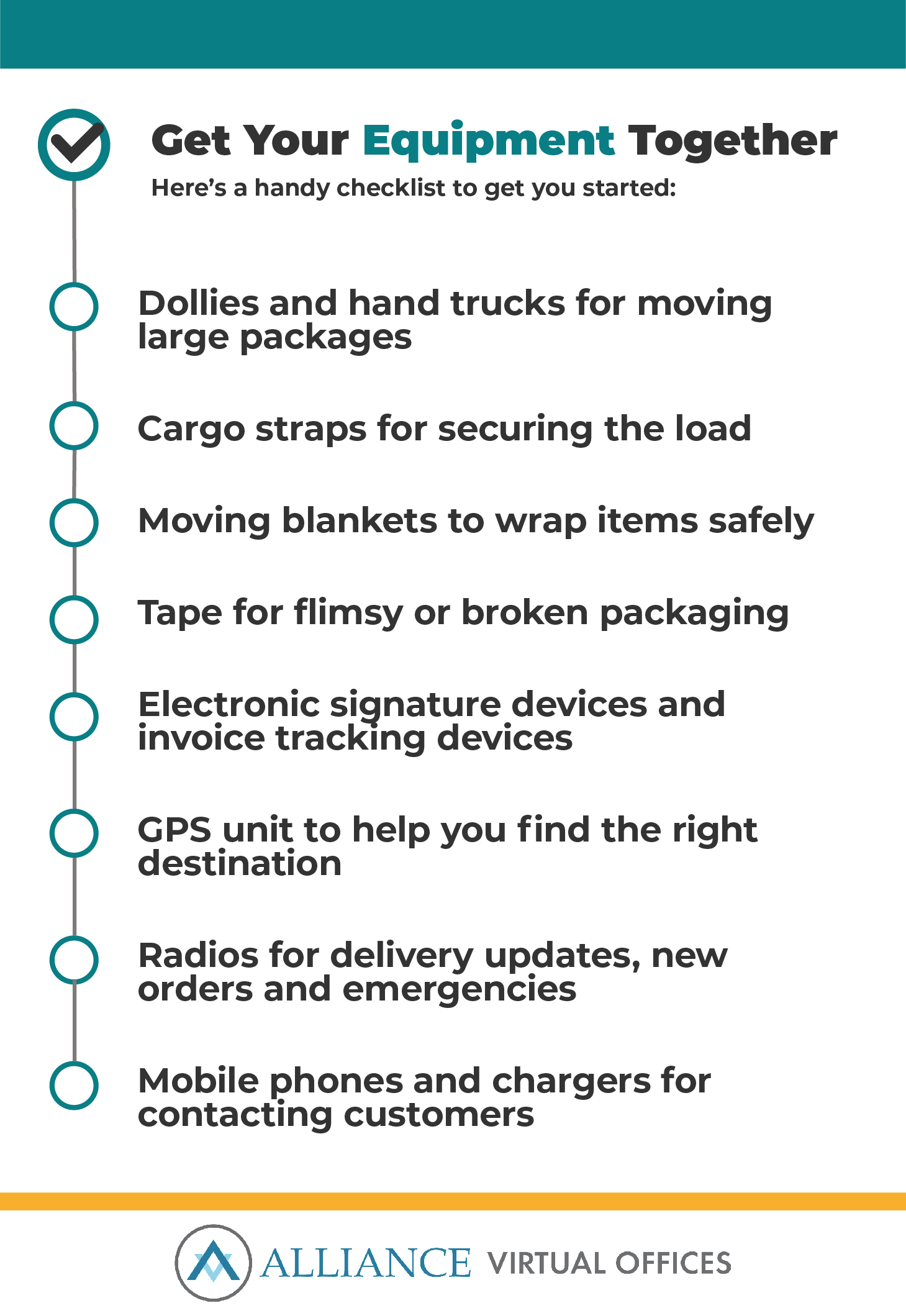 ---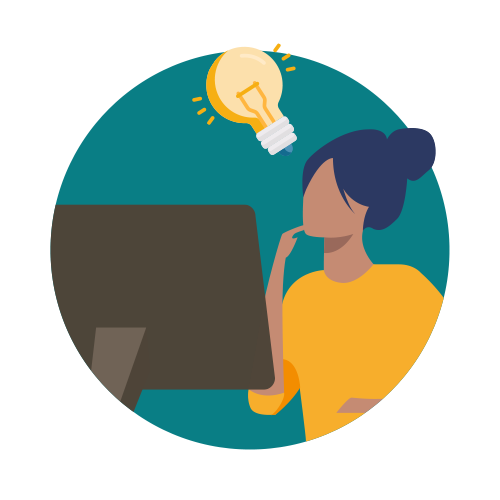 Set Up Your Business
Now it's time to consider the type of business you want to run.
You'll need to make this decision sooner rather than later, as you'll need it when applying for a business license and a federal tax identification number.
Choose between:
LLC: A Limited Liability Company (LLC) protects your personal property, as it is deemed separate from your business, providing you follow certain guidelines of keeping your business separate from your personal.
Sole proprietorship: This is the entry level for entrepreneurs — it automatically comes into play when you start engaging in business by and for yourself. However, there is no protection for your personal assets; if you are sued or become unable to pay business debts, you are personally liable.
Corporation: Registering your business as a corporation is the next level up from an LLC. Corporations are unique entities and you must adhere to a different tax structure. The tax for these entities is charged at a corporate tax rate rather than a personal one, and is based on the profits made rather than gross income.
---
Related: How to Set Up | Using a Virtual Address for LLC Registration
---
Insurance and Licensing
Your courier business will need to be insured to the hilt.
It's a legal and a moral obligation.
You'll need comprehensive insurance to cover your vehicles, your drivers, and your cargo. Think theft, damage, accidents, and public liability too.
Yes, it's a costly business. But insurance exists for a reason.
If a load is damaged in your possession, you'll need to have adequate insurance to cover the cost of the cargo — plus the cost of any damage to your vehicle and any third parties involved.
Start by using cost comparison tools to figure out the type of cover you need and to get an idea of monthly costs.
If you're focusing on a specific niche — such as fragile items or temperature controlled deliveries — you will likely need an additional layer of insurance.
You may also need specific business licenses.
Business licenses vary depending on the location of your business, and your line of work.
It's your responsibility to make sure you get all the necessary licenses so you're not breaking the law.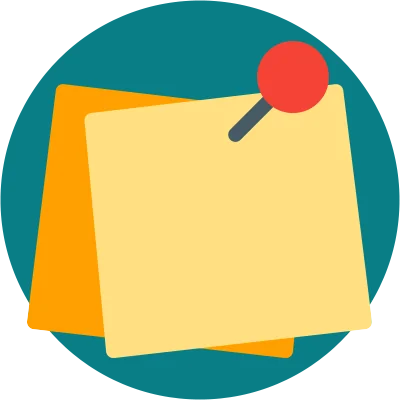 Pro Tip: Find out which licenses you need with LicenseSuite, an online tool that reviews your licensing requirements and makes light work of the application process. Find out more
Figure Out Your Pricing
Your first priority when working out your rates is to cover your costs.
That doesn't just mean fuel and insurance, it also includes less obvious costs like permit renewals, interest on credit, vehicle maintenance, bookkeeping fees, and so on.
To get a ballpark figure, call your competitors and check what rates they're charging in your area. Contact as many as possible and use an average to determine a competitive rate.
Don't try to undercut your competitors, or you may get stuck making deliveries at a loss.
Figure out your profit margins and create a pricing structure with different pricing options such as:
Tracked
Express or rush orders
Overnight
Economy
Heavy or bulky items
Consider additional charges too, such as cancellation fees and wait charges — this applies to customers that keep you waiting past the agreed pickup time.
Establish a Storage Space
The need for an office or storage space will depend on your delivery model.
While it may not be necessary when you're just starting out, it's worth having storage options 'on standby' should you need it for a special job.
That doesn't mean you should pay for empty space.
Instead, keep a list of flexible storage providers in your local area. If you need storage at quick notice, for example for outgoing parcels, you can often rent space on a short-term agreement.
As for office space, many courier businesses start from home. Some even store parcels in their garage when starting out (make sure your home and business insurance allows for this).
After all, if you're out driving all day, you don't really need an office.
However as your business grows and you take on staff, you may need a central office of some kind for logistics and planning.
A Virtual Office is a cost-effective option for remote workers, and you can utilize onsite office space or meeting rooms on a pay-as-you-go basis.
For more regular meetings, certain Virtual Office plans — such as Alliance's Platinum Plus plan — include up to 16 hours of meeting room or workspace rental every month.
It's a flexible way for courier businesses to get the face-to-face time they need — whether it's a staff planning meeting, an investor pitch, or meeting clients — without the cost and commitment of a traditional office lease.
Get Customers with Marketing and Branding

A good brand and a solid marketing strategy will bring customers to your door.
When it comes to marketing, always measure your results.
It's far better to focus your time and money on one or two very effective marketing channels, than to spray your company name across multiple channels without knowing which one really works.
Here are some of the main marketing channels to consider:
A website
Customers will expect to find information online, such as your services, contact details, and locations covered. Register your domain and fill out your website with good quality, keyword-oriented content as soon as possible.
---
List on Google Maps
Since your business is dependent on local SEO, a Google Maps listing will help your business gain visibility (read more about this below).
---
Local or online business directories
This is a quick and cost-effective way to get your name and contact details 'out there'.

---
Online search
Search engine optimization (SEO) is a long-term strategy, but one that will pay dividends as your business grows.

---
Social media
Don't be tempted to jump on too many social media platforms — start by picking just one that resonates with your target audience and go from there.

---
Traditional advertising
Consider flyers, local printed newsletters, trade magazines, billboards and other offline marketing techniques.
---
Targeted marketing
This is always more effective — ask your customers where they found you, and speak to your target audience to understand how they consume information.
---
'Tell your friends'
Word of mouth is the best form of marketing by far. It denotes trust and it's usually free, too.
---
Referrals
Consider setting up a referral program that rewards existing customers every time they refer a new customer to you.
Branding is a powerful way to differentiate yourself from other competitors in your niche.
It's not just a logo or a colour scheme.
A brand reflects your personality, your standards, and your promise to your customers.
Your brand should be memorable and recognizable. That's why it's important to have a good logo, a tagline, and a colour scheme — and be consistent in your use of them.
How to List on Google Maps
As a local business, your courier service would benefit from a Google Maps listing.
A courier business would typically list as a 'service-area business'. It's a type of business that doesn't serve customers at a specific address, but serves them in a geographic area.
Google defines a service-area business as:
"A business that visits or delivers to customers directly, but doesn't serve customers at their business address."
If you set up a physical office that serves customers onsite, you may qualify as a hybrid business.
Google defines a hybrid business as:
"A business that serves customers at their business address, but also directly visits or delivers to customers."
If your business doesn't have permanent on-site signage, it's not eligible as a storefront and should be listed as a service-area business.
Watch the video below and read more about service-area businesses.
Growing Your Business
Remember your business plan?
It's not set in stone. You'll need to revisit it regularly, particularly if your business changes unexpectedly (for better or worse).
To start well and achieve success, always focus on customer service.
You'll need to put your customers first if you want to beat the competition and stand out in a competitive industry.
That's a far better way and more sustainable way to scale than competing on price.
If you're struggling to cope with a high call volume or you need help with customer service, you don't necessarily need a full-time receptionist.
Consider a virtual receptionist instead.
Flexible and cost-effective, a remote live receptionist takes your calls throughout the day, ensuring that your customers always speak with a friendly, specially-trained customer service professional.
Alliance's team of live receptionists are available up to six days per week. Receptionists answer calls, relay messages, and provide friendly service in your company name.
It's a flexible and cost-effective way to improve your customer service system from day one.
Good service keeps your customers coming back, which could lead to new growth opportunities.
As demand for your courier services grows, you may need to buy new vehicles or hire new employees.
This is a sure sign of business expansion, but it comes with significant extra cost and liabilities. Only do this when you're ready to grow.
Growth is often one of the biggest challenges for businesses.
If you grow too slowly, you'll miss out on new opportunities. Grow too quickly, and your business can struggle to keep up with the pace.
Strive for balance and always try to grow at a sustainable rate.
Additional Considerations
You may have very specific circumstances when starting a courier business.
For instance, have you ever wondered how to start a courier business with no money?
It's theoretically possible, if you already own a vehicle or a bicycle, and of course you can run the business from your home instead of paying for office or storage space.
But there are costs — and sooner or later you'll need to factor them in.
Don't be tempted to work without the necessary insurance or business permits. Not only could you be working illegally, but the costs of making a mistake could be disastrous.
Another consideration is…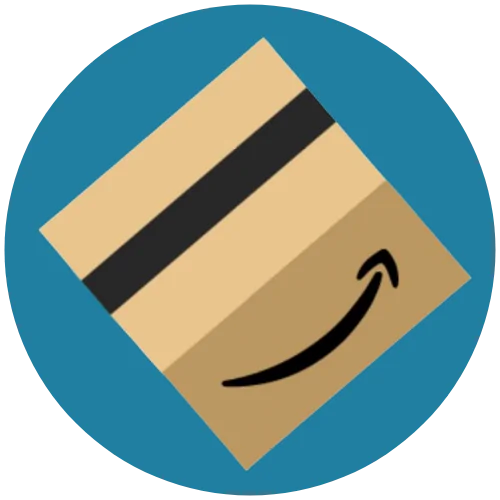 How to Start a Courier Business with Amazon
Amazon typically works with major couriers like UPS, but it is also building out its own network of third party delivery drivers.
You can sign up with Amazon's Delivery Service Partner Program — also known simply as DSPS — and drive Amazon-branded vans.
Of course you'll only deliver for Amazon, but you'll have plenty of autonomy and you'll run the operation like your own business.
The big benefit is that you don't have to find customers (Amazon has already done that) and you'll have the support of a significant infrastructure, including training and special deals on essentials like insurance.
Protect Your Home Address
Thinking about how to start a courier business from home? Yes, starting a business from home does save money, which is important when you're just starting out.
But using a home address for business can look amateurish and unprofessional.
And then there's the question of security. Do you really want to publish your home address on your website?
A business address helps protect your home from the world. You can publish it on your website, email footer, directory listings, business cards, letterhead, and more.
Good news is, a virtual business address won't cost the earth.
A Virtual Office from Alliance, which provides a recognized commercial address with mail processing and optional mail forwarding, starts from just $49 per month.
In addition to protecting your home address, you can use it for important business requirements like opening a bank account, applying for business licenses, establishing credit and setting up an LLC.
---
Related: Using a Virtual Address For LLC Registration
---
You can also use onsite office space or meeting rooms at your Virtual Office center anytime you like for an hourly or daily fee (through Alliance this starts from $10 per hour).
A business address adds credibility and legitimacy to your courier business, which helps establish trust with customers.
---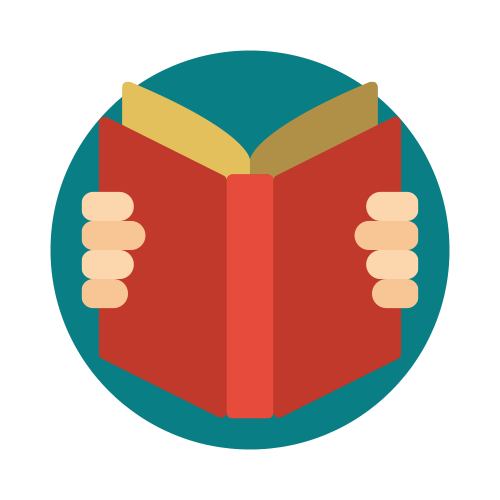 Further Reading
Now you've read our guide to starting a courier business, you're one step closer to becoming your own boss.
Check out these guides for further information: