---
---
Q: How can I make money during a recession? Should I have a second job?
A: A side hustle is one of the best ways to make money during a recession. Though technically similar, a side hustle is different from a second job because the best side hustles are small, solopreneur-run businesses designed solely to make money when times are tough economically.
---
Recessions are terrifying. Periods of low economic growth and high interest rates create situations where even the most prepared businesses may need help to succeed.
According to Forbes magazine, the United States isn't in a recession yet.
Typically, a recession is outlined by two consecutive quarters of negative GDP. Although the US met this criterion in the first half of 2022, other factors prevented the government from labeling the downturn a bonafide recession.
Despite escaping a recession in 2022, economists and strategists alike are still patiently waiting for another downturn.
The Conference Board uses a probability model that claims a recession in the United States within the next year is close to 99% likely.
To deal with these economic downturns, you must learn how to make money during a recession.
During times of growth, interest rates are low, money is cheap, and succeeding is often as simple as a robust marketing plan.
However, that money is expensive during recessions, and if you aren't prepared to weather an extended economic downturn without help, you may not make it through. Unfortunately, borrowing money during a recession is more expensive and infinitely more complex.
This is why it's important to search for recession proof jobs that will help you retain capital throughout economic uncertainty.
In this article, we'll be explaining why a side hustle is a great idea for a recession, how a side hustle can help build financial security, how to set up a side hustle, and finally, how to use what you've learned about how to make money during a recession to set yourself up for continued success after the fact.
So, if you've ever found yourself making Google searches like "how to make profit during recession" or "how to make profit in recession", you're in the right place.
Remember, you need to take advantage of the good times to prepare for downturns. Keep reading for more helpful information on learning how to make money during an economic recession.
---
---
Why a side hustle is a good idea going into a recession
For several reasons, starting a side hustle as the country enters an economic recession is a prudent decision.
First, no one knows for certain how long a recession is going to last. The longest US economic recession lasted more than five years, and the shortest, the Covid-19 recession, only lasted from February to April 2020.
---
Read more: How Long Does a Recession Last?
---
Outside of concerns about the length of a recession, there are many other reasons starting a side hustle is a wise decision.
We've covered some of these reasons below, so if you want to learn how to make money during a recession, keep reading.
Diversification of income
Financial security
Skill development and adaptability
Personal and professional growth
Potential for long-term success
Diversification of income
A side hustle during a recession can provide an additional source of income, reducing your reliance on a single job or industry that can be affected by economic downturns.
Multiple income streams can mitigate the financial impact of a recession and provide stability during uncertain times.
With a side hustle, you aren't relying entirely on one source of income that may or may not make it through the same recession you're experiencing.
Starting a side hustle as we enter a recession is taking control of your financial livelihood and ensuring that you aren't relying too heavily on any one entity.
The more income you have coming in, the better prepared you are to deal with any kind of economic fallout.
Financial security
A recession often brings job insecurity and layoffs.
Having a side hustle creates a safety net that can help you stay afloat financially if your primary job is affected. It can provide a sense of security, knowing that you have an alternate income source to rely on in case of job loss.
Essentially, you improve your financial security by diversifying your income. The fewer people you depend on for your future, the better.
This is also why it's helpful to pick a recession-proof industry for your side hustle. If your additional income source comes from an industry that doesn't suffer from traditional recessions, you're in a good spot.
Skill development and adaptability
Starting a side hustle during a recession can encourage you to acquire new skills and develop your entrepreneurial abilities.
This adaptability can be valuable during economic downturns when industries may be undergoing significant changes.
Exploring new ventures and industries increases your ability to pivot and adapt to the evolving job market.
Personal and professional growth
A recession can be a time of self-reflection and exploration. Launching a side hustle allows you to pursue your passions, explore new interests, and develop valuable skills outside your primary job.
It can enhance your personal and professional growth, providing a sense of fulfillment and expanding your network of contacts and opportunities.
Your side hustle can easily transform into something long-lasting and lucrative, but you have to give yourself the opportunity for transformation and growth to discover this effectively.
---
Read more: What Does a Recession Mean for Me and My Business?
---
Potential for long-term success
Many successful businesses have emerged during or after recessions.
By starting a side hustle during a downturn, you position yourself to potentially capitalize on future economic growth. You can use the recession as an opportunity to lay the groundwork for a successful business that can thrive once the economy recovers, giving you a competitive advantage over those who only focus on traditional employment.
Remember, understanding how to make money during a recession is as simple as understanding that the downturns are for building positions, creating a network, and putting in the groundwork. Times of economic growth are for scaling up, capitalizing on your network, and taking advantage of the opportunities created for yourself during a recession.
How a side hustle helps build financial security
With a side hustle, you're introducing a new source of income that helps you rely less on your traditional income sources.
Over time, these new income sources can exponentially increase, providing you with more capital that may help you attain financial security.
The key is understanding how to create a business built to handle recessions.
---
Read more: The Complete Guide to Making Your Business Recession Proof
---
Once you've created a side hustle, you don't have to allocate all your attention to your new endeavor immediately.
Instead, you can spread your focus between your traditional employment and your new side hustle until you find an opportunity that will result in higher earning potential from either side.
If managed correctly, this opportunity will typically come from your side hustle, but that doesn't mean there aren't situations where traditional employment could suddenly become considerably more lucrative either.
That said, let's look at how a side hustle may help build financial security.
Supplemental income
Diversification of income sources
Flexibility and adaptability
Building emergency funds
Investment and retirement contributions
Supplemental income
A side hustle can significantly increase your overall income, providing an additional financial cushion.
The extra money earned from your side hustle can be used to pay off debts, cover unexpected expenses, or build up savings, ultimately improving your financial stability.
Simply put, the more money you bring in, the better off you are.
Diversification of income sources
Relying solely on a single source of income, such as a full-time job, can leave you vulnerable to financial shock.
Who's to say the job you're working on will exist should the country's economic situation worsen?
A side hustle diversifies your income sources, reducing the impact of potential income loss from one stream. This diversification helps create a more stable financial foundation during times of economic uncertainty.
This way, if your traditional job disappears, you have a side hustle you can use to keep yourself afloat. Alternatively, if your side hustle falters, you still have traditional employment to rely on.
Flexibility and adaptability
Side hustles often offer flexible working arrangements, allowing you to earn money on your terms and schedule.
This flexibility enables you to better manage your finances and adapt to changing circumstances. If your primary job is affected by a pay cut or reduced hours, your side hustle can help bridge the financial gap.
Through flexible working arrangements, you can give yourself plenty of time for both options. If your traditional job is a standard 9-5, it's easy to create side hustles wherein you only work at night or early in the morning.
Building emergency funds
A side hustle allows additional income to be allocated specifically toward building an emergency fund.
Having a separate fund dedicated to unexpected expenses, medical emergencies, or job loss enhances your financial stability.
It serves as a financial safety net and can prevent you from falling into debt during challenging times.
Many entrepreneurs think they need to make substantial profits during economic downturns to be successful, but that isn't the case.
While there are situations where entrepreneurs hit it big during a recession, what's more common is entrepreneurs using the downturns for positioning and building emergency funds to make it through other economic strife.
Rather than trying to bring in large profits during a recession, focus on simply making it through the recession itself. If your side hustle can survive through a recession, you're set up to do very well during times of economic growth.
Investment and retirement contributions
Extra income generated from a side hustle can be channeled into investment accounts or retirement savings.
Increasing your savings rate accelerates your progress toward financial goals and creates long-term stability.
The additional funds can be used to build a retirement nest egg, invest in stocks or real estate, or contribute to other wealth-building initiatives.
Now that you know how learning how to make money during a recession can benefit you and lead to financial freedom, let's explain how you can set up a side hustle.
How to set up a side hustle
The key to a side hustle that benefits you long after a recession ends is creating a business that can succeed regardless of economic conditions, saving money for economic downturns, and focusing on exponential growth during economic ease.
Keep in mind, these tips are applicable anywhere. If you're wondering how to make money in a recession in the UK, you can apply the same principles you learn here without issue.
Below, we've created a step-by-step guide to creating a side hustle. Follow this advice to build a side hustle to help you achieve financial freedom and focus on doing what you enjoy.
Define your side hustle
Conduct market research
Create a business plan
Register an LLC
Establish a professional presence
Define your side hustle
Clearly define the nature of your side hustle and identify the specific products or services you will offer.
This clarity will guide your decision-making process and help you establish a strong foundation for your business.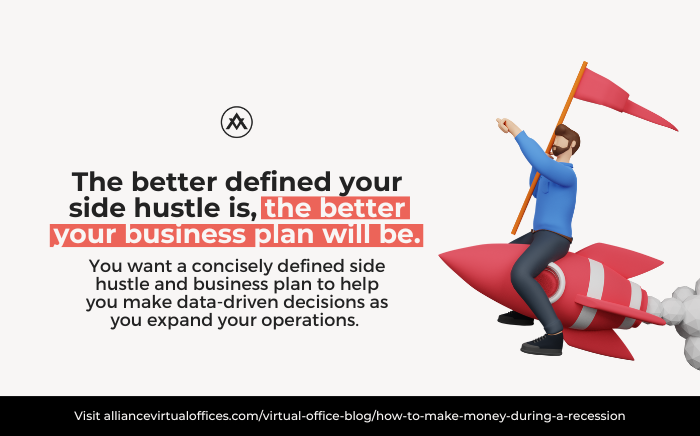 The better defined your side hustle is, the better your business plan will be. You want a concisely defined side hustle and business plan to help you make data-driven decisions as you expand your operations.
Conduct market research
Before launching your side hustle, conduct thorough market research to understand your target audience, competition, and potential demand for your offerings.
This information will influence your marketing strategy, pricing, and overall business approach.
Again, the more research you conduct, the better off you are.
You want to know as much about your industry and competition as possible. The more data you can collect, the more informed your decisions will be.
Create a business plan
Develop a comprehensive business plan that outlines your goals, strategies, financial projections, and operational processes.
A well-defined business plan will serve as a roadmap for your side hustle, helping you make informed decisions and stay focused on your objectives.
Remember, in every business-related situation imaginable as you launch your side hustle, the more information and data you can collect, the better.
Too much data may exist for larger corporations analyzing more data than you've ever seen, but for new side hustles hoping to get off the ground, there is no such thing as too much data.
Register an LLC
Consider registering your side hustle as a Limited Liability Company, or LLC, to protect your personal assets and establish a formal legal entity.
Alliance Virtual Offices offers services to help you through the process of registering an LLC, which provides liability protection and separates your personal and business finances.
Simply put, creating an LLC keeps your personal finances safe and allows you to create an EIN, or employer identification number, that serves as a social security number for your business.
Your EIN is tied to your business credit. Your business credit is separate from your personal credit.
Establish a professional presence
Presenting your side hustle in a professional manager is crucial for attracting customers and building trust.
Utilize the services of Alliance Virtual Offices to establish a professional business address and telephone number.
This Virtual Office service can enhance your credibility and provide a dedicated business identity, even if you operate primarily from home or online.
---
Read more: Your Quick and Easy Guide to Virtual Offices
---
With a Virtual Office, you get access to countless amenities that improve your brand's image.
First, you get access to professional and well-known space that helps your company give a good impression to clients, investors, and customers alike. Not to mention, Alliance Virtual Offices offers space in every state and in almost every city.
Next, Alliance offers physical workspaces and meeting rooms that you can use to break the monotony of your daily routine.
Rather than feeling stuck working inside all of the time or feeling obligated to utilize a public and unsafe coffee shop, you can use one of Alliance's coworking spaces at your Virtual Office center.
This allows you to network with other like-minded entrepreneurs who are focused on scaling their operations and helps spice up your routine.
Alliance's meeting rooms come in a variety of sizes and can be used to accommodate any attendees you're hoping to impress.
Additionally, Alliance offers mail forwarding and Live Receptionist add-ons that help you focus on scaling your operations and allow you to ignore some of the more frustrating logistic details of running a business.
Taking what you know about how to make money during a recession further
For several reasons, starting a side hustle during a recession can be a wise decision.
First, it offers a means to diversify income sources, increase financial stability, and develop valuable skills and adaptability. By following a strategic approach, registering an LLC with the assistance of Alliance Virtual Offices, and implementing effective business practices, you can set yourself up for success and navigate the challenges of a recession with resilience and confidence.
Remember, a side hustle can be a steppingstone toward financial security and provide opportunities for personal and professional growth, ultimately contributing to a more stable and fulfilling life.
Starting a side hustle can be frightening, and learning how to make money during a recession can seem daunting, which is why the best practice is simply to get started.
Take a sweeping inventory of your abilities and interests, determine which skills you'd enjoy using to make extra income, and get started.
Through the use of a Virtual Office and the information at your disposal, you can run a successful business from the comfort of your home.
---
Further reading:
---
Alliance Virtual Offices offers Virtual Office services and more to new entrepreneurs hoping to take advantage of an economic recession.
Don't let bleak economic outlooks prevent you from taking advantage of the benefits of a side hustle. With Alliance's help, you can learn how to make money during a recession and how to avoid the worst jobs during a recession.
Contact us today to see how Alliance can help you get started during times of economic strife, and be sure to check out our Virtual Office Blog for more information.