In a world where startups fail fast and fail often, credibility is the key to securing financial funding for small business growth.
One of the toughest parts of growing a small business is obtaining financial credit.
Despite the economic value of small businesses, it's not uncommon for banks and investors to flat-out refuse business applications for credit. In 2015 business credit advisor Nav conducted a survey of 250 SMB owners, and found:
53% had applied for business funding or credit lines within the past 5 years (2010 – 2015).

1 out of 5 small business owners has been turned down for business credit.

45% of small business owners who were denied financing got turned down more than once.
Worse, lenders often refuse credit without providing an explanation; Nav found that 23% of those refused credit still don't know why they were denied. However, developing a deeper understanding of the credit process is a positive step towards obtaining funding. Nav found that those who understand their business credit scores are 41% more likely to be approved.
Shameless Plug Ahead!
Hey, there! Want to learn more about virtual offices? Check out our Ultimate Guide to Virtual Offices to learn more about setting up your business using a virtual office, the benefits of virtual offices, a buyers checklist, and more!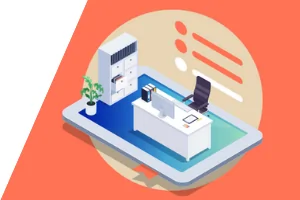 With this in mind, how do small business owners start building financial credit to achieve those all-important growth plans?
---
1. Build your business credibility:
If you're chasing grand dreams of expansion, your company has to act like it's already there. According to Credit Suite, a support and advisory network to help small businesses obtain credit, there are certain boxes that must be ticked before your application will even be considered. These include:
Company name and licensing:

Use your full legal business name on all documentation, including DBAs, and ensure the information matches your official company records. For instance, your EIN (Employer Identification Number) filing must match your state filing

exactly

.

Business address and landline: Your business must have its own corporate address with a landline phone number — a home address and cell number won't cut it. If you don't have your own physical workplace just yet, a virtual office address with a local VoIP business phone number works just fine. Note that your business phone number should also be listed with the 411 Directory under your business name.
Public Records:

According to Credit Suite, there can be no liens, judgments, or pending lawsuits against your business.

Branding:

To look credible

, your business should have an operational website that reflects your brand along with a matching email address and a business fax number. A free email address such as @gmail, @hotmail or @yahoo won't do your credibility rating any favors.
---
2. Pay your bills on time:
Paying your bills on time is a requisite if you want to succeed in business. If you don't, you'll not only ruin good business relationships with suppliers — you'll also kill your credit rating.
Paying your bills on time shows that your business is reliable and trustworthy. It demonstrates that you can manage debt by paying bills or installments promptly, which is essential when applying for funding. Remember that creditors will check your payment history, and late payments will severely impact your business credit profile.
Also be sure to file annual returns and financial accounts on time. Aside from late filing penalties, tardiness is also a sign of financial distress.
---
3. Nurture good relationships with vendors:
According to Nav, one of the most effective ways to build business credit is to establish and maintain good credit relationships with suppliers and vendors. They recommend working with ideally 3 – 5 industry-relevant vendors or suppliers to build and establish a positive line of credit.
Nav advises: "Once you have a healthy working relationship with them, be sure that they are reporting your positive payment history to the all-powerful credit reporting agencies. Unlike personal credit, they aren't required to send this in."
---
4. Keep your information current with credit bureaus:
One vital tip offered by NerdWallet is to ensure that information kept by the three major credit bureaus, Dun & Bradstreet, Experian and Equifax, is maintained and kept up-to-date.
This is because each business credit bureau has a different formula for calculating scores, and different lenders report different types of data. You never know which credit bureau your vendors or creditors will check, so it's in your business interests to maintain all three.
---
5. Separate your business and personal accounts:
It's easy to start a low-investment business from home. But according to Experian, you should consider incorporating your business to protect your personal assets. Adding Inc. or LLC (Limited Liability Company) not only makes your company look more professional; it legally separates your business and personal profile, including your personal credit history. It's an effective way of proving that your business is a separate and thriving entity.
These tips should help your business move in the right direction for better business credit, but it's not the full story. Obtaining financial funding is an important milestone in your business growth journey; every application takes time and if you haven't covered the groundwork, you'll most likely join the 45% of SMBs who have been rejected more than once. Don't take the process lightly. Credit Suite's free guide, 'The Official Business Credit Building Checklist' offers more in-depth advice on establishing business credit and we recommend seeking professional advice to help you reach your funding goals. In the end, your business will thank you for it.