---
---
Q: Should I outsource my business marketing management? Couldn't I do my business's marketing better myself?
A: Outsourcing your business marketing management is often an excellent way to improve marketing metrics while simultaneously allowing you to focus on the aspects of your business that you love. While you may know your business best, you might not be as good at marketing as the companies and individuals who've made a career out of it.
---
During the technological craze of the 1990s, companies like eBay and Amazon launched, and while they still were heavily used, they were more of a novelty than the norm.
Because of this, the customer journey itself wasn't revisited for years. Customer experience was secondary to the quality and price of the offerings, and companies didn't have to worry about a few bad reviews here and there.
Now that online shopping has been cemented into the cultural zeitgeist and consumers are using cell phones and tablets to buy anything they want, the way we view customer service has changed too.
Historically, business marketing management was as simple as hiring a marketing agency to help you place advertisements in newspapers, television and radio shows, billboards, and anywhere physical that products and services could be seen.
Sure, the process was more nuanced, but marketing looked nothing like it does today.
Once the internet picked up real speed and online shopping became something everyone could do, marketing, as well as the customer experience, changed. Companies realized that creating content themselves and using community-created content works wonders in the world of digital marketing.
Now, despite the usefulness of in-house content creation, companies need to determine whether it's more effective to outsource business marketing management jobs or handle content production in-house.
In this article, we'll determine if you should outsource your business marketing management, how to make the most of your marketing management, and how to balance the budget when outsourcing. Lastly, we'll look at how a Virtual Office can help make your business marketing management project easier to manage.
So, if you've been hoping to find and take a business marketing management course, you're in the right spot. Keep reading to understand the ins and outs of business marketing management!
---
---
Should you outsource your business marketing management?
To understand business marketing management, and by extension, whether you should outsource your marketing efforts, you need a comprehensive picture of your business's position, what you hope to accomplish with your marketing, and the skills you have access to in-house.
Unsurprisingly, cost efficiency is everything, but thanks to market saturation and the sheer number of competitors any business has, cost efficiency cannot come at the cost of quality.
---
Read more: How to Run a More Cost-Efficient Business in 2023
---
Deciding to outsource your marketing positions rather than paying an employee a business marketing management salary often makes great financial sense, largely because when you outsource the tasks, you're paying a contractor to whom you owe no benefits or long-term salary guarantees.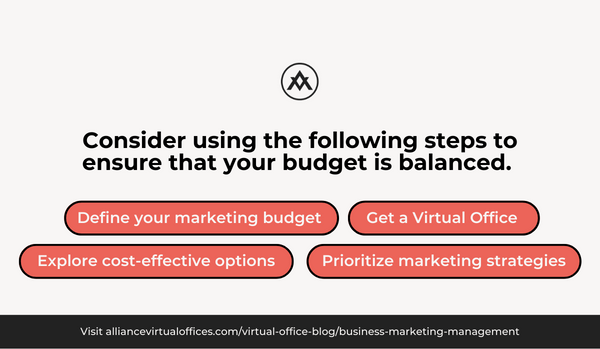 That said, in-house content does well, and considering that newer businesses may be forced to spend around 50% of their initial expenses on marketing, creating the content yourself is often a creative way to reinvest substantial capital in your operations and business infrastructure.
Unfortunately, not all companies have the luxury or creativity to create marketing initiatives without outsourced labor.
Below, we've compiled a brief list of situations in which you should consider outsourcing your company's business marketing management.
Limited expertise or resources
Cost-effectiveness
Time-saving
Access to specialized skills and technology
Scalability and flexibility
Limited expertise or resources
Outsourcing your small business marketing management can be a smart move if you lack the necessary marketing expertise or resources in-house.
This could include social media management, content creation, search engine optimization (SEO), or pay-per-click (PPC) advertising. Outsourcing to a specialized marketing agency can provide you with access to a team of experts with the skills and knowledge you need to execute effective marketing strategies.
Something to keep in mind when making this decision is that younger employees are typically very handy with social media management. If you have young people working for your business, consider reaching out to these individuals about social media management before outsourcing the labor.
If they're unable to help, you've lost nothing. If they can help you build a social media following, you've foregone extraneous costs.
Cost-effectiveness
Outsourcing your business marketing management can often be more cost-effective than hiring and training an in-house marketing team.
With outsourcing, you can avoid the costs associated with hiring, onboarding, and providing benefits to full-time employees. Additionally, outsourcing allows you to scale your marketing efforts up or down depending on your business's needs, providing flexibility and cost savings.
Many newer companies are simply not in the position to spend money freely, so outsourcing the labor costs allows them to save capital without sacrificing their operational security.
---
Read more: The Bootstrappers' Bible: 8 Ways to Build a Business on a Budget
---
Time-saving
Managing marketing activities is a time-consuming task that requires heavy data analysis and a deep understanding of market-wide trends.
As a business owner, you have plenty of other issues to worry about. Handling a business marketing management project in-house may take you away from focusing on your core business operations.
Outsourcing your marketing management allows you to free up time to focus on what you do best. In contrast, the marketing agency executes marketing initiatives, monitors performance, and provides regular reports on the results.
Remember, you need to work harder rather than smarter.
Access to specialized skills and technology
Marketing is a constantly evolving field, and staying up-to-date with the latest trends and technologies can be challenging.
Outsourcing your marketing management gives you access to specialized skills and cutting-edge technologies that may not be available in-house. This can help you stay competitive and leverage the latest marketing strategies and tools to drive results.
Scalability and flexibility
Outsourcing your marketing management provides scalability and flexibility, allowing you to adapt your marketing efforts based on changing business needs.
Whether you need to scale up your marketing during peak seasons or scale back during slower periods, outsourcing allows you to make quick adjustments to your marketing strategies without the burden of managing an entire team of employees.
There are countless reasons you may lean toward outsourcing your business marketing management efforts. Outside of the above reasons, you may not know what direction your business should take.
If uncertainty is the biggest issue stopping your marketing development, outsourcing the task can help you understand what you should be working toward and how to accomplish this goal.
Making the most of your marketing management
Regardless of whether you outsource your marketing management or handle it in-house, you need to take steps to ensure you're getting the most out of your efforts.
Wasted marketing money hurts worse than other failed business attempts because, unlike other ventures, the money is simply gone. If you've paid for more attention and better brand recognition and failed to accomplish these goals, the capital invested in these efforts is simply gone.
This is partially why strategies like affiliate marketing are so popular. Rather than taking on all of the financial burdens, a business can utilize affiliate marketers who are incentivized to help market for the company without having to pay these individuals lofty salaries.
---
Read more: Is Affiliate Marketing Worth It?
---
Here we've put together another list of how you can make the most of your marketing management. Keep reading to see how to get the most out of every marketing dollar spent!
Set clear marketing goals
Know your target audience
Develop a comprehensive marketing plan
Monitor and measure performance
Stay updated with marketing trends
Set clear marketing goals
Clearly defined marketing goals are the cornerstone of any successful marketing initiative. If you don't know what you hope to accomplish, you'll never know if you've succeeded.
Define specific, measurable, and achievable marketing goals for your small business.
Whether it's increasing brand awareness, driving website traffic, generating leads, or boosting sales, having clear goals will help you stay focused and measure the success of your marketing efforts. Make sure your marketing goals align with your overall business objectives too.
Regarding your marketing goals, the more specific you are, the better your chances of success.
Know your target audience
Understanding your target audience is crucial for effective marketing management.
Conduct market research to identify your ideal customer's demographics, preferences, pain points, and behavior patterns. Use this information to tailor your marketing messages, channels, and strategies to resonate with your target audience and drive engagement.
Now that behavioral marketing is losing legitimacy and consumers are frustrated with big data companies selling their information, contextual marketing is one of the best ways to actionably engage your target audience.
---
Read more: Context is Everything: Your Guide to Contextual Marketing
---
Through contextual marketing, you can meet these individuals on the platforms and websites they're already frequenting, providing you with organic opportunities to raise brand awareness without making consumers wary of predatory data collection.
Develop a comprehensive marketing plan
Create a well-defined marketing plan that outlines your marketing strategies, tactics, timelines, and budget. Your marketing plan should cover all aspects of marketing, including online and offline channels like social media, email marketing, content marketing, SEO, PPC, print ads, events, and more.
A comprehensive marketing plan will help you stay organized and ensure all your marketing efforts are aligned and cohesive.
This is different from merely setting goals because your marketing plan is a detailed, step-by-step guide that brings your business from the beginning of your marketing efforts to its eventual end.
Monitor and measure performance
Regularly monitor and measure the performance of your marketing efforts to determine what's working and what's not.
Use analytics tools and key performance indicators, or KPIs, to track the success of your marketing campaigns, such as website traffic, conversion rates, click-through rates, and ROI.
This data will provide insights into the effectiveness of your marketing strategies and help you make data-driven decisions to optimize your marketing efforts.
The more extensively monitored your efforts are, the quicker you can make changes to marketing strategies that are falling short. Alternatively, if you notice specific platforms or strategies doing well, you can quickly reallocate capital to more successful initiatives.
Stay updated with marketing trends
The marketing landscape is constantly evolving, and staying updated with the latest marketing trends and technologies is crucial.
Keep informed about new marketing strategies, tools, and best practices through industry publications, blogs, webinars, and conferences.
Adopting innovative marketing approaches can give you a competitive edge and help you stay ahead of the competition.
If you're outsourcing your business marketing management, you may think you can simply leave the marketing trends to the professionals, but this is misguided.
No, you don't have to micromanage their efforts and understand as much as they do about marketing, but you should still spend a few minutes each day ensuring that you're up-to-date and understand the current market conditions.
ChatGPT and AI chatbots have already changed the landscape of sales forces nationwide. According to CNBC, salespeople already using generative AI to handle cold calls and other general tasks, allowing them to spend more time in the field and finding leads.
If these sales companies hadn't kept their ear to the ground, they likely wouldn't have been so quick to utilize this technology that's saving them time, money, and effort.
How to balance the budget
Unfortunately, you must budget accordingly, regardless of your direction regarding outsourcing or in-house marketing efforts.
Your business marketing management is your business's lifeblood. The sheer number of businesses, startups, and solopreneurs in the market means that even if you have a perfect product, that won't matter much if no one knows it exists.
A balanced budget allows you to allocate capital to vital areas without overspending in areas that harm your company's longevity.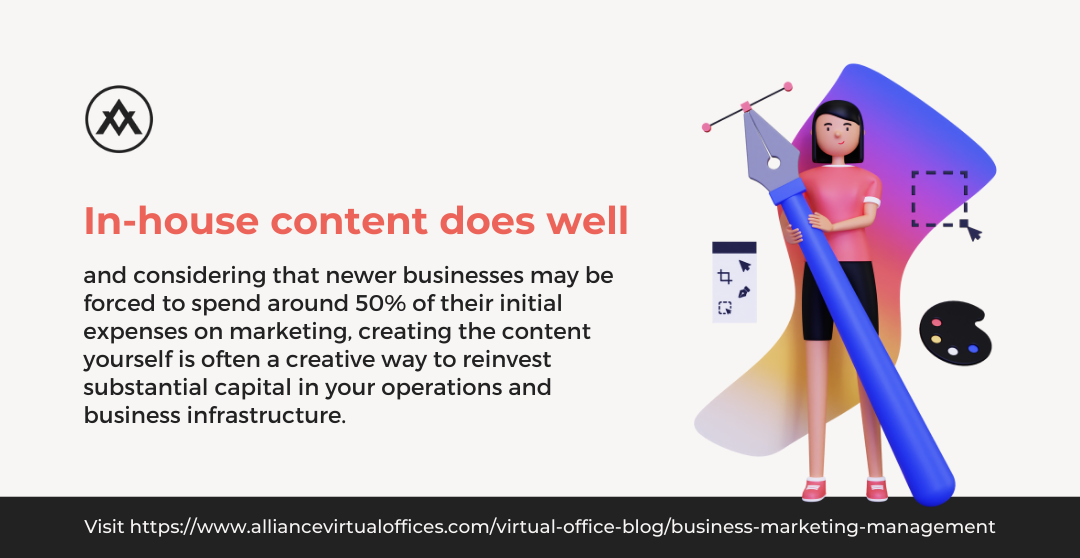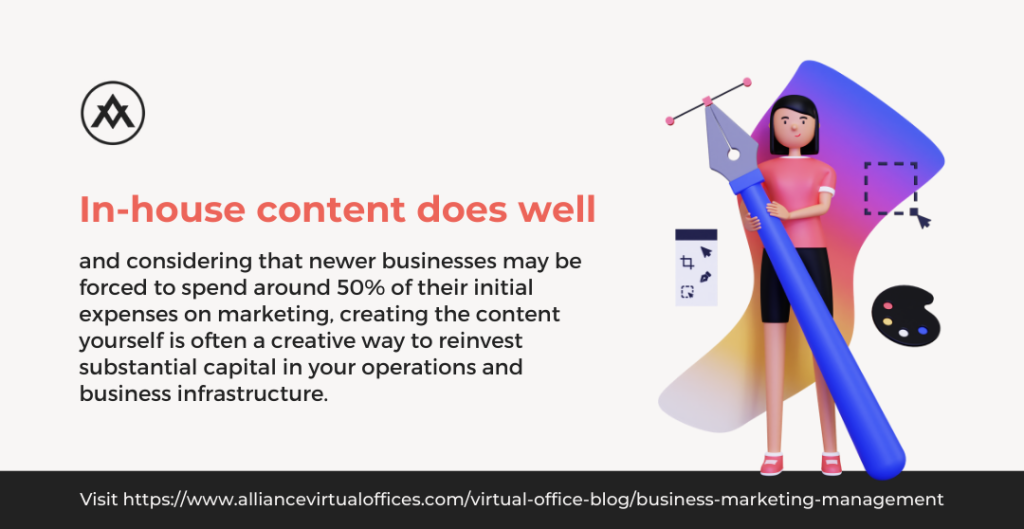 Consider using the following steps to ensure that your budget is balanced.
Define your marketing budget
Prioritize marketing strategies
Explore cost-effective options
Get a Virtual Office
Define your marketing budget
Start by setting a realistic marketing budget based on your business goals, resources, and financial situation.
For example, if you're a brand-new business with little to no expendable capital, setting goals that force you to compete with large corporations with never-ending coffers is not very realistic.
Consider allocating a percentage of your revenue or a fixed amount specifically for marketing expenses. Having a clear budget will help you make informed decisions and ensure you're allocating your resources effectively.
Prioritize marketing strategies
Identify the marketing strategies and tactics that are most likely to yield the highest returns on investment, or ROI, for your business.
For example, if your target audience is active on social media, you may prioritize social media marketing over other channels.
By prioritizing your marketing efforts, you can allocate your budget strategically and maximize the impact of your marketing spending.
As you may imagine, this is why it's so important to regularly analyze the results of your efforts and is why it's equally important to have an identified target audience with as much information about these consumers as possible.
Explore cost-effective options
Look for cost-effective marketing options that can deliver results without breaking the bank.
For example, instead of expensive traditional advertising, you could consider digital marketing strategies like content marketing, email marketing, or social media marketing, which can be more cost-effective and offer a higher ROI.
Additionally, explore free or low-cost marketing tools, resources, and platforms that can help you optimize your marketing efforts on a budget.
Something to keep in mind for modern marketing efforts is that nicer, more polished marketing attempts aren't always the most effective.
Encourage your existing customers to create content and incentivize them to leave reviews and make videos discussing your products and services. The more user-generated content that you have access to, the better.
Remember, you don't need to create a feature-length film that explains why your company is the best; you just need viral instances and a robust community of patrons that feel strongly about your business and its offerings.
Get a Virtual Office
Getting a Virtual Office is a cost-effective way to balance your small business marketing budget.
Virtual Offices provide you with a professional business address, phone number, and receptionist services without the overhead costs of physical office space.
This can help you save on rent, utilities, and other expenses, allowing you to allocate more budget toward your marketing efforts.
Business marketing management through your Virtual Office
Marketing is one of the most important aspects of any growing business.
Outsourcing your business marketing management might be worth it if you are busy, have the resources, and don't have the expertise to optimize your marketing yourself.
With a Virtual Office from Alliance, you can access countless tools to assist you on your marketing journey without forcing you to take a business marketing management course.
A professional and prestigious address provides your company with the legitimacy and prestige that other virtual addresses can't compete with. Similarly, Alliance's vast network of Virtual Office centers means you can start your business in any state and almost any city you'd like.
Access to coworking spaces and meeting rooms provides a unique opportunity too. In these spaces, you're surrounded by other like-minded professionals trying to push their companies forward.
Naturally, this is a networking opportunity. Not to mention, you can brainstorm marketing ideas with willing participants in between operational tasks.
With a Live Receptionist, you can focus on the aspects of your business that you're struggling with without worrying about incoming calls and short-tempered consumers.
In addition, Alliance's Virtual Offices are fully customizable, meaning you only pay for what you need, when you need it. This allows you to save as much capital as possible that can then be reinvested in your business.
---
Further reading
---
Alliance Virtual Offices provides Virtual Office services to individuals, companies, or anyone looking for access to a prestigious business address.
If you're hoping to outsource your business marketing management but don't have resources to spare, switching to a Virtual Office can help you save time and money that can then be reallocated to the areas where your company needs help.
Contact us today to see what Alliance can do for your business marketing management needs, and be sure to look at our Virtual Office Blog for more information!