---
Q: What is a virtual address service? How can I find the best virtual address service, and what amenities should I search for?
A: A virtual address service is a service that allows businesses and individuals to register an LLC without physical office space. The best provider will offer access to physical space with your Virtual Office.
---
The pandemic may have accelerated remote work's meteoric rise in popularity in 2020, but as more data becomes available, it's clear that flexible, hybrid workstyles are quickly becoming the norm.
Forbes recently published an article where several CEOs, from RoseRyan to MassMutual, spoke about the value they see in hybrid work and the increased role it will play in the future of work. 
The same article presented statistics from an IFEBP (International Foundation of Employee Benefits Education) survey that claimed that almost 75% of employers who can offer hybrid work arrangements are doing so and that 68% of surveyed employees prefer a hybrid workstyle rather than a remote one.
Remote work is still preferred over in-office work, and remote workers are still considered more productive than fully onsite workers. Still, the isolation and monotony of working from home are issues that workers may struggle with.

For some employers, the answer is to bring everyone back to the office to reinforce a vibrant company culture. According to information presented at an Indeed seminar on flatlining return-to-work (RTO) numbers, this doesn't seem to be the solution.
Despite peak occupancy hitting 51% in Q1 of 2023, utilization percentages, or the number of workers using the office on a given day, have stagnated considerably since 2022, leading many industry professionals to wonder if it's time to forego traditional office space.
With a high-quality Virtual Office, there's no reason to spend valuable capital on physical space. 
Bringing workers back to the office is difficult, and rather than focusing on bringing everyone back all at once to improve your company's culture or for whatever reason you may have, you should consider the best virtual address service that offers the amenities associated with traditional space without the exorbitant cost.
Today, we will look at the scarce amenities a standard virtual address service offers, if these subpar offices are enough, what the best virtual address service does differently, and lastly, we'll cover some of the reasons why Alliance Virtual Offices is the best virtual address service around.
Don't hunt around online searching for "best virtual address service UK" – instead, take a moment to see how Alliance provides businesses with the best virtual address service.
---
---
What does a standard virtual address service offer?
In the digital-first age, businesses have more incentive to use virtual addresses and other services than ever before. 
That said, there's a huge difference between a standard virtual address and the best virtual address service. 
The difference is found in the amenities that either address offers.  
You can't accomplish much with a standard virtual office without paying for additional space. Alternatively, the best virtual address service provides access to workspaces and meeting rooms and can even be used as a satellite office. 
---
Read more: Satellite Office: Your Complete Guide
---
Unfortunately, the amenities and offerings from a standard virtual office aren't as impressive.
A standard virtual address is nothing more than a PO box. In some cases, the cheaper virtual addresses aren't even that. 
With a PO box standard virtual address service, the provider may offer mail forwarding and an address for your business, but both of these offerings come with caveats that affect their usability. 
Additionally, the address provided by these standard providers is typically in a mail center or a retail store and is often shared by less scrupulous businesses that are widely unknown. 
For the cheaper virtual address services, there's no guarantee a PO box is used as the central address for the service. 
In this situation, the address provided is often entirely made up or is an address like a PO box that doesn't provide any kind of access to workspaces or meeting rooms. These cheaper providers often offer even less utility than the standard virtual address providers. 
Considering that CEOs, like Disney's Bob Iger, are still telling employees that they need to return to the office some of the time and that hybrid work is the preferred method of employment for most Americans, using a virtual address service that doesn't provide access to hybrid workspaces is counterintuitive. 
This isn't to say that there isn't merit in fully remote work, just that, as a business owner or entrepreneur, you must use your workstyle and your team's preferred workstyles to your advantage. 
---
Read more: Use Your Workstyle to Your Advantage 
---
Using workstyles to your advantage is as simple as determining how to provide flexibility to your employees while cultivating a vibrant, healthy company culture that makes workers feel valued and more productive. 
The question becomes, "Is a standard virtual address enough?" 
When a standard provider is stacked against the best Virtual Office service – the answer is usually a resounding "No."
Is a standard virtual address enough?
The modern labor market has shown that flexible workstyles are the premier type of work for countless employees globally.
Despite the increased productivity and the freedom associated with fully remote work, the isolation and monotony of working from the same location, day after day, often in the same place you eat, sleep, and relax, can get frustrating and may lead to job burnout.
Some companies find themselves in a position where they feel they must choose between offering fully remote services to the detriment of their company culture or bringing workers back to the office full-time. 
Unfortunately, both of these options are misguided. 
Rather than looking at this issue as a dichotomy with two possible solutions, the answer lies in hybrid work arrangements that bring employees together while still providing unparalleled flexibility for their workers. 
As it stands, it's impossible to provide this kind of flexible working arrangement when you're using a standard virtual address. 
If you're serious about growing your business, a standard virtual address just isn't able to support you and your operations in the way you deserve.
The best virtual address service for LLC registration is a service that uses a physical address rather than a PO box so that you're able to register your business with the government. Because most states require a physical address for business registration and several even specifically disallow PO boxes from LLC registration, using a standard virtual address will force you to use a separate address to register your business. 
Even if you're a solopreneur working exclusively from home, you should never register your business with your home address. 
When you register for an LLC, your information is quickly added to the public domain. 
When this happens, your address becomes easily available for scammers, bad actors, and anyone else who's marginally interested in accessing it. This leads to being inundated with scam messages, spam mail, and an inordinate amount of business reply mail being sent to your home.
Keeping a healthy work-life balance and separating your work from your relaxation time is nearly impossible when you're constantly bombarded with junk mail from businesses and individuals you don't know. 
Not to mention, there are safety concerns that arise when you register an LLC with your home address.
Scammers and bad actors have access to your address, which is scary enough, but so do any potentially disgruntled ex-employees, frustrated customers, and other individuals you don't want to know where you live. 
On the other hand, a standard virtual address will serve to make your business slightly more flexible, but not in any meaningful capacity. 
Because most virtual address providers are offering nothing more than remote work software, the few flexibility benefits you receive through one of these addresses are easy to replicate with other, more purposeful software. 
Additionally, a standard virtual address can hurt you in the sense that you don't have anywhere to meet with potential clients, investors, or team members.
Unfortunately, while a standard virtual address might seem like it's providing you and your business with flexibility and a greater remote work experience, the truth is that you would get far more use and value out of using the best virtual address service. Coincidentally, the best business address service is a high-quality Virtual Office from Alliance. 
---
Read more: What is a Virtual Office and How Does it Work? 
---
Before we determine what the best virtual address service does differently, let's take a moment to explain what a virtual office is. 
Essentially, a Virtual Office is a service that allows individuals and businesses to register an LLC without needing to secure physical office space. 
The higher quality Virtual Offices will provide mail forwarding, live receptionists, and other amenities that help businesses scale – but the best virtual address service imaginable is one that provides your company with access to physical workspaces. 
In contrast, the lower quality, more standard virtual address services and the cheaper virtual offices don't come with access to physical space at all. In many cases, they don't come with the amenities either. 
The best virtual address service provides your company with all of the benefits of a traditional office without sacrificing the flexibility of remote work. 
This allows you and your team to work wherever you want, whenever you want. 
Whether you're simply using the meeting rooms a couple of times a quarter to meet with local team members and using small business hashtags to digitally connect with your consumers or using the spaces frequently to bolster utilization and your company culture, a high-quality Virtual Office is the perfect solution for your business's scaling. 
---
Read more: Small Business Hashtags to Connect and Grow 
---
Small business hashtags and other digitally native marketing tactics are an excellent way to interact with your community and a better way to connect with new customers searching for a product or service that your business provides. 
Unfortunately, without the best virtual address service, your business may not have the infrastructure to handle additional customer volume. 
Thankfully, Alliance Virtual Offices provides a viable solution that helps your business scale without sacrificing the flexible workstyles that employees need.
What the best virtual address service does differently
Alliance Virtual Offices is the best virtual address service because we're more than just a standard virtual address. 
Below, we've put together a small list of the various amenities that Alliance provides for our customers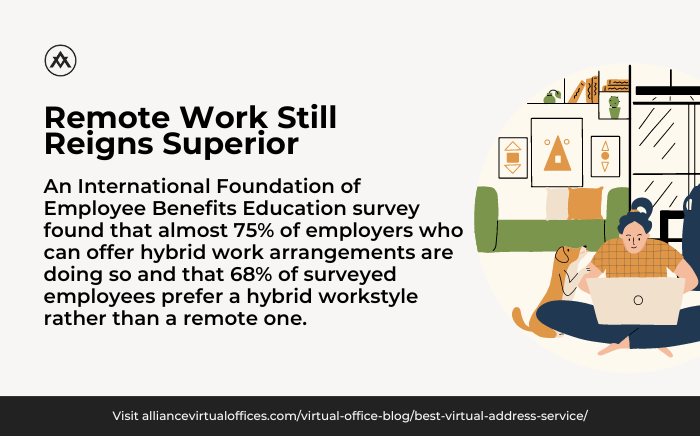 Mail forwarding 
Prestigious address 
Meeting rooms and coworking spaces 
Onsite and offsite service 
Fully customizable 
Mail forwarding 
At Alliance, we understand that different businesses have different needs.
One business may need constant mail forwarding to stay up to date on important documents and time-sensitive mail, while another business may not need mail forwarding at all. 
To help all business styles meet their needs, we have four separate tiers of mail forwarding to handle any amount of necessary forwarding effectively.
The first tier is monthly mail forwarding for $10 per month. Monthly forwarding is relatively infrequent, so this tier likely isn't enough to keep your business fully on top of time-sensitive requests or other important documents, but it is a great way to familiarize yourself with the mail forwarding process.
Biweekly, or twice monthly, mail forwarding for $20 per month is the next tier of forwarding. This add-on is also built for newer businesses, as biweekly forwarding is still infrequent enough to require occasional trips to the forwarding center to ensure you're not missing any time-sensitive documents or government correspondences.
Next, the third tier is the weekly mail forwarding for $30 per month. This tier is for businesses seeing a little more volume than the first two tiers.
Through the weekly mail forwarding, you should be able to keep relatively up to date on any incoming mail or time-sensitive requests. Weekly mail forwarding is best for businesses starting to see an increase in incoming mail but are still unwilling to risk moving to the final tier.
Lastly, the final tier is daily mail forwarding for $70 monthly. The final tier of forwarding is designed for businesses that are seeing an inordinate amount of incoming business mail.

Alternatively, this tier is designed for companies that don't want to miss important documents and don't want to waste any time visiting their mail forwarding center solely for mail pickup. 
Through daily forwarding, your business never misses more than a weekend's worth of mail. This prevents you from getting far enough behind to truly miss anything important you're receiving.
Keep in mind, these prices may vary slightly by location, but the tier breakdown functions the same way regardless.
As it stands, the best value for your money is by far the daily mail forwarding option. 
The first two tiers will charge you around $10 for each forward, while the third tier charges approximately $7.50. The fourth and final tier provides such regular mail forwarding that you only pay around $3.20 per forward monthly.
Prestigious address 
Instead of asking internet chat boards questions like "What is the best virtual address service, Reddit?" – consider the real-world ramifications of using a prestigious address. 
Consumers are rightfully wary of using new businesses when shopping online. There's something comforting about using an ecommerce platform that you're familiar with, and due to the absurd number of scams plaguing countless Americans, it's a lot safer too.
To combat this hesitancy to use new businesses, companies need to do everything possible to present a legitimate and professional brand image to potential consumers. 
The best virtual address service allows you to use a well-known and professional address with which consumers, investors, and clients can identify.
Suppose you're searching for a specific product or service and come across a few different businesses, all with similar prospects except the address. In that case, you will almost always pick the business using an address you're familiar with.
Meeting rooms and coworking spaces 
As hybrid workstyles grow in popularity and businesses that don't offer this flexible work are left in the past, retaining access to meeting rooms and coworking spaces is paramount for the long-term success of your business. 
Some CEOs are trying hard to bring workers back to the office. In many cases, these leaders feel the only way to return to the once vibrant and bustling culture is to bring workers back to the office.
Unsurprisingly, this isn't the case. Focusing on bringing everyone back to the office often alienates the workers that enjoy working from home and have no desire to come into the office.
Rather than focusing on bringing everyone back to the physical office on a rolling schedule, business owners need to worry about what they can do to incentivize specific dates with high utilization. Utilization is the number of employees using your workspace at a given time. 
The best virtual address service provides access to physical coworking spaces and meeting rooms that you can use to focus on utilization without feeling obligated to secure additional space.
Onsite and offsite service 
Alliance's Virtual Offices have access to onsite and offsite technical help. If you run into any issues during the setup of your Virtual Office, you have friendly and professional staff to contact that will help you with the process.
For offsite help, you can call or email our support system to have them walk you through the process and iron out any extraneous details that are giving you trouble. Calling is typically a quicker solution because you're speaking with a representative, but email is always available if you're averse to phone calls. 
For onsite help, all our centers are staffed by welcoming professionals who can point you toward any amenities and assist with any technical issues arising when using the best virtual address service. 
Regardless of what kind of help you need, Alliance has staff ready to assist you in any capacity. 
Fully customizable 
Possibly the largest benefit of using the best virtual address service is the ability to customize your Virtual Office to fully meet your business's needs. 
Other providers have flat-rate services and will force individuals or businesses to pay for services they may not need.
At Alliance, you pay for what you need, when you need it.
Why Alliance has the best virtual address service
A virtual address service offers mail forwarding and an address for business registration. Sometimes, if the provider uses a PO box or another less-than-legitimate address, you won't even get these amenities. 
Alliance Virtual Offices is the best virtual address service because we offer more than a standard virtual address, offering you space to meet and work and solidify your reputation.
There is no reason to expose yourself and your business to the risks associated with using a low-quality or standard virtual address service. Instead, invest in your company's long-term health by securing the best virtual address service imaginable.
---
Further reading:
---
Alliance provides the best virtual address service by providing fully customizable Virtual Offices and a slew of other digital tools. 
Regardless of what you need, the best virtual address service is designed to help your company scale without sacrificing the flexibility and freedom that remote and hybrid workstyles are known for. 
Contact us today to see what Alliance can do for your company, and be sure to check out our Virtual Office Blog!