---
Automation means increased efficiency, happier customers, and employees.
90% of customers ranked getting an immediate response as "very important"
---
Q: How do you automate ecommerce customer service?
A: Automating customer service can be done through various methods. Using automated chats to answer questions online, answering services for managing phone calls, and having an accessible knowledge resource library available to customers are some of the more popular strategies.
---
When you think of automation, what do you envision?
Is it a computer that has the world's knowledge within its hard drive that is coming to take your job? Or a computer-generated artificial intelligence robot that can't quite get your name right?
Not to diminish any sci-fi fantasies, but it's neither of these.
In simple terms, automated technology is a tool used to perform processes accurately through programs, typically without the need of human interference.
But that is just the tip of the iceberg.
Automation has become a crucial tool in helping businesses run quicker and more efficiently, particularly when it comes to handling customer service.
In fact, automating customer care has been found to help customer service agents to handle 5x more conversations simultaneously, allowing them to provide quicker solutions to problems.
The amount of time companies can save on basic customer service issues can be used towards more long-term goals, like expanding into new markets.
Still, why bother with complicated technology when people have seamlessly handled customer issues for decades now?
Sure, automation comes in handy when we're doing laundry or stepping onto public transit (especially during a pandemic), but can it really enhance both the customer and employee experience?
To really have an understanding of the benefits of automation, you need to identify what long-term goals you have for your company and what areas you believe you can improve on.
Consider this:
How much time do you want to spend on customer service each day?
What do your customer retention rates look like?
Which aspects of customer service do you think could serve to be automated?
Which areas of the company do you think require the human touch?
When you automate customer service, not only are your employees able to tackle multiple problems at once, but they can also hone in on new, more advanced skills that they may have not been able to exercise before.
However, data has made it fairly evident that people generally prefer talking to a human rather than an automated machine, especially when it comes to more complex issues.
But remember: automation doesn't have to mean computerized.
It can mean any process that you don't have to tend to at all times.
So how can you find a way to meld both the efficiency of automated technology and the personalization of speaking to a human to offer the most optimal customer service experience?
---
The Advantages (And Disadvantages) Of Automated Customer Service
It may not be evident at first, but integrating this technology into your everyday work operations could actually boost morale.
Picture this: it's your company's busiest time of year and a few employees have called out due to sickness. Your employees are overworked, understaffed, and likely prone to error.
How can you ensure that their customer experience is enhanced? Let's take a look at how the advantages of automated customer care can help your business:
Allows your company to operate with a smaller staff
Shortens wait times for customers
Cuts down on overall costs
Eliminates the possibility of human error
Widens service hours
Opens upskilling opportunities for employees
Generally speaking, automation means increased efficiency, and increased efficiency means happier customers and employees.
But with the good inevitably comes the bad.
Despite the seamless nature of automation, there is one major disadvantage of automating customer service: the lack of human approach.
When someone calls into customer service support, they are likely already irritated with their situation. Then, when automation may fail to understand their concerns for the third time, they'll often turn to the frustrated plea of, "Operator!"
There is truly no substitute for the human touch. Over reliance on this technology can actually hurt business processes.
Human workers are able to have a more nuanced understanding of an issue, and offer an empathetic ear for the frustrated customer.
Additionally, some problems are just far too complex and unique for current automated technology to solve.
That's why it is essential to find a healthy balance between these two worlds and ensure that employees are trained and ready to work alongside their new robotic colleagues.
---
What Are The Different Types Of Automation?
If you've decided that incorporating some form of customer service automation is a good fit for your company, your next task is to identify which type would work best.
First, let's take a look at the varying types of automation:
Fixed automation
Programmable automation
Flexible automation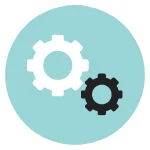 Fixed automation, also referred to as "hard automation", uses special equipment to aid in workplace processes and sequences. This type of technology is used in a linear method, much like you would see at a manufacturing plant.
---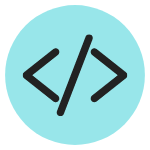 Programmable automation can be changed depending on the processes it is working on.
---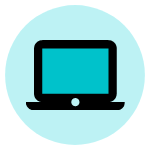 This type of automation is controlled by a program that can be altered by tweaking the code it functions on. For instance, numerical-control machine tools, like 3D printers, operate using programs installed into a computer's memory.
---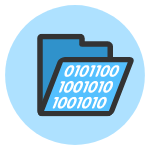 Flexible automation is somewhat of an extension of programmable automation, but requires less time reprogramming. This type of automation is able to be amended offline, without using the equipment itself, and can handle a multitude of products at once.
---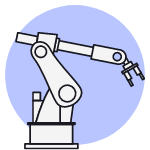 Imagine a robotic arm that is programmed to perform multiple tasks, such as drill holes and insert screws, while learning more to improve its efficiency.
---
Overall, depending on the type of business you're in, varying degrees of automation can likely be applied to improve the efficiency of your company's operations.
---
Which Automated Customer Service Tool Is Right For Me?
There are many ways of automating customer service to improve a company's everyday efficiency and productivity.
However, the options can sometimes feel overwhelming, and you might be thinking, "Where do I even begin?"
Before identifying what automation platform may work best for you, think about what areas you want to improve on.
Is it time management?
Cost efficiency?
Customer relations?
Meeting a technical support quota?
All of the above?
Once you've done that, talk to your employees. Ask what they think could help them be more efficient at their job.
---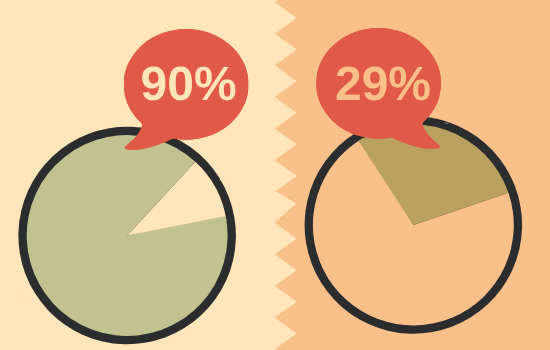 Research has found that 90% of service teams see live chat to be a practical resource when helping customers, but only 29% of companies say they actually use it.
---
Of course, this is going to vary with teams, but no one has a better understanding of how to refine work processes better than your workers on the frontlines.
Try sending out a survey to staff to gather data and identify which methods of automation you should use moving forward.
Once you have a better understanding of what your company needs you can choose the best solution, which could include:
Chatbots or SMS
Customer Relationship Management (CRM) system
Automated email responses and case routing
Knowledge resources
---
Chatbots
Chatbots have skyrocketed in popularity over the last several years thanks to their quick-resolving nature using artificial intelligence or machine learning.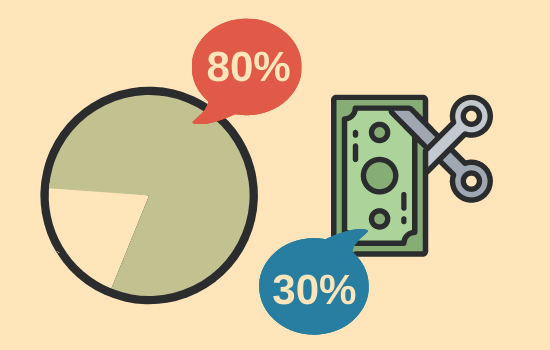 In fact, IBM research recently found that chatbots can successfully answer up to 80% of inquiries.
Not only that, but IBM also found that using these chatbots cuts down on customer services costs by upwards of 30% by accelerating response times and allowing employees to focus on difficult tasks.
---
That is good news for businesses of any stature, particularly ecommerce or remote companies.
Ecommerce companies in particular can gain a lot from using service automation as it provides easy access to all work-related and CRM tasks, and helps delegate tasks to employees, track data and scans for specific keywords.
One example of a common chatbot program is seen on Facebook business pages, which have the ability to to use the automated chatbot for most inquiries and only send the message up the ladder if it is a more complex issue.
Nowadays, chatbot services are seen on virtually every company website.
Not only does this mean that they work, but it also means that customers have grown accustomed to utilizing them when they need a quick solution for a problem.
However!
Studies have indicated that many people still prefer humanizing the customer service experience, especially when it comes to a complicated problem.
Customers that use automated customer service want to feel that their problems are being heard, make a positive connection, and receive high-quality care.
In these cases, it is essential for your employees to flex their soft skills, such as listening and communication, to ensure that the customer's issue is resolved as quickly as possible, and that they come back in the future.
---
CRM Systems
Customer relationship management systems help companies manage any relationship with current or potential customers.
Using this service automation, companies can look at customer-related data, whether it's their email or telephone number, and streamline it in a way that is easily accessible to the necessary team.
CRM systems also have the ability to identify other essential information about a customer, such as their personal communication preferences, and store it in the cloud.
While only about 32% of companies use this type of software according to HubSpot, using these types of programs can set your company greatly apart from competitors.
Not only that, but using CRM makes it easier to:
Gain better insight into what your customer needs
Have detailed knowledge of how your customer interacts with your business
Provide employees a chance to have more thoughtful conversations with customers
Improves employee task delegation
For instance, imagine a customer uses Facebook to get in touch with your company about an issue they were having, but months later, they contact a customer service representative through a company email hotline.
Thanks to CRM software, your customer service agent will be able to see the customer's past interactions with your company and curate their service accordingly. This is absolutely essential in making a customer feel valued, especially if they are a repeat customer.
Other examples of CRM automating customer service include self-service tools that allow customers to get instant replies to their questions without waiting for a presentative or building a knowledge base (think FAQ) that has basic answers within reach.
For example, if you're an iPhone user, you probably had to register it with an Apple ID that is used towards various Apple services (the App Store, iCloud, etc.). The company can then use that information and make recommendations based on your preferences.
Additionally, many grocery stores may have a rewards program tied to your phone number and email address. For every dollar spent, you accrue a point that can then be redeemed for rewards.
Using your purchasing history, these stores can send you discounts that can go towards future purchases for your favorite items.
---
Virtual Receptionists
Virtual receptionists are typically remote workers who offer comprehensive, in depth services that go beyond answering the phone.
They have a deep understanding of your business and what it means to have successful interactions with customers and colleagues alike.
Virtual receptionists are a great tool for professionals who are on the go and don't have time to deal with multiple phone calls, or small businesses who need an extra helping hand when trying to kick start their success.
And let's be real, answering phones all day is the last thing you want to do when trying to boost your business.
So why not opt for a virtual receptionist to automate these tasks so you can focus on increasing your sales and revenue?
There are a multitude of virtual receptionist programs that allow businesses to not only handle everyday phone calls, but also customize the service to ensure it matches your brand's voice.
Opting for a virtual receptionist can also help you:
Screen calls
Dodge spam risks
Place orders
Create appointments
Handle your schedule
Answer basic customer questions
Check out these Top 5 Answering Services for Small Businesses and cut down on the expense of a full-time employee, while allowing you to maintain a professional image and keep your leads organized.
Not only are you able to save money with a virtual receptionist, but your company gets instant credibility by offering exceptional service.
Even more, our Live Receptionists often offer multilingual options, making it easier to tap into global markets and help you expand your business clientele.
Additionally, instead of spending time having to listen to accumulated voicemails all day, you can receive an instant auto-transcript sent through text or email.
This way, you can emerge from the pile of missed calls feeling confident about your company's professional reputation and not invest time into replying to a phone call about "your car's extended warranty."
With our virtual receptionist tool, feel free to shift your focus guiding your company towards success and spend less time on trying to juggle multiple phone calls, replying to emails and scheduling appointments.
Not only does having a professional virtual receptionist help offload the burden of everyday work tasks, but proves that your company is dedicated to good customer service.
Research shows that U.S. consumers are likely to spend 17% more with a company that offers excellent customer service, incorporating our virtual receptionist service is a no brainer.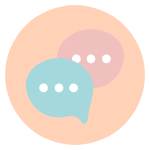 Just send a message in the Live Chat to check it out.
---
Automated Emailing
Most people have been bombarded with low-effort marketing emails that very clearly have no clue who you are, what you do, and are a nuisance. Hitting the "unsubscribe" button has almost become a pastime for some.
The last thing your company wants to do is be a perpetrator of the infamous spam emailer.
If you receive or send multiple inquiries via email each day, using the right automated program can help identify and resolve problems. And get this, they can also:
Help ensure your emails are engaging
Boost reply rates
Entice potential customers
For instance, a software program like Constant Contact offers ideal ways to improve on email marketing by creating engaging templates and, almost more importantly, building autoreplies that do not scream "spam."
This is absolutely essential as poor autoreplies can spell trouble for automating customer care. Without humanistic, approachable and well-thought-out replies, you risk losing customers or potential partners in an instant.
Personalization when executing an email campaign is essential.
Research from Accenture has actually found that 91% of consumers are more likely to frequent a business that offers individualized recommendations.
This, of course, can lead to higher customer retention rates, improve your company's overall marketing strategies, and help your team focus on more highly-skilled tasks. Are you sensing a trend?
There are countless automation platforms that can help you transition your company to a new way of operating, such as HubSpot, Front App, FreshDesk, User.com and many more.
---
Knowledge Resources
A knowledge base is essentially a library that features tutorials, guides and other helpful company-related information that customers can easily access through a self-service portal.
Most of the time, customers find it a hassle to reach out to anyone, automated or human, for help with a problem. In fact, contacting customer service is usually a last-ditch effort for many.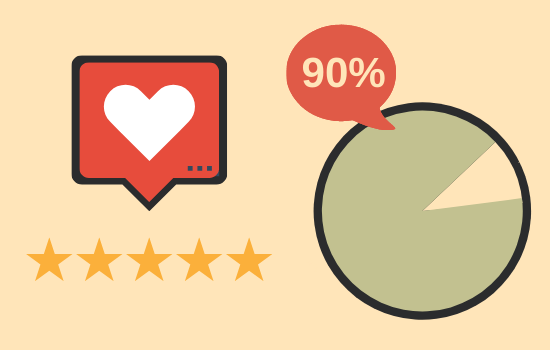 Analysis from HubSpot has revealed that 90% of customers ranked getting an immediate response from customer service as "important" or "very important".
---
But what if they didn't have to do that at all? A knowledge library is the perfect solution as it helps eliminate the need to contact any help and provides customers a quick and easy way to solve the problem on their own.
This is absolutely crucial, especially when trying to attract and retain new customers. Having a knowledge base helps employees focus on more important tasks, while also ensuring that customers are happy.
So what are the signs of successful knowledge resources?
An accessible self-service portal for all things company-related
A search function
Includes a basic up-to-date FAQ section
Visual guides or graphics
Product and service information
Customer feedback system
Contact support option
The best knowledge base resources will not only be informative, but organized, visually-pleasing, and maybe most important of all, user-friendly.
When creating this guide, organization and structure will be vital as customer's want the ability to easily identify the location of their inquiry, without worrying about digging through copious amounts of unrelated information.
Users of knowledge resources should be able to seek out the answer to their questions, while also potentially gaining even more information by the time they exit out of the page.
Having the appropriate structure in place will make your knowledge resource more user-friendly as well. This will all depend on your specific business.
For some, this may look like a step-by-step explanation, while others find a common problem a resolution format to best suit their company.
For instance, build specific sections for each category that make it easy for users to navigate and find their answer, such as:
"How to start a business"
"Applying for a business license"
"Funding business expenses"
Think of it as a one-stop-shop for all things customers may want to know about your company.
Also keep in mind that CRM data can help you build a knowledge library by tracking common or even niche questions asked by customers, and then incorporating this information in the portal.
If you don't want to deal with the hassle of creating a detailed information library, there are software programs that can help.
Resources like KnowAll on WordPress, Helpjuice, Zendesk, HelpCrunch, and several others offer templates to create knowledge bases, as well as make it easier for you to manage and edit the library as needed.
---
How Do I Implement Customer Service Automation?
Now that you've identified which method of automation will best suit your company and enhance both the employee and customer experience, what is the best method of incorporating it into the organization's operations?
Think through the challenges you are trying to resolve for your company.
For example, if your autoreply technical support emails have a low response rate, maybe there is a problem with the structure of your emails.
Using an if-then architecture will be crucial here because, as mentioned above, overusing automation can actually hinder your organization's relationship with customers.
Another way to ensure that your customer service automation has been integrated appropriately is to use data gathered from your CRM system and assign specific tasks to the right employees.
Review keywords in conversations with customers and from there, deploy your best team member to fulfill the task.
Think of it like this:
If you have an employee that is exceptional at clearly communicating directions or instructions, keep them on the frontlines of complicated customer problems.
On the other hand, if a staff member has a keen eye for detail and numbers, have them work alongside automated systems to ensure they are running smoothly and make tweaks to the code as necessary.
---
Improving Customer Service Automation
All of the information above may be old news to your company. What if your employees are already equipped with the latest automation software?
As is with most processes, customer service automation will inevitably experience technical issues. When troubleshooting, it is essential to take note of what exactly caused the problem, and how to prevent it in the future.
There's always room for improvement, especially as technology continues to advance expeditiously.
So what can you do to ensure that your organization and employees stay up-to-date with the latest automation technology?
For starters, make sure there is a system in place for both employees and customers to report technical problems.
Once that has been established, curate a training program that helps your staff not only identify issues, but can help them troubleshoot it as well.
If they are unable to do so, make it clear what the best procedure will be moving forward.
Here's a step-by-step example:
Employee experiences a technical problem
Employee takes note of front-end issue
Employee communicates problem to the necessary team
Using this (albeit rough) method can help your company not only resolve the problem as quickly as possible, but also collects data to prevent future occurrences.
Once you've identified and smoothed out the best strategy for handling automation issues, it's equally crucial to be transparent with customers about any problems that arise that could impact their experience.
This is crucial as the last few years has seen a resurgence in awareness about data usage. If you plan on collecting customer data, it is absolutely essential that they agree to sharing their information, as well as having an understanding of what your company is doing with it.
The golden rule should be this:
Don't ever let customers feel uncertain or question your company's morals or intentions.
The sooner you address a situation, the more inclined the customer will have faith in your company's operations and dedication to extraordinary customer service.
In fact, according to the Harvard Business Review, "only 25% of people knew that their data footprints included information on their location, and just 14% understood that they were sharing their web-surfing history too."
Even more staggeringly, 97% of people said they were concerned about how businesses and the government could misuse their data.
This keeps customers in the loop of the ongoings of the company, whether it be changes to operations, data collection or unexpected technical problems, but it builds a relationship of trust as well.
---
Let's Get Started
Despite automation being viewed as a scary concept, the reality is that it doesn't have to be.
Research and analysis has proven time and time again that the backbone of any successful business is superior customer service, and the best way to achieve that is through automation.
Whether you decide to adopt automated technology to cut down on employment costs, or want to upgrade your efficiency with a professional Live Receptionist, automation can play a game-changing role in your company's operations.
Simply put: if your company wants to increase revenue and sales, boost your customer service reputation, balance time-consuming emails and phone calls, expand your global reach and guarantee repeat customers, automation is the way.
Get info on Answering Services for Small Businesses and how you can capture more leads, increase revenue, and gain back your most valued asset…
Your time!