---
---
Q: Is active or passive income better?
A: Passive income is by far the better choice. Why? Because it doesn't involve as much work. More importantly, it doesn't involve as much time. Although setting up passive income can be difficult, you can sit back and enjoy your life after this system is set in place.
---
---
If you were to ask wealthy individuals how they made their money, they would all tell you the same thing:
Passive income.
Back in 2013, a study found that the richest people on the planet earn money almost entirely through investments and business income. The mere concept of earning a salary or (God forbid) an hourly wage is laughable to the ultra-rich.
Make no mistake:
Passive income is the only choice if you want to truly achieve financial success. With active sources of income, there's always a limit on how much money you can earn throughout the year.
No matter how high-paying your job might be, you have a finite amount of time with which to earn a salary.
With passive income, time isn't a factor. You can exponentially grow your income without worrying about working extra hours or getting a promotion.
Successful passive income strategies allow you to sit back and relax, earning more money while working less.
But here's the thing:
Passive income isn't just reserved for the ultra-wealthy. You can create your own passive types of income – and it is much easier than you realize.
According to this recent survey, almost half of all people who start side hustles are hoping to earn passive income. There has been a massive push towards passive income within the past decade or so, and you can be part of the growing trend.
One of the best active income vs passive income quotes comes from Warren Buffet:
"If you don't find a way to make money while you sleep, you will work until you die."
But what exactly is passive income – and which sources of income are superior in the active income vs passive income debate?
What makes passive and active income different? And perhaps most importantly, how can you get started with your own passive sources of income?
---
---

Active Income vs Passive Income: What's the Difference?
First, let's answer an important question:
Active income vs passive income: What's the difference?
Active Income
We'll start with some types of income that virtually everyone is familiar with. Active income is what you earn when you're "actively" working. As long as you keep working, you keep earning that active income.
But if you stop working, your income grinds to a halt. An obvious example of active sources of income would be jobs that pay you an hourly wage – something that most of us have experience with.
Virtually any type of payment you receive for your work is also considered active income, including salaries, tips, fees, commissions, and allowances.
Passive Income
But what about passive income?
If you set up passive sources of income, they continue to generate money even if you're not working.
This is the biggest difference when it comes to active income vs passive income.
For example, you might set up a blog with affiliate marketing links. No one is paying you to write that blog – so you're earning zero active income.
But once the blog post is complete, it (hopefully) starts passively generating income for you. People click on the affiliate links and buy the products – earning you plenty of commission.
These commission fees could be moving into your bank account while you watch TV at home, while you go on vacation, and while you sleep.
In other words, passive types of income only involve a work commitment for a certain amount of time. Once the work is done and the system is put in place, you can sit back, do nothing, and earn money.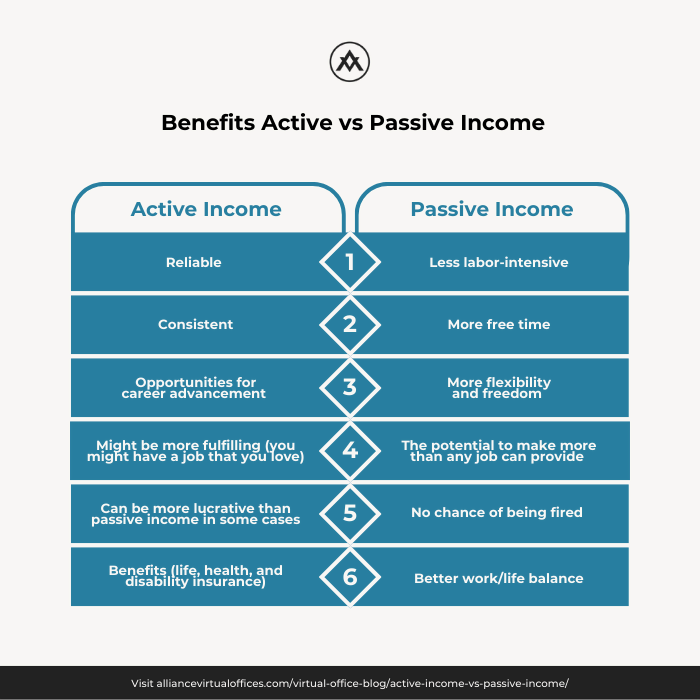 Benefits of Active Income
Active types of income do carry a fair share of benefits, even if they are more labor-intensive:
Reliable
Consistent
Opportunities for career advancement
Might be more fulfilling (you might have a job that you love)
Can be more lucrative than passive income in some cases
Benefits (life, health, and disability insurance)

Benefits of Passive Income
Passive types of income come with several important benefits as well:
Less labor-intensive
More free time
More flexibility and freedom
The potential to make more than any job can provide
No chance of being fired
Better work/life balance

"More free time" might sound like a very basic benefit, but it is perhaps the most compelling aspect of the active income vs passive income discourse.
Many people believe that money and wealth is the most important resource in this world.
This is one of the most common misconceptions, as the most important resource in our society is actually time.
If you're trading away your time for money, you're giving away the most valuable thing in your life. Passive types of income allow you to reclaim that valuable asset and truly get the most out of your life.
With so much more free time, you can explore a range of hobbies, interests, and priorities. You might choose to travel the world, spend more time with family, do something you've always wanted to try – or a combination of all three.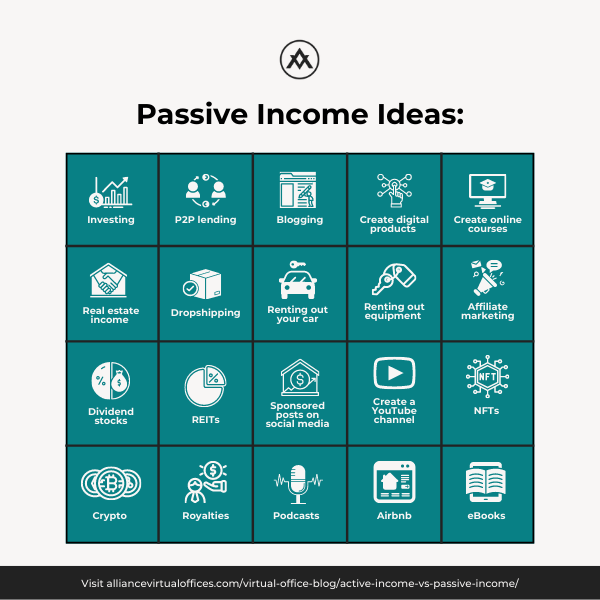 Examples of Passive Income
Check out these examples of passive types of income to understand the difference between active income vs passive income:
Investing
P2P lending
Blogging
Create digital products
Create online courses
Real estate income
Dropshipping
Renting out your car
Renting out equipment
Affiliate marketing
Dividend stocks
REITs
Sponsored posts on social media
Create a YouTube channel
NFTs
Crypto
Royalties
Podcasts
Airbnb
eBooks
Passive sources of income are closer than you realize. If you've ever switched to a cheaper internet service provider, you've earned passive income without realizing it.
Let's say you switched from a $130 monthly fee to a $40 fee. You just saved $90 per month, and you'll continue to "earn" this extra money in the future.
Although it isn't much, this technically constitutes passive income.
---

Why Is Passive Income So Difficult to Achieve?
But if passive types of income are so great, then why aren't more people doing it?
Simple:
Passive income is difficult to achieve.
Many people simply don't have the time to take their foot off the gas, take some time off work, and set up passive income streams. Even though they might realize that passive income is much better than an hourly wage, they might lack the financial security to put these systems in place.
Many Americans are living paycheck to paycheck, and they have families to feed. Quitting your job and pursuing passive income exposes you to insane amounts of risk.
This is why it's important to establish your passive income streams as early as possible.
It Takes Money to Make Money
Many forms of passive income also require serious startup capital.
For example, purchasing real estate to rent out is very difficult. The prohibitively expensive real estate market makes it difficult just to purchase a home – let alone an additional rental property.
To start raking in the cash when investing, you need some money to play with. Many Americans don't even have a few thousand set aside for an emergency, so how are they going to invest in the stock market?
Conversations about active income vs passive income vs portfolio income are seemingly reserved for the ultra-wealthy, so even when you've saved a little bit of money, the task of actually creating passive types of income can feel unattainable.
Sure, you might have an extra $100 when all your bills are paid – but unless you're a financial genius, it's going to take a long time to turn $100 into a million.
In contrast, wealthy individuals can easily snap up real estate properties to rent or buy hundreds of thousands of shares without batting an eye.
There's a reason that wealthy families in the United States earn money through passive sources of income:
It's easy to make money if you already have money.
If you don't have much to invest, the opposite is true.
Be Prepared to Work Hard with No Pay
Okay, so we've established that many passive sources of income require serious startup capital. That's one reason why passive income is difficult to achieve.
But there are plenty of passive income ideas that require virtually zero startup cash, such as blogs, YouTube channels, and eBooks.
Although these passive income ideas require no money to get started, they're also much more labor-intensive during the early stages.
You might have to blog for years before you start earning any money. The YouTube algorithm is difficult to crack – and new channels find it almost impossible to get any viewers. An eBook requires a first draft, a second draft, a third draft, editing, publishing…
You get the idea.
These are not easy systems to put in place.
But perhaps the most important thing to remember about these "zero-capital" passive income ideas is that you won't get any money until you achieve success.
This means that you should prepare for years of hard work with no rewards. And yes, there's always the chance that your YouTube channel or your eBook will never become successful, no matter how much work you put in.
This is the sad truth about passive income – and it's why very few people can effectively pull this off.
But if you do manage to achieve success, the rewards can be astronomical.
---

How to Get Closer to Passive Income
If you're already running a business, you're likely closer to identifying some passive sources of income than you think.
The goal for many entrepreneurs is to eventually step away from the business and let other people do the hard work.
This may involve hiring people to run the business or selling the entire business for a profit. The second option is less passive since you do not receive continued income after the initial sale.
However, you could invest the funds from the sale of your business and earn passive income in this manner. Remember, the active income vs passive income discussion is much more straightforward the more capital you have retained.
Another option would be to take the company public and sell some of your ownership shares. As long as you retain some of the shares for yourself, you can continue to earn returns in addition to the business' income while perhaps also receiving dividends.
Another solid choice for business owners is to create digital products.
If your business already sells physical products, consider branching out and creating something like an online guide, a subscription service, an eBook, or even a YouTube channel.
In many cases, businesses that experiment in this manner end up earning far more with their digital products than their physical products.
Of course, the same marketing principles apply to physical products, and you'll need to create an effective advertising campaign for your new digital products if you want continued success for your new passive sources of income.
The key thing to remember here is that once your digital products are created, the work stops. You won't need to worry about manufacturing, designing, or testing, and your income will be almost entirely passive.
If you're an individual without a business, you can get started with passive income in many ways.
Perhaps the most obvious option is to start investing.
However, you might want to begin by pursuing a lower-risk strategy, such as creating online content.
A solid strategy is picking a passive income method that matches your passions and your interests. Remember, you might spend many years building these systems before you see any returns.
You might as well choose something that you enjoy, such as blogging about your hobbies or creating a podcast on news stories that interest you. With this approach, your passive sources of income will feel like a rewarding pastime – even if they don't immediately provide you with any income.
And hey, if your content goes viral that's always a bonus.
Regardless of which strategy you choose, passive income is always easier if you continuously reduce the amount of work and time required to generate returns.
One of the best ways to do this is to automate and outsource as much work as possible.
For example, you might create an incredibly popular online course on how to do various snowboarding tricks. Once it starts getting millions of downloads and views each month, you'll probably get inundated with calls and emails.
Constantly answering your phone and responding to these emails can be incredibly tiresome and time-consuming – defeating the entire purpose of passive income.
To deal with this issue, consider enlisting the help of a Live Receptionist from Alliance Virtual Offices.
These trained customer service professionals can answer phone calls and speak with your customers in a pleasant, professional manner.
This allows you to sit back and enjoy a tropical beach while you sip on a cool beverage.
Speaking of traveling the world, passive income allows you to do this fairly easily. But to truly enjoy the flexibility and independence offered by passive income, you might want to consider a Virtual Office.
Alliance Virtual Offices can give you a virtual address almost anywhere in the United States – including prestigious office addresses in major cities like New York or Los Angeles.
This gives your business a solid reputation without any office rental fees. AVO also gives you mail forwarding, allowing you to receive important business mail wherever your journey might take you.
---

Active Income vs Passive Income: Which One Should I Pick?
So, what's the best option for you?
Should you pick active or passive income?
While everyone seems to have their own opinion about the active income vs passive income debate, the truth is simple:
You can do both!
Nothing is stopping you from working a full-time job and devoting a few hours each day to setting up passive income systems.
---
Further Reading
---
This might be one of the most rewarding ways to spend your time, and in a few years, you might thank yourself for making the effort.
To learn more about passive income, Virtual Offices, and Live Receptionists, visit Alliance Virtual Offices today.