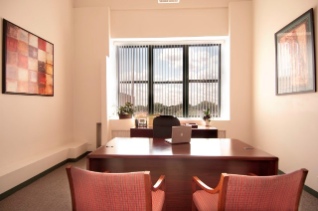 As mobile technology, remote working and the virtual office evolves, businesses of all sizes, style and stature are waking up to the fact that they don't need permanent office space. Thanks to mobile devices, collaborative tech and secure networks, much of the workforce can now work on a flexible and remote basis – which has the benefit of not just cutting down on square footage costs, but boosting employee morale and productivity too.
However while many teams have the potential to go virtual – and do it well – some are still held back by old-fashioned management styles and rigid company cultures. So how can managers and team members break the mold and adapt to this more flexible style of management?
Social media guru Chris Brogan has the answer. "If you can't 'be there' then be there," he says, speaking to Forbes. It's not as cryptic as it sounds. What he means is, if you can't be face-to-face with your team, use social media and technology to maintain a connection. "Social media is like Oreo cookies to virtual teams' milk. It's a perfect fit. Flip open the Google Talk cam or the GoToMeeting with Hi Def Faces and you got something," he said.
Asked how he would work with a virtual team, Chris explained that collaborative technology and regular communication would be high on his priority list.
"Daily brief meetings with all of my team would be good (either via video or IM), and then I would do weekly or monthly check-ins where we talk through issues. Other times, I'd really promote the use of just having video cameras on and open while working so that you get that 'random banter' element that's missing in virtual experiences."
Businesses looking to take the step to a virtual office can learn from this. Key to a successful virtual transformation is training and support, along with the right tools to help keep communication flowing efficiently.
Chris recommends "more touches" for remote teams to ensure that messages are clearly received, in both a literal and metaphorical sense. However although he has built a successful business and career out of social media and virtual technology, Chris still recognizes the importance of face-to-face communication.
"Face-to-face is still the gold standard. It will never be the lesser of options," he said. "However, as business rules and global opportunities change, we might see the percentage of face-to-face time slip."
That's where the virtual office really comes into its own. Regardless of how different business management styles might be in ten, twenty or one hundred years' time, individuals will still expect a polite greeting when they make a call. With Alliance Virtual, businesses can sign up to a virtual office and have their calls handled by a professional live receptionist, ensuring that calls are dealt with seamlessly and clients are always left feeling like No. 1.
And when it's time for that all-important face-to-face meeting, the world really is your oyster. With Alliance Virtual you can choose from hundreds of smart meeting rooms right across the globe – from New York and Toronto to Paris or London. What's more, you can work from a fully equipped day office when you're on the move and make use of fast Wi-Fi connections – perfect for connecting with your team over a video call or catching up on things through IM. You could say it's a bit like "being there" when you can't actually be there…