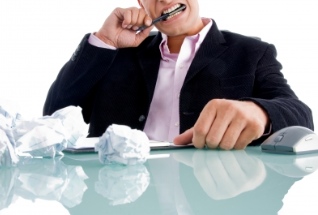 Distractions. We all hate them. Which is why we think you'll love our live receptionist call answering services.
You see, we've developed our virtual office services to help busy entrepreneurs and growing businesses like you take control of your working day. Don't you just hate it when you're knee-deep in sales figures or a complex business plan, with a head full of numbers, when – BOOM – your phone goes off and scatters your thoughts – sending your sanity with it?
That's no good for business, it's no good for productivity and it's certainly no good for the caller, who ends up with an irate response from you.
So how do you solve this merry-go-round of productivity-sapping distractions? Allow us to introduce you to Alliance Virtual Offices' Live Receptionist services, which offer a long list of benefits to help your business grow and prosper. We've picked out ten of our favorite distraction-busting features that we think you'll love. Take a look and let us know what you think!
1. Live Answering
Choose one of our Virtual Office Live Receptionist packages and you'll benefit from personalized, live answering from one of our highly trained receptionists from 9am – 8pm EST. They'll act like a member of your own team, handling calls according to your instructions and answering in your company name.
2. Call screening
Part of our Virtual Office Live Receptionist packages, as above, is a Call Screening / Attended Transfer service. Rather than re-routing calls straight to you, our receptionists will screen them first and handle them according to your instructions.
3. Voicemail services
We offer a voicemail service across all of our Virtual Office Phone and Virtual Office Live Receptionist packages, which includes email delivery notification of new voicemails. Perfect for those phone-free days when you just need to get your head down!
4. After hours greetings
Don't worry if your clients call outside of our Live Receptionist times – we have after-hours greetings and you can have calls forwarded direct to your mobile, perfect if you're waiting for an important call.
5. Call blocking
Hate persistent sales calls? We have various call blocking measures to help you filter out unwanted calls, along with a Caller ID Block and detailed screening settings.
6. Forwarding
If you know you're going to be busy, on a conference call or just hidden under a pile of paperwork, set up forwarding procedures to send calls direct to another number, be it a colleague or to your cell.
7. Call handling
If you choose one of our Live Receptionist services, you can designate specific rules on how to handle calls. That way, spam calls are filtered out and important callers and never left to voicemail.
8. Transfers
The way in which calls are transferred speaks volumes about your customer service, so we always ensure calls are transferred as smoothly as possible.
9. Caller ID
This is a popular feature that lets you see who's calling – and whether or not you should stop what you're doing in order to pick up the phone!
10. Do Not Disturb
How's this for a distraction-busting technique? You can set up a 'Do Not Disturb' feature across all of our Virtual Office Phone and Live Receptionist services, and have calls handled or re-routed as you wish.
Get the full low-down on all our Live Receptionist features on our website. Why not give us a try? It's the first step on the path to better productivity, fewer distractions and enhanced customer service – which is a win-win for everyone!