---
Q: Does my virtual office come with access to physical workspaces? How can I ensure I'm using a virtual office company that provides access to coworking spaces and meeting rooms?
A: Whether or not your virtual office comes with access to physical workspaces depends entirely on the provider you're using for your office. The cheaper virtual office providers don't typically offer any physical workspaces, but to ensure that you are given access, use a high-quality provider like Alliance Virtual Offices.
---
In our increasingly digital-first world, more than half of American workers want some kind of hybrid work arrangement.
This shift to remote and hybrid work styles started long before the pandemic but was catapulted into widespread acceptance during the lockdowns and business closings of 2020.
Now, although the number of fully remote workers has dwindled slightly since the height of the pandemic, business owners are pressured, if the job permits, to provide some kind of hybrid arrangement for their employees.
This trend may frustrate some business owners, but it has provided new opportunities for established business owners looking to expand and new entrepreneurs hoping to start and hopefully grow their first company.
For example, with virtual office space rental, business owners can use a high-quality Virtual Office to register their LLCs while still ensuring they have access to physical workspaces and meeting rooms.
One of the biggest issues that you may have with virtual offices is the lack of physical amenities, but through Alliance, you're guaranteed a professional and well-known address to register your business in addition to access to easily-reservable meeting rooms and coworking spaces.
In this article, we'll be discussing whether or not your current virtual office provides workspace access, whether or not Alliance supports your virtual work, the workspaces and meeting rooms that Alliance Virtual Office provides, and finally, we'll look at how you can integrate your Virtual Office with the countless digital tools you have at your disposal. 
So, if you've ever searched for "shared office space near me" – you are in the right place!
Keep reading for more information about the amenities your Virtual Office space rental should provide.
---
---
Does your virtual office provide space? 
Before we dive into whether or not your virtual office provides space, let's take a quick moment to explain what a virtual office is.
A virtual office is a service that individuals or business owners can use to secure a mailing address for their company without being forced to spend the exorbitant capital required to secure a traditional commercial lease. 
---
Read more: What is a Virtual Office and How Does it Work?
---
Now, this might sound straightforward, but as it stands, the difference in quality between some virtual offices is astronomical. 
With a high-quality Virtual Office, you will have access to easily reservable meeting rooms and coworking spaces, access to quality-of-life add-ons like mail forwarding, and access to flexible remote options like virtual receptionists, to name just a few.
With a lower-quality virtual office, you probably won't have access to physical space, the address you're using won't be professional, and this lack of amenities creates an environment wherein you are unable to use your virtual office as the central hub it is meant to be.
This brings us to the original question about whether or not your virtual office space rental provides access to physical workspaces.
As you might have guessed, most virtual office space for rent doesn't provide access to physical space. 
Conversely, several virtual office providers don't use physical addresses at all, which can sometimes result in your LLC formation being denied, as some states won't allow businesses to register with PO boxes or other addresses unattached to physical space.
Realistically, the only thing most virtual office companies provide, regardless of their price, is mail forwarding, but pretty much nothing else. 
Without access to physical workspaces or a professional address that increases your company's legitimacy, the question becomes: what are you paying for? 
If you're using one of these cheaper providers and find yourself needing access to workspace, you'll have to find it and rent it, typically for a lot of money. And these commercial spaces that you might have to use aren't cheap or short-lived endeavors.
A majority of commercial leases last from three to five years. These leases include a hefty security deposit that might be as large as two months' rent and a utility fee, monthly rent, monthly utility charges, and general upkeep for the supplies within the office.
As you can see, anything you can do to prevent a situation that calls for you to secure commercial office space should be done. The price is high, and the benefits of using a physical space can all be attained with a high-quality Virtual Office provider.
---
Read more: Virtual Office Services MUST Include These Key Features 
---
Having a Virtual Office that provides access to physical workspaces is a cost-efficient and flexible solution for businesses that want to maintain a professional image while increasing productivity. You get all the amenities of a traditional office at a fraction of the cost.
With access to physical space, your Virtual Office rental space provides a physical location that you can use to meet with clients and potential investors and gives you the ability to cultivate a collaborative environment in a professional setting. 
So, your virtual office likely doesn't provide space, but that doesn't mean you're unable to easily secure a Virtual Office rental space that does give you access to these amenities.
How an Alliance Virtual Office supports your remote operations 
As statistics show the efficacy of working remotely, offering remote or hybrid work styles to your employees has become less of an option and more of a prerequisite for modern companies.
With remote workers averaging almost 50% higher productivity and longer work weeks, even the most unwilling-to-concede business owners are starting to recognize the benefits of remote work.
Despite this, understanding virtual offices and how to pick the correct Virtual Office for your business is a process that countless individuals have yet to fully understand. 
The search for "Virtual Office space near me" is one that several new entrepreneurs and established business owners looking to expand have dealt with.
Likely due to conditioning, many individuals are under the impression that they need to secure a Virtual Office space rental that is in the same location that they are. Thankfully, this isn't the case with Alliance. 
Alliance Virtual Offices supports our clients in all their remote operations. 
Below, we've put together a small list of the methods Alliance uses to support you in your remote and hybrid operations.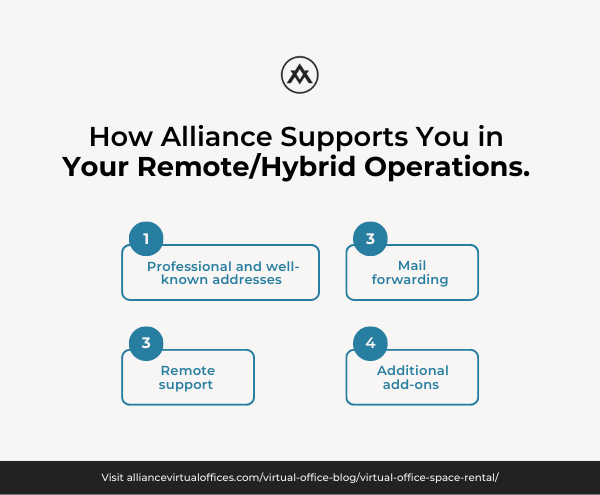 Professional and well-known addresses 
When you register your business as an LLC, you might find that your cheaper virtual office hasn't provided you with a legitimate address. This could be due to the state you're hoping to register in disallowing PO boxes, or it could be because your provider is only using virtual addresses with no basis in reality.
Regardless, you will want to avoid virtual office companies that could put you in a position where you're unable to register your company. 
At Alliance, we offer physical addresses that don't just exist. We offer addresses that are professional and well-known to other industry professionals.
Not to mention, Alliance offers Virtual Office rental space in all 50 states and almost every city. You can start a business or a satellite office in any location you'd like!
---
Read more: Satellite Mobile Office: Unleash Full Flexibility 
---
Using these addresses allows you to build your legitimacy as soon as your business's doors are open. This enhanced credibility gives clients and customers the impression that your business is established and trustworthy.
Think about it this way, imagine you're a customer searching for a financial services business. You've found two companies with similar-sounding names and similarly priced services, but there is one key difference between the companies. 
The first is a financial services business with an unknown address in Kansas. When you google this address, you discover that the financial services business shares its address with an office supplies retailer. 
The second is a financial services business with an address you recognize in Upper Manhattan. When you google this address, you discover that this financial services business uses a professional business center as its center of operations. 
In the above example, almost every customer imaginable will use a financial services business registered to a recognizable address in New York over a business registered to an unknown address in a different state.
Remember, your Virtual Office space address is the location that potential consumers, investors, and clients will be able to find when they search for your business online. Use this to your advantage! 
Not only can your address be something that individuals find when looking your business up, but you can also use your professional address on your branding material and digital advertisements to increase visibility.
Mail forwarding
Through Alliance, you can add one of four mail forwarding tiers to your Virtual Office rental space.
Now, the price of these tiers might vary slightly depending on where you're located, but the structure is similar everywhere. Keep in mind that as your business grows, you can shift from tier to tier to account for whatever amount of mail your company receives. 
Monthly mail forwarding for $10.00 per month
This first option is best for businesses that aren't receiving a lot of mail yet or for businesses experiencing a lower volume of mail.
Only getting your mail once per month might not be enough if you're dealing with important or time-sensitive documents, but if you're just getting started, this is a great way to begin good practices with your business mail. 
Bi-weekly mail forwarding for $20.00 per month
The second tier is twice-monthly mail forwarding and is designed for businesses that aren't receiving too much mail but need that mail more than once a month.
This tier is probably regular enough to ensure that you don't miss too much, but for important correspondences and government documents, you probably don't want to wait two weeks to read the contents of the mail.
Weekly mail forwarding for $30.00 per month
Once your business is established and receiving a healthy amount of mail, the weekly tier is a great way to stay on top of important correspondences and sensitive documents.
Weekly mail forwarding will ensure that you're never going longer than a week without checking your mail, meaning you won't ever be surprised by a piece of mail you received weeks ago that needs a response tomorrow.
Daily mail forwarding for $70.00 per month
Our fourth and final offering is daily mail forwarding. This tier is best reserved for businesses receiving a substantial amount of mail each day that are unable to handle weekly deliveries.
If you're in the middle of any kind of legal dispute, daily mail forwarding is far-and-away your best option. This ensures that you won't ever miss any important mail and helps you respond in a timely fashion. 
Each mail-forwarding tier provides unique value to your business, but the best value is the daily option.
For the monthly and bi-weekly options, you're spending $10.00 each time your mail is forwarded. For the weekly option, you're spending $7.50 each time you receive your mail. 
But for the fourth option, you're receiving mail between 19-22 times per month and, therefore, only spending between $3.11 and $3.69 for each forward. 
With mail forwarding options, you can work from anywhere that you want to.
Remote support
One of the best ways that Alliance supports your remote operations is by having accessible support staff available to contact by phone or email.
We want our partners to get the most out of their Virtual Offices, so we ensure easy access to helpful support staff any time an issue with your remote work arises. 
You can call our support line to speak to someone who will help you walk through the problems you're facing, but if you don't want to speak on the phone, you can email our support staff, who will provide the same help.
Alliance's Virtual Offices are fully customizable, occasionally requiring our staff to assist with setting up these offices.
Additional add-ons
Outside of Alliance's direct remote support to anyone using a Virtual Office rental space, your Virtual Office can integrate with countless other digital tools and services that benefit your remote operations.
From virtual receptionists to payroll automation, the tools you have at your disposal are endless.
Does an Alliance Virtual Office provide work and meeting space? 
So, you now know that Alliance provides shared office space and full remote support for Virtual Office partners, but how do we provide work and meeting spaces?
Access to coworking spaces and meeting rooms is one of the largest benefits that Alliance provides for its partners. This allows you to cultivate a business prepared to offer both hybrid and remote workstyles, which is what a majority of workers want.
---
Read more: The Counterintuitive Secret to Engaging Remote Employees 
---
Working remotely is great, but trying to work from the same location you spend most of your time is a quick way to suffer from an overall lack of motivation and general job burnout.
Access to workspaces can negate the negative effects of remote and hybrid work styles. 
As a business owner, you're probably familiar with hosting both physical and virtual meetings. With easily-reservable meeting rooms, you always have a place to use for either kind of meeting.
Trying to host a remote meeting from your home or a crowded coffee shop is a recipe for disaster.
Not only are you at the whim of your surroundings, but any distractions you experience during your meetings are guaranteed to affect the other attendees' impression of you and, by extension, your business. 
With access to meeting rooms, you can use a small, quiet, and professional meeting room to host these virtual meetings without risking distractions.
With physical, in-person meetings, many business owners find themselves turning to the same coffee shops or expensive hotel conference rooms. 
Hosting a meeting in a crowded and public coffee shop doesn't look very professional, and using a hotel conference room typically requires substantial setup and ample planning to find a room that meets your needs.
Alternatively, through Alliance Virtual Offices, you can choose a meeting room that fits any size of meeting you're hoping to host. 
With your Virtual Office rental space, you have access to meeting space that prevents you from scrambling to find a location that will impress clients and investors without breaking the bank.
Our coworking spaces serve a similar purpose.
Using public wifi is generally unsafe, and the distractions in these shops are often worse than working at home.
When you use your Virtual Office's easily reservable coworking spaces, you're surrounded by other like-minded professionals who use the space to work and push their operations forward.
Remember, without access to workspace and meeting rooms, your Virtual Office rental isn't providing the amenities that make the price worth it.
All of our Virtual Offices offer a host of office amenities, meaning all your physical work needs are met in one convenient location for a fraction of the cost of a traditional office.
Integrating your Virtual Office with new digital tools 
Other virtual offices want you to shift entirely to virtual work. As you can see, this isn't an optimal way to approach the modern labor market.
Alliance Virtual Offices offers you the choice of remote or in-person work, supporting hybrid workstyles and letting you make the most of your business.
Outside of Alliance's remote and in-person support, your Virtual Office rental space is built with customization in mind, meaning you can integrate countless other tools. 
First, consider using a Live Receptionist to answer phones and screen calls. 
Alliance's Virtual Receptionists allow business owners to focus on the more nuanced aspects of their businesses by negating the frustrations of answering phone calls or hiring a part-time receptionist.
With this tool, you give potential clients and customers a good first impression that can later translate to increased sales and better brand loyalty. 
Another helpful tool for your Virtual Office space rental is a Virtual Phone Number.
Having a professional and well-known business address is great, but adding a designated business phone number to your Virtual Office completes the image.
With a virtual phone, you can cultivate a healthy work-life balance while keeping your personal information private. Not to mention, your virtual phone comes with unlimited extensions, which means that you can easily onboard new team members and provide the same benefits to these individuals as well.
---
Further reading
---
Alliance Virtual Offices provides several virtual tools and services to established entrepreneurs, new business owners, and anyone else interested in starting an LLC.
Many virtual office owners don't offer any physical workspace to their clients. At Alliance, however, your Virtual Office space rental is guaranteed to come with access to easily reservable meeting rooms and coworking spaces. 
Having access to this space provides you with the same amenities you'd associate with a traditional, commercial office lease, but at a fraction of the cost and in a considerably more flexible environment. 
Don't get stuck in a virtual office that doesn't help your business grow.  
Contact us today to see how Alliance can help you find the right Virtual Office space rental for your business.
Additionally, don't forget to check out our Virtual Office Blog for more tips for modern business owners.