---
---
Q: What is the best strategy for increasing my small legal firm's reach and running more successful marketing campaigns?
A: Like all industries, legal firms can benefit from using a broad range of marketing tools. Digital marketing strategies like SEO and social media advertising are particularly powerful in today's economy. That said, it's crucial that you have the right support in place to run these campaigns. This article explains the best way to implement that support.
---
The power of digital marketing allows small businesses of all kinds to connect with their target audience remotely, creating a wealth of opportunities. As long as you can attract the right customers, success is never far behind.
Legal firms are no exception. With an increase in virtual law firms, marketing for attorneys is becoming increasingly important. Clients now have more choices than ever before when searching for legal services online, and this means you need to stand out from the crowd.
An attorney answering service plays a critical role in this process. 
But is a lawyer answering service really that important? You might be surprised at just how helpful this tool can be, and there are a number of ways in which it can boost your marketing presence.
In this article, we'll explore these factors, giving you all the information you need to successfully market and grow your small firm or solo practice.
---
---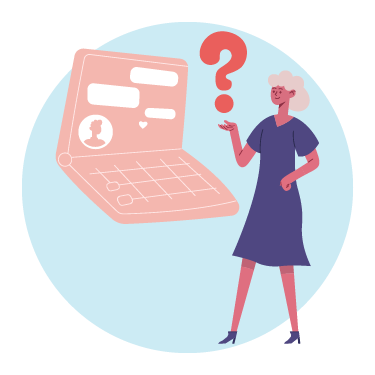 The Importance of Marketing
In the current economic environment, marketing is everything.
While marketing has always been a pivotal part of any successful business, the pandemic has made it even more critical.
More than ever before, consumers rely on solid marketing strategies to connect them with their desired products and services. Rather than shopping around, the modern consumer expects the internet to provide them with suggested purchases.
This means that marketing isn't just about boosting your exposure; it may be the only way to get any exposure in the first place.
Additionally, the explosion of small businesses has confronted consumers with more options than ever. If you want to stand out in this sea of competition, you need to get your business in front of the right eyes.
While this can be done organically in some rare cases, your best bet is a solid digital marketing strategy.
Without the right marketing strategy, your audience is likely to stumble upon a competitor before they see you. This takes you out of the running, as most people simply don't have the time to consider every single option on the market.
These things hold true for all businesses, including law firms.
---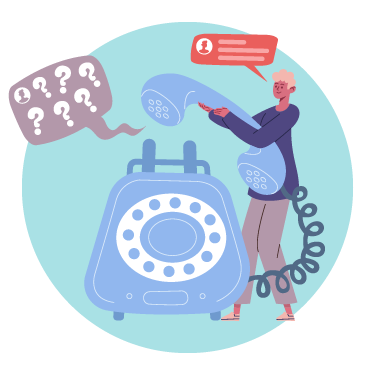 Why Marketing for Attorneys Matters
While attorneys certainly need to approach their businesses a bit differently than those selling physical goods, marketing is still just as important.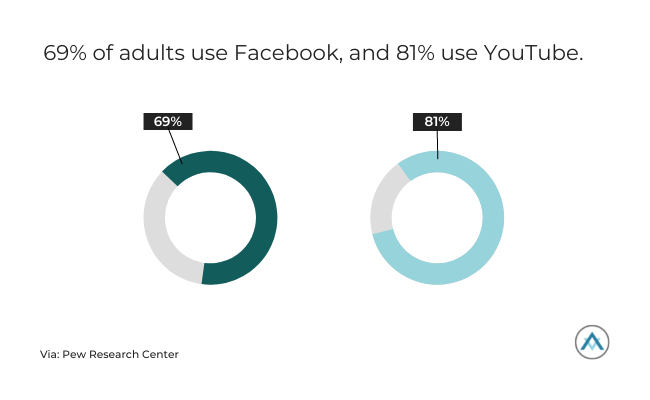 As we've said, people expect the right services to find them. According to Pew Research Center, 69% of adults use Facebook, and 81% use YouTube.
Users on these platforms are constantly seeing targeted ads based on search history.
They may see ads that seem to provide solutions to problems they're currently dealing with – including legal issues. These algorithms know if users need a divorce lawyer or a copyright attorney, and they display ads for legal professionals in those specific practice areas.
Obviously, you want those ads to be for your law firm. If not, then you're likely missing out on a potential client. This is why marketing for attorneys –and digital marketing in particular – is so important in the legal industry.
In case you weren't aware, virtually every law firm worth their salt is engaging in these digital marketing strategies. Make no mistake – this is the gold standard when it comes to finding clients who actually need your legal services.
---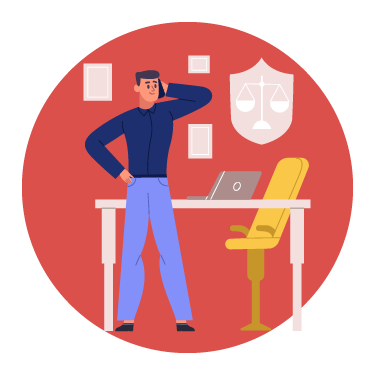 The Marketing Difficulties Facing Small Firms
Unfortunately, small firms face a few marketing disadvantages right out of the gate.
For starters, small firms typically have smaller marketing budgets than larger firms. While a large practice might be able to spend hundreds of thousands on marketing, small firms need to be more strategic.
Many solo attorneys run into issues because they don't know the best way to use their marketing budgets. Furthermore, they don't even have time to think about marketing strategies while they're focusing on helping their clients.
As a result, they end up blindly throwing money into their marketing strategies. This results in a low ROI, as they don't invest in effective lead generation, branding, SEO, or any other method that helps them attract their target audience..
The second disadvantage smaller firms face is that they lack a reliable attorney answering service.
---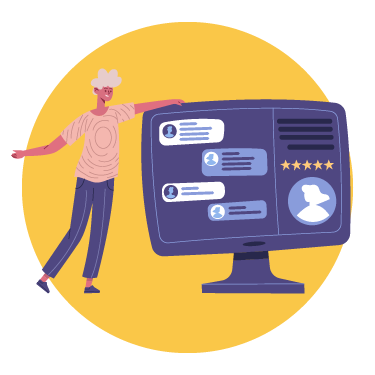 How an Attorney Answering Service Boosts Your Marketing Efforts
Large firms almost always have full-time receptionists. An effective attorney answering service boosts your marketing efforts in a few critical and often overlooked ways to help you level the playing field.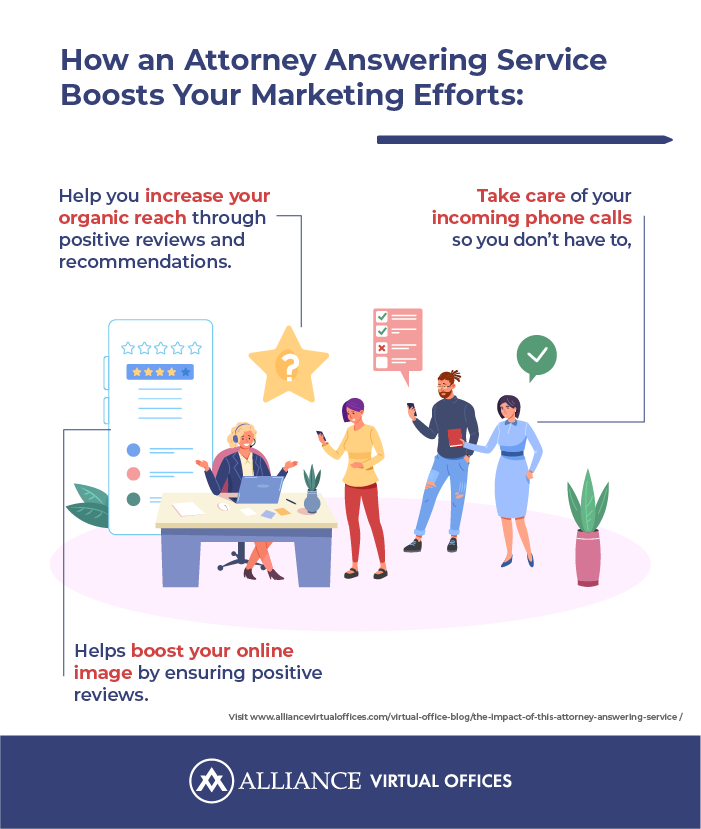 Firstly, an answering service takes care of incoming phone calls so attorneys don't have to. Spam calls cost the average business $9.46 each, and your business is anything but average.
Incoming phone calls might seem minor, but when you consider the amount of work an attorney has to do on a daily basis, a dedicated receptionist is clearly necessary for maximizing billable hours.
When you add a massive influx of calls into the mix, answering calls by yourself becomes even more untenable.
As a result, your marketing efforts suffer. You aren't able to set aside time to plan your strategy, sketch your target demographic, or create compelling marketing materials to attract new clients.
When you have someone taking your calls for you, you can focus on getting the most out of your marketing budget.
Secondly, a good attorney answering service helps you increase your organic reach through positive reviews and recommendations.
When you attempt to answer your calls on your own, it can be incredibly difficult to focus on boosting customer satisfaction. Let's face it – you're not a customer service rep. You're a legal expert who only has a certain amount of time to gather evidence, file appeals, and consult with your clients. Why not let a trained live receptionist answer your calls instead?
The truth is that even a slight lack of enthusiasm in your voice can result in subpar reviews. These reviews set a bad first impression for potential clients, often leading them to continue searching when they might have otherwise hired you.
Choosing the right attorney answering service ensures that each call is answered in an agreeable, polite, and caring manner.
Not only does this set an excellent first impression, but it also helps boost your online image by ensuring positive reviews.
But not all attorney answering services are created equal.
---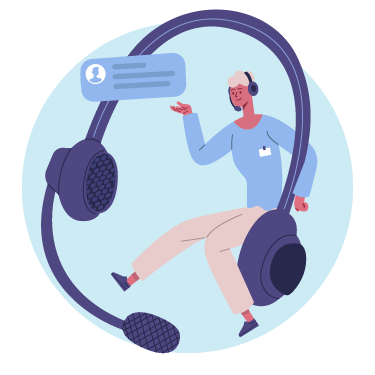 What is the Best Attorney Answering Service?
While there are many options to choose from, a virtual receptionist is almost always the best choice for your small firm.
Virtual receptionists are remote receptionists that connect to your business phone via a virtual number. From there, your virtual receptionist answers all incoming calls for you.
The best part…
You don't need office space to enlist the expertise of a professional receptionist!
Your receptionist will answer your calls while you're unavailable – be it meetings or spending time with your family – ensuring you never miss a potential client again.
This frees you from the need to answer constant, invasive phone calls throughout the day. As a result, you can focus on more important tasks, such as building an effective marketing strategy.
The freedom you gain will provide you additional time to educate yourself on the best marketing strategies, to create proper marketing materials, and attract plenty of high-paying clients.
On each answered call, your clients will be handled with the care and professionalism of a professional receptionist. Your callers will feel valued, and they'll end the phone call with a strong first impression.
Not only will this help you capitalize on leads and retain clients, but the resulting positive reviews will also help you expand your reach. Over time, this draws in even more new clients without the need to increase your marketing budget.
---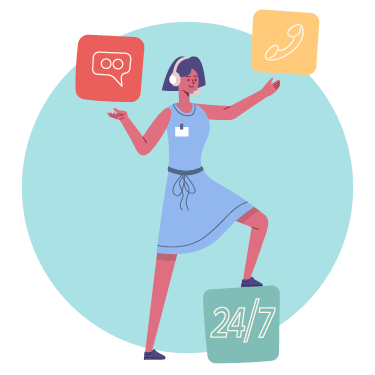 Key Attorney Answering Service Takeaways
In the modern world, marketing is absolutely crucial to any business' success. Law firms are no exception.
If you're running a small firm, you face the unique challenge of managing your marketing yourself while handling all the other tasks associated with operating a law firm. As a result, you may struggle to find the time to put together highly-effective marketing campaigns.
A virtual receptionist from Alliance Virtual Offices can help. With this effective, modern solution, your firm gains access to a professional receptionist who will handle your calls for you, freeing you to create and execute strong marketing strategies.
This helps your firm reach more potential clients, get more positive reviews, and make more effective use of your marketing budget.
Further Reading