---
---
Q: How can small business owners reduce the time spent screening spam and telemarketing calls so they can focus on their business?
A: Small business owners can eliminate time spent screening spam and telemarketing calls by using a virtual receptionist to handle their business calls.
---
Starting a small business has never been easier. Thanks to the widespread adoption of online shopping, you can launch a business from just about anywhere.
While this has allowed startups and small businesses to boom, it's not always smooth sailing.
Small businesses owners often face a dizzying amount of work as they attempt to take on all the business responsibilities at once.
One of the most annoying aspects of this is the constant intrusion of spam calls. Business owners who manage their own phones need to be responsive, as they can never be sure if the call is a potential sale or networking opportunity.
But with the proliferation of robocalls and telemarketers, these calls often end up being useless intrusions that interrupt workflow and pull you away from your work. 
Breaking concentration can cause you to lose great ideas and make it harder to stay in a flow state, slowing down your work and increasing your stress.
With many small businesses operating remotely, the solution to these constant spam calls needs to be flexible and in line with the modern workplace.
Enter the virtual receptionist.
---
---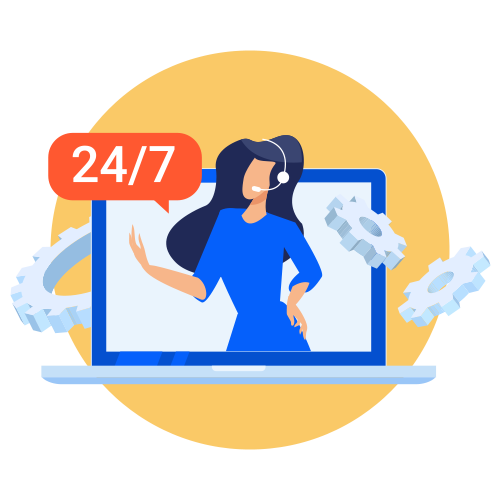 What is a Virtual Receptionist?
With the continued increase in solopreneurship, virtual receptionists have become highly prevalent. Before we discuss whether a virtual receptionist is the right solution for your small business, let's define the term.
A virtual receptionist is a friendly professional trained in customer service that answers your calls using your business name — so you can focus on your work.
These live, virtual receptionists work in a remote location, saving the small business owner the costs associated with real estate.
Along with taking messages and forwarding them to you, virtual receptionists can provide a variety of other services, including lead generation and appointment setting.
Often, you are able to choose what responses are available for callers. You may include the answers to frequently asked questions, allowing callers to get the information they need without having to speak to anybody directly.
You can also set up the virtual receptionist so that callers have the option to connect to you directly in certain cases. This lets you avoid many unnecessary interruptions while still retaining a bit of a personal touch.
---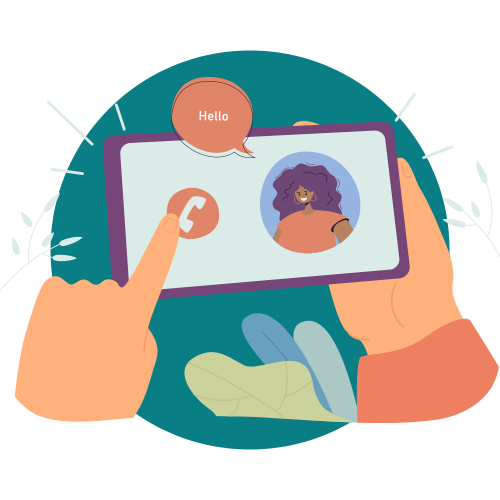 How does a Virtual Receptionist Combat Spam Calls?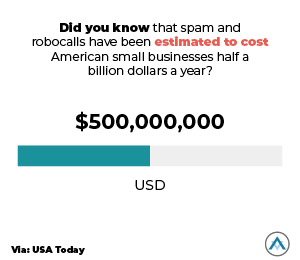 Did you know that spam and robocalls have been estimated to cost American small businesses half a billion dollars a year?
Virtual receptionists help combat spam and robocalls to your business phone by preventing them from reaching you in the first place.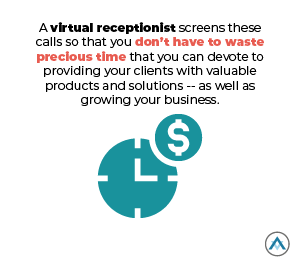 A virtual receptionist screens these calls so that you don't have to waste precious time that you can devote to providing your clients with valuable products and solutions — as well as growing your business.
In other words, a virtual receptionist allows the small business owner to focus on the business instead of constantly dealing with useless, time-consuming calls.
When it's a telemarketer that calls, virtual receptionists are still able to assist you. Virtual receptionists let the telemarketers know that they've reached a business rather than an individual.
In most cases, the telemarketer won't call in the future, leaving you uninterrupted to focus on your workday.
---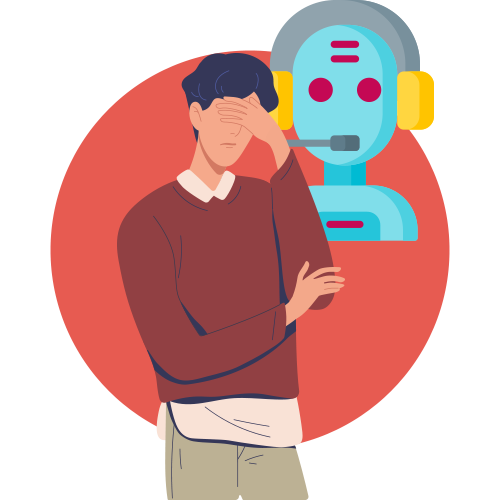 The Pitfalls of Other Answering Services
All that said, many companies offer lackluster answering services for small business owners.
Many of these automated answering services for businesses are just glorified voicemail software that do little more than allow customers to leave a message.
Most customers who call a professional business expect to reach the company and speak with someone who works there.
It can be quite the letdown when an interested customer or prospect calls your business only to reach an automated answering service — or a receptionist that does little more than answer the phone and take down the caller's number.
Luckily, there's an alternative to these unprofessional reception services and automated software products: the virtual receptionist.
---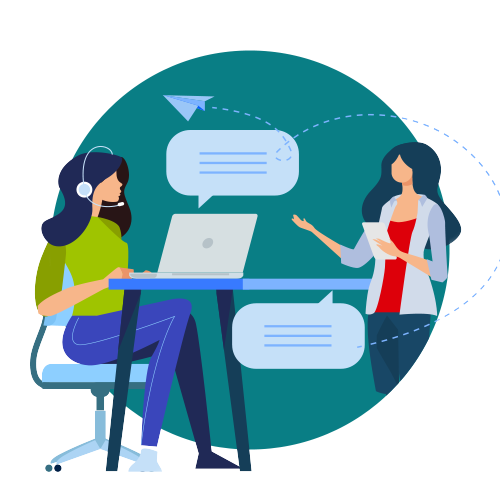 How does a Virtual Receptionist work?
Virtual receptionists are remote receptionists that answer your business phone for you. Unlike automated software, virtual receptionists are real people.
These receptionists answer your business calls. They can even answer your business calls using your company's name, improving your business brand and credibility.
Virtual receptionists are a flexible solution for the agile business owner working remotely.
Because they are working from a remote location, virtual receptionists are a cost-effective solution for many business owners who work out of their homes, on the road, or in non-traditional offices.
Imagine never missing or ignoring another crucial business call again with a friendly receptionist to answer your calls.
They can also take your messages, set appointments, and even assist with lead generation — depending on the plan you choose.
---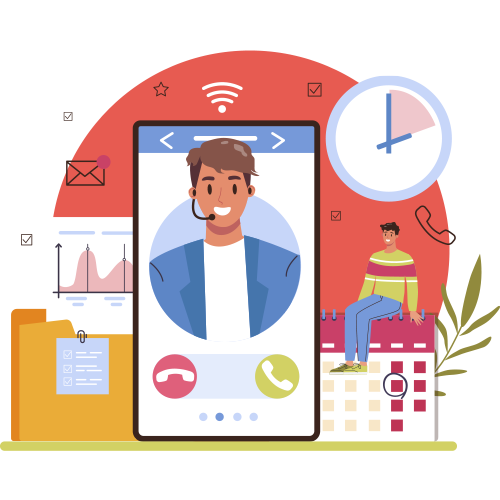 How do Virtual Receptionists Save You Time?
Virtual receptionists combat spam and telemarketing calls that plague many small businesses today.
By answering your phones for you, virtual receptionists prevent the constant influx of spam calls from interrupting your work. They only pass along calls that are truly important, meaning you won't have to worry about being greeted by a robocaller when your phone rings.
Virtual receptionists prevent these annoying calls from reaching your inbox. In turn, this keeps you from having to sift through useless voicemails from spam callers, cutting down on your overall workload.
Additionally, virtual receptionists can tell telemarketers to add your business number to the do not call list. Not only does this keep you from having to deal with the telemarketers when they call, but it also ensures that the calls won't continue during non-business hours.
Because of this, you won't have voicemails from telemarketers who call when you or your receptionist are off duty.
In these ways, virtual receptionists streamline your workflow and save you time.
---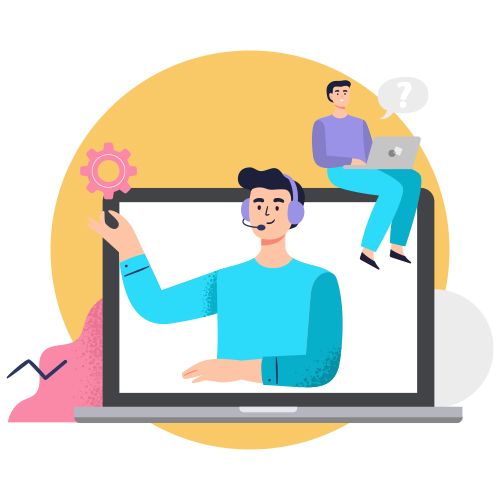 Should You Get a Virtual Receptionist for Your Small Business?
Like all things, getting a virtual receptionist has costs and benefits. Deciding if you should make the investment comes down to analyzing your unique situation.
If you're operating your small business remotely and getting bombarded with spam calls, you should consider getting a virtual receptionist for your business.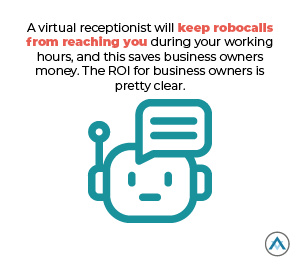 A virtual receptionist will keep robocalls from reaching you during your working hours, and this saves business owners money. The ROI for business owners is pretty clear.
Virtual receptionists will also keep telemarketers from getting through to you while you're working. This allows business owners and small companies to focus on their customers instead of annoying call bots, robocalls, and telemarketers interrupting crucial business tasks.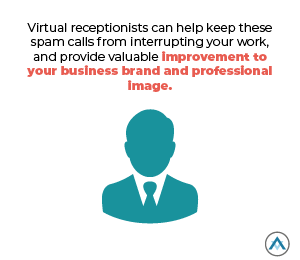 A virtual receptionist will prevent spam calls from reaching you or leaving you messages, keeping your inbox easy to manage and ensuring only important messages make it to you. This can be an important cost-benefit that pays for itself
Considering the amount of robocalls businesses receive, it makes sense to invest in a virtual receptionist to offset this costly headache.
You can always try blocking robo callers yourself. This can help ease the burden answering your phones places on you — but it can be hit or miss and time-consuming.
---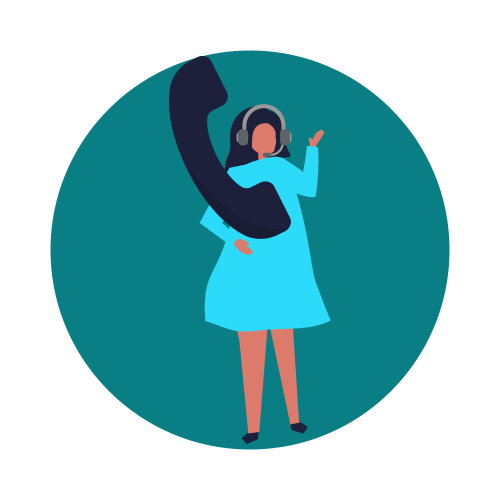 How Can You Get a Virtual Receptionist?
Virtual receptionists have become increasingly popular for small business owners, but not all services are the same.
Not all virtual receptionist services are created equal. You'll want to find a virtual receptionist that can answer your business calls using your company's name and do more than act as a talking voicemail service.
You'll also want to make sure the service has an option for callers to contact you directly. This will allow important networking opportunities to speak with you, boosting the likelihood that you can capitalize on them.
One final consideration, make sure the virtual receptionist is friendly and professional and can add value to your business brand.
Since you're not dealing with software, your primary concern should be on the professionalism and skill of the receptionist you're hiring.
A good virtual receptionist will not only represent your business well but will also help organize your messages, making it easier for you to respond to important callers without being bogged down with extra work.
When reviewing virtual receptionist options, look for a service that offers highly-skilled, well-trained receptionists who can dedicate themselves to building a positive emotional connection with your callers.
---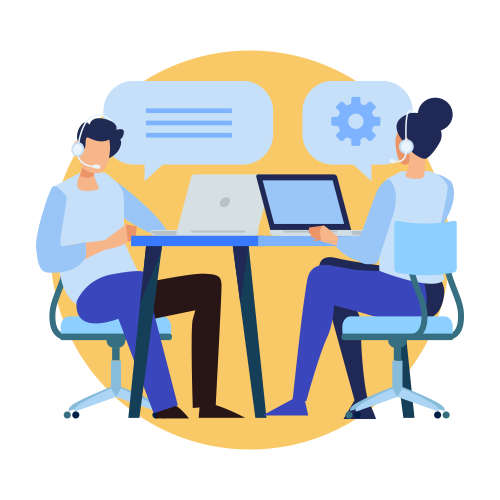 Conclusion
If you're operating your small business remotely or as a solopreneur, you may find yourself swarmed with spam calls. These calls interrupt your work and make it difficult to stay focused.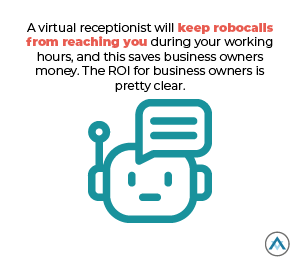 Luckily, virtual receptionists can help reduce and combat spam calls, leaving you free to concentrate on building your business.
Virtual receptionists can help keep these spam calls from interrupting your work, and provide valuable improvement to your business brand and professional image.
If you're looking to free yourself up and avoid the distraction of constant incoming calls, Alliance's live receptionist services can help. You gain access to unlimited local and long-distance minutes and a national 411 listed number, all with the personal touch of a friendly and professional receptionist answering your phones.
---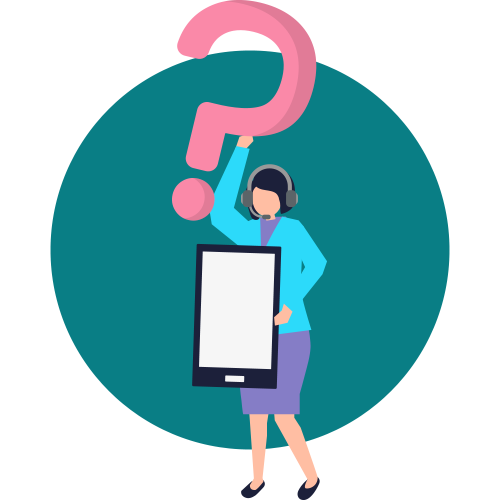 Further Reading