---
---
Q: What is a statutory agent? Can I act as a statutory agent for my business?
A: A statutory agent, or registered agent, is a person or entity designated by your business to receive legal documents. While you could hypothetically act as a statutory agent for your business, you should avoid doing this to remove any liabilities.
---
The pandemic and its ensuing fallout have been difficult for small business owners.
Sure, starting a business is more straightforward than ever before, but thanks to inflation, lockdowns during Covid-19, and widespread fears about the state of the economy, business owners are dealing with a lot right now.
During Covid-19, both men and women business owners experienced exponentially higher daily stress and daily worry. Unfortunately, women received the brunt of these negative feelings, but all business owners have had to deal with the frustrations of ownership in uncertain times.
Thankfully, business owners have the tools and services to avoid some of this stress and worry.
One service that some business owners forego in an attempt to save money is a service that provides your company with a statutory agent.
A statutory agent, or registered agent, is an individual or entity that receives your business's legal documents. Technically, you can act as a registered agent for your business, but this sets you and your company up for potential problems should you work at various locations or if you're absent from the physical location you listed in the filing process.
There are some rules regarding your statutory agent address and others regarding your statutory agent fee, but you're almost always better served just using a registered agent service or an individual you trust that lives in the state your business is located.
In this article, we'll explain what a statutory agent is, whether you need a statutory agent of LLC, the steps necessary to secure a statutory agent, and contacts you can contact for statutory agent services.
If you're seeking statutory agent acceptance, you're in the right place. Take a moment to keep reading to understand the importance of your statutory agent and to understand why you should utilize a third party for assistance.
---
---
What is a statutory agent?
Before we explore the complexities of statutory agents and determine whether you can act as a statutory agent for your business, let's take a moment to explain what a statutory agent is.
A registered agent and a statutory agent are the same thing, and the words are used interchangeably.
---
Read more: Registered Agents: The Good and the Bad
---
If you're hoping to start a business, there is no world where you can avoid having a statutory agent. At the time of writing, all 50 states require LLCs to appoint a statutory agent.
A statutory agent, also known as a registered agent or an agent for service of process, is a person or entity designated by a business entity to receive legal documents, such as lawsuits, subpoenas, and other official notices, on behalf of the entity.
Essentially, the statutory agent acts as a point of contact between the business entity and the legal system. This ensures that important legal documents are received and forwarded to the appropriate parties promptly.
Without a statutory agent, businesses being sued or given subpoenas could simply claim that they hadn't received their mail, which would cause significant delays and frustrations within the court system.
In almost every jurisdiction and every American one, having a statutory agent is a legal requirement for businesses, including corporations, limited liability companies (LLCs), and partnerships, to maintain their legal status and comply with state laws.
A statutory agent is designed to help keep your company accountable to the court system without forcing law enforcement officers to waste time personally delivering your mail and ensuring you've received it.
If you're worried that this means you have to find a trustworthy individual in the state your business is incorporated in, don't worry, this isn't the case.
Thankfully, the wording allows for entities as well as individuals. Sure, if you know someone who's been living in the same state as your business, who's over 18 years of age, and who will be at the same address each day, you can always use this individual, but the best bet is almost always to use a statutory agent service that handles your sensitive documents for you.
The statutory agent's address is typically listed in the entity's formation documents, such as articles of incorporation or articles of organization. It is a publicly available address where legal documents can be served.
In most states, the statutory agent must be available at the location specified for the entirety of the business day to ensure that the mail is always handled swiftly.
The statutory agent may also be responsible for maintaining accurate records of legal documents received and may have additional responsibilities, like notifying the entity of upcoming filing deadlines or other legal requirements.
This may sound like a lot of responsibility, but the largest task is just being readily available for incoming documents.
The cost of a statutory agent provider's service will vary by state and will likely depend on how expensive it is to run a business in the area.
---
Read more: How Much Does a Registered Agent Cost?
---
In a state like Nevada, you can expect to pay $60-$100 per year for your statutory agent, but in a state like California or South Carolina, that cost may be as high as $150-$300 per year.
Realistically, neither of these prices are unmanageable, and the benefits you receive from utilizing a service that provides you with a statutory agent greatly outweigh the negatives associated with spending a few hundred dollars.
Do you need a statutory agent?
The pandemic may have harmed existing businesses, but one benefit that isn't often discussed is the explosion of new businesses that began as a result.
During the height of Covid-19, there was a 55% increase in the number of new business applications submitted. With so many new businesses cropping up, entrepreneurs can utilize one of the professional statutory agent providers to act on their business's behalf.
A small remote business may need a statutory agent to comply with legal requirements in the state(s) where it operates.
Many states require businesses to designate a statutory agent as a point of contact for receiving legal documents, and failure to do so may result in penalties or even dissolution of the business entity.
If you couldn't tell, these risks of acting as your company's statutory agent are why you should always outsource this position, regardless of how simple it seems.
---
Read more: The Risks of Being a Registered Agent
---
As a business owner, you already have enough to worry about. Adding the responsibilities of acting as a statutory agent simply isn't worth it.
Having a statutory agent can help ensure a small remote business receives important legal documents on time. Legal documents, like lawsuits and subpoenas, may have time-sensitive deadlines that require quick action.
A statutory agent can ensure that these documents are promptly forwarded to the appropriate parties for response or action, whichever is needed.
In addition, a statutory agent can provide flexibility for small remote businesses that do not have a physical presence in the state(s) where they are required to have a resident agent.
Since a statutory agent is designated to receive legal documents on behalf of the business entity, the business owner(s) can operate their businesses remotely without having to maintain a physical address in every state where they do business.
In the event of a lawsuit or legal dispute, a statutory agent can help ensure a small remote business receives proper notice and has an opportunity to respond.
Failure to properly receive legal documents can result in a default judgment, which can have serious consequences for the company.
A default judgment, sometimes called a judgment by default, is a ruling where the judge or court rules in favor of the plaintiff because the defendant hasn't responded or appeared.
As you can imagine, this could be disastrous for your company.
If someone files a frivolous lawsuit against your business and your statutory agent doesn't get you the Summons and Complaint in time, you may be on the other end of a default judgment that costs you an astronomical amount of capital.
Situations like these are uncommon, but they're a stark reminder of why you should never act as a statutory agent for a business you own. The risks far outweigh the benefits, and the cost of using a statutory agent service is considerably lower than other business expenses.
Having a reliable statutory agent can help mitigate this risk and ensure that the business has an opportunity to defend itself in legal matters.
If you have the time to respond and plan a course of action, you'll never feel blindsided when it matters, and you'll never get hit with a default judgment that cripples your company.
How to get a statutory agent
One of the more exciting aspects of modern business ownership is the ability to take advantage of the countless tools, perks, and platforms you have at your disposal.
Digital marketing allows your business to target hyper-specific audiences; data analytic tools make it easy to see where your target audience spends their time; affiliate marketing creates mutually beneficial funnels with other companies, and statutory agent services are easy to find.
---
Read more: The Perfect Affiliate Marketing Program for Your Business
---
Don't let the state-specific rulings confuse you, "statutory agent: Arizona meaning," only means that the person or entity has a physical address in Arizona.
Similarly, although each state may have a slightly different process for registering your business, each state will eventually require you to appoint a registered agent.
Some business owners want to act as statutory agents for businesses they run because it's cheaper. Unfortunately, this is misguided and can cause more trouble than it's worth.
Many entrepreneurs are under the impression that you should be saving as much money as possible at every single opportunity. When presented with the option to spend a few hundred dollars on a registered agent or to spend no money and act as a statutory agent for their businesses, the choice seems obvious.
Rather than focusing on how much money you can save in every interaction, you should focus on what provides the most value for your business in the long term.
Take a moment to imagine this scenario; you're presented with two options.
In one, you can spend $300 per year for a statutory agent service that handles your incoming sensitive documents and ensures that you receive these documents on time.
Or, you spend no money, but you and you alone are wholly responsible for keeping up with all your company's incoming mail and any sensitive documents.
After a few months, both options are hit with their first lawsuits.
In the first option, your business's statutory agent is on top of it and provides you with a Summons and Complaint that they received mere hours before. Because you got this information so early, you now have several days to prepare and determine how to fight the lawsuit in court.
In the other option, you're stressed. You're trying to make sure you're available to secure time-sensitive documents, but you're doing so much that you miss or forget about their arrival, and it takes a full week to realize what you've missed.
A few weeks later, you're hit with a default judgment that costs your company more than you've ever made to date.
Now, you have to deal with declaring bankruptcy or trying to vacate the default judgment, which requires a new trial and a filed form.
Thankfully, some providers can solve this quandary for you before you ever find yourself in this kind of situation.
Anderson and Inc Authority are the best choices for businesses looking for a statutory agent.
They offer nothing but the best, most professional agent services, so you never have to worry about your business receiving government correspondence.
They have an established and dedicated workflow, so you know your business always receives the highest level of service possible.
Below, we've covered both Inc. Authority and Anderson in more detail to explain the services they provide.
Inc. Authority
Inc Authority has existed for over thirty years, has helped more than a quarter of a million businesses get started, and has helped in the incorporation of more than 25,000 LLCs.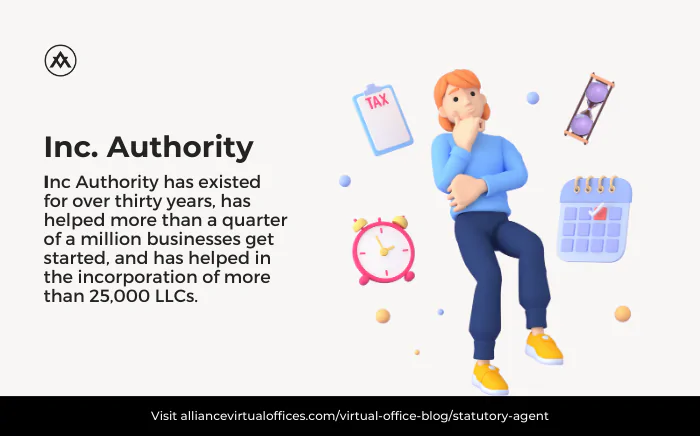 Launched in 1989, Inc Authority acts as a full-service business formation provider. This means they're ready to assist you in any area of your business journey.
If you go through the incorporation process with Inc. Authority, you get a free year of statutory agent services. Another great part of Inc Authority's business is that they waive their service charges if you incorporate your business with their service.
This means that you're only required to pay your state-specific filing fees, which you're going to have to pay regardless of who helps you form your LLC.
Headquartered in Reno, Nevada, Inc Authority has the tools to help you effectively grow your business and has the network to provide you with a statutory agent that prevents you from ever missing important documents and other government correspondences.
For more information about Inc Authority's services – click here!
Anderson
Established in 1993, Anderson Advisors is the largest entity-formation firm in the country.
Not only will Anderson provide you with a high-quality statutory agent, but with anything related to business ownership that you're struggling with, they can help.
Many firms charge an hourly fee that gets progressively more expensive the longer you utilize their services. Anderson, however, has created a fee-based structure that allows the costs of creating and implementing their plans to be inclusive.
Unlike other entity-formation firms, Anderson has CPAs and financial advisors on their payroll who are happy to provide an unbiased look at your business and realistic recommendations about the next steps and later planning.
Even better, you can schedule a free 30-minute consultation to go over your company and identify potential risks and blind spots while simultaneously identifying any benefits you're entitled to but may not be receiving.
For further information and to set up your free 30-minute consultation – click here!
Statutory agent and Alliance's Virtual Offices
A statutory agent is the point of contact between your business and the government.
While you can serve as your own statutory agent, doing so is risky and stressful. Let the professionals at Anderson or Inc. Authority handle it for you.
Through Alliance, you can procure a Virtual Office that provides you with a professional and prestigious business address, regardless of where you're located.
Using a Virtual Office in conjunction with the statutory agent services provided by Anderson and Inc Authority allows you to enjoy remote or hybrid work opportunities without worrying about who you know or where you're located in a particular state.
Don't risk acting as a statutory agent for your business. The risks of doing so are vast, and the money you could wind up having to pay for a default judgment or another mishandled kind of lawsuit far outweighs the money you could save by refusing to use a statutory agent service.
Instead, take advantage of Inc Authority or Anderson Advisors and enjoy registered agent services that allow you to focus on the more nuanced aspects of your company's operations.
---
Further reading
---
Alliance Virtual Offices provides Virtual Office services and a slew of other digital tools and services designed for new entrepreneurs, established business owners, and everyone in between.
If you're looking for a statutory agent, be sure to check out Inc Authority and Anderson to find the best fit for your specific business.
With a Virtual Office and one of the above providers, you can get your business started and your statutory agent appointed without breaking the bank or risking too much capital.
Remember, your statutory agent is the go-between for your business and important government correspondence. The risk of having an untrustworthy or too-busy statutory agent is vast, and the ramifications of a default judgment could have a lasting effect on your company's success.
Don't allow a few hundred dollar expense you were unwilling to pay to land you in an untenable position a few months later.
Contact us today to see how Alliance Virtual Offices can help you find the right statutory agent for your business, and be sure to check out our Virtual Office Blog for more helpful information!