---
---
Q: How should I market my business? What are the best small business marketing tools available?
A: The way you market your business depends mainly on what kind of business you're running. The best small business marketing tools are primarily online and digital services that help you connect with countless consumers simultaneously.
---
Recent years have seen several widespread shifts in the general labor market.
Although remote work has existed for decades, it wasn't until the social fallout of COVID-19 that nontraditional workstyles, like remote and hybrid workstyles, became normalized.
Unsurprisingly, this shift in public perception brought countless changes in other industries.
Marketing is one of these industries. That said, marketing evolves quicker than most other industries out of sheer necessity, but the pandemic accelerated this evolution regardless.
Unfortunately, this quick evolution makes it somewhat difficult for the average small business owner to keep up.
Small business owners are at a distinct disadvantage because marketing, especially when you aren't up to date with the latest trends and your audience's data, is hard enough, even without mentioning the recently shifted trends.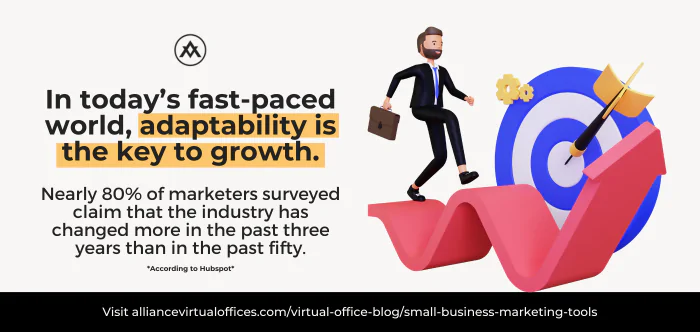 HubSpot's 2023 Marketing Strategy & Trends Report discusses this rapid shift. Nearly 80% of marketers surveyed claim that the industry has changed more in the past three years than in the past fifty.
Additionally, HubSpot's report shows that short-form video and influencer marketing will remain popular avenues for brands hoping to increase their reach.
In this article, we'll look at why small business marketing tools are so important for your growth, which tools are the best for your business, how to get the most out of your marketing tools, and finally, how to use Alliance Virtual Offices to create a solid foundation for your small business marketing tools.
---
---
Why are small business marketing tools so important for your growth
Determining why small business marketing tools are paramount to your business's growth requires a deeper understanding of developments within the marketing industry, small business marketing techniques, and the best practices for increasing your company's reach.
No discussion of the intricacies of marketing would be complete without discussing the recent boom of interest in content marketing.
---
Read more: The Power of Content Marketing for Small Businesses: A Comprehensive Guide
---
Content marketing is as straightforward as content created in-house, by a third party, or by your community, designed to drive interest toward your brand.
Similarly, marketers need to understand the nuances in search engine optimization designed to help your company appear higher on various search engine results pages.
---
Read more: The Best Affordable SEO Service for Small Business
---
Digital marketing for small business requires marketers to understand the importance of content marketing vs. the importance of email marketing initiatives vs. SEO tactics and other nuanced niches within the industry.
To help you further understand why small business marketing tools are so important to a company's scalability, we've created a brief list of ways these tools can help your business grow.
Cost-effective reach
Increased brand visibility
Targeted audience engagement
Improved customer relationship management
Data-driven decision-making
Cost-effective reach
Small business marketing tools enable cost-effective reach to a wider audience.
With limited resources, small businesses can utilize tools like social media platforms, email marketing, and search engine optimization (SEO) to connect with potential customers without spending a fortune on traditional advertising.
These tools allow small businesses to compete with larger companies by reaching their target audience efficiently and at a lower, more affordable cost.
Increased brand visibility
Marketing tools will help small businesses increase brand visibility in the competitive market.
By utilizing tools like content marketing, social media management, and online advertising, small businesses can create and promote their brand identity effectively. This increased visibility can lead to greater recognition and trust among potential customers, ultimately driving growth and attracting new business opportunities.
Targeted audience engagement
Small business marketing tools allow for targeted audience engagement on Saturday or any other day of the week!
Through tools like customer relationship management (CRM) software, businesses can gather valuable data about their customers' preferences, interests, and behavior. This data enables personalized marketing campaigns that resonate with the target audience, leading to higher engagement and conversions.
By understanding their target audience better, small businesses can tailor their marketing efforts to meet the specific needs and desires of their customers.
Improved customer relationship management
Effective marketing tools facilitate improved customer relationship management for small businesses.
By utilizing tools like email marketing automation and customer feedback systems, businesses can maintain ongoing communication with their customers, build strong relationships, and nurture loyalty.
Strong customer relationships lead to repeat business, positive word-of-mouth recommendations, and increased customer retention, all of which contribute to long-term growth and success.
Data-driven decision-making
Small business marketing tools provide valuable data and analytics that enable data-driven decision-making.
By tracking key metrics such as website traffic, social media engagement, and conversion rates, small businesses can gain insights into the effectiveness of their marketing strategies.
This data helps them identify areas of improvement, make informed decisions about their marketing budgets, and optimize their campaigns for better results.
By leveraging data-driven insights, small businesses can continuously refine their marketing efforts, resulting in sustained growth and a competitive edge in the market.
Which tools are the best for your business?
The best small business marketing tools for your business depend mostly on what you want to accomplish and what kind of business you run.
Essentially, if you're looking for the best free small business marketing tools, you'll likely be looking for different services than the entrepreneur who is searching specifically for small business email marketing tools.
Regardless of what you're looking for, there are a few identifiers you should look out for to help you determine how worthwhile various small business marketing techniques and tools are.
---
Read more: Digital Marketing for Small Business: Mastering Strategies for Explosive Growth
---
Below, we've put together a list of different tools that can help you with several areas of your operations.
Customer Relationship Management (CRM) Software
Social Media Management Tools
Email Marketing Platforms
Search Engine Optimization (SEO) Tools
Analytics and Reporting Tools
Customer Relationship Management (CRM) Software
CRM software like Salesforce, HubSpot, or Zoho CRM helps businesses manage and organize customer data, track interactions, and automate customer communication. They streamline sales processes, improve customer service, and enhance overall customer relationship management.
Salesforce was founded in 1999 as a broader SaaS company but has gone on to deal more specifically with cloud-based software and CRM services.
Salesforce offers AI tools, data analytics, and CRM software that can help entrepreneurs better connect with consumers and use AI-assisted tools to drive sales.
Born at MIT in 2006, HubSpot originally started as a blog to show ideas and cultivate community. Eventually, as the blog grew, HubSpot capitalized on its community and focused on delivering valuable help to companies looking to improve their operational scalability.
Originally AdventNet, Inc., Zoho CRM is the oldest of the CRM companies and was founded in 1996. After almost two decades of selling network management software, the company rebranded to focus on a very successful 2005 release, Zoho CRM.
Each of these CRM software service providers can offer you a variety of different amenities; it's up to you to determine which is right for your business.
Social Media Management Tools
Social media platforms play a crucial role in modern marketing strategies. Many newer entrepreneurs neglect to understand how important these platforms are for establishing your business in a specific location.
Tools like Hootsuite, Buffer, or Sprout Social allow businesses to schedule posts, manage multiple social media accounts, monitor engagement, and analyze performance.
They help streamline social media marketing efforts, increase brand visibility, and effectively engage with the target audience.
Hootsuite is a platform born largely out of necessity in 2008 when the founders' employer needed a tool to manage social media. Hootsuite helps business owners manage content, schedule and publish posts, manage teams, and more.
Newer than Hootsuite, Buffer was launched in 2010, initially in the United Kingdom. Originally a one-man developer who had an idea and ran with it, Buffer's constant transparency has built longstanding public trust in the company.
Buffer utilizes both mobile applications and a browser extension to allow users to create, share, and track social media posts anywhere. Additionally, Buffer gives its users regular analytic updates to ensure that marketing initiatives are going as planned.
Founded in 2010 as well, Sprout Social is another platform specifically designed to help businesses drive insights to their social media accounts that result in sales. Many marketing platforms focus seemingly exclusively on engagement online, but Sprout Social does a good job of managing the data around your conversions.
Again, each of these platforms stands out for different reasons, and the only way to determine which small business marketing consultant tools are right for your business is by learning as much as you can about each option.
Email Marketing Platforms
Email marketing remains one of the most effective ways to reach and engage customers.
Tools like Mailchimp, Constant Contact, or ConvertKit provide features for creating visually appealing email campaigns, managing subscriber lists, and analyzing campaign performance.
They enable businesses to nurture leads, promote products or services, and build strong customer relationships.
Mailchimp utilizes automated email and SMS services with AI tools to help you create effective and measurable email marketing campaigns.
Constant Contact allows entrepreneurs to express their comfort with marketing and email campaigns and has specifically designed tools for individuals without much prerequisite knowledge.
Finally, ConvertKit helps more than 600,000 creators send billions of emails each month and serves as a marketing hub for all your extraneous needs. Better yet, they offer a 14-day free trial for new users.
Each of these email marketing platforms comes with its own set of benefits; it's up to you to determine the right platform for your operations.
Search Engine Optimization (SEO) Tools
SEO tools like SEMrush, Moz, or Ahrefs help businesses optimize their website content, track keyword rankings, conduct competitor analysis, and improve their overall online visibility.
These tools provide insights into keyword opportunities, backlink analysis, and technical SEO improvements, helping businesses increase organic traffic and rank higher in search engine results.
Utilized by companies like FedEx and Tesla, SEMrush is a marketing platform that focuses on SEO, content marketing, competitor research, PPC, and social media all in one. With such an extensive client list, SEMrush may be pricier than some of its competition, but it's clearly proven its worth.
Moz also boasts an impressive client list, with companies like Zillow, Trivago, and Aaron's utilizing their services. Additionally, Moz focuses all of its efforts on creating an all-in-one SEO toolset to help your content reach more consumers.
Each of the companies mentioned has some impressive clients, as Ahrefs also boasts clients like PlayStation, Adobe, eBay, and IBM. Ahrefs is particularly useful for newer entrepreneurs, as the website offers countless free marketing and SEO tools that will help these individuals get a better feel for the industry.
SEO is important because of the sheer amount of saturation online. If you aren't paying attention to the algorithm and utilizing the opportunities it provides, you'll always be a step behind.
When you stay up to date on popular keywords, trends, and important backlinks, you have a much better chance of creating content that will be rewarded by the algorithm and, therefore, seen by more consumers.
Analytics and Reporting Tools
Data-driven decision-making is essential for business growth.
Tools like Google Analytics, Google Data Studio (now known as Looker Studio), or Adobe Analytics offer in-depth insights into website traffic, user behavior, conversion rates, and marketing campaign performance.
They enable businesses to measure and analyze key metrics, identify trends, and make informed decisions to optimize their marketing strategies.
One of the more popular options, Google Analytics, is used by many for good reasons. Google branding makes the analytics themselves more trustworthy than other brands, and the sheer amount of information you can analyze within Google Analytics makes it a great way to help your business make good decisions moving forward.
Looker Studio, formerly known as Google Data Studio, is a platform that can best be described as complementary to Google Analytics rather than a competing platform.
Looker Studio takes the tracked and analyzed data and allows you to display all online data in a concise and manageable way. This gives you the opportunity to better display this data and these visualizations for others.
Adobe Analytics is a great competitor to the Google-dominated world of analytics. Through Adobe Analytics, you get a wide variety of personalized insights designed specifically to provide you with the information necessary to make data-driven decisions.
Adobe also uses machine learning and AI to help better predict coming market trends and reveal hidden opportunities that may not be as clear without predictive help.
As you can see, there are countless small business marketing tools that are available for your business. The key is determining the best ones that help you accomplish your specific goals.
How to get the most out of your marketing tools
If you want to know how to make the most out of your small business marketing tools, you have to know how to create the business infrastructure to fully acknowledge their use.
---
Read more: How to Start a Virtual Company
---
Nevertheless, we've put together a brief list of actionable steps you can take to ensure you're getting the most out of any small business marketing automation tools and tools that don't include automation either.
Seat clear goals and objectives

Clearly define your marketing goals and objectives before implementing any tools. Whether it's increasing brand awareness, driving website traffic, or generating leads, having specific goals will help you choose the right tools and measure their success accurately.

It's worth reiterating that if you don't have clear and concise goals, you're very likely just throwing money away. If you don't know exactly what you want to accomplish, how can you ever determine whether or not you've been successful?

Conduct proper research

Thoroughly research the available marketing tools and compare their features, pricing, and customer reviews. Consider your budget and the specific needs of your business to find the tools that align with your goals and offer the necessary functionalities.

Utilize training and support resources

Many marketing tools provide training resources, tutorials, and customer support. Take advantage of these resources to fully understand the features and capabilities of your chosen tools.

Training can help you uncover hidden functionalities and optimize your usage to achieve better results.

Integrate and automate processes

Explore the integration capabilities of your marketing tools with other software or platforms you use. Integrating tools like CRM, email marketing, and social media management can streamline your marketing efforts and automate processes, saving time and improving efficiency.

Measure and analyze results

Regularly monitor and analyze the performance of your marketing campaigns using the analytics and reporting features of your tools. Track key metrics like website traffic, conversion rates, and customer engagement, to evaluate the effectiveness of your marketing efforts.

Use these insights to make data-driven decisions and optimize your strategies accordingly.

Analyzing data is why it's so important to understand what you want to accomplish. If you don't have a clear goal, the amount of data will likely be overwhelming, and you won't get a lot of actionable insights.

Leverage professional business address and phone services

An Alliance Virtual Office provides you with a professional business address and phone number, even if you operate remotely.

Utilize these services to create a strong brand image and establish credibility with customers and partners.
If you follow these steps, you'll get ample information from the small business marketing tools you've decided to utilize.
Using Alliance Virtual Offices to create a solid foundation for your small business marketing tools
Marketing tools are crucial for the growth of small businesses, providing cost-effective reach, increased brand visibility, targeted audience engagement, improved customer relationship management, and data-driven decision-making.
Popular tools include CRM software, social media management tools, email marketing platforms, SEO tools, and analytics and reporting tools.
That said, you won't get everything out of these small business marketing tools that you can if you don't have the infrastructure designed to handle an increase in scalability.
Leveraging an Alliance Virtual Office can further enhance marketing efforts by providing professional business services, virtual receptionist support, access to meeting rooms, and networking opportunities.
By utilizing these tools effectively and implementing best practices, small businesses can maximize their marketing efforts and achieve sustainable growth.
---
Further reading
---
Alliance Virtual Offices provides Virtual Office services, Live Receptionists, and more to established entrepreneurs and brand-new business owners alike.
With a Virtual Office from Alliance, your business can utilize any small business marketing tools with full confidence that your office is ready to support the increased growth.
Contact us today to see how Alliance can help you find the right small business marketing tools for your business, and be sure to check out our Virtual Office Blog.