---
---
Q: How do I determine what to focus on within my small business? What resources and time should I dedicate to marketing?
A: As a small business owner, determining what areas to focus on depends largely on your industry, goals, and target audience. While your business is still in its infancy, you should dedicate a substantial amount of time and energy to determining your specific business's most effective marketing strategies.
---
The job market is evolving faster than most can keep up with and taking other aspects of business ownership along with it.
One rapidly evolving aspect is companies' small business marketing solutions they use to connect with target audiences.
Sure, marketing itself still serves the same purpose. Still, over time, small changes in execution, like calling 'mood boards' 'worlds,' in conjunction with rapidly advancing technological capabilities, create an environment wherein modern marketing is effectively unrecognizable from the repetition-heavy adverts of a few decades ago.
HubSpot's State of Marketing 2022 Report lends credence to this idea. According to the survey, 88% of America's population over the age of 11 owns a smartphone, 78% of salespeople who utilize social selling are outselling their peers who are declining to do so, and 4.1 billion individuals own an email address.
Unsurprisingly, marketing to this new, highly online class of consumers will look different than marketing did ten years ago.
In this article, we'll explain why marketing should be one of the main focuses of any small business owner, explore the 10 best small business marketing solutions, determine how to combine these solutions for maximum impact, and finally, we'll show you how to use a Virtual Office to help leverage small business marketing solutions.
So, if you've been searching for location-specific help, like "Small business marketing services Boston," or explanations like "Simple marketing strategies for small business," you're in the right place.
Keep reading to understand when it's time for outsourcing marketing for small businesses, when it's time to hire a small business marketing coach, and when it's time for other small business marketing solutions.
---
---
Why marketing should be one of the main focuses of any small business owner
In the modern market, many business owners get caught up in the imprecise race to profitability. Some entrepreneurs feel that the first step is starting the business, the second step is bringing in enough revenue to become profitable, and the third step is coasting indefinitely.
Unfortunately, this simply is not the case. In reality, this early focus on profitability before connecting with consumers is a guaranteed way to make your business's life more difficult over time.
Rather than immediately focusing on profitability and trying to make something from nothing, you have to build a network of loyal and die-hard consumers who fundamentally trust you and your business.
---
Read more: Futuristic Marketing Approaches for Fast Growth
---
In addition to creating a community that trusts your business, focusing on marketing early also helps you create a detailed target audience that will allow you to better allocate your expendable resources.
Below, we've put together a brief list of reasons why marketing should be one of the main focuses of any small business owner.
Increased visibility and brand awareness
Competitive advantage
Business growth and revenue generation
Increased visibility and brand awareness
Marketing plays a crucial role in promoting a small business and increasing its visibility among the target audience. By implementing effective marketing strategies, a business owner can raise awareness about their products or services, making it easier for potential customers to find and engage with the business.
Increased visibility leads to improved brand awareness, which can result in greater trust and loyalty from customers.
This aspect of marketing's value helps emphasize why having clear and concise goals is essential before launching your marketing initiatives.
Remember, you can't run before you walk. If no one knows anything about your business and you have no brand recognition, you'll have an uphill battle when you try to sell your products and services to naturally wary consumers.
Competitive advantage
In today's competitive marketplace, small businesses need to differentiate themselves from competitors.
Marketing enables business owners to highlight their unique selling points and communicate the value they provide to customers. Through effective marketing campaigns, a small business can showcase its strengths, establish a distinct brand identity, and position itself as a favorable choice among consumers.
This competitive advantage can contribute to increased market share and long-term success.
In the modern market, marketing is everything.
The business with the best product is no longer guaranteed to be valued more than the business with a faulty product. Instead, the business that can convince the public most effectively that their products or services are the best is the business that will be valued highest.
Business growth and revenue generation
Marketing is a key driver of business growth and revenue generation. Marketing efforts directly impact a small business's sales and profitability by attracting new customers and retaining existing ones.
Effective marketing strategies can help identify target markets, understand customer needs and preferences, and develop tailored messaging and promotions that resonate with the audience.
Through consistent marketing efforts, small business owners can create steady leads, conversions, and repeat business, leading to sustainable growth and increased revenue.
It's worthwhile to remember that business growth and revenue generation are often not byproducts of above-average products or services. Instead, business growth and revenue generation are often byproducts of excellent marketing campaigns and an acute understanding of your target audience.
The 10 best small business marketing solutions
Understanding small business internet marketing solutions is just as important as understanding physical small business marketing solutions.
In our highly digital age, the importance of understanding and utilizing the internet to benefit your business cannot be overstated.
Unsurprisingly, the companies that understand how to effortlessly utilize both online and physical marketing solutions are the companies that will succeed and last through any recession.
---
Read more: The Complete Guide to Making Your Business Recession Proof
---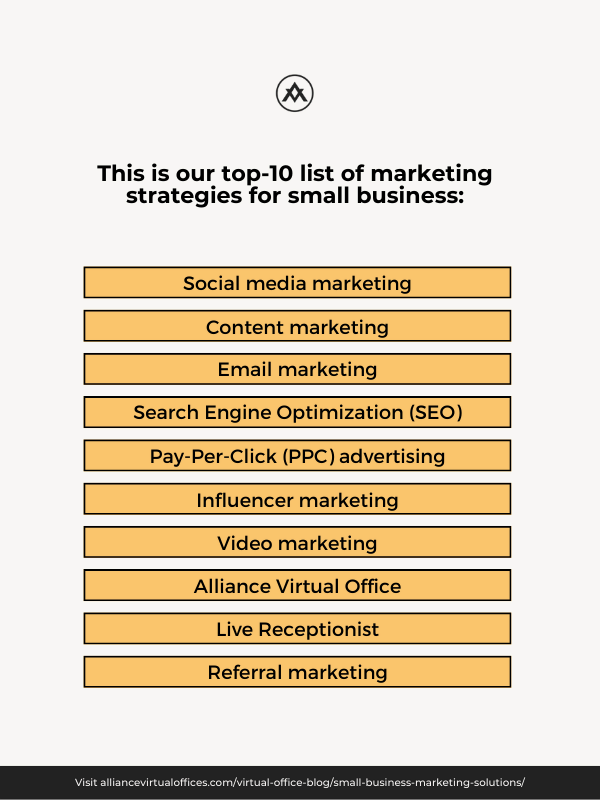 Below, we've created a top-10 list of marketing strategies for small business that you can utilize and study to determine which marketing avenue is right for your specific operations.
Social media marketing
Content marketing
Email marketing
Search Engine Optimization (SEO)
Pay-Per-Click (PPC) advertising
Influencer marketing
Video marketing
Alliance Virtual Office
Live Receptionist
Referral marketing
By using these small business marketing solutions, you're in an excellent position to get the absolute most out of your company's marketing budget.
---
Read more: Maximize Your Small Business Marketing Budget
---
Social Media Marketing
Utilizing platforms like Facebook, Instagram, and X (previously known as Twitter) allows small businesses to reach a vast audience, engage with customers, and build brand awareness at a low cost.
It offers targeted advertising options and allows for real-time customer interaction. The better connected you are with consumers on social media, the stronger the community you're building.
Modern consumers love having quick and simple access to customer service through these platforms. Unsurprisingly, salespeople who are active on social media average about 45% more sales opportunities than their offline counterparts.
Content Marketing
Creating valuable and informative content through blog posts, articles, videos, or podcasts establishes a small business as an industry authority.
It helps attract and retain customers by providing relevant information and addressing their pain points, ultimately building trust and loyalty.
All too often, entrepreneurs assume that good experiences while purchasing products and services are enough to create a hardened community of loyal individuals. Unfortunately, this isn't the case.
With content marketing, you're providing value to your customers outside of the value they expect when making a purchase. By using information and knowledge to incentivize your community to stick around, you're simultaneously creating a team of individuals who understand the industry, understand your part in the industry, and presumably, will share that information when asked.
Email Marketing
Sending targeted emails to a small business's subscriber list is an effective way to nurture leads, promote products or services, and build customer relationships.
It enables personalized communication, increases brand recall, and drives conversions.
Many business owners discount email marketing because it seems outdated, but HubSpot's State of Service tells a different story. Approximately 64% of small businesses surveyed claimed that their email marketing was either effective or very effective.
Search Engine Optimization (SEO)
Optimizing a small business's website for search engines helps improve its visibility in search results. SEO drives organic traffic by using relevant keywords, creating quality content, optimizing site structure, and increasing the chances of attracting qualified leads.
To get the most out of your SEO efforts, you must understand popular keywords, how to use them, and the best way to increase your website's search placement.
Pay-Per-Click (PPC) Advertising
Running PPC campaigns on platforms like Google Ads or Bing Ads allows small businesses to display targeted ads and pay only when someone clicks on them.
This method provides immediate visibility and is highly measurable, making tracking the return on investment (ROI) easy.
With PPC, you just need to ensure that you understand exactly what you want to happen after the consumer clicks the link.
Influencer Marketing
Collaborating with influencers with a significant following and influence within the target market can help small businesses reach a wider audience. Influencer endorsements or sponsored content can boost brand awareness, credibility, and drive conversions.
Some of these platforms, like TikTok and Instagram to name a couple, have creator marketplaces that show you statistics and past marketing initiatives that various influencers have taken part in.
Before utilizing influencer marketing, you need to ensure that the influencer fits with your target audience, and you also need to ensure that the influencer has a good record with previous endorsements.
Video Marketing
Creating and sharing engaging videos on platforms like YouTube or TikTok helps capture attention and convey messages effectively.
Videos can showcase products, demonstrate their use, provide tutorials, or share testimonials, allowing small businesses to connect with their audience emotionally.
Video marketing is a more passive form of advertisement because although a call-to-action may be included in the video, watching it is incredibly passive.
Remember, anything you can have consumers do that requires virtually no effort on their part is a good thing.
Alliance Virtual Office
Utilizing a Virtual Office service like Alliance Virtual Offices provides small businesses with a prestigious business address, professional phone answering services, and access to meeting rooms.
It enhances credibility, establishes a professional image, and allows businesses to maintain a physical presence without the associated costs.
A Virtual Office helps you present legitimacy, professionality, and longevity to investors, clients, and consumers alike.
Live Receptionist
Hiring a Live Receptionist service ensures that all incoming calls are answered promptly and professionally. A Live Receptionst can provide personalized customer service, handle inquiries, schedule appointments, and create a positive first impression, improving customer satisfaction and retention.
Referral Marketing
Encouraging satisfied customers to refer friends and family is a powerful marketing strategy for small businesses. Implementing referral programs with incentives, discounts, or rewards can generate new leads with a higher conversion rate as they come through trusted recommendations.
How to combine these solutions for maximum impact
Understanding the best small business marketing solutions is a key first step in creating a business built for long-lasting success.
One of the best ways to do this is through the use of one of Alliance's Virtual Offices, which allows you to cultivate a professional business image without forcing you to risk large amounts of capital on getting your business off the ground.
---
Read more: Alliance Virtual Offices Enters Inc. 5000 List of Fastest-Growing Companies 2023
---
We've put together a brief list of steps you can take to combine these solutions for the best effect.
Develop an integrated marketing strategy
Leverage cross-promotion opportunities
Utilize data and analytics
Develop an integrated marketing strategy
To maximize the effectiveness of these marketing solutions, small business owners should develop a cohesive and integrated marketing strategy.
This involves aligning the messaging, branding, and targeting across all channels, ensuring consistency and reinforcing the overall brand image. By integrating different solutions, like social media marketing, content marketing, and email marketing, businesses can create a seamless customer journey and enhance their impact.
Leverage cross-promotion opportunities
Small businesses can combine different marketing solutions to leverage cross-promotion opportunities. For example, they can use social media platforms, blog posts, or small business video marketing services to promote their content marketing efforts.
They can also incorporate email marketing to share updates about influencer collaborations or referral programs. By cross-promoting their marketing initiatives, businesses can expand their reach, drive traffic across channels, and amplify their messaging.
The longer your business exists and continues to scale, the more opportunities will present themselves. Leveraging these opportunities and utilizing the cross-promotion opportunities not only helps you bolster your business's public image but also helps introduce your products and services to completely new audiences.
Utilize data and analytics
Data and analytics play a crucial role in combining marketing solutions effectively. Small business owners should track and analyze the performance of each marketing channel and campaign.
By leveraging insights gained from analytics, businesses can identify which solutions drive the highest engagement, conversions, and return on investment.
This data-driven approach allows for informed decision-making and optimization of marketing efforts to the business's specific goals and target audience.
Utilizing a Virtual Office with the best small business marketing solutions
Small business owners should prioritize marketing as it helps increase visibility and brand awareness and establishes a competitive advantage.
By implementing a combination of marketing solutions such as social media marketing, content marketing, and email marketing, businesses can effectively reach their target audience, generate leads, and drive revenue growth.
To maximize their impact, business owners must develop an integrated marketing strategy, leverage cross-promotion opportunities, and utilize data and analytics for informed decision-making and optimization.
In addition, by using one of Alliance's Virtual Offices, your business can cultivate an image that displays professionality, legitimacy, and longevity.
---
Further reading
---
Alliance Virtual Offices offers Virtual Offices, Live Receptionists, and more to individuals hoping to get their online businesses off the ground.
If you're looking for small business marketing solutions, consider utilizing a Virtual Office to help you create a robust business infrastructure that allows for a higher volume of both incoming customers and outgoing products and services.
Contact us today to see how Alliance can help you determine the right small business marketing tools for your company.