---
Q: Why is getting a business loan with no credit check so tough? How can I build business credit without an initial loan?
A: Lenders and banks rely on personal credit scores to assess the creditworthiness of a particular company. This makes it tough to start from zero, especially if you're only using your EIN. You can build your business credit by paying bills on time, using services that help, and more.
---
Starting a business may be easier than it was a few decades ago, but not all aspects of running a company have had the same advancements.
Thanks to digital tools and services like Virtual Offices, entrepreneurs can get started without risking too much capital in no time at all. Unfortunately, we haven't had the same advancements when it comes to borrowing money to help improve your business.
According to Statista, most of the approved small business loans in the U.S. from 2021-2022 came from alternative lenders. 
From the same source, about a quarter of the small business loan applications that alternative and institutional lenders received were approved. Alternatively, big banks approved the fewest number of these applications.
The most common way to apply for a small business loan is with your employer identification number (EIN). Still, for newer small businesses or companies that haven't received an EIN, this can be difficult. 
Your EIN essentially serves as your business's social security number, and just like with personal credit, starting from zero isn't easy. Lenders and creditors want proof of your business's creditworthiness, so starting from zero is often harder than fixing poor credit.
If your business is in this kind of position, should you focus on securing a small business loan no credit check? 
In this article, we'll discuss why it's so difficult to secure a loan without having your credit checked, explore the best way to boost your credit, look at how you can build your business credit, and finally, we'll explain how you can use your EIN and Alliance Virtual Offices to start building credit from zero.
Rather than searching for easy approval startup business loans with terrible interest rates and predatory fees, keep reading to see other options your business may have.
---
---
Why is it so hard to get a loan with no credit check?
Before we dive into the difficulties of securing a small business loan no credit check, let's take a moment to explain the difference between a small business loan and a small business line of credit. 
---
Read more: Small Business Loan vs Line of Credit: A Guide 
---
A small business loan is a lump sum payment given to your business upfront that has to be repaid in full, including any applicable interest and fees, in a set amount of time. 
A small business line of credit allows you to withdraw capital as needed over time while repaying only what you borrow and any applicable interest as you go.
Unfortunately, if you're unable to secure a small business loan with attractive rates, you'll likely have just as difficult of a time trying to land a small business line of credit. 
This is why good business credit is so important, and also why the misuse of business credit can have a massively negative impact on your EIN. 
So, why is it so hard to get a small business loan with no credit check? 
To answer this question, we need to understand what banks and lenders look for when determining a company's creditworthiness. Typically, banks and lenders check your business credit because it's a part of their risk assessment.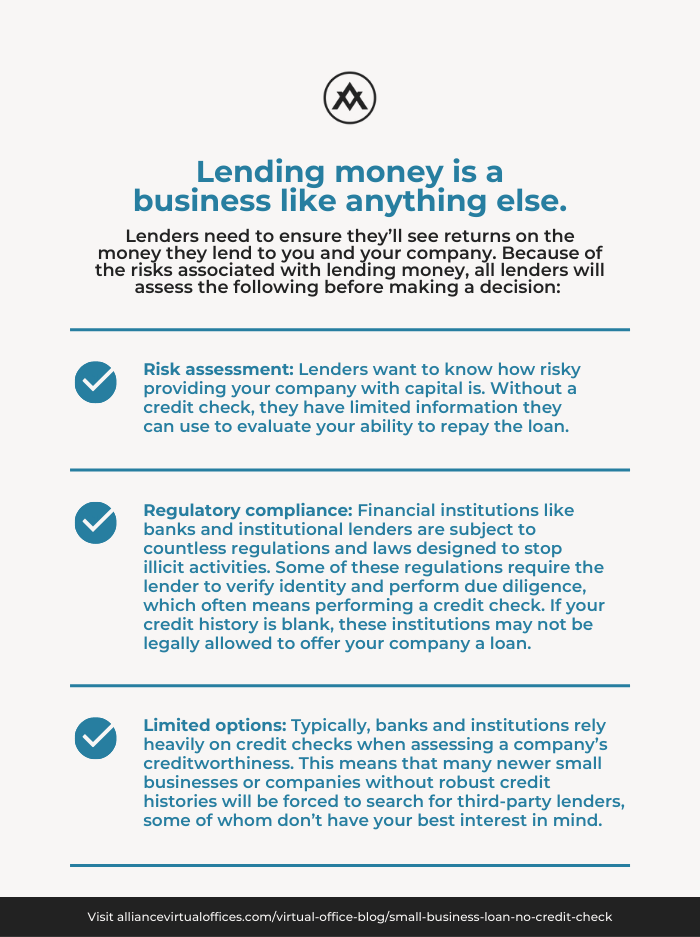 Lending money is a business like anything else, and lenders need to ensure they'll see returns on the money they lend to you and your company. Because of the risks associated with lending money, all lenders will assess the following before making a decision: 
Risk assessment 

Lenders want to know how risky providing your company with capital is. Without a credit check, they have limited information they can use to evaluate your ability to repay the loan. 
Regulatory compliance 

Financial institutions like banks and institutional lenders are subject to countless regulations and laws designed to stop illicit activities. Some of these regulations require the lender to verify identity and perform due diligence, which often means performing a credit check. If your credit history is blank, these institutions may not be legally allowed to offer your company a loan. 
Limited options 

Typically, banks and institutions rely heavily on credit checks when assessing a company's creditworthiness. This means that many newer small businesses or companies without robust credit histories will be forced to search for third-party lenders, some of whom don't have your best interest in mind. 
Even with fantastic business credit, giving your company a loan is inherently risky. Giving you a loan without knowing how your business has managed debts and lines of credit in the past is exponentially riskier.
Sure, you might fundamentally know that you're a financially responsible business owner, but the lender can't have verifiable proof of that unless they're looking at your business's credit score. 
This puts the newer small businesses that haven't yet built business credit at a disadvantage.
You can't secure healthy loans and lines of credit without a strong business credit profile, and many entrepreneurs are under the impression that you can't build a strong business credit profile without securing loans and lines of credit.
Because credit bureaus report business credit, accessing that information requires the lender to check your credit, as there's no foolproof way to find out otherwise.
When lenders and banks see that you don't have any credit, they will likely deny your application. You can use third-party lenders and payroll services, but many of these providers are predatory and aware that your business is unable to secure capital anywhere else, making for a very dangerous combination.
The best way to boost your odds
Fortunately, there are a few things you can do to increase your likelihood of getting a small business loan with no credit. 
Once you do this, you can start securing strategic debt to help bolster your business's credit and provide a runway that your company can use when necessary. 
---
Read more: Strategic Debt: How to Leverage Small Business Microloans 
---
Keep in mind that as you search for a small business loan no credit check, you need to be aware of predatory lenders that offer your company loans but tack on high-interest rates or other outrageous fees.

These predatory lenders often use advertising that promises businesses "same day business loans: no credit check" to try and invite uninformed customers. 
Alternatively, these loans may be marketed as "guaranteed startup business loans: no credit check." 
A good rule of thumb is that if a lender is making a point to advertise how easy they make it to borrow money, you need to be cautious.
Here are two steps your business can take to increase its chances of qualifying for a small business loan with no credit check.
Professionality
Shopping around
Professionality
The first step your business needs to take is to make sure your company looks professional and established. 
Even if you're running a wholly remote business and operating exclusively from your home, there are many things you can do to boost your professionality and create a prestigious image regardless of where you're working.
If your business appears serious and profitable, banks and lenders are more likely to offer you a loan without checking your credit. 
Here are three ways to improve your business's image to help you secure easy approval for startup business loans. 
Professional website 

If your small business doesn't have a professional website, you're already falling behind your competition. In today's attention economy, you need to have a public-facing website that concisely explains your mission, your products, and offerings, and including your values to give consumers something to align with is a great idea too. 
Outside of just highlighting your products or services, your website should show your expertise. If you're a tech company, explain what sets your company apart, if you're an online retailer, explain what makes your products stand out from your competition. 
A visually appealing and user-friendly website establishes credibility and can make a positive impact on potential lenders. 
Strong online presence 

Our attention economy also values businesses that are active on social media. With a strong online presence, you're creating brand recognition and getting your name out there, both of which can help you secure a Covid business loan with no credit check. 
The goal is to create a community interested in your offerings. Once you've done this, you can regularly update and engage with your audience, share valuable content relating to your industry or business, and further demonstrate your expertise. 
With a robust online presence, you're showing that your business is not only active but reputable and well-connected, all of which can help you secure a small business loan with no credit check. 
Virtual Office 

Finally, one of the best ways to improve the odds of landing a small business loan without a credit check is by securing a Virtual Office from Alliance. 
Alliance's Virtual Offices use only high-quality and prestigious locations to ensure your business address boosts your company's legitimacy. 
Entrepreneurs that use a residential address for their business address are at an inherent disadvantage because a home address looks considerably less professional than an address in the heart of a busy central business district. 
Another great aspect of using a Virtual Office is that you don't have to use an office anywhere close to the hub of your operations. 
---
Read more: Do I Need a Virtual Office Space Near Me?
---
Shopping around
Next, it's worth shopping around and looking at various lenders. 
Some lenders are more lenient than others and may be willing to offer a small business loan with no credit check.
That said, you need to be careful when shopping around. Countless predatory lenders prey on entrepreneurs who need capital but don't have the business credit to get legitimate Covid loans with no credit check. 
Unfortunately, identifying predatory lenders isn't always easy. Some payday, online, and cash advance lenders aren't acting in bad faith, but the ones who are can quickly put your business in a deep hole that's difficult to dig out of. 
For this reason, we've put together three commonalities that many predatory lenders share. Use this information to help your business avoid taking risky and predatory loans.
High-interest rates and hidden fees 

Predatory lenders may offer loans with excessively high interest rates that are much higher than market rates. These loans may also include hidden fees that aren't disclosed upfront or are hidden within pages of legalese. 
In these situations, you may wind up spending an absurd amount of the capital you've borrowed just to stay afloat on your loan payments. 
This is why it's always a good idea to read terms and conditions as carefully as possible and why you should never allow yourself to feel forced into signing a document you don't fully understand. 
If you have questions, contact an attorney. A consultation with a business lawyer will cost much less than a predatory loan. 
Aggressive marketing tactics 

These lenders will use aggressive and deceptive marketing initiatives to target vulnerable borrowers. Small businesses without a credit profile are at a disadvantage because lenders are aware that they'll have a difficult time securing a small business loan with no credit check. 
This may lead predatory lenders to make false promises or use misleading language to play into a sense of urgency, pressuring borrowers to take out loans without fully understanding the terms and consequences. 
This is why it is so important to take your time when you're applying for a loan. If you feel pressured in any way – take a step back and reevaluate the loan terms. 
All too often, business owners are tricked into taking terrible loans solely because the lenders have created a sense of urgency and made the issue of securing capital seem as time-sensitive as possible. 
Unfair terms and abusive practices 

In a cruel twist of fate, predatory lenders rarely have the same level of regulatory oversight that banks and professional lenders have to deal with. 
This lack of regulation allows predatory lenders to impose unfair and abusive terms on borrowers. This may include excessive penalties for late payments, automatic rollovers, or renewals on loans without the borrower's consent. 
In addition, these lenders may impose unfair collateral requirements that put the borrower's assets at risk – especially if the borrower has been swindled into using a personal guarantee to secure the loan. 
With a personal guarantee, entrepreneurs effectively negate the protection their LLC provides. This is exactly what predatory lenders want; they'll convince you that you're running out of time, that your business desperately needs the capital and can't go another day without it, then ask you to sign a personal guarantee that nullifies the protections afforded by your LLC. 
As you search for potential lenders to help you with a small business loan no credit check, you need to stay vigilant and ensure that you're not being taken advantage of.
Regulations may vary by jurisdiction, and some localities have taken steps to address predatory lending practices, but you still need to exercise caution and thoroughly research lenders.
If you're approached by a predatory lender that's using practices like excessive interest rates, hidden fees and undisclosed charges, unfair and abusive practices, deceptive marketing with false promises, and unfair terms and conditions, you should do your part and report them to financial oversight bodies in your jurisdiction. 
This helps protect other borrowers and prevents such practices in the future.
How to build your business credit
Whether you want to avoid having to find a loan with no credit check in the future or want to build your credit back after having a lending institution run a hard check on your business credit, there are a few smart things you should do. 
---
Read more: How to Build Business Credit: Building Credit for Your Small Business 
---
Here are four methods you can use to help build business credit.
Establish trade credit relationships 
Obtain secured credit cards or small business credit cards 
Pay bills on time 
Utilize credit-building services 
Trade credit relationships
Trade credit refers to the credit arrangements you've created with suppliers and vendors.
Building strong relationships with your suppliers and consistently paying invoices on time will help you build a rapport with your vendors. Once you've built a rapport, you can apply for trade credit with specific suppliers who report payment information to business credit bureaus. 
Using and responsibly maintaining your trade credit allows you to gradually build your business credit profile.
Obtain secured credit cards
Remember, building your business credit is similar to building personal credit. 
Secured and small business credit cards can be valuable tools for building your business credit profile.
Small business credit cards are specifically designed for business expenses, whereas secured credit cards typically require a cash deposit as collateral. Your credit limit won't be that high on either of these options, but using the card responsibly by making regular payments and keeping the utilization on the card low helps demonstrate your company's ability to manage credit effectively.
Pay bills on time
Whether you're talking about loans, utility bills, rent payments, or anything else, you need to make sure you always make your payments on time. 
Create a schedule, stick to it, and prioritize paying off any business debts. The more business debts you pay, the more your credit score will improve. 
Credit-building services
Finally, it's worth looking into credit-building services too. 
Companies like CreditSuite, eCredable, and Nav are designed to help you passively build your business's credit over time.
They connect directly to your account and report any eligible payments you make to various credit reporting bureaus.
Keep in mind, the most important thing you can do to effectively build your business's credit profile is to stay ahead. 
Once you start falling behind, it's easy to get caught in a cycle of taking loans to pay loans, paying loans to take other loans, etc. This is untenable and can easily result in the closure of your company.
Building business credit with EIN and the help of a Virtual Office
Getting a small business loan with no credit check is tough, but not impossible. 
That said, you should plan and start building your business credit to improve your funding options in the future. If you wait until you need a loan or line of credit to start building your business's credit, you'll find yourself in a situation where you're susceptible to predatory lenders and other bad actors. 
Alternatively, if you start building your business credit early, you'll have options when you need them most. 
New business owners can easily secure a high-quality Virtual Office from Alliance and use it to make regular payments and create relationships with vendors and suppliers alike. 
Additionally, because Alliance offers offices in every state and almost every city, you can pick a location that makes your company look as professional as possible.
Your EIN is your business's social security number. With Alliance, you can use your EIN to build a robust infrastructure that will allow you to take additional loans when the time is right.
---
Further reading:
---
Alliance Virtual Offices provides Virtual Office services and more to established entrepreneurs, new business owners, and everyone in between.
By using a prestigious Virtual Office, your business is in a much better position to secure a small business loan no credit check, without all the heartache associated with predatory lending practices.
Contact us to see how Alliance's Virtual Offices can help your company secure a small business loan no credit check – and be sure to check out our Virtual Office Blog for more information!