---
---
Q: What is a Posh virtual receptionist? Should I choose a Live Receptionist from Alliance Virtual Offices instead?
A: A Posh VR is a remote receptionist you can use for your business. You should choose one of Alliance's Live Receptionists because of the increased privacy, flexibility, and improved pricing.
---
Owning a business in 2023 requires flexibility over everything else.
Remote and hybrid workstyles are still considerably more popular than wholly in-office work, starting a business has never been more straightforward, and entrepreneurs have more tools and services at their disposal than ever before.
This new, flexible meta has highlighted the need for employee-centric workplaces while simultaneously showing that customer service and similar values mean more than a fancy office building.
For remote and hybrid businesses, providing high-quality customer service can be difficult. If you're working from home, it can be frustrating to answer incessant phone calls while trying to focus on your business's core operations.
Unfortunately, that isn't an excuse; the market punishes poor customer service.
According to HubSpot's Annual State of Service from 2022, 90% of American consumers consider their customer service experiences when determining whether they want to deal with a specific business or not.
Similarly, 58% of consumers will happily switch companies or providers when faced with poor customer service, but what can remote and hybrid businesses do to counteract this?
Some might claim that a Posh Virtual Receptionist is necessary to handle customer service needs while allowing you to focus on your operational duties, but is a Posh virtual receptionist the best bet?
In this article, we'll provide Posh virtual receptionist reviews and look at Live Receptionists before deciding which service is best for your business. Finally, we'll take another look at the Posh Virtual Receptionist LLC vs Alliance's Live Receptionist.
Keep reading to see which live receptionist can provide your company with the highest level of service!
---
---
What is a Posh Virtual Receptionist?
Before we can dive into the differences between a Posh virtual receptionist and one of Alliance's Live Receptionists, let's take a moment to explore what a virtual or live receptionist is and situations where your business might benefit from using one.
---
Read more: 10 Signs You Need a Live Receptionist
---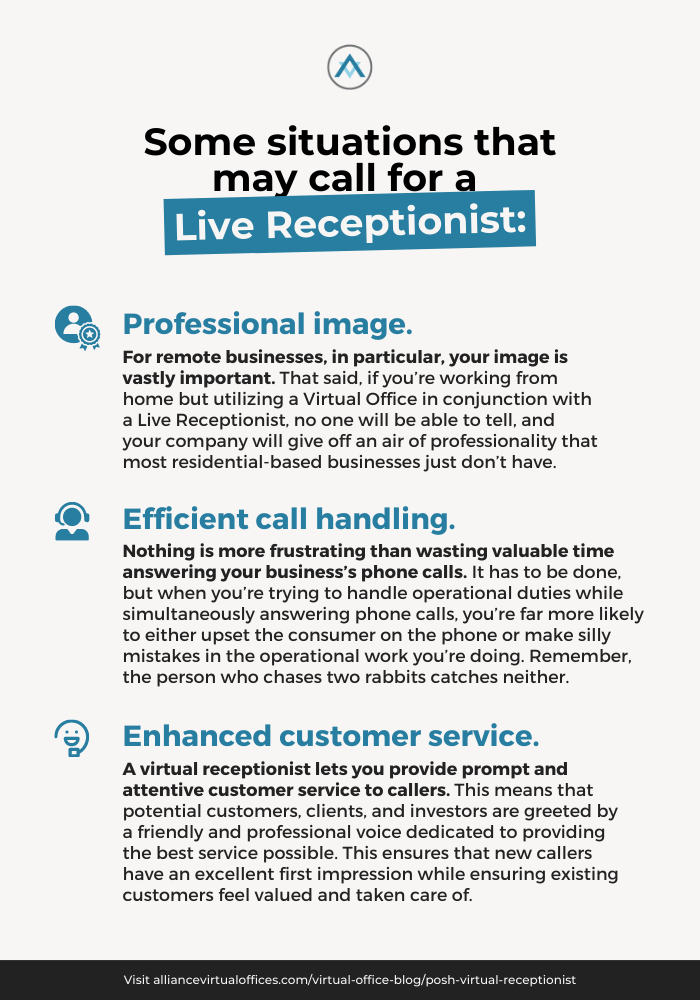 Some situations that may call for a live or virtual receptionist are as follows.
Professional image

For remote businesses, in particular, your image is vastly important. That said, if you're working from home but utilizing a Virtual Office in conjunction with a Live Receptionist, no one will be able to tell, and your company will give off an air of professionality that most residential-based businesses just don't have.

Efficient call handling

Nothing is more frustrating than wasting valuable time answering your business's phone calls. It has to be done, but when you're trying to handle operational duties while simultaneously answering phone calls, you're far more likely to either upset the consumer on the phone or make silly mistakes in the operational work you're doing. Remember, the person who chases two rabbits catches neither.

Enhanced customer service

A virtual receptionist lets you provide prompt and attentive customer service to callers. This means that potential customers, clients, and investors are greeted by a friendly and professional voice dedicated to providing the best service possible. This ensures that new callers have an excellent first impression while ensuring existing customers feel valued and taken care of.
According to Forbes, you can't improve your customer service without taking a close look and evaluating all the areas you can improve in.
Modern consumers place greater importance on customer service, so a virtual receptionist is a natural evolution of serving customers' needs.
Essentially, a virtual or live receptionist handles your business's incoming calls, performs basic administrative tasks, and provides high-quality customer service so that you can focus on your company's operations and other logistic duties.
So, what is a Posh virtual receptionist?
First, it's a remote receptionist that connects to your business.
They handle incoming calls based on your specifications and preferences and can schedule various callbacks.
Their plans start at $64 monthly, but that doesn't include any minutes. At this lower level, each minute costs an additional $1.99.
Let's do a quick Posh virtual receptionist reading and look at each plan they offer.
Chic
Vogue

The Vogue plan costs $114 per month, and each extra minute costs $1.95. With this plan, you get a total of 50 included minutes.

Elegant

Elegant costs $194 monthly and provides your business with 100 minutes. Every minute over the 100 provided minutes costs an extra $1.90.

Luxurious

This is the second-most expensive plan that Posh virtual receptionists offer. With 200 minutes provided, you'll spend $374 monthly and pay an extra $1.87 for every additional minute.

Lavish

Lavish is the most expensive plan that Posh offers. It costs $884 monthly, provides your business with 500 minutes, and charges your company $1.77 for every extra minute used.
Posh Virtual Receptionist Services is located in the US, but they have a Posh Virtual Receptionists UK Limited branch available too.
As you can see, the plans increase but quickly become extremely expensive. Fortunately, other providers offer better pricing.
What is a Live Receptionist?
A Live Receptionist is Alliance Virtual Offices' virtual receptionist service.
---
Read more: How to Set Up Your Live Receptionist Service with Alliance
---
Similar to a Posh virtual receptionist, a Live Receptionist is built to handle our business phone to your company's specifications.
Alliance allows businesses to edit their Live Receptionist's answering protocol to ensure they're able to handle administrative tasks, scheduling, call forwarding, message taking, and more.
With Alliance, you get a friendly and professional call-answering service that provides your potential customers, investors, or clients with the service and dedication they've come to expect.
If your business hasn't been at the top of its game in customer service, using a Live Receptionist can also help turn public opinion around, helping your company build a stronger reputation. Like Posh, Alliance's Live receptionist can schedule callbacks and more, but our plans are better priced.
Instead of five different tiers, Alliance offers three easy-to-manage plans that provide your company with varying amounts of minutes.
Our first plan costs $125 monthly and provides 50 Live Receptionist minutes for your business.

Posh virtual receptionists LLC charges $64 for a plan with zero minutes included. If you use this plan for 50 minutes, you'll spend an additional $99.50 on top of the $64 monthly charge, resulting in $163.50 for the month.
With Alliance's least expensive plan, you pay $125 total, and those 50 minutes are included.

Our second plan costs $175 monthly and provides your business with 100 total minutes.

Comparatively, Posh's 100-minute plan costs $194 per month.

Finally, our last plan offers your company 200 Live Receptionist answering minutes and only costs $260 per month.

Posh's Luxurious plan offers 200 minutes but charges $374 per month.
As you can see, our plans are a much better deal. Our entry-level plan costs $125 for 50 minutes, beating out Posh when factoring in the same number of minutes, and the same goes for all our price points.
Remember, if you're an established business owner hoping to transition to remote operations, the process can be confusing and slightly difficult.
---
Read more: Transitioning Your Business to a Modern Workspace? Here's What Business Owners Need to Know
---
This transition can be as simple as following two easy steps.
Embrace remote work
Utilize the services you have at your disposal
Through remote work, you widen your hiring pool exponentially.
Traditional brick-and-mortar companies are at the mercy of the hirable employees in their immediate vicinity. However, companies utilizing remote work have a global talent pool they can call on whenever necessary.
The key to success in modern business ownership is flexibility.
The more flexible your operations are, the better you can react to shifts in the market.
Part of the beauty of owning a modern business is the sheer number of services and tools you have at your disposal.
Incorporating Live Receptionist services into your Virtual Office can simultaneously enhance communication and customer service.
The idea is to run a remote business that operates so seamlessly that potential clients, customers, and investors don't even realize that your company isn't a traditional brick-and-mortar business.
Which is better?
For almost all businesses, a Live Receptionist is the better choice.
A Live Receptionist from Alliance gives you privacy and flexibility to grow your business from anywhere. Our Live Receptionists include a Virtual Phone that allows you to take calls from anywhere in the world.
Not only does this protect your cell phone number and connect your team with a local or toll-free business number, but our powerful VoIP (Voice over Internet Protocol) phone system also allows everyone to stay on the same page regardless of where your team is located.
Not to mention, our Virtual Phone comes with unlimited extensions, which makes onboarding new team members easier than ever. Even better, you can protect these individuals' privacy and personal information too!
Alliance's Live Receptionist service also goes extremely well with our suite of other products, which makes it easy to integrate everything you need as your company grows.
Some Virtual Office providers insist on including live receptionist or mail forwarding minutes to justify charging a flat rate that many business owners simply don't need.
---
Read more: Why Your Virtual Office Management Matters
---
At Alliance, our Virtual Office plans start without any added features, which allows entrepreneurs to build wholly personalized offices that meet the hyper-specific needs of their business without charging you for add-ons you don't want or need.
This customization further lends to the flexibility that your company needs to scale successfully. We preach flexibility because it's important, so we offer you the same flexibility we talk about.
Outside of our flexibility and customization, Alliance's pricing is better than Posh's in almost all circumstances.
The only exception is if you plan to use your receptionist for a few minutes per month.
Because the cheapest Posh virtual receptionist plan is $64 monthly and charges $1.99 per minute used, and Alliance's least expensive Live Receptionist plan is $95 per month, the only way to get better pricing from Posh is by using a small enough number of minutes to stay below Alliance's $95 monthly charge.
So, if you're using Posh, you can spend less money than you would through Alliance if you use fewer than 16 minutes per month. Any more than 15.5 additional minutes and Alliance's Live Receptionist is a better deal.
For reference, the average handling time for business and IT-focused call centers is 4.7 minutes or 282 seconds. Alternatively, broader telecommunications average handling times may be as high as 8.8 minutes, or 528 seconds.
So, if your business only needs to answer 3-4 phone calls monthly, you may get a better deal from Posh's virtual receptionists. Otherwise, you should look into Alliance Virtual Offices' offers.
Posh Virtual Receptionist vs Alliance's Live Receptionist
According to PR Newswire, approximately 65% of consumers have decreased spending with companies that aren't meeting customer experience standards.
From the same source, 69%, or more than two-thirds, of consumers are willing to look elsewhere after dealing with a couple of negative customer experience scenarios with a given company.
Businesses can negate the negative effects of poor customer service by utilizing one of Alliance's Live Receptionists. They can also focus on creating an easy-to-navigate website, communicating to consumers clearly, and allowing customers to determine how they are communicated with.
Posh virtual receptionists and Alliance's Live Receptionists offer essentially the same service.
That said, Alliance offers a better value for almost all businesses. The only outlier is companies that need fewer than 16 minutes per month for their business phone calls.
---
Further reading
---
Alliance Virtual Offices offers Live Receptionists and a slew of other services and tools that established entrepreneurs, new business owners, and everyone in between can utilize to prepare their businesses for rapid growth and easy scalability.
With Posh virtual receptionist jobs, you're almost guaranteed to spend more money than you would with Alliance. Considering that both services offer the same things, there's no reason to do this.
That said, if you're running a business that requires fewer than 16 minutes, or 3-4 business phone calls, per month, you may get better value through Posh.
Otherwise, Alliance's Live Receptionist plans offer you a healthy and more cost-efficient alternative that helps you wow potential clients, customers, and investors with a friendly and professional first impression.
Alliance's Live Receptionists offer a way to win more business by making each customer-company interaction count. We understand the value of your clients and have a team of professional receptionists trained to personally greet your callers with attentive and helpful service.
This ensures a positive experience every time your company receives a phone call.
Our Live Receptionists provide unbeatable value too.
With fair-priced tiers, our Live Receptionists allow you to reserve more of your budget for innovation and growth. We include a business phone number and a virtual phone system that allows you to better connect with your remote team while retaining personal privacy.
Not to mention, our Live Receptionists allow you to save a considerable amount of time by dealing with robocalls or telemarketers that try to contact your business.
Because our friendly and professional Live Receptionists personally screen and answer any of your incoming calls, we can help you cut distractions and protect your time and energy.
By extension, this gives you a more effective way to capture more leads. Before using a Live Receptionist, companies are forced to contend with ringing phones while they try to handle the operational tasks they must focus on daily.
For a time, this may be manageable. Still, as your business grows, each minute you waste answering potentially meaningless calls is another minute better served on logistic and operational tasks.
Possibly the largest benefit of using Alliance's Live Receptionists is the sheer level of flexibility afforded to your company.
Instead of feeling forced to hire an in-house receptionist and then training that individual to strengthen their call experience, you have a ready-to-work Live Receptionist who fundamentally understands how demanding your business is.
We don't want you to risk embarrassing situations where you're unable to give every caller the attention they deserve. Instead of worrying about whether you've given callers the attention they deserve, our Live Receptionists take messages, schedule callbacks, forward calls, and handle other simple administrative tasks regardless of where you're located.
A Posh virtual receptionist may have hip tier names that give off an air of professionality, but the truth is, no one but you will see those names.
At Alliance Virtual Offices, we focus on providing the highest value possible to our partners.
Contact us today for more on why Alliance's Live Receptionist blows a Posh virtual receptionist out of the water. In addition, be sure to check out our Virtual Office Blog for more information about what sets Alliance apart from our competition!