---
---
Q: How will I know if I'm about to get laid off? What should I do if I am laid off from my full-time position?
A: Determining whether you're about to get laid off or not is a risky game. There's no way to know for sure, and while understanding the warning signs is good, you may wind up making yourself more anxious than necessary by focusing too heavily on when your layoff is coming. If you get laid off, the first steps are understanding severance, applying for applicable benefits, and creating a plan of action.
---
Getting laid off is something that happens to nearly half, or 40%, of the American workforce at some time or another, yet it remains a topic that many are unwilling to breach.
Although the topic may feel uncomfortable at times, this doesn't serve the 48% of American workers who deal with some level of layoff anxiety.
Considering the sheer number of larger American corporations that have announced layoffs this year, there's a good chance that you or someone you know is currently dealing with getting laid off.
Companies like Walmart, BuzzFeed, Whole Foods, and Lyft, to name a few, are all laying off employees this year, so it's very likely that most communities will be forced to deal with layoffs this year as well, whether by association or directly.
As more individuals deal with the financial, and in many cases emotional, fallout of getting laid off, the more open the dialogue is, the better.
One of the worst aspects of getting laid off is the isolation experienced in the immediate aftermath. If more individuals are open about their experiences, some of this isolation can be quelled.
Alternatively, some professionals look at layoffs differently and think those affected should ask, "why being laid off is good?" rather than assuming the situation is wholly negative.
In this article, we'll explore why layoffs are happening, some of the warning signs associated with layoffs, how to deal with being worried about layoffs, and finally, how you can use getting laid off to pursue more exciting ventures.
So, if you're asking, "what to do if you get laid off?" – you're asking the right questions. Even if you're dealing with something as frustrating as getting laid off while pregnant or even getting laid off during maternity leave, you can turn the situation into a net positive.
Keep reading to better understand why getting laid off is good!
---
---
Why are layoffs happening?
Determining why layoffs are happening is tricky.
Sure, countless macroeconomic reasons lend themselves to widespread job loss, but it's difficult to pinpoint any one issue that's causing layoffs en masse.
That said, layoffs are usually a good indication that the country is either dealing with a recession or gearing up to enter a recession.
---
Read more: Inflation vs. Recession: What's the Difference?
---
Regardless of why the country's dealing with or preparing to deal with an economic downturn, the important thing to understand is that layoffs are ubiquitous during times of widespread financial strife.
Before we determine why layoffs are happening, let's take a moment to ensure you understand "getting laid off meaning."
Essentially, getting laid off signifies that an individual has lost their job because of changes on the company's end.
Alternatively, being fired signifies that the company has deemed your removal as your fault.
As you can see, layoffs are considerably less serious than their more pointed counterpart.
Being laid off is something that several individuals are forced to deal with and typically won't prevent you from landing a new position. Being fired, on the other hand, may create problems for you as you search for new employment.
Despite how difficult it can be to adequately determine the exact cause of layoffs, several factors can make them more likely.
We've created a brief list of some of these factors below; keep reading for more!
Economic downturn
Organizational restructuring
Cost reduction
Technological advancements
Changes in consumer preferences
Economic downturn
Layoffs often occur during periods of economic recession or downturn when companies face the same financial challenges that other Americans are facing.
Declining consumer demand, reduced business activity, and decreased profitability can force companies to downsize their workforce as a cost-cutting measure to remain financially viable.
Some companies are better prepared than others for recessions, but there's a good chance your layoff is due solely to your employer's inability to prepare for downturns.
Organizational restructuring
Layoffs can happen as a result of organizational restructuring, such as mergers, acquisitions, or the implementation of new technologies.
Companies may eliminate redundant positions or departments to streamline operations, integrate systems, or adapt to changing market conditions.
During times of economic growth, many companies aren't worried about restructuring to make their operations as efficient as possible, so these situations often happen during recessions as well.
Cost reduction
Layoffs are sometimes necessary to reduce operational costs.
Labor expenses can be a significant portion of a company's budget, and downsizing the workforce allows organizations to decrease payroll expenditures, benefits, and other related costs.
Unfortunately, if a company never downsizes, it'll quickly lose astronomical amounts of capital for payroll expenses and other associated employee benefits.
These periods of focusing on cost reduction are important, but if your business waits until the market has shifted for the worse to start worrying about cost reduction, you should probably consider finding an employer with a better mind for the future.
Technological advancements
Automation and technological advancements can lead to job displacement and ultimately result in layoffs.
As companies adopt new technologies to improve efficiency and productivity, certain tasks may become automated, reducing the need for human labor in those areas.
Unfortunately, each of the preceding factors can be blamed on some level on your employer's lack of regard for planning, but technological advancements are simply par for the course in a capitalist market.
In a perfect world, technological advancements would be born exclusively during times of economic growth, but this is rarely the case. Realistically, many technological advancements result from necessity brought on by financial insecurity.
Changes in consumer preferences
Layoffs can occur due to shifts in the industry landscape.
Changes in consumer preferences, market demand, or the emergence of new competitors can impact the profitability and sustainability of certain businesses.
Companies may need to downsize or restructure to realign their operations with the evolving market dynamics and maintain competitiveness.
Ultimately, the market is a living, breathing organism. Its tastes and preferences change over time, and very few companies have been able to constantly appeal to the market over a long-term time frame.
If you're a business owner, you can take steps to prepare for recessions, and enough careful planning and preparation will likely prevent you from having to take desperate measures during these times of financial insecurity.
---
Read more: The Complete Guide to Making Your Business Recession Proof
---
Despite this, even the most careful planning can't cause your business to exist long-term without some level of shifting to appeal to consumer preferences.
The quicker that employees and employers realize the tenuousness of the market, the better and more prepared these individuals can be for when the market's tastes ultimately change.
The warning signs that you may be getting laid off
Searching for warning signs about an impending layoff is a quick way to drive yourself mad with anxiety.
Yes, making plans and preparing for a shift in your financial situation is great, but many individuals struggle to do these things effectively and instead spend the time leading up to their layoff in agonizing anxiety.
Wondering about whether you will get laid off is similar in value to wondering how long a particular recession will last.
---
Read more: How Long Does a Recession Last?
---
At the end of the day, there is no way to tell. We can only determine the length of an upcoming or current recession by comparing it to past recessions.
Similarly, worrying about an impending layoff won't help you prevent it. Because there is almost always an overarching outside reason contributing to a company making cuts, you typically won't be able to change management's mind about your layoff.
If you're able to take the information that you may be on the chopping block in stride, then knowing that a layoff is coming is great because you can focus on job applications, any applicable government benefits, and other next steps.
Nevertheless, some very apt warning signs will help you understand whether you're getting laid off from work.
Reduced workload or fewer assignments
Increased scrutiny or negative feedback
Changes in company direction or strategy
Financial instability or poor company performance
Rumors or communication from management
Reduced workload or fewer assignments
If you notice a sudden decrease in your workload or receive fewer assignments or projects than usual, it could be a sign that your employer is preparing for layoffs.
This may indicate less demand for your role or that the company is scaling back operations. Rather than using this as an excuse to begin worrying, try to receive more assignments or additional work to stay busy and show your value.
Increased scrutiny or negative feedback
If you start receiving more criticism or negative feedback from your supervisors or colleagues, it could indicate that your performance is being closely scrutinized.
This heightened scrutiny may be a precursor to a layoff, as the company may be building a case to justify your termination.
In this situation, it's best to simply start searching for a new employer or a different venture altogether.
Changes in company direction or strategy
If your organization undergoes significant changes in its direction, strategy, or leadership, it could signal potential layoffs.
For example, mergers, acquisitions, or restructuring efforts may result in redundancies and workforce reductions as the company adjusts its operations.
This is also why it's so important to stay up to date on your company's values and alignments.
Financial instability or poor company performance
Persistent financial struggles or poor performance by the company can be a warning sign of impending layoffs. Frequent missed targets, declining revenue, or financial losses may force the organization to make difficult decisions, including downsizing its workforce.
Rumors or communication from management
Pay attention to rumors circulating within the company or any official communication from management regarding potential layoffs.
While rumors can sometimes be inaccurate, they may provide early indications of upcoming workforce reductions. Similarly, if management begins discussing cost-cutting measures, reorganization plans, or workforce optimization, it is advisable to be prepared for possible layoffs.
When it comes to trusting rumors and other kinds of unofficial communications, it's best to retain a healthy skepticism about what you're hearing.
Additionally, consider your source.
If you hear from a friend in management that the company is thinking about cost reduction, you can feel confident that they're probably being honest. Alternatively, if someone traditionally untrustworthy is talking about coming layoffs, you can take those warnings a bit less seriously.
What to do if you are worried about getting laid off
Fortunately, if any of the above factors apply to you and you fear getting laid off, there are steps you can take to reduce your anxiety.
Despite many individuals' unwillingness to discuss layoffs, particularly more difficult layoffs, like getting laid off while on maternity leave, there are still publications helping those affected with the next steps.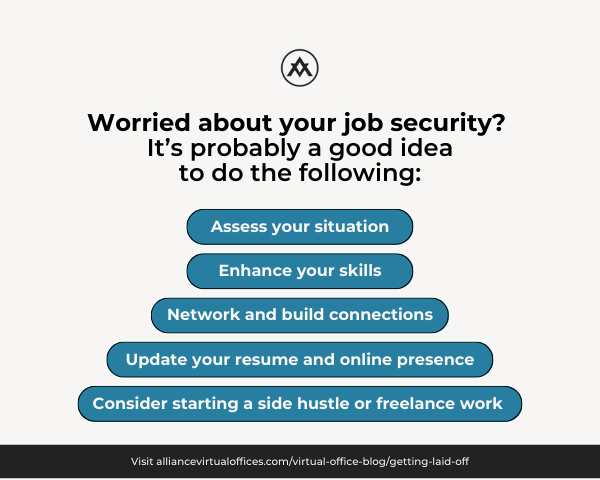 If you're in a position where anxiety is making it difficult to work and relax, don't worry; we've put together an actionable list of steps you can take to help reduce your fears.
Assess your situation
Enhance your skills
Network and build connections
Update your resume and online presence
Consider starting a side hustle or freelance work
Assess your situation
Take a close look at your current role, company, and industry to evaluate the likelihood of layoffs.
Try and get an unbiased look at the situation for this step. Remember that it's easy to only see the negatives, especially when you're naturally planning for a worst-case scenario.
Consider factors like company performance, financial stability, and any recent changes that may indicate potential downsizing. This assessment will help you gauge the urgency of taking proactive steps.
If you need a third party's opinion for this step, feel free to get it. Just ensure that you're asking someone who can provide a fair and balanced opinion where you can't.
Enhance your skills
Invest in your professional development by acquiring new skills or expanding your existing ones. Identify areas of growth and take advantage of online courses, certifications, or workshops to stay relevant and valuable in the job market.
This can increase your chances of securing alternative employment if a layoff does occur.
Ultimately, periods of economic insecurity are great times to hone your professional skills. Courses, classes, and other forms of professional skill-building are often cheaper and more accessible during these times.
Network and build connections
Cultivate and expand your professional network by attending industry events, joining online communities, and connecting with colleagues, mentors, and potential employers.
Building a strong network can provide valuable job leads, recommendations, and support during uncertain times.
Update your resume and online presence
Ensure that your resume is up to date and highlights your achievements, skills, and experiences.
Optimize your online presence, including your LinkedIn profile, to showcase your expertise and attract potential opportunities. A well-crafted resume and a strong online presence can help you stand out when seeking new employment.
Realistically, this is something you should be updating regardless of layoff-related fears. The better you cultivate your online presence, the easier time you'll have finding work.
Consider starting a side hustle or freelance work
Diversify your income streams by exploring a side hustle or freelance work.
---
Read more: Getting Started with Alliance Virtual Offices
---
This can provide an additional source of income and act as a safety net in case of a layoff.
Identify your skills and passions and explore opportunities in areas such as consulting, freelancing, tutoring, or starting a small business. A side hustle can provide financial security and serve as a potential long-term career path if you decide to pursue it full-time.
With tools like Alliance's Virtual Offices, Live Receptionists, and other services, you can start a business from the comfort of your home without risking large amounts of capital.
Using getting laid off to pursue more exciting ventures
If you are worried about getting laid off, it's important to assess your situation and stay proactive.
Enhance your skills, build your professional network, and update your resume and online presence to increase employability. Additionally, consider starting a side hustle or freelance work to help provide financial stability and open new career possibilities.
Stay prepared, stay connected, and focus on personal and professional growth to navigate uncertain times.
Something worth keeping in mind is that if you work for another individual, you'll always have some level of layoff-related anxieties.
When you start a business, you can ensure you're prepared for economic downturns by personally organizing your business plan to prepare for recessions.
Ultimately, until you work for yourself, you will always have to contend with getting laid off.
---
Further reading
---
Alliance Virtual Offices offers Virtual Offices, Live Receptionists, and more for established entrepreneurs, new business owners, and anyone in between.
Whether you're an employee worried about layoffs, an employee with a new side hustle who wants to know how to prepare for layoffs, or someone else entirely, Alliance Virtual Offices is here to help you understand what steps you should take to prepare for layoffs.
Contact us today to see how we can help you prepare for getting laid off, and be sure to check our Virtual Office Blog for more helpful information and tips.