---
The concept of the "virtual office" can be traced back as far as the 1970s and it has come a long way since. Over the past decade in particular, virtual offices have boomed in popularity.
There are many reasons for this, but most experts agree that technology has played a huge role in transforming what was once quite a niche part of the property industry into a widely utilized service.
Flexible by nature, VOs are quite often the perfect office solution for businesses who need to be agile because they might need to scale up, back, or establish a presence in a city at short notice.
But before we take a whistle-stop tour through the evolution of virtual offices we'll endeavor to answer the following question:
What is a virtual office and how does it work?
Simply put, a virtual office space is a flexible office solution that provides the 'occupier' (now increasingly referred to as 'member') with the services they require on an as-needed basis.
Despite the term "virtual", the smorgasbord of services provided contains both digital and physical options. At its most basic level, you get a business/ mailing address and telephone number. Additional services include:
Access to bookable conference rooms and facilities

Access to hot desks on a first come first served basis

Online phone system and Live Receptionist support

Use of cloud platforms, messaging services and apps
What makes the virtual office option so appealing is its flexibility. You only pay for what you need and compared with a traditional office they are a lot less expensive.
VOs tend to appeal to small businesses in particular – solopreneurs and lean startups who work remotely and therefore just don't need a full-time office space.
---
How has the term "virtual office" changed over the years?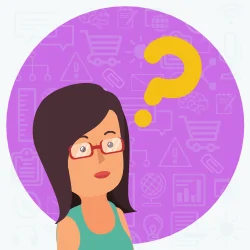 It's a long story, so we'll try our best to keep it brief!
The virtual office is only part of the flexible workspace family, so to speak, with the "serviced office" as its parent. You could say that virtual offices evolved from serviced offices.
The main difference between the two is that a serviced office provides a permanent office space (but in most cases, the same level of flexibility).
The first serviced office can be traced back to 1966 when Paul Fegen founded Fegen Lawsuites. He rented out excess office space that his fellow lawyers didn't need to different professionals and included some of the same services we associate with virtual offices today: telephone answering, photocopying and access to conference rooms.
But it wasn't until 1982 that the term "virtual office" was used in the media by John Markoff, who wrote in Info World Magazine:
"In the future virtual office, workers will no longer be constrained by computer equipment or geographic location…they will be free to travel or to interact with others while communicating information freely."
This came at a time when advancements in technology were starting to change the way people worked. Fast forward to the digital revolution of the 21st Century and businesses are more agile than ever, with many operating remotely.
Perhaps this explains why a simple web search brings up thousands of virtual office options in every continent – except Antarctica (for now).
---
What is the current popular definition?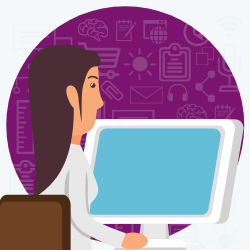 Today, a virtual office is universally defined as a flexible workspace solution that, as mentioned above, provides services and facilities on an as-need basis.
When you sign up for one, you'll be provided with a business address, mail handling support and a phone number, but the rest depends on what you need and when you need it.
Imagine you're a small business and you're looking to grow your client base. You're based at home, but putting your residential address on your website doesn't look professional.
Also, you want to start building business credit and need to ensure your personal assets are protected. So you opt for a virtual office address.
Fast forward a few months and you're accumulating clients at speed. However, meeting them at the local coffee shop is proving a little awkward. So, you decide to book a meeting room at your virtual office for the morning and hot desk there in the afternoon.
With the leads rolling in, you decide to throw a Live Receptionist into the mix. This professional is tasked with answering your calls, managing your calendar and making sure no inquiry goes unanswered.
---
How has technology evolved to play a role in VOs?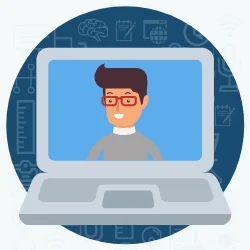 Technology is transforming the way we work, as well as the workplace itself. It enables us to work in a more agile way and keep expenditure at a minimum.
Let's take a look at a few influential technologies:
API integration
API technology enables virtual offices to present live meeting room and hot desk availability on an online reservation platform that virtual office members can access on any device.
As well as being way more convenient that having to call up and book, it saves time and avoids mix ups and mistakes like double bookings.
Digital mailboxes
Digital mail is a service that scans incoming mail, notifies you when your mail has arrived, and allows you to view photographic images of your mail via a smartphone app. This new method is less labour-intensive than manual forwarding and is also more secure.
Videoconferencing technology
Videoconferencing technology is becoming increasingly sophisticated. Now, remote workers can communicate across browsers with no plug-ins or applications required, making physical space unnecessary and virtual offices a more attractive alternative.
---
How will future technology affect the VO industry and remote work?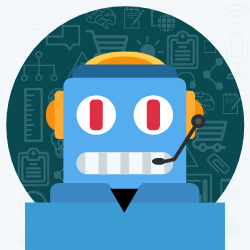 Good question. Of course we can't predict the exact effect technology will have but can hazard a pretty good guess. VR and AR are both set to change the landscape of the workplace, and as the gig economy grows, traditional ways of working will fall by the wayside.
We think that as technology continues to evolve, remote working and therefore virtual offices will become more popular. A "Freelancing in America" report predicts that the majority of the U.S. workforce will be freelancers by 2027 and almost half of Millennials (47%) are freelancing today.
What will the next iteration of the virtual office be? Perhaps we'll see it transformed into something different by emerging technologies like virtual reality; or maybe it will serve to connect people and provide remote workers with access to a community. Or both…
Watch this space.