---
---
Q: How can I ensure that my ecommerce customer service is good enough? Does ecommerce negate the need for the attentive style of customer service that customers expect in-store?
A: By offering personalized support, being responsive, and actively trying to keep your customers happy, you'll create a quality customer service experience. Ecommerce does not negate the need for attentive customer service; it accentuates the need.
---
Customer service has been the bane of many businesses since Industry began.
The dichotomy of creating offerings that consumers want while simultaneously keeping those consumers happy while they make purchases is a tricky equation that requires an understanding of consumer psychology in conjunction with an idea of how people wish to be treated.
Poor customer service leads to poor customer retention and negative brand associations that are much more difficult to rectify than they are to prevent.
Ecommerce customer service is the same.
All too often, digital business owners assume that ecommerce operations require little to no customer service. They'll stick an AI chatbot on their website's front page and simply hope for the best.
According to HubSpot's 2022 State of Service report, this couldn't be a more misguided decision.
90% of Americans use a company's customer service to determine whether they'd like to do business with the company,61% of American consumers will switch companies because of a single poor customer service experience, and personalization within the ecommerce customer service experience is more important than ever.
Today, we'll look at what may cause customer service to slip, the dangers of deteriorating customer service, how to boost your ecommerce customer service, and how to use Alliance Virtual Offices' tools to bolster customer service.
Instead of searching for an ecommerce customer service job description or reading ecommerce customer service interview questions to try and determine your next steps, take a moment to keep reading.
---
---
Why customer service slips
Ecommerce customer service jobs can be incredibly difficult. In the past, business owners and employees alike could use context clues, body language, and other expressions to determine whether or not a customer had a negative or positive experience.
Now, while customers are buying so much online, it's more difficult to gauge a particular customer's reaction to your customer service until they've posted a review or expressed happiness or discontent on social media.
Despite how difficult it is to gauge a customer's experience when shopping online, ecommerce customer service is more important than ever. Ensure your ecommerce customer service resume looks polished and legitimate.
---
Read more: 200+ Must-Know Customer Service Statistics
---
When your ecommerce customer service isn't going well, consumers will react negatively to your brand.
But how can you ensure your customer service operates as optimally as possible?
The first step is understanding why your customer service is faltering in the first place. Without this understanding, not even the most in-depth ecommerce growth strategy can save you.
Fortunately, with the right tools, you can provide a high-quality customer experience that will leave consumers wanting more from your brand.
Below, we've put together a brief list of some of the reasons that ecommerce customer service starts to slip.
Limited resources
Focus on efficiency
Lack of face-to-face interaction
Complexity of technology
Competitive market
Limited resources
Part of the draw of starting an online business is the exponentially lower barrier to entry.
In traditional businesses, entrepreneurs are forced to find attractive but fair-priced locations, which is already a difficult task, that will entice potential customers to visit their store.
After spending considerable capital on securing the lease and paying a deposit and first and last months' rent, entrepreneurs must worry about keeping the store fully stocked, keeping up with monthly expenses like utilities and other bills, and how much foot traffic they're receiving.
Add in hiring employees, unexpected expenses, and the risk of the location not working out as planned, and it's clear that starting an in-person, traditional business is much more expensive than an online company.
As you can imagine, ecommerce entrepreneurs have a considerably lower barrier to entry.
Now, with tools like Virtual Offices, starting a company has never been more affordable.
Unfortunately, this doesn't mean that all business owners running ecommerce content marketing operations are flush with capital.
Ecommerce businesses, especially startups, may have limited resources, despite the lower barrier to entry, to allocate toward customer service.
They may prioritize other areas like marketing and product development to grow their business.
Focus on efficiency
Ecommerce operations are inherently flexible and efficient. Despite this, focusing too much on efficiency while ignoring each customer's personal experience is a quick way to watch your ecommerce customer service implode.
Many ecommerce businesses prioritize efficiency to keep up with the fast-paced nature of online retail. They may prioritize speedy delivery and low prices over providing personalized customer service.
Lack of face-to-face interaction
Face-to-face interactions make it easy for traditional business owners to gauge their customers' feelings and thoughts on their companies' customer service.
If an individual looks sad or dejected, there's an opportunity to speak with them before they even leave the store.
Unfortunately, ecommerce businesses don't have the advantage of face-to-face interactions with their customers. This can make building strong relationships and providing exceptional customer service difficult.
Complexity of technology
Technology is rapidly advancing. At times, quicker than most can keep up with.
From artificial intelligence to constantly upgrading smartphones that 76% of the American adult population use for online shopping, these advancements can be a lot to stay up to date on.
If you're not up to date on new advancements and doing everything in your power to use the tools and services being created to provide customers with a better customer experience, those customers will simply transition to businesses that are taking steps to remain as modern as possible.
In addition, because ecommerce businesses often rely heavily on technology to manage their operations, it can be difficult to provide prompt and effective customer service when technical issues arise. This is especially true if you don't have an ecommerce customer service manager.
Competitive market
A combination of a low barrier to entry, rapidly advancing technologies that streamline the process, and a general increase in ecommerce market share have created a hyper-competitive market with considerable competition.
Because ecommerce is a highly competitive market, businesses may focus on reducing costs and maximizing profits to stay ahead of competitors. Both are fine avenues, but not at the risk of your ecommerce customer service.
Doing so can lead to neglecting customers to save resources and improve their bottom line. Unfortunately, ignoring customer service to save capital will typically result in a reduction of brand loyalty and customers looking for other businesses that provide the experience they want.
These are just a few reasons why customer service slips, but what outcomes can you expect if you begin seeing any of these warning signs?
The dangers of poor customer service
With so many customers using customer service as a gauge that determines whether they continue using a company or not, poor customer service can quickly lead to a mass exodus of customers, especially if you have a competitor with similar offerings who provides better ecommerce customer service.
Thankfully, there are countless tools you can use to alleviate some of these problems, but without taking the time to fundamentally understand what your customers expect, these tools may be too little too late.
---
Read more: The Best Tools for Ecommerce Businesses
---
The dangers of poor ecommerce customer service are vast, so below, we've listed some of the problems your business may encounter if you're struggling with customer experiences.
Negative reviews
Decreased customer loyalty
Loss of sales
Increased returns and refunds
Legal issues
Negative reviews
Bad reviews are the bane of every online business.
Many customers use reviews before buying from a new company, so if your business has been inundated with bad reviews, there's a great chance you'll lose out on potential new customers.
When you neglect ecommerce customer service jobs or outsourced positions in favor of allocating resources elsewhere, it may result in negative reviews from dissatisfied customers.
These reviews can be damaging to a business's reputation. By extension, this prevents potential customers from exploring your company and may cause existing customers to rethink their position on your brand.
The best way to deal with negative reviews is to address them as quickly as possible. If someone has left something negative about your business and you respond immediately hoping to fix the issues, the potential consumers that see the review are more likely to give you the benefit of the doubt.
Remember, there are no businesses that have zero negative reviews, as negative reviews are a part of doing business. What separates successful companies with bad reviews from not-so-successful ones with bad reviews is how each business deals with negativity.
Decreased customer loyalty
Customer loyalty is paramount to the success of your brand.
From the same HubSpot survey, customer acquisition is between 5 and 25 times more expensive than simply keeping your existing customers happy.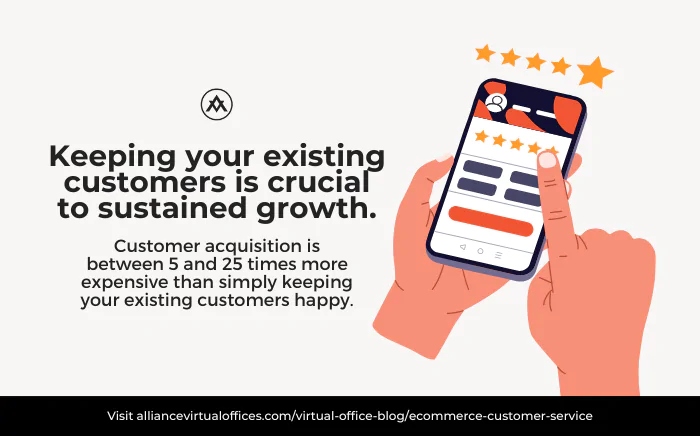 Customers who don't feel valued or heard are less likely to remain loyal to your business.
Neglecting ecommerce customer service can result in a decrease in repeat customers, leading to lower revenue and profits.
Keeping all of your customers happy is effectively impossible. Everyone is different, and some people wake up intending to be upset.
According to Forbes, the best way to focus on brand loyalty is by segmenting your customers into the top 20% and a bottom 80%.
Since your best customers will make up most of your sales, you need to determine how to keep these individuals happy.
This isn't saying that you should ignore the other 80% of your customers because you shouldn't, you should offer them the highest-quality customer experience possible, but you should take the time to determine what makes the top 20% stand out and how you can keep them engaged with your brand.
Loss of sales
The point of your ecommerce business is undeniably to turn a profit.
Poor ecommerce customer service can quickly lead to lost sales.
Customers who have negative experiences may choose to shop elsewhere, resulting in lost revenue for your business.
In addition, the customer affected by negative ecommerce customer service may tell their friends and family about their poor experiences.
Just like word-of-mouth advertisements are some of the most effective forms of marketing, word-of-mouth negativity spreads like wildfire and can be disastrous for your company.
Increased returns and refunds
Processing returns and refunds are frustrating for any business owner, online or not. Despite this, it's part of doing business.
When you neglect customer service, however, it can lead to an increase in these returns and refunds.
Customers may be dissatisfied with their purchases and demand a refund, resulting in additional costs for the business.
This may be due to a business's offerings more than its customer service, but with high-quality customer service, you can usually catch these issues and rectify them before your customers ask for their money back.
Legal issues
Neglecting customer service can also result in legal issues.
Customers who feel that they've been mistreated or misled may file complaints or even lawsuits against the business, resulting in legal fees and potentially damaging the business's reputation.
Legal fees get expensive very quickly, and the social damage associated with a lawsuit, or even worse, a class action lawsuit, can feel irreversible.
Now that you understand why ecommerce customer service is so important and the dangers associated with neglecting your customers, let's explore different ways to boost your ecommerce customer service.
How to boost your ecommerce customer service
Remember, it's best to create a robust ecommerce customer service experience before you find yourself in a position where consumers are complaining about your customer experience.
Some business owners are under the impression that they can secure a virtual office, work from home, and handle all customer requests without outside help. More often than not, this is not the case.
Yes, a high-quality Virtual Office will help your business succeed, but you need to do more than that to ensure your ecommerce customer service is strong enough to beat your competition.
---
Read more: Get a Virtual Address for LLC Registration
---
Here are some handy tips that you can use to boost your ecommerce service regardless of the business stage you're currently experiencing.
Offer personalized support
Train customer service representatives
Be responsive
Implement customer feedback
Use a Live Receptionist
Offer personalized support
Your customers want to feel seen and supported. Providing personalized support to customers can help them feel valued and heard.
This can include offering chat support, email support, or even phone support.
In addition, you may consider offering a way for your customers to reach you on social media with support help. The easier time your customers have reaching you to deal with issues they've encountered, the better customer experience they'll have.
You want every customer to feel surprised by the level of personalized support they're receiving. Through data analytics and a willingness to react to changes in the market, you can offer each of your customers a personalized experience.
Train customer service reps
Ensuring that customer service representatives are well-trained can help them provide effective and efficient support to customers.
Be responsive
Being responsive to customer inquiries and concerns can help build trust and loyalty.
Responding promptly to customer messages and inquiries can demonstrate a commitment to customer satisfaction.
Implement customer feedback
Actively seeking out and implementing customer feedback can help improve the overall customer experience.
This can include improving product offerings, website designs, or even customer service policies.
Remember, customers want to feel valued. By asking your customers for feedback and implementing that feedback, you're sending a clear message that you value what your customers think and are willing to make the changes they'd like to see.
This doesn't mean you should make changes the first time a customer complains; it also doesn't mean you should implement every piece of feedback that your loudest customers offer you.
Instead, use your discretion to determine which suggestions would benefit your business in the long term and take the steps to implement these changes.
Live Receptionists
Utilizing a Live Receptionist Service from Alliance Virtual Offices can improve customer service by ensuring calls are answered promptly and professionally.
---
Read more: Why a Virtual Receptionist is the Key to Better Customer Service
---
This can help businesses maintain a positive image and build customer trust.
Not only are Live Receptionists exponentially more affordable than hiring someone to fill a position answering phones for your business. Additionally, Alliance's Live Receptionists can be trained to handle administrative tasks, callback scheduling, transfers, and more.
As you can see, there are several options available that can help you improve your ecommerce customer service.
Using Alliance Virtual Offices to bolster your ecommerce customer service
It's easy to let your customer service become an afterthought when you operate primarily through ecommerce, but doing so is a fatal mistake.
Online businesses don't have the luxury of seeing a consumer's body language or facial expressions during their shopping experience, which is why providing high-quality ecommerce customer service is so important.
By utilizing Alliance's Virtual Offices and Live Receptionists, you can save capital and allocate those funds to other operational costs like improving customer service. Not to mention, simply adding a Live Receptionist will have an impressive effect on the consumers contacting you by phone.
Focusing on customer service will help you grow by boosting your reviews and creating loyal customers.
---
Further reading
---
Alliance Virtual Offices offers Live Receptionists and other services designed to help established entrepreneurs, new business owners, and everyone in between create online businesses they can be proud of.
Ecommerce customer service has a massive effect on how your company is viewed, your sales, and your ability to scale.
By focusing on customer service, you can stand out from your competition, keeping your most loyal customers happy while simultaneously bringing in new customers who've heard positive things about your brand.
Contact us to see how Alliance Virtual Offices can provide you with tools that make ecommerce customer service easier to handle.