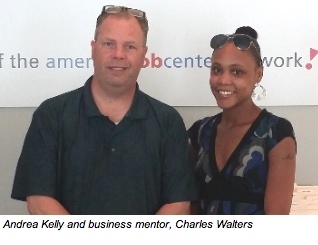 In April, Alliance Virtual Offices launched a new campaign to support small businesses. We call it the 'Backer Of Small Business', and we pledged to give away $500 to one dedicated startup.
To say we were delighted with the response is an understatement.
In our first ever contest we received over 30 entries, and all of them were thoughtful, considerate and detailed – just like we asked. Alliance Virtual's own Chairman, Frank Cottle, judged the entries alongside Viveka von Rosen – LinkedIn consultant and social media guru.
Choosing a winner was not an easy task. Yet there was something special about one entry in particular.
It was penned by Andrea Kelly, an undergraduate student at the University of Cincinnati, who is developing TWO ventures within the social care industry. Andrea won us over with a truly heartfelt entry that revealed just how passionate she is about her work.
Pictured: Andrea Kelly with her business mentor, Charles Walters
A space for children
28-year-old Andrea is majoring in Psychology and is set to graduate in August 2015. She also holds an Associate Degree in Early Childhood Education at the University of Cincinnati.
Andrea is developing a business called A Space 4 Me, a child enrichment center for kids aged up to 12 years old. Andrea has developed a business plan for the center and is in the process of negotiating terms for rental of the space, based in the Roselawn area of Cincinnati.
There is still a long way to go, but Andrea has a clear vision of exactly what the space will be.
"A Space 4 Me will be a full service child development center," she said. "Services include tutoring and afterschool care for school-age children, childcare for children 0-3 years, and preschool with an emphasis on kindergarten readiness."
Andrea also plans to include a co-op program for parents, transportation, and CDA class training, along with support for students and volunteers who need experience in a child care setting.
"I would like everyone who uses the services – parents, teachers, and children – to arrive every day knowing that there is a space for them."
A space for homeless women
In addition, Andrea is in the process of developing a transitional shelter for women and children.
Sharing the same brand and similarly called A Space For Me, the non-profit shelter shares the same vision as its childcare counterpart – to provide a place where people feel they can belong. The shelter will provide temporary housing and more permanent solutions for longer-term residents.
"The building that I am trying to acquire for this space is on the northside business district in Cincinnati," she said. "It is designed to alleviate chronic family homelessness which occurs because of high rates of poverty in the Cincinnati area."
Andrea explained that child poverty in Cincinanti is among the worst in major U.S. metropolitan cities. Explaining what she plans to do with her $500 funding from Alliance Virtual Offices, she said:
"A Space For Me Transitional Shelter is in the developing stage, and with the funding, I will officially register A Space For Me as a non-profit and then seek to raise funds for the building itself. I will also register with the Greater Cincinnati Homeless Coalition, which will assist with awareness and investment."
Ultimately, Andrea's vision is to benefit and engage local communities through both the childcare center and the shelter. As part of this, she plans to create jobs in the local area through employment at A Space 4 Me Child Enrichment Center, which will range from tutors and on-site kitchen staff to drivers.
Here's what our judges think of Andrea's ambitions:
"Our children are our future, and their care and nurturing are the means by which we build a solid foundation for everything that society hopes to accomplish," said Frank Cottle, Chairman of Alliance Virtual Offices.
"A Space 4 Me is a perfect example of a public/private partnership that demonstrates thought leadership and practical action in an area that can gain great benefit from our humble contribution. We hope that our support will not only demonstrate our own commitment to businesses that take a strong social position, but encourage others to do so as well."
Viveka von Rosen commented:
"I have two assistants that have consciously chosen to work at home, so they can be with their children as they grow up. Not all working men and women have that option – often having to make the choice between being with family and supporting the family. I love the fact that A Space 4 Me provides both childcare and job development, so that working parents not only know their children are safe, but that they can themselves uplevel their possibilities and options as providers."
From the team at Alliance Virtual Offices, we wish Andrea all the very best with her venture and we look forward to following progress as her vision comes to life.