From clever closets and dinky desks to marvellous multifunctional spaces, there are oodles of different ways to transform a corner of your home into an inspirational, hardworking office.
We've picked out a few of our favourite styles from Pinterest, which we've shared here.
Some focus on space-saving themes for small apartments and rooms, while others present clever ways to separate your work and home life – a necessity for virtual office users which is all too easily forgotten.
How to Deal with Annoying Alcoves
Marie Bridger pinned this cute alcove-based home office, which originally appeared on Real Simple.
Using shelving, a pull-out desk and a curtain to hide away the office paraphernalia when not in use, this is a great way to make the most of an alcove or 'nook'. Marie suggests using a "funky curtain" and an antique tieback to hold it out of your way during work hours.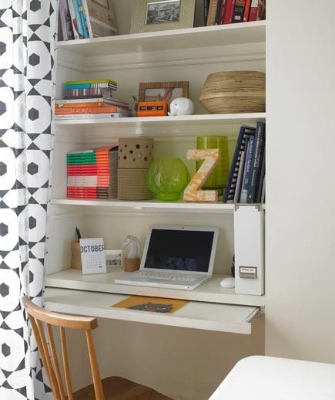 Back to Skool
Pinned by Webstash, this blackboard is not just a bit of retro wall art – it's pretty useful too. Whether you use it as a calendar, notebook or just for doodles, it looks great with this waxed corner desk.
(Tumblr: mildredmildred)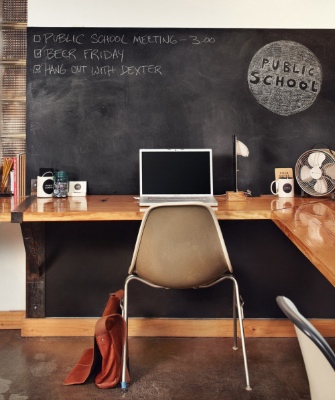 Cozy Corners
When it comes to space-saving office designs for the home, Pinterest is alive with great ideas and unique perspectives.
We love this cozy corner, which comes with its own compact storage, corner desk, lighting and even a comfy couch for good measure. We're willing to bet the top of the couch opens up to reveal a storage chest, too. Genius.
(Sally Aldridge / dumpaday.com)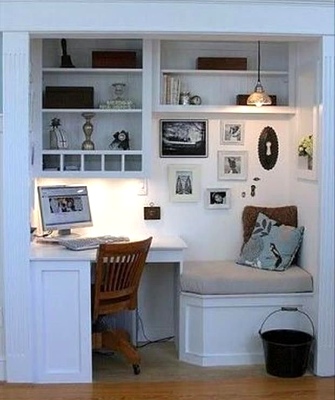 Cupboard Under the Stairs
Okay Harry Potter fans – this one's for you. Why fill a cupboard under the stairs with coats and shoes when it could be your own secret office? Just for muggles, this fantastic space-saving idea can be personalized to suit any size space.
Larger cupboards can feature under-stair shelving and even a corner desk like this one, pinned by Georgina Irving (originally by Austin Architect), while smaller spaces can do away with storage luxuries and use pale decor and lighting to create a brighter, airier space.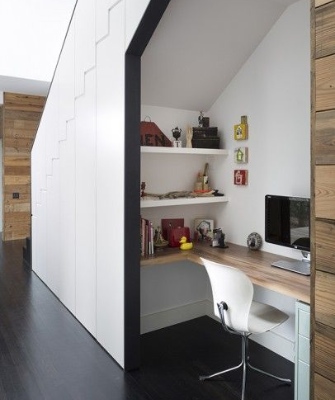 Spare Shed
Why let mice and spiders have all the fun? Even the smallest of garden sheds can be transformed into an inspirational workspace, like this one from LoveHome / UKTV, which uses pretty spring colours to create a light, bright space. The perfect al fresco office.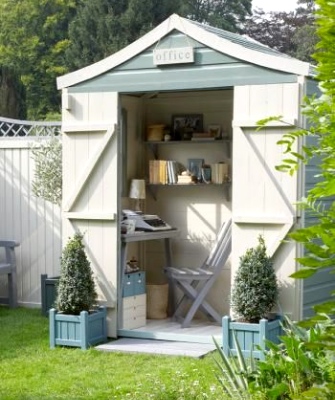 Multifunctional Masterpiece
There's not even a whiff of corporate activity in this home office. Is it a lounge? Or a library? Or a bedroom? With a bit of design wizardry, it's a bit of everything. Pinned by Webstash (originally from www.takingstepshome.com/2012/04/office-inspiration.html) this beautiful space uses chunky shelving that doubles as a desk, along with lounge furniture and bedroom-style storage boxes for a homely touch.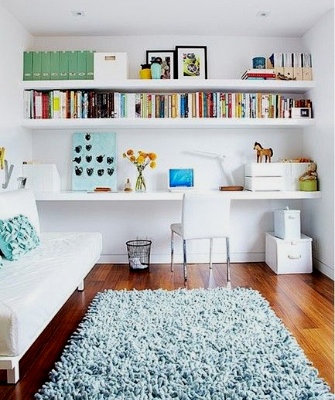 Clever Closets
These clever closets are the ultimate space-saver. If your bedroom or spare room has a large walk-in closet, or even a small one, you can turn it into a hideaway office.
This one on the left by Pinterest user A Thrifty Mrs (DIY Show Off) is a spacious area concealed by doors, brightened by pastel tones and a cleverly-placed mirror.
Yet even the smallest of clothes-hanging spaces can be transformed into a makeshift workspace. The pin on the right by Lauren Reed (Tatertos & Jello) might seem tight, but it's just fine for those who work from home for short periods of time.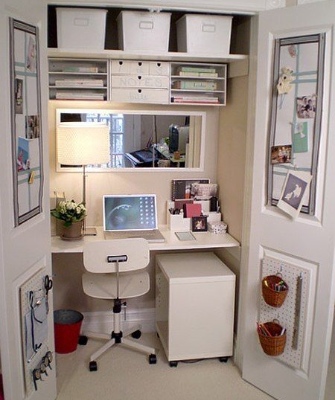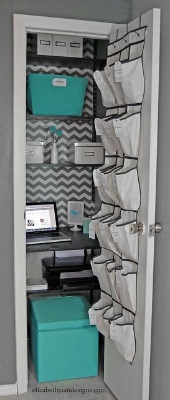 Sparse Yet Beautiful
When it comes to home office decor and furniture, less is usually more. This sparse, minimalist approach using pipe shelves barely looks like a desk, yet its clean and functional – just what you need for a few quiet hours to bash away at your to-do list.
(Web Stash / French By Design)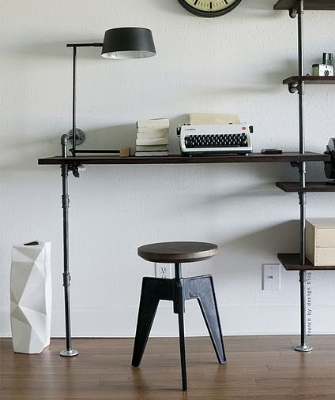 Using Design to Achieve Work / Life Balance
When working from home, it's important to have a workspace that you can pack away at the end of the day. Whether you close a door on it, fold it away or pull a curtain, it's that physical barrier that helps you to de-stress and ease springs.
This cute little number can sit anywhere in the home – even in the hallway – and you simply close the lid at the end of the day. Clever, quirky, pretty, and downright useful.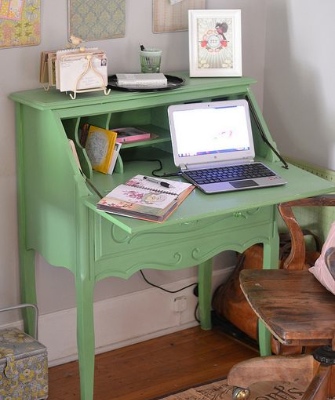 This is another take on the fold-away idea, using a neat wall-mounted desk. It looks a lot like a retro suitcase, but in fact it's a space-saving desk called NUBO, designed by Ligne Roset.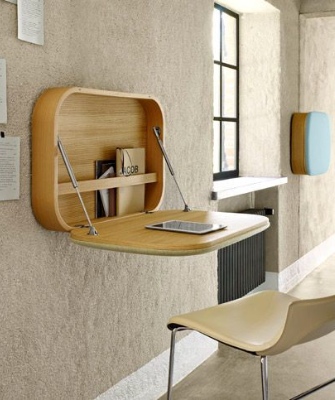 Mezzanine Magic
Getting this one right requires a designer's touch, as workspace paraphernalia and storage can easily clutter a small space. This pin by Mary Anne Bradford (Garance Doré) sets the tone beautifully, with the perfect juxtaposition between vintage charm and clean, modern office functionality.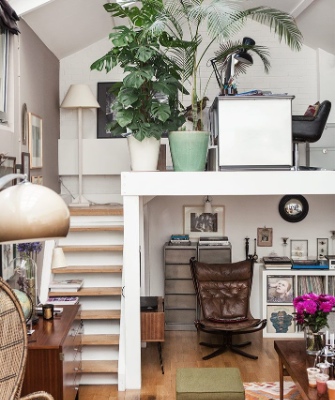 Why not share your favorites with us? Ping us a picture of your home office on Twitter or Facebook and tell us what you love about it.