---
---
Q: What is a business mail list and how can it benefit my company's marketing efforts?
A: A business mail list is a list of individuals' collected contact information, including mailing addresses, phone numbers, and email addresses. With the right business mail list, your company can efficiently market to your target demographic with physical mailers that stand out more than digital advertisements.
---
---
According to PEW Research, approximately 70% of American adults claim that it is reasonably likely that the US government is surveilling their phone calls and emails.
This digital paranoia is a side-effect of several aspects of American culture, but most notably, it's a reminder of the near-constant data collection that American consumers have been subject to for decades.
The assumption that the government could, at any time, "listen in" to your phone calls and emails is widespread and regular bombardment with behavioral advertisements hasn't helped ease the public's fears.
Knowing that your data is being collected regardless of whether or not you consent to the collection is frustrating. It is likely why consumers respond so much better to nonintrusive marketing than behavioral marketing.
Using a business mail list is one option that doesn't rely on intrusive data collection but allows you to target a very specific audience. This isn't to say you shouldn't be using additional forms of digital marketing, but giving consumers a tangible way to connect with your business builds brand recognition, consumer loyalty, and helps you generate leads.
Author Lisa Lillien has focused on curating her mailing list for as long as she's been curating an online following. Considering that Lillien has authored several cookbooks and an NYT bestseller while growing her daily email list to approximately one million daily viewers, the benefit of curating this list should be clear.
In this article, we'll explore the definition business of a mail list, answer whether your business should build a business mail list, how to make a hyper-effective business mail list, and discuss other digital tools that work well with creating a mailing list.
---
---

What is a business mail list?
The business mail list meaning we'll be using will refer primarily to physical addresses. Still, nothing is stopping you from cultivating an email list while building a physical list, and doing so is a good way to retain attention.
A business mail list is a list of leads that includes physical mailing addresses. You use the business mail lists to send marketing materials through the mail.
Many companies create these lists with the information they've gathered previously. Because you're asking customers upfront for their information and letting them know about your mailing list, they're less likely to feel like you're intruding on their privacy.
Using information gathered openly to target specific demographics or geographic locations is a kind of contextual marketing. This strategy aims to ensure that you're getting marketing materials to the right audience at the right time.
---
Read more: Context is Everything: Your Guide to Contextual Marketing
---
Despite the meteoric rise in popularity of the internet and digital marketing, business mail lists are still relevant.
First, they can be used in conjunction with digital marketing of any kind.
To illustrate this point, we've put together a list of various digital marketing initiatives that will leverage your business mail list to create more meaningful advertisements.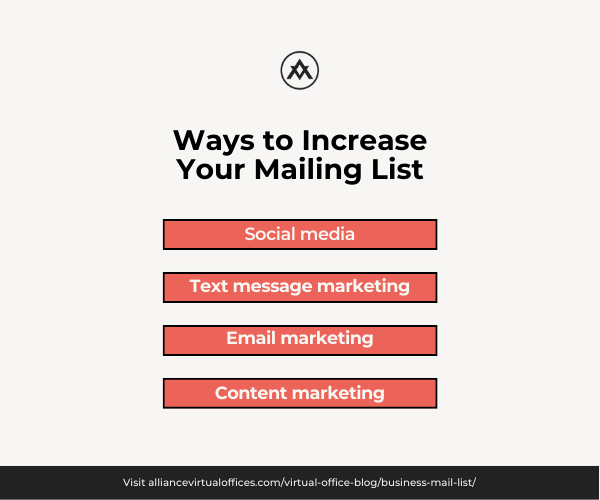 Social media
Social media advertisements are a good way to connect with a specific demographic, particularly if you're familiar enough with your target audience to know what platforms they use. Collecting information and building a detailed consumer profile can increase the likelihood of a positive marketing campaign and reach a more relevant audience.
Text message marketing
Some consumers are less likely to agree to text message marketing, but most will concede if incentivized to do so through promotions or sales. You can use your business mailing list to send further discounts, promotions, or other current information.
Email marketing
Running email marketing lists and physical mailing lists concurrently is a great way to connect with consumers because you're connecting with them with physical and virtual ads. You could include detailed information about your company's offerings in your email list while using CTAs that point to your business's online store with your physical mailers.
Content marketing
Using your business mailing list to spread content to potential customers is an excellent way to provide valuable information and better connect with potential consumers. Consider using your business mail list as an extension of your current digital content marketing efforts. This way, you can incentivize potential consumers to sign up for your mailing list by promising content they won't have access to otherwise.
The marketing initiatives above refer to B2C, business-to-consumer-sales-tactics, but that doesn't mean you won't see success using the same initiatives for your B2B or business-to-business initiatives.
An astonishing 73% of working millennials are participating in the B2B process, so the advertisements that work for millennials in the B2C world would work just as well.
---
Read more: Improve, Impress, Sell: Building Your Perfect B2B Sales Funnel
---
As you can see, business mail lists can be used with digital marketing to help your company stand out from its competition.
---

How to build a business mail list
When it comes to building a business mail list, you're presented with a few different options.
You'll need to ensure that your business has the proper address for legitimacy and professionality, which can be attained with a Virtual Office. Once you've secured your office, you have many different options.
---
Read more: How to Start a Virtual Company
---
The first is simply searching for a business mail list for sale and purchasing a completed list from someone else.
Typically, this isn't a great way to start. You want your customers to be aware that they've signed up for your mailing list instead of inundating them with mail with no warning.
Creating a free business mailing list might not cost any upfront money, but you will spend time and capital to build a successful list.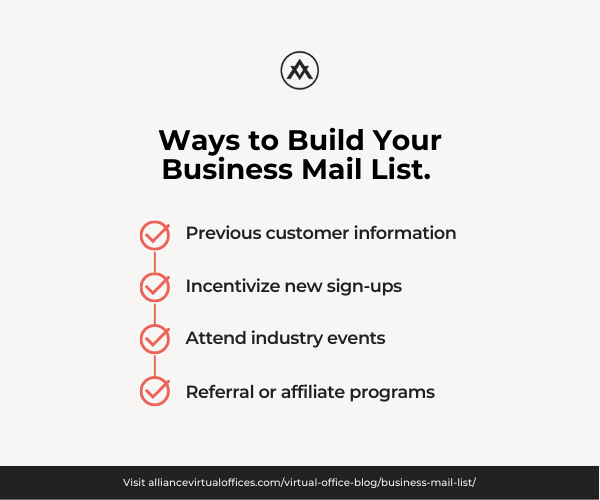 Once you start cultivating your information, there are a few ways to build your business mailing list.
Previous customer information
Incentivize new sign-ups
Attend industry events
Referral or affiliate programs
Previous customer information
The first and most common method of building a business mail list is simply using the address of all previous customers. These individuals have already shown a clear interest in your products, meaning they are a group of relatively hot leads.
If you choose to go this route, you'll need to continue updating the list as you gain more customers. Additionally, you can add a box to your online store that customers can check that instantly signs them up for future updates, releases, and mailers.
By using previous customer information, you're using contextual marketing rather than behavioral, to which consumers are far more likely to respond.
Incentivize new sign-ups
The best kind of business mailing list is one that all the recipients are excited about receiving. To excite consumers about your business mailing list, consider using incentives to garner interest.
Offering consumers discounts is a powerful way to generate leads. Offering discounts to consumers is a powerful way to build an effective list for your business.
Another option would be to create a sale or promotional period wherein consumers are rewarded specifically for signing up. This could be as simple as an additional 5% off of their final purchase or as complicated as access to secondary offerings that aren't typically available.
Remember, there aren't any rules about what the incentives should be. As long as you're cultivating interest among your customers and creating content that they want to receive, you're moving in the correct direction.
The key to creating healthy incentives is learning how to offer enough without risking too much potential profit.
Attend industry events
Depending on the industry you're a part of, attending industry events and using the space to build your business mail list is a great way to find people you wouldn't typically interact with.
Some common events that you might come across that would allow you to meet new consumers are included below:
Business expos
These events showcase offerings and information from countless businesses and are a great way to collect contact information from potential customers. Business expos typically have a broader audience, so you can meet individuals who might have yet to see your content.
Trade shows
Trade shows are more specific than business expos but are designed for specific industries to gather and showcase their offerings. The attendees of trade shows are usually other business owners or industry experts, which provides a great opportunity to collect contact information from potential customers.
Networking events
Most larger cities have a Chamber of Commerce that organize networking events for business owners and entrepreneurs, but if your city doesn't provide these kinds of events, you can go online and find other entrepreneurs looking for networking opportunities and work from there. At networking events, everyone is just trying to build connections. Because of this, you have a better chance of connecting with consumers that might otherwise be hesitant to give up their personal information.
Conferences and webinars
Conferences are events that focus on one specific topic or industry and are more particular than trade shows or business expos. Conferences often include keynote speakers and panel discussions to educate the attendees, which makes conferences a great opportunity to network with other professionals while collecting contact information from potential customers.
Webinars are either live-streamed videos online or prerecorded online educational seminars. While you won't be able to physically ask consumers to join your mailing list, educating potential customers about your business is a great way to collect contact information efficiently.
Open house
This isn't attending an event as much as it is hosting one, but depending on the business you own, and whether or not you're operating virtually or physically, you might consider hosting an open house to invite potential consumers to learn about your business. That said, if you operate virtually, you can always host virtual meetings to the same effect. In an open house or tour of your business, you will show consumers how your business or industry operates, creating the opportunity to connect with consumers who want to know more.
As you can see, there is no shortage of kinds of events that you can attend to build out your business mailing list.
Referral or affiliate programs
With referral or affiliate programs, you want to be careful not to push consumers too hard.
A referral program is simple. You want to inspire current customers to contact their contacts and tell them about your company.
The idea of incentivizing past customers to help build your business mailing list is enticing for obvious reasons. Still, you don't want to risk new potential customers feeling put off because they feel like they're being pitched to.
However, the right kind of encouragement for current customers to refer their contacts to your company is an effective way to build an incredibly robust and word-of-mouth marketed business mail list.
An affiliate program is a bit more involved but can be wildly profitable if handled correctly.
In an affiliate program, you provide the chance for individuals or businesses to earn commissions for referring new customers to your business. Not only does this bring in new customers, but your affiliates will likely continue making purchases as well.
The biggest issue with an affiliate program is ensuring you aren't giving too high a commission while still offering enough for others to want to get involved.
As you can see, you have several options for building your business mail list. The old days of creating a business mail list by zipcode are long gone, and you have endless opportunities to build a healthy list that your business is proud of.
---

What makes a successful business mail list?
Building a business mailing list is only the first step. Once you've created the list, you must convince your potential customers to buy with strong marketing materials.
If you've built out a strong business mail list with potential consumers that fit within your target audience, but your content looks spammy or dangerous, all of your efforts won't translate into higher sales.
More than anything, you have to create compelling content that customers can relate to.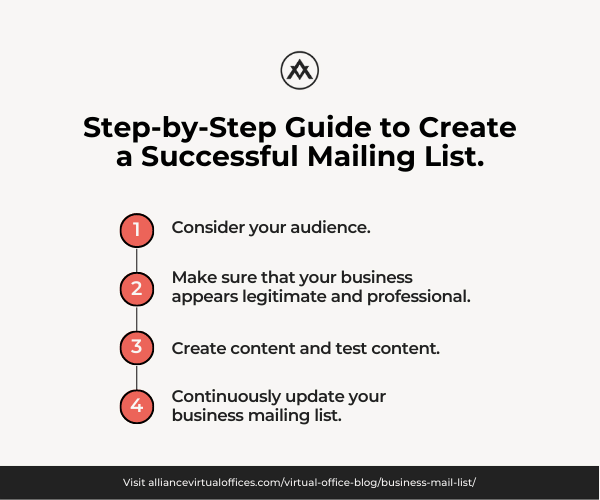 Below, we've put together a step-by-step guide to creating a successful mailing list.
The first step to ensuring that your business mail list is successful is to consider your audience.
When dealing with young people, craft content that uses imagery and tone likely to resonate with young people. Similarly, if you're targeting an older demographic, create marketing materials that instill nostalgia and resonate with these individuals. Typically, your physical mailing list will consist of older, more traditional individuals. Keep this in mind.
Next, you need to make sure that your business appears legitimate and professional.
People get a lot of junk mail. For this reason, several consumers are wary of random fliers. You must ensure that your target audience has a good reason to trust your company.
One of the best ways to accomplish this is with one of Alliance's Virtual Offices. A Virtual Office gives you a professional address that you can include in your mail. This way, if anyone searches for your business, they'll quickly learn it's located within a prestigious business center.
Additionally, your Virtual Office address helps you handle any response mail you may receive with convenient mail forwarding on your schedule.
Create content and test content
As previously mentioned, the content you're sending needs to be exciting and capable of connecting with your target audience. When crafting your mailing list, you should constantly test the content you're releasing. This can be done with focus groups, collecting data on the mailing lists as you send them, or even asking others what they think about your content. The method you use to test the content isn't as important as being willing to make changes when necessary.
Finally, you need to update your business mailing list continuously.
Once you've built your business mailing list, you can't just ignore it and hope for the same results as time goes on. Instead, you need to regularly remove invalid or undeliverable addresses, keep consumer contact information up-to-date, and make sure you're familiar with any new direct marketing regulations that might come into play.
---
Read more: What Does Your Business Reply Mail Return Address Say About Your Business?
---
By following these steps, you'll be able to create a business mail list that continues to grow while helping you better connect with consumers, generate more leads, and increase your company's overall profitability.
---

Using your business mail list with other digital tools
Despite the widespread transition to digital-first operations and virtual marketing initiatives, mailing lists are still an effective way to market.
Keep your audience in mind and craft marketing materials that speak to their needs.
Registering your business with a Virtual Office gives you a professional address and convenient mail forwarding to support your efforts.
In addition to the professional address and convenient mail forwarding, your Virtual Office comes with several other amenities that will assist on your journey to building the best business mail list.
Not only does your Virtual Office provide a clear and concise identity for your business, but with easily reservable meeting rooms, you can schedule appointments with potential customers or clients who have been added to your mailing list.
In addition, most standard commercial office leases start at a 3-year minimum, include a hefty security deposit, and require tons of monthly upkeep. With your Virtual Office, the plans are very cost-efficient and start at an easy-to-manage 6-month minimum, meaning you have more money to reinvest into the building of your mail list.
Outside of your Virtual Office, Alliance provides other tools that you might use to benefit your business mail list.
If you've ever tried to handle running the day-to-day operations of your company while answering every phone call you receive, the importance of a receptionist that specifically answers the phone is clear.
Alliance provides friendly and professional Live Receptionists who screen and answer every call you receive. This helps you eliminate an extraneous position you'd otherwise have to hire to allow you to focus on your company's core operations.
Not to mention, your Live Receptionist will be able to collect contact information from potential customers that call your business.
With these tools and several others, Alliance provides opportunities for business owners to build healthy and always-evolving business mail lists that position their company for long-term success.
---
Further reading
---
Alliance Virtual Offices provides digital solutions for established entrepreneurs, new business owners, and everyone in between.
Building a business mail list might seem like an outdated way to market to potential consumers, but this just isn't the case.
Yes, there are some situations where using a business mail list doesn't make sense, but other situations will greatly reward your company for using a mailing list.
Depending on the demographic you're targeting, how much time they spend online, and how they might react to physically mailed content, you can quickly determine whether or not you need to focus on a business mail list or another kind of marketing initiative.
Regardless of the decision you make, Alliance Virtual Offices is ready to help your company build the strongest business mail list possible.
Contact us today to see how Alliance can help your company better position itself for long-term success, and don't forget to check out the Virtual Office Blog for more helpful tips!