---
---
Q: Where is the best place to start a business?
A: With the rise of eCommerce in the modern world, it's possible to start a successful business just about anywhere. Thanks to new methods, you can register your business digitally and choose any location that makes sense to you.
---
---
The statistics are staggering:
36% of all businesses are now handling all of their transactions online. Consumers spent 15-30% more when shopping online for a broad range of products during the last two years.
eCommerce sales skyrocketed in the middle of the pandemic, rising from $571 billion in 2019 to $815 billion in 2020.
In addition, consumers are exhibiting decreased levels of brand loyalty, with 75% of consumers now willing to try new shopping behaviors and new brands.
Companies are adjusting to this new landscape and shifting heavily towards online sales. For new entrepreneurs, this represents an opportunity to jump straight into eCommerce and skip brick-and-mortar locations entirely.
But this begs the question:
If an online store doesn't require a physical location, then where the heck do you register your business? The obvious approach would be to register your business in your current state.
But is that really the most efficient choice?
Let's find out.
---
---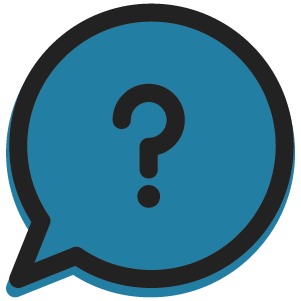 How Have Small Businesses Evolved within the Past Decade?
Just to put things in perspective, let's look at data from the year 1998 – a time when the internet was still very new.
Back then, few entrepreneurs were taking advantage of eCommerce. In fact, many companies didn't even know what the word meant.
In 1998, eCommerce sales amounted to a total of $5 billion in the United States. In 2020, this number had risen to well over $800 billion – representing an increase of 16,000 percent. By 2021, that number had risen an additional 18%, reaching $933 billion.
In 2022, we are on track to surpass $1 trillion in US eCommerce sales.
So how did we get from $5 billion to almost $1 trillion in the space of just 20 years?
There are a few factors worth considering, including:
Inflation
The rise of Amazon
The ease of online payment processing, shipping, and returns
The incredible variety offered by online stores
The pandemic
The lower cost of operating an online store compared to a brick-and-mortar store
New methods such as affiliate marketing and dropshipping
The ability to reach more customers
Excellent growth potential
Lower startup costs
Was This All Caused by Covid?
When we look at the statistics above, it seems clear that the pandemic sparked a major surge in online shopping.
While sales definitely increased during Covid-19, can we really say that the pandemic alone caused the exponential growth of this industry?
First of all, consider that while some industries experienced growth during Covid-19, others experienced major declines. In these affected industries, sales slowed in both online and brick-and-mortar settings.
An excellent example is the clothing industry.
Because people didn't need to go to work anymore, they stopped purchasing office attire and other work clothing. In addition, they stopped buying high-quality, semi-formal attire for important social events.
On the other hand, sweatpant sales surged during the pandemic as people worked from home and were quarantined.
In other words, certain declines in product sales were universal, and it didn't matter whether these products were being sold online or in physical stores.
Still, the pandemic did in fact cause more people to shop online – including those who previously preferred to shop in person. Many consumers were actually forced to try out new brands and new shopping methods due to supply chain issues.
And perhaps more importantly, most of the people who tried out online shopping methods during the pandemic say that they will continue to use these methods in the future.
But while Covid-19 certainly played a major role in rising eCommerce sales within the past few years, the truth is that we're looking at a larger trend that was already taking place prior to the pandemic.
In fact, the data seems to suggest that the most pivotal moments in eCommerce history occurred during the late 90s and early 2000s.
These were the years in which Amazon, eBay, and other giants consolidated their positions on the web and made it easier than ever for consumers to purchase whatever they wanted online.
eCommerce is hardly anything new, and it has been around for well over three decades. With that said, the pandemic has hammered home the importance of this business model in the modern era.
This is proving to be a lesson no one can afford to ignore – whether you're running a major company or your first startup.
---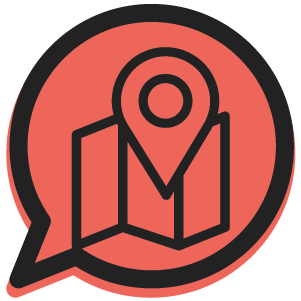 How Do These Changes Affect Your Business Location?
When you choose to start an online store, you immediately eliminate many costs, including:
Renting/leasing a physical space
Hiring employees
Utilities
Property insurance
Property taxes
Maintenance
Possible injury claims
Employee benefits/insurance
The cost of storing physical products
The list goes on…
The main takeaway for many entrepreneurs here is that an online store doesn't even need a physical location. But is that true?
The truth is that every business is required to have some kind of physical address in the United States – even if you don't have a brick-and-mortar store or office location.
Most people assume that the best place to start a business bank account is by using their own home address. If you're a solopreneur with no employees, your residence might seem like the only option available.
So… what's the big deal?
You write down your home address on your IRS business registration form, and you don't have to worry about the best place to start a business ever again… Right?
Sure, you could use your home business address to register your business. But this could result in a wide range of disadvantages, including:
Lack of privacy
Too much mail
Your business' reputation may suffer if its address is revealed to be a residence
Security issues
Increase in door-to-door salespeople
Disgruntled customers will know your home address
So if you're not supposed to use your home address when you register your new business, then which address can you use?
An excellent modern solution is something called a "virtual address." A reputable service provider such as Alliance Virtual Offices provides you with an address of your choosing.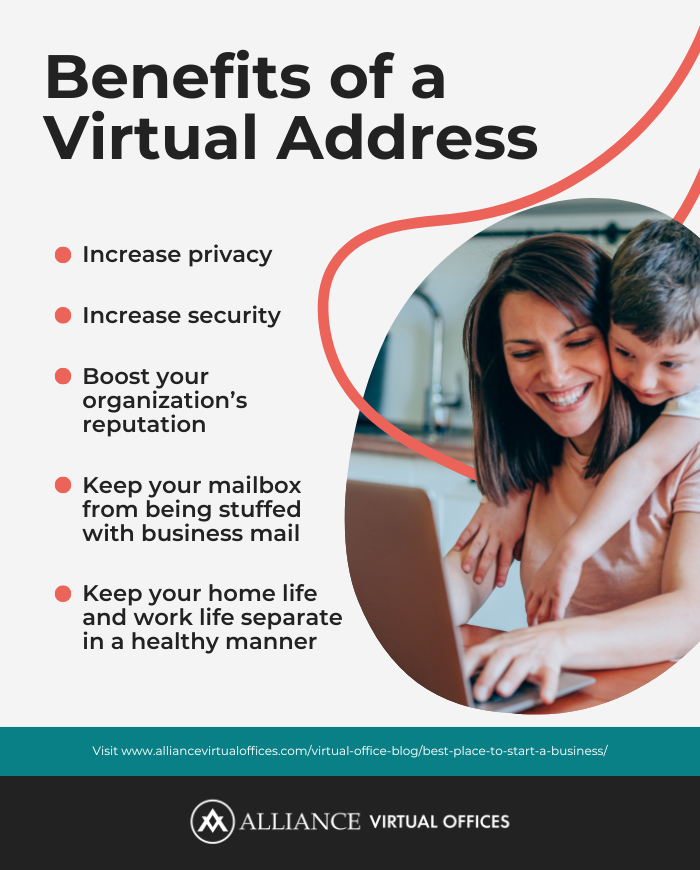 From there, all of your business mail will be sent to this location instead of your home. As far as anyone can tell, this is the location of your headquarters. This means that you can:
Increase privacy
Increase security
Boost your organization's reputation
Keep your mailbox from being stuffed with a business mail
Keep your home life and work life separate in a healthy manner
But wait for a second, can you really pick any address you want? If you're free to choose any location, then what's the best place to start a business in 2022?
We're glad you asked…
---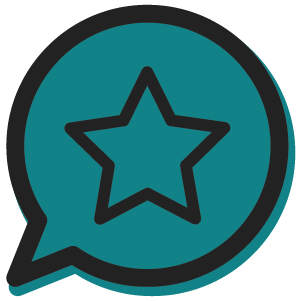 How Do You Choose the Best Place to Start a New Business?
If you're searching for the best place to start a new business, you should take a few factors into account:
Tax rates
Networking
Living costs
Operating costs
Your own personality
Reputation
Local laws
Now, let's go through each of these areas in more detail:
Tax Rates
The main benefit of choosing to register your business in a different state is that you can experience considerable tax benefits.
As you probably know, each state has its own laws and regulations, and this is one of the most interesting things about the United States. While some states slap hefty taxes on businesses, others are extremely lenient.
Two of the most popular business structures for online businesses are LLCs or corporations So let's look at some of the worst states for LLC taxes:
New Jersey: The Garden State has a sordid reputation among entrepreneurs because of its excessively high LLC taxes. Register your company in this state, and you might end up paying more than 9 percent in corporate taxes. The highest statutory corporate tax rate is 11.5 percent. Recently, Governor Murphy retroactively increased and extended the state's temporary surcharge on corporate taxable income over $1 million.
California: California's tax rate for LLCs is just under 9 percent, and by that standard, it's one of the worst places to register your business. Despite this, the Golden State is home to more small businesses than any other place in America.
New York: New York's LLC tax rate is 6.5 percent on $290,000 or less of federal taxable income. However, certain qualified businesses can pursue much lower tax rates if approved.
Now that you know which states to avoid, let's cover the states that offer the most attractive taxes for online businesses:
Wyoming: Wyoming is the clear winner when it comes to LLC taxes. Not only is the corporate tax rate zero percent, but the individual tax rate is also zero percent. This means that even if you set up a C-Corp and issue dividends to yourself, you won't pay any personal income tax on the money you take out of the business. It's a win-win.
Florida: Florida has a corporate tax rate of 5.5 percent. While this isn't as good as some of the other states on this list, it starts to get a little more attractive when you consider the fact that Florida's individual income tax rate is zero percent. In addition, the Sunshine State is generally considered a better place to live compared to some of the other more rural states on this list.
South Dakota: Like Wyoming, South Dakota has no individual income tax or corporate tax rate. This makes it an obvious choice for anyone looking for the best place to start a business.
North Carolina: North Carolina often falls under the radar, but its flat corporate tax rate of 5% is consistent and reasonable. The state's income tax is also a flat 5.25%.
Nevada: Nevada is another solid choice for those looking for the best place to start a business in the US. Like Wyoming and South Dakota, Nevada has a zero percent tax rate for both individual income and corporate income. And with the world-famous city of Las Vegas at its center, it's perhaps a more reputable choice than South Dakota or Wyoming.
Networking
While moving to a tax-free zone might be appealing for obvious reasons, there are many other factors to consider.
Many of these states that offer zero-percent tax rates are quite rural, and you might miss out on networking opportunities if you plan to move to one of these states in order to run your business. For example, California has relatively high tax rates – but Silicon Valley is a hub of ideas and innovation that can transform your business and expose you to new opportunities.
Of course, none of this matters if you simply choose to register your business in a state with low tax rates without actually living there.
Living Costs
You also have to consider your living costs when figuring out how to start a small business – especially if you're planning to live in a busy, more expensive state.
Living in San Francisco might provide a wealth of networking opportunities, but the cost of living can be ruinous. You might be better off living in the same state in which you register your business since rural areas like Wyoming and South Dakota tend to have much lower living costs.
Operating Costs
You also have to consider operating costs if you're running a new business. While you can eliminate typical brick-and-mortar energy costs with a home business, you can't eliminate all utility costs.
If you're shipping products, you also need to consider the cost of storage and shipping. Different states may offer different energy and shipping costs.
For example, Louisiana has the lowest average electricity rate of about 7 cents per kilowatt hour, while Hawaii's rate is much higher at 30.55 cents per kilowatt hour. If your business relies on tasks that consume vast amounts of power – such as Bitcoin mining – you might need to take this into account.
Here are some other factors to consider:
The average wage costs in each state
How much does the internet cost in each state?
The cost of warehouse rentals for storing products
Your Own Personality
You might also need to consider your own personality when choosing the best place to start a business in the world.
Can you see yourself living in a rural location and benefitting from the lower tax rates? Or are you more of a "people person" that needs plenty of networking opportunities in a big city?
Reputation
You also need to consider the effect your address may have on your business' reputation. It goes without saying that some addresses are inherently more reputable than others.
Let's say you had to choose between two financial services companies:
A company with an address in the heart of downtown New York
OR
A company with an address in "Eureka, Nevada."
Which one would you pick?
The same logic applies to virtually every company – whether you're running a tech startup, a clothing store, or a SaaS.
It makes sense to choose a reputable address – especially if you're starting a new business without an established standing in the entrepreneurial world.
Local Laws
Finally, you might need to consider local laws when choosing the best place to start a business.
Some states may have laws that make it almost impossible to run your business of choice. For example, some states have laws against online gambling, while others force you to jump through numerous hoops before you can even start operating.
Think about whether certain states require you to get a license or a certification before you can start earning money.
---
Further Reading
---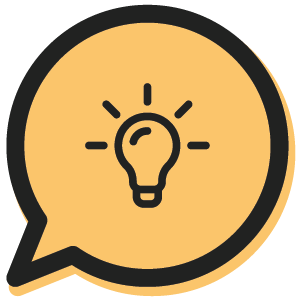 Moving Forward with Your New Business Address
If you're ready to get started with your new virtual business address, look no further than Alliance Virtual Offices.
With mail forwarding and a wide range of reputable addresses to choose from, AVO makes it easy to select the best place to start a business in the modern era.
Check out Alliance Virtual Offices' Promos Codes to save big on the best place to start a business for you!