Recently, we told you how the team at Alliance Virtual manages to work 'together' thousands of miles apart.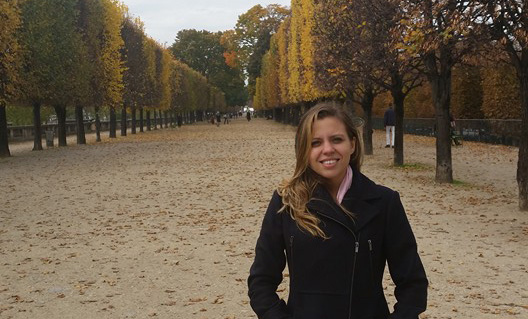 It's certainly not coincidental that Alliance, a Virtual Office business, itself works virtually. We have a team of remote employees working on a flexible basis all over the world, from California and Kentucky in the U.S. to Monterrey in Mexico, Houten in the Netherlands, and the U.K.
We've just added a new location to that list – and it's a good one.
Catalina Basaguren used to be located at Alliance's offices in Monterrey. Since she took on a new role as Regional Manager – Europe earlier this year, she has been working closely with Alliance's European Executive Director in Europe, Ramon ten Tije, based in the Netherlands.
Shortly after Catalina was promoted, a number of opportunities arose that opened an exciting new opportunity for her to relocate to Paris.
"Slowly everything started falling into place," she said. "I started working more with centers in Europe and, when Ramon and his team joined Alliance, the Europe network starting gaining momentum.
For personal reasons I had the opportunity to move to Paris and it all made sense. It just seemed like a wonderful opportunity for me and for the Alliance Network to strengthen its membership in Europe."
For ABCN, it also makes perfect sense to open an office in Paris. The opportunity puts Catalina closer to the people she works with on a daily basis – including Ramon – and allows her to meet members and clients face-to-face. It's also more favorable from a time zone perspective, as Catalina can be available for European members during standard office hours.
"Currently my main objective for Alliance is to build a strong network in Europe. Not only with new members, but also to strengthen our relationship with current members and ensure they are getting the most value out of the Network."
And on a personal level?
"Who wouldn't want to live in Paris?" she says.
"It is a beautiful history-filled city. The architecture in the city still surprises me. Not to mention all the sites and the stories behind them. The food, the wine, the art… Paris was an easy choice!"
Of course, there was something of a culture shock between living in Monterrey and relocating to Paris – most notably the language. But Catalina has invested a lot of time learning French and practicing over the phone with members and clients prior to her move. She also has family in France, which makes the adjustment easier.
"Buro Club gave me an incredibly warm welcome," she said, referring to a highly respected virtual office operator in France and ABCN member. "People notice my efforts to speak French (even though my accent is just terrible!) and they are extra helpful, and just plain nice.
"People have literally gone out of their way to help me. One person took me to the store I was looking for, another lady gave me a metro ticket as a gift, and I've had people I don't know sit down to have coffee with me. It's been great."
Language practice aside, she reports that she is settling into the city well and enjoys spending her spare time soaking up the French culture.
"Personally, moving to Paris was one of the easiest choices I've ever had to make."
Catalina can be contacted on [email protected] or by phone on (949)313-3400 or +33975180020.