Remote work offers a host of benefits not just to employees but employers too.

For the remote worker, better work-life balance, quieter work atmosphere, lower expenses (especially gas), eliminating long commutes, and having more time for the family top the list of perks.

Employers, on the other hand, can look forward to increased productivity, better collaboration, and less unscheduled absences and attrition from their remote staff.

And don't forget the savings – no office furniture, tech equipment leases, workspace rent, and other such expenses to worry about in your financial sheets.

Most of the benefits of remote work are well-known and thoroughly discussed. In this post however, we will look at a topic that may not be everyone's favorite but is crucial to the success of teams working remotely: tools.

If your team members are scattered across the country, a high-speed internet connection is not enough to get work done efficiently.

You need budget-friendly tools that will bring your staff together and turn them into a well-oiled machine…tools that will help you collaborate and communicate real time, move projects forward in a timely manner, and more.


File Backup And Storage: Google Drive

A free Google Drive account gives you a generous 15GB of storage (larger paid storage plans available) where you can safely and securely store ANY file – from Microsoft Office files, images, presentations, to PDFs, and everything in between.

However, Google Drive is more than just a cloud storage solution.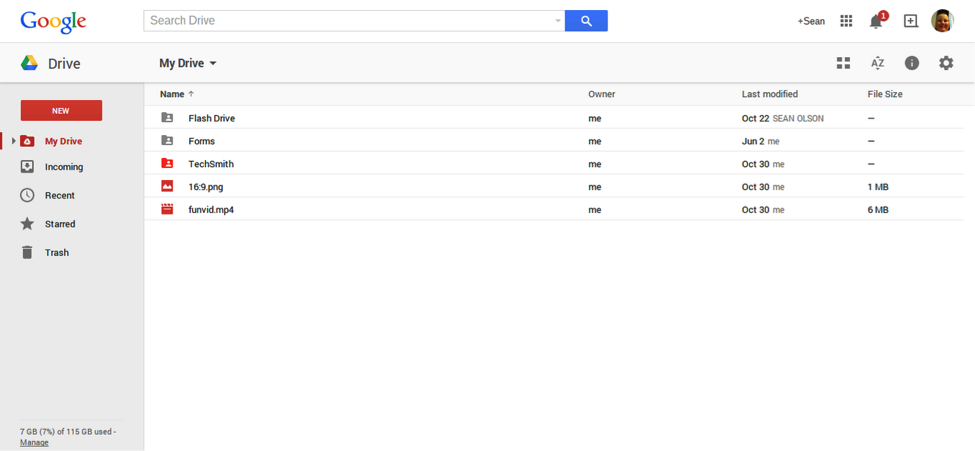 The service keeps all of your files private until you decide to share and allow your remote team to edit, making Google Drive a valuable collaboration tool. Simply log in to your account. Right click the file or folder, choose "Share." Enter the email addresses of people you want to share the files with – and that's it!

Even better, Google Drive also lets you save files from Gmail: just hover your mouse over the attachment and click on the Drive logo.

Other niceties remote offices will love include: built-in OCR to scan your paper documents and save as a PDF, easy file versioning (up to 30 days), and seamless integration with Google's simple yet solid office-suite, which we'll look into next.


Creating And Editing Documents: Google Docs

Microsoft Office used to have an unchallenged grip in the office suites and productivity space.

But recent developments gave birth to an array of free office programs that rival Microsoft Office's convenience and functionality – and Google Docs top the list for more reasons than one!




Free and accessible just about anywhere with a reliable internet connection, Google Docs gives lets you create and edit documents, spreadsheets, and presentations without the need to download *exe files.

Google's office suite lets you to share and edit documents with anyone – even if they don't have a Google account. And for added convenience, Google Docs saves your documents (and whatever changes you or your work-at-home staffmakes) straight into your Google Drive if you have one.


Project Management: Asana

Asana is an A-grade web-based collaboration tool designed to smooth out task management and your team's workflow.




Sure, Asana doesn't have offline capabilities and its simple HTML5 interface is not ideal for graphics-heavy projects.

However, the project and task management solution boasts a ton of productivity-boosting and interactive features that outweigh the minor shortcomings.

Not to mention the free version supports up to 15 team members, more than enough for a small remote workforce!

Asana organizes your workflow using 3 levels: workspaces to organize areas of focus within a business (ex.: marketing, product development, customer service), projects slotted into respective workspaces, and tasks necessary to complete a certain project.

The project management tool lets you and your remote employees update and view the status of projects and tasks without having to sift through a pile of emails.


Real-Time Communication: Skype

You don't have the option of walking to a team member's desk for real-time communication in a remote business setting. Fortunately, you can find a lot ofcool and robust tools that bridge the geographical gap between your team: HipChat, Calliflower, Campfire…the list goes on!

But why not stick with a real-time communication solution that's free and familiar to just about everyone?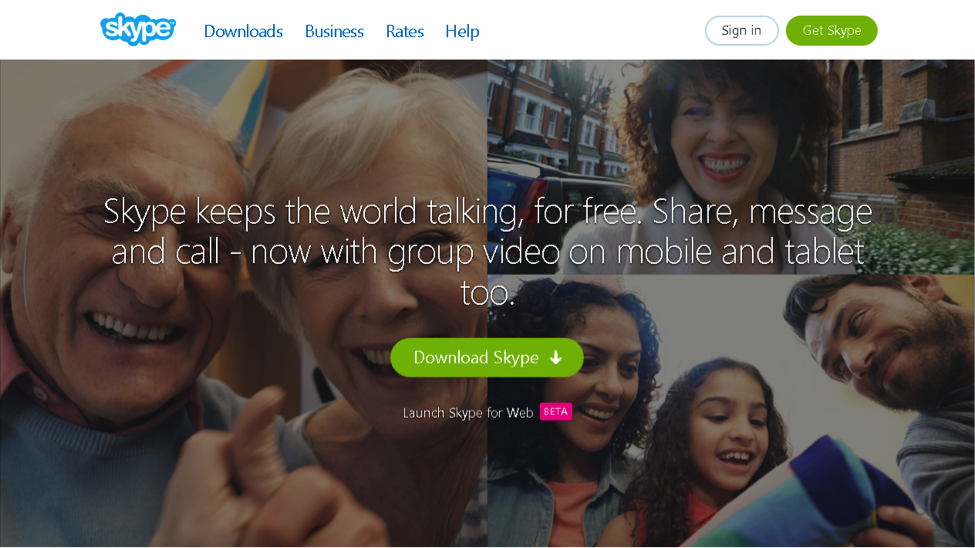 Skype is a versatile instant messaging platform that makes it easy for remote employees to call, share screens, send files, and sync chat conversations.

You can also create group chats to serve as a central meeting point, allowing your team to get on the same page, hold group calls, and efficiently communicate.

The IM tool lets you hold 1-on-1 or conference video calls from the comfort of your home office and invite team members from half-way around the globe.

And by the way, Skype has a web version too! The browser-based client is still beta, but it provides the core features of Skype without having to install anything.

The web version is perfect for real-time messaging when you're away from your working computer. Plus, you can even take calls through your browser by downloading and installing their plug-in.


Progress And Productivity Tracking: iDoneThis

Asana works great for viewing your to-do list and moving projects forward. But what if you also want to keep tabs of what your team accomplished during the previous workday?

Enter iDoneThis.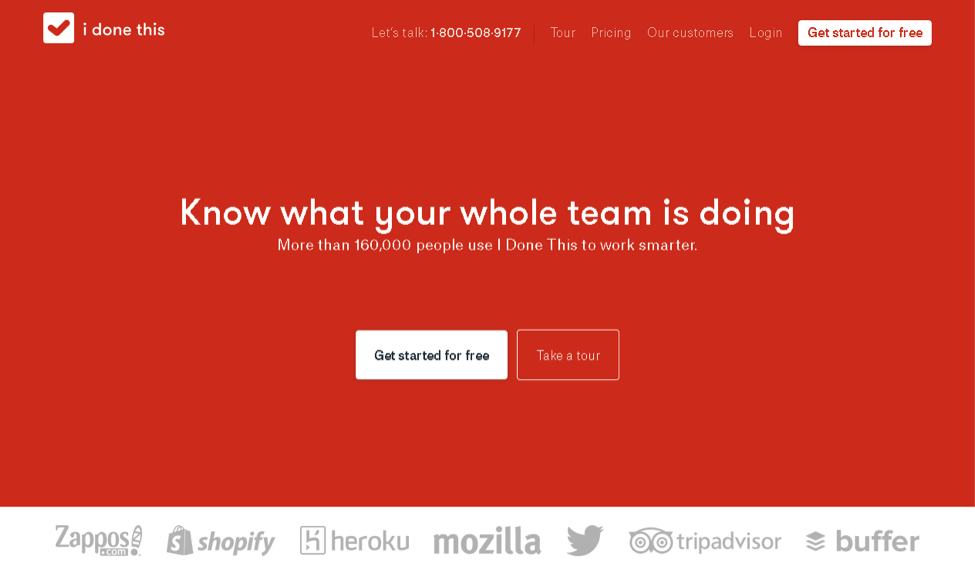 If you often wonder where your time went as the day or week comes to a close, iDoneThis gives you the answers. The email-powered tool (no installation required) gives you a snapshot of what went down during the previous working day so you can start today without the time-intensive backtracking.

The tool sends out an end-of-day email reminder to your team, asking "What'd you get done today?" Everyone's responses are collected in an email sent the following day, giving you insight into your team's progress without calling for meetings.

iDoneThis also lets you "Like" a done task to show appreciation, ask questions, and leave pat-on-the-back comments for a job well done.

Social Media Management: Buffer

Social media marketing is cost-effective marketing: slashes lead generation costs, fosters trust from followers and prospects, and boosts website traffic every year. What's not to like!?

Probably one thing: managing social media accounts becomes a massive time-sucker when your business is present across various networks.

Fortunately, there's Buffer.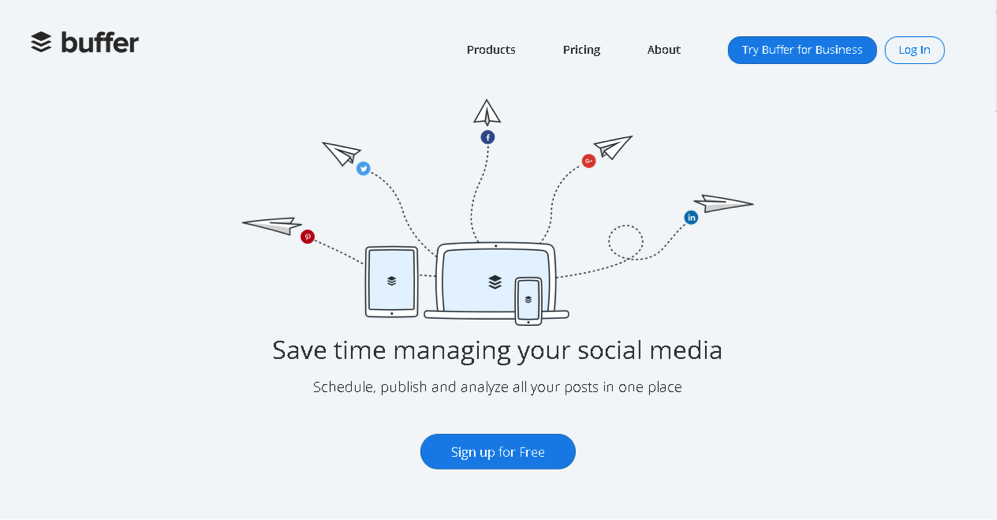 Buffer is a solid social media management service that lets you keep tabs and update multiple accounts from one sophisticated interface.

The service lets you create and schedule tweets and status updates you can simultaneously publish across multiple social media networks – up to 100 scheduled posts per profile for the Awesome plan and 2,000 posts for the Business plan!

Even better, you can choose the "Add To Buffer" option to let Buffer decide when to publish your posts, usually when your followers are most active.


Graphics And Design: Canva

Every business – regardless of industry and size –needs good branded images: from marketing materials, presentations, blog images, to social media graphics.

Back then, you only have 2 choices if design isn't your forte – learn how to use graphics design software like Adobe Photoshop (steep learning curve and time-consuming) or hire a professional to do it (usually expensive).

Now, however, there's a third option – use Canva.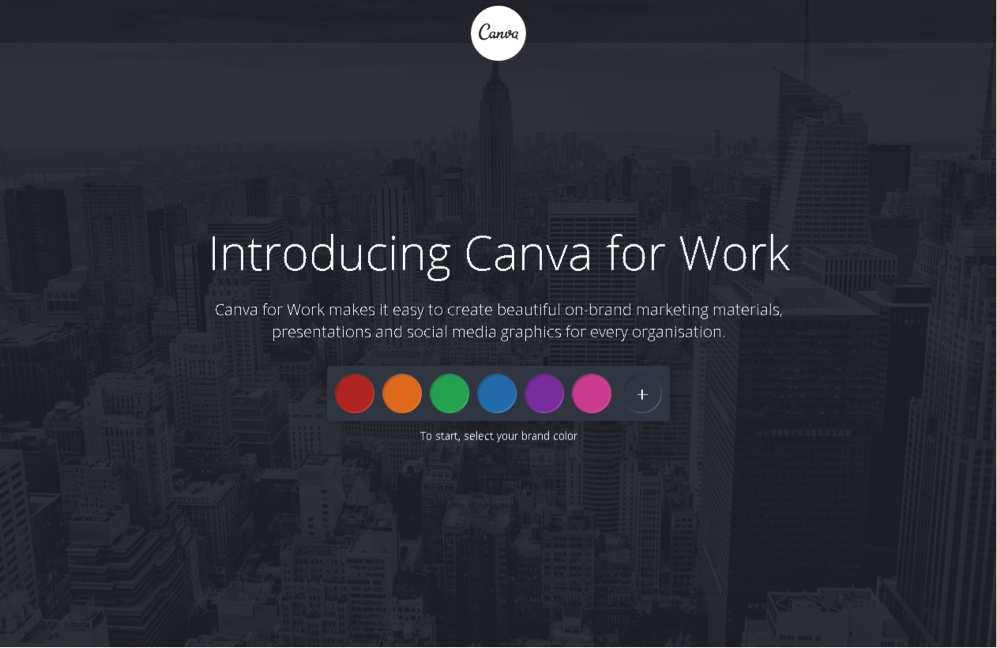 Canva is a web-based graphics design tool that boasts a drag-and-drop editoreven a total design newbie (such as me) can use along with thousands of layouts and templates for just about any marketing material.

But while the tool's ease of use and massive collection of templates is impressive, its time-saving and organizational features for businesses are just as notable.

Canva For Work lets you organize your brand's visual identity (colors, logos, and fonts) and images into folders that your team can access – without you having to pay for extra users. They'll never fumble for the right logo or color again!


Wrapping Things Up…

The modern workforce isn't bound by messy office desks and tight cubicles. Yet with the right tools, today's remote teams have shown they can be just as creative and productive than their office-dwelling counterparts.

We've given you our pick of the top tools for remote working – tools that have been tried, tested, and passed with flying colors. But the list is far from exhaustive. So if you have a tool recommendation or two, let us know in the comments section!


AUTHOR BIO

Richard Kao is the sales director of the UK-based office and tech solutions provider COSSales. Interested in everything related to workplace productivity, he's an avid reader of OfficingToday and Alliance Virtual Offices.