Virtual Office at th Street, N.W. | Washington, DC, 20005
Build Your Business with a Virtual Office Space From Alliance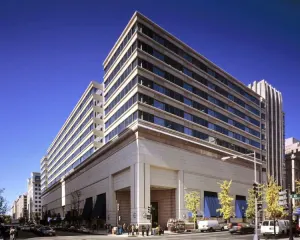 12th Street, N.W. in Washington, DC
Live Answering & Virtual Office Solutions
12th Street Office Center
700 12th Street, N.W.
Suite 700
Washington DC United States 20005
INQUIRE ABOUT
VIRTUAL OFFICES
Get A Virtual Office Now

-

Select A Plan For This Address:
Or call: [ North America: +1 888.869.9494 ] [ International: +1 949.777.6340 ]
Minimum 6 month term applies for all plans.
These add ons may be available and are additional charges:
Main building directory listing, professional admin services and professional business support center
Platinum Plus Plans:
Board rooms, seminar rooms and training rooms are not included in 16 hours of meeting room time.
VIRTUAL OFFICE DESCRIPTION
Strategically located at with interior access to the Metro Center, this Washington, DC virtual office is in the premier government and business district, just a short walk from The White House, the MCI center and Convention Center. This location offers professional office services sure to match its spectacular location. Amenities include state-of-the-art fitness center, temporary-use offices, T-1 Internet access, mail handling, mail forwarding and front lobby reception. This virtual office in Washington, DC is a top choice for businesses of all types, including financial and banking, government, real estate, legal, healthcare and more.
12th Street, N.W. Virtual Office in Washington, District of Columbia
Business as usual is anything but usual these days, and many don't require a physical office. However, your company's address still plays a pivotal role in forming your credibility with clients. Enter your Washington, District of Columbia virtual office in the 12th Street Office Center. We will help you establish your virtual office in Washington in no time.
When it is time for you to be on site, then you won't have to worry about finding a parking spot. The 12th Street Office Center has office parking. Plus, you can get in as early and stay as long as you need thanks to the building's 24/7 access.
With the assistance of our secure online booking platform and capable concierge service, you can reserve private meeting rooms at this luxury Washington virtual office promptly and easily. Benefits of the 12th Street, N.W. office include:
Meeting rooms by the hour, half day, or full day.
High-speed internet access.
Easy-to-understand price structure.
To book your private meeting room, connect with our personal concierge service, or go online. Our team takes the guesswork out of booking a meeting room--simply call or chat with us to get your questions answered.
12th Street Office Center Virtual Office Features and Benefits
In addition to a reputable address, continue to grow your business with our experienced, friendly Live Receptionist service and mail forwarding options. We'll help you maintain professionalism while you work remotely.
Increase efficiency and focus on your business: All calls are expertly screened and answered by professional receptionists, which cuts interruptions, so you have more time to concentrate on your business.
Guard your cell number: With a dedicated 411-listed business phone number, don't bother fielding personal and work calls from the same line. Publish your number on any client-facing collateral such as a website or business cards. Connect your team with customers using our world-class Virtual Phone system.
Mail forwarding: Using your business address for mail shields your residence from unsolicited junk mail and keeps your home address private. Have your business mail forwarded to the location of your choosing for the postal rate and a nominal handling fee.
Ready to develop your business's reputation? We supply you a solution to virtual working. You'll receive a local Washington phone number, Live Receptionist services, meeting rooms, mail forwarding, and a recognized business address
Locations Near 12th Street Office Center
flaticon-marker
1765 Greensboro Station Place 9th Floor, Mclean, VA 22102
Greensboro Station Office Center
flaticon-tag
Starting at:
$100/mo
flaticon-right-arrow
flaticon-marker
10411 Motor City Drive Suite 750, Bethesda, MD 20817
ISN Building
flaticon-tag
Starting at:
$65/mo
flaticon-right-arrow
flaticon-marker
8001 Forbes Place Suite 211, North Springfield, VA 22151
Forbes Place Office Center
flaticon-tag
Starting at:
$65/mo
flaticon-right-arrow
flaticon-marker
4200 Parliament Pl Suite 430, Lanham, MD 20706
Parliament Pl Office Center
flaticon-tag
Starting at:
$50/mo
flaticon-right-arrow
flaticon-marker
12 S. Summit Ave. Suite 100, Gaithersburg, MD 20877
Summit Ave. Office Center
flaticon-tag
Starting at:
$55/mo
flaticon-right-arrow
flaticon-marker
6900 Wisconsin Ave. Suite 200, Bethesda, MD 20815
Wisconsin Ave. Office Center
flaticon-tag
Starting at:
$70/mo
flaticon-right-arrow