P.J. Oudweg 4 Virtual Office Spaces in Almere
Convenient Virtual Office Space for Almere growing businesses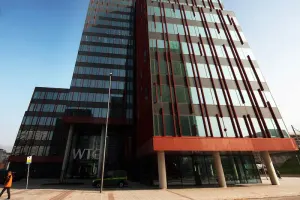 P.J. Oudweg in Almere, NL
P.J. Oudweg Office Center
P.J. Oudweg 4
Almere Netherlands 1314 CH
INQUIRE ABOUT
VIRTUAL OFFICES
Get A Virtual Office Now

-

Select A Plan For This Address:
Or call: [ North America: +1 888.869.9494 ] [ International: +1 949.777.6340 ]
Minimum 6 month term applies for all plans.
These add ons may be available and are additional charges:
Main building directory listing, professional admin services and professional business support center
VIRTUAL OFFICE DESCRIPTION
Our eye-catching business address in Almere is guaranteed to make your company stand out. Make a lasting impression on colleagues with this virtual office, all while gaining access to our efficient mail forwarding services, friendly Live Receptionists, and personalized phone numbers. In addition to a recognized business address, virtual office clients services can enjoy on-site conference rooms, private offices, and much more.
Locations Near P.J. Oudweg Office Center
flaticon-marker
Thomas R. Malthusstraat 1-3 , Amsterdam, 1066 JR
Thomas R. Malthusstraat Office Center
flaticon-tag
Starting at:
$140.42/mo
flaticon-right-arrow
flaticon-marker
Prins Bernhardplein 200 , Amsterdam, 1097 JB
Prins Bernhardplein Office Center
flaticon-tag
Starting at:
$140.42/mo
flaticon-right-arrow
flaticon-marker
De Entree 99-197 , Amsterdam, 1101 HE
De Entree Office Center
flaticon-tag
Starting at:
$140.42/mo
flaticon-right-arrow
flaticon-marker
Markerkant 13 10 , Almere, 1314 AN
Markerkant Office Center
flaticon-tag
Starting at:
$81.42/mo
flaticon-right-arrow
flaticon-marker
Koninginneweg 11 , Hilversum, 1217 KP
Koninginneweg Office Center
flaticon-tag
Starting at:
$88.5/mo
flaticon-right-arrow
flaticon-marker
Jaap Bijzerweg 19 , Woerden, 3446CR
Jaap Bijzerweg Office Center
flaticon-tag
Starting at:
$81.42/mo
flaticon-right-arrow