High quality Business Addresses and Live Receptionist Services
Virtual Offices in Emmen, Netherlands | Business Addresses and Mail Forwarding Service
Meeting Rooms and Live Receptionists
Hoenderkamp Office Center
Hoenderkamp 20 , Emmen, 7812 VZ
Our state-of-the-art Alliance virtual office in Emmen is ideal for any business looking to impress clients. Having this well-known address tied to your business is just the beginning. With an efficient mail forwarding system, professional Live Receptionists, and personalized live answering, you're guaranteed to make a great impression on colleagues. In addition to the prestigious business address, dependable call forwarding and secretarial amenities, this space is equipped with various meeting rooms that helps businesses reach full productivity.
Virtual Offices in Enschede, Netherlands | Business Addresses and Mail Handling
Meeting Rooms and Live Receptionists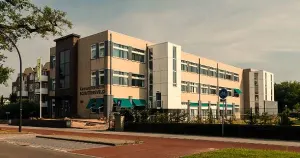 Hengelosestraat Office Center
Hengelosestraat 100 , Enschede, 7514 AK
A business address in Enschede is guaranteed to set your company apart from the rest. Thanks to a leading operator of business centers, our virtual office clients have access to professional Live Receptionists, a credible call forwarding system, and a personalized phone number. Get access to our friendly on-site receptionists, dozens of offices, fully-equipped meeting rooms, great networking opportunities, and more.