Virtual offices are an evolution of serviced office and the computing and software-as-a-service industry. Although today virtual offices, serviced offices are all a part of the flexible workspace industry, they all have different beginnings.
Many factors have contributed to the creation of the Virtual Office Infrastructure; for those unfamiliar, the Virtual Office Infrastructure means any or all of the combinations of its three elements: people + place + technology. Below you'll find the main milestones that have led to Virtual Offices as we know them today.
As a shameless plug, after you read this timeline, please feel free to check out all our virtual office locations and offerings.
---
---
1962
OmniOffices Group was created, forming the first known serviced office company. It is not yet known whether they offered any type of virtual office product, but we are investigating. See the Flexible Workspace Timeline at Allwork.Space for more details.
1966
– Paul Fegen founded Fegen Lawsuites. Although most of his space was rented out to fellow lawyers, his space was used to offer the first serviced offices and executive suites. He rented out large blocks of office space to different professionals and leased out furnished and decorated suites. The services that "Fegen Suites" offered included reception services, telephone answering, photocopies, conference rooms, and a law library.
1972-1982
– In 1972 ARPANET went public, connecting 40 computers in different locations. However, it wasn't until 1974 that scientists were able to develop transmission control protocol/internet protocol (TCP/IP), which allowed different networks to communicate with each other. In 1982 ARPANET adopts TCP/IP, giving birth to the Internet.
1973
– Attorney Office Management, Inc. (AOMI, or better known as Fegen Law Suites) offered his tenant an "off-site tenant program" to semi-retired lawyers and those who were in Orange County, and wanted an LA County headquarters." Could this be the earliest version of the virtual office?
1978
– Alf Moufarrige founded Servcorp in Australia.In an interview with OfficingToday, Marcus Moufarrige, COO of Servcorp, states that in the mid-1980s virtual offices were "essentially a glorified paging service paired with an address." From this, "meeting rooms became a natural evolution and a full virtual receptionist service was possible because of PABX technology.
1981
– Released April 1, 1981 The Osborne 1 became the first successful portable computer. It was designed by Adam Osborne, and although it needed to be connected to a power socket, it was still considered a portable computer as it could easily be transported. This was a first step in allowing professionals to work away from the office and, to some extent, 'remotely'.
1982
– John Markoff first used the term "virtual office" in an article published in Info World magazine. Markoff wrote, "In the future virtual office, workers will no longer be constrained by computer equipment or geographic location, according to this vision. They will be free to travel or to interact with others while communicating information freely. The office as we know it will cease to have the central importance it does today."
He was pretty on point when you think about it. The office as people knew it back then isn't as central as it used to be – coworking spaces, accelerators, incubators, virtual offices, all types of flexible workspaces – and digital nomads (travel and interact while sharing information freely) are also rising in number.
1983
– Chris Kern coins the term 'virtual office' in his column for the September, 1983 issue of the American Way magazine. Kern used the term to describe the possibility of 'doing business while on the go' thanks to portable computers. Kern writes that, "In theory, at least, a portable computer, the right kind of software, and a telecommunications link can become a 'virtual office' that travels with the business manager, staff employee, or professional wherever he or she goes." (He was headed in the right direction if you ask us.)
---
---
1989
– Invented by Timothy John Berners-Lee, the World Wide Web is considered as being a key aspect of the development of the Information Age. WWW contributed to the creation of the Internet as we use it today (though let's not forget that the World Wide Web and the Internet are not the same thing).
1989
– Alon Cohen co-founded VocalTec Communications Inc., inventing the particular type of audio that made would enable the creation of VoIP. VocalTec was the first company to offer Internet phone services and also became the first successful Internet IPO. Today, VoIP phones are a popular service that virtual offices offer.
1990
– The first Internet search engine was developed by McGill University.
1991
– The World Wide Web is released to the public.
1992
– Richard Nissen, founder of Business Space Limited, registered and trademarked "The Virtual Office" with the UK's Intellectual Property Office. Under the list of services for this trademark, the following were included: "telephone and telephone rerouting services; rerouting of telex and facsimile messages; mobile telephone services; mail forwarding; message delivery and sending services."
---
---
1992
– Barrister Executive Suites, whose predecessor company was Fegen's Law Suites mentioned above was acquired by Vince Otte in 1990, offered 'business identity' service contracts. The contract below shows that by 1992 they were offering different 'virtual office' packages. One of them (pictured below) offered a mailbox, mail services, receptionist services, library access, conference room, photocopying, and fax.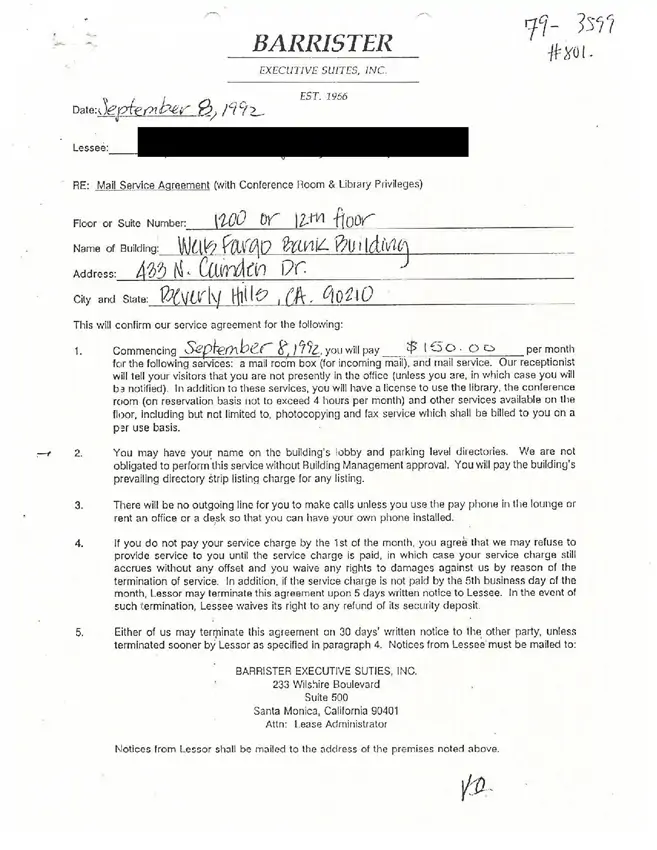 1994
– Ralph Gregory founded Virtual Office Inc., a commercial application of virtual offices in the United States. One year later, 1995, he founded Intelligent Office, a virtual office franchise that remains successful to this date.
1998
– Although Mark Dixon founded Regus in 1989 in Brussels, the first glimpse we could find of them offering a virtual office service is around 1998 (we couldn't confirm a set date, so we're using this one as it's the earliest available snapshot of their website). Their virtual office service was called "Link" and it provided "a dedicated phone number and address reflecting a prominent location but without the need to actually be there, allowing you to tele-work from wherever you are based."
2006
– Frank Cottle, a thought-leader of the serviced office industry, pioneered the concept of wholesaling virtual offices, which led to the creation of companies like Davinci Virtual, Cloud Virtual, Allied Virtual, and Alliance Virtual Offices (AVO).
2006
– Bill Grodnik founded Davinci Virtual Offices. Davinci became the first provider to wholesale virtual offices on a global scale. Today, Davinci operates in 30 countries and has 1,000 locations in its portfolio. Unlike Opus, Davinci offers various virtual office, live receptionist, live chatting, and auto receptionist packages at different prices.
2007
– Frank Cottle, following his wholesaling concept, launched Alliance Virtual Offices originally called ABCN Virtual. Among AVO services you will find virtual office packages, live receptionist services, mail handling, VoIP phones system, and notary services. AVO's differentiating factor is that it works on a membership basis; virtual office providers can become affiliates/members and list their locations in AVO's directory.
2010
– Opus Virtual Offices was established. Opus is known for offering a uniform product at the same price across their entire system. Instead of partnering with serviced office providers, they partner with mailcenters to receive and forward mail. Though they have fewer options for meeting with clients, this enables them to keep their prices low.
Anything else to add? Let us know. We want to keep this up to date!