---
---
Q: How can I improve my business's marketing efforts? Should I consider a small business marketing consultant?
A: To improve your business's marketing efforts, you need to understand your company's target audience. There are specific situations when a small business marketing consultant is required, but this depends mainly on your business.
---
Many individuals and publications have been inundated with discussions about the changes in the workforce brought on by the COVID-19 pandemic.
Before the pandemic, American employees were used to an authoritarian style of management that perpetuated an "every man for himself" sentiment in the workplace. When the pandemic forced workers into remote positions, many individuals had the time and space to realize how absurd their managers' expectations were.
Unsurprisingly, this widespread realization has occupied a majority of the conversations regarding changes in the workplace since the pandemic.
Outside of these more general cultural shifts, however, large-scale changes have taken place in marketing to keep up with these trends. For many businesses, keeping up requires too many unexpendable resources, so hiring a small business marketing consultant is the best option.
Marketing is traditionally difficult for companies to figure out, but since the pandemic, the formula seems clearer. Especially for publications like Forbes, which claim that the key difference between successful and unsuccessful brands is how well they're able to empower their customers.
HubSpot reiterates these claims in their 2023 Marketing Strategy & Trends Report by stating that building communities and connecting with consumers is paramount to a modern brand's success.
Despite these benefits, a small business marketing firm isn't for everyone.
In this article, we'll look at when a small business marketing consultant is a worthwhile investment, how to find the right consultant for your business, how to set your business up to make the most of new marketing strategies, and finally, we'll close with tools and services you can utilize to help you find the right small business marketing agency.
So, if you've been searching for a "small business marketing agency near me," you're in the right place.
Keep reading for more information on the best small business marketing tools.
---
---
When is a small business marketing consultant a worthwhile investment?
In past years, marketing wasn't taken anywhere as seriously as it is today. Most firms saw marketing as an unmanageable and untrackable expense, CMOs didn't last long, and the idea of creating a customer rather than finding consumers who were already searching for your offerings couldn't catch on.
Thankfully, new marketing trends utilize hard data and other analytics to determine your advertisement initiatives' effectiveness.
Some business owners believe these analytic tools only function for specific marketing efforts like search engine optimization and other easily quantifiable queries.
---
Read more: The Best Affordable SEO Services for Small Business
---
Yes, digesting SEO data is likely easier than digesting the more general marketing data that pertains to your target audience, where they spend their time, and how you can best reach these individuals, but realistically, entrepreneurs can get plenty of information about any marketing efforts they take on.
Despite this, the key to being a successful entrepreneur lies in understanding when you should outsource your advertisements to a small business marketing consultant and when you should handle your marketing initiatives in-house.
If you understand when to spend money and when to save it, you can better determine when it's appropriate to spend money on more specific aspects of your marketing, like SEO and content marketing.
---
Read more: Affordable Small Business SEO Tactics
---
Digital marketing for small businesses looks different for each company, so it's important to understand that what works for a different business may not work for you. Below, we've put together a brief list of situations where hiring a small business marketing consultant makes sense.
Lack of expertise
Limited resources
Competitive edge
Target audience identification
Time-saving and focus
Lack of expertise
Hiring a small business marketing consultant is a worthwhile investment when you lack the necessary expertise in marketing strategies and techniques.
A consultant can provide valuable insights and guidance based on their experience, helping you develop effective marketing campaigns tailored to your business.
Keep in mind that if you have the resources and time to do a bit of research and development, feel free to do so. You don't have to be an expert in marketing to understand how to connect with consumers, and if you're able to attempt this without taking too much risk, feel free.
Even if you're unsuccessful, the information you learn will help you exponentially while securing an outside small business marketing consultant for your future efforts.
This said, don't throw good money over bad. If you're experimenting that's fine, but don't waste your company's money when it's been made abundantly clear that you don't understand effective marketing.
Limited resources
If your small business has limited resources in terms of time, budget, or staff, a marketing consultant can help optimize your marketing efforts. They can efficiently identify cost-effective strategies, leverage existing resources, and implement targeted campaigns to maximize your return on investment.
One of the most important aspects of being a successful business owner is understanding when to spend money, when to save it, and when to outsource your work. If you're dealing with a small budget or do not have the time, effort, or resources to expend on figuring out the proverbial maze that is marketing, pay someone else to do it for you.
Sure, a small business marketing consultant may seem expensive when compared to some of the targeted advertisements you can run, but one aspect of marketing that many tend to forget is that spending bad marketing money can be virtually ineffective on every metric.
If you don't know what you're doing and make poor decisions, the money you spend on marketing initiatives may as well be flushed down the drain.
Competitive edge
In a competitive market, a small business marketing consultant can give you a competitive edge by analyzing your competitors, identifying market trends, and creating unique marketing strategies.
Their outside perspective can help differentiate your business and attract customers in a crowded marketplace.
Increased competition is one of the only imaginable pitfalls associated with the recent ease with which entrepreneurs can start new businesses. To combat this, utilize the tools and services that you have at your disposal.
If you're competing with firms blowing you out of the water and stealing all your attention, you shouldn't try to spend enough money to outplay them, and similarly, you should feel grateful that you have a detailed playbook on what works set out in front of you.
Target audience identification
If you are struggling to identify and reach your target audience, a marketing consultant can assist you in conducting market research, defining buyer personas, and creating customer segmentation strategies.
This targeted approach can help you tailor your marketing messages and campaigns to resonate with your ideal customers.
Ultimately, understanding your target audience and making this target audience as hyper-specific as possible is paramount to your business's success. The more detailed your target-customer description is, the better equipped you are to target these individuals.
Time-saving and focus
As a small business owner, you likely have numerous responsibilities to handle. Hiring a marketing consultant allows you to delegate marketing tasks to an expert, saving you time and allowing you to focus on other crucial aspects of your business.
A consultant can manage campaigns, analyze data, and make adjustments, freeing up your time for strategic decision-making and business growth.
As you search through this list to determine whether or not your business should utilize a small business marketing consultant, remember that digital marketing does not require proximity to a third-party firm to succeed.
This means you don't need to search for something like a "small business marketing consultant near me" to find an effective partner.
On that note, let's explore how to find the right consultant for your company.
How to find the right consultant for your business
Often, finding the right small business marketing consultant is as simple as finding someone who understands what your business needs and when it needs it. Timing is vital for successful marketers, and understanding this timing is a very valuable skill.
You want a small business marketing consultant who understands the algorithms of the social media platforms your target audience frequents. If you're dealing with someone who understands these algorithms, they'll understand peak posting and viewership hours and how to post content effectively.
---
Read more: The Power of Content Marketing for Small Businesses: A Comprehensive Guide
---
Again, we've created a how-to guide to help you find the right small business marketing consultant for your business, so keep reading.
Clearly define your needs
Seek recommendations and referrals
Conduct thorough research
Check references and testimonials
Interview and assess compatibility
Clearly define your needs
Before searching for a consultant, the first step is clearly defining your business's specific needs and goals.
Determine the areas where you require assistance, like marketing strategy, social media management, or market research. This clarity will help you find a consultant with the right expertise.
Again, the more defined your parameters are, and the more clearly you understand what you hope to accomplish, the more successful you'll be in finding a consultant that meshes well with your business.
Seek recommendations and referrals
Ask for recommendations from trusted sources within your industry or professional network. Seek referrals from other business owners who have worked with marketing consultants before.
Their firsthand experiences and insights can help you find reliable and competent consultants.
Remember, you don't have to ask someone inside your industry for recommendations. It doesn't matter what the consultants sold, so long as they were provably successful in doing so.
Conduct thorough research
Take the time to research potential consultants thoroughly. Visit their websites, review their portfolios, and assess their experience and qualifications.
Look for consultants with a track record of success in your industry or who have worked with businesses similar to yours.
The more research you do, the better equipped you are to make a decision. You want to know as much as possible about these consultants because you want to utilize a firm that not only meshes well with your company and your company's values, but that has proven themselves capable of successful marketing initiatives.
Check references and testimonials
Request references from potential consultants and reach out to their past clients to gather feedback. Inquire about the consultant's communication style, work ethic, ability to meet deadlines, and the overall impact they had on the business.
Additionally, read online testimonials and reviews to gather more information about their reputation and performance.
Again, the more information you have, the better.
Interview and assess compatibility
Once you have a shortlist of potential consultants, schedule interviews or consultation calls to assess their compatibility with your business.
Ask them about their approach, methodologies, and how they would address your business's specific needs.
Consider factors like their communication style, responsiveness, and ability to understand and align with your business's values and objectives.
Choosing a consultant who shares your vision and can collaborate effectively is crucial for a successful partnership.
For compatibility, you have no choice but to trust yourself. While going through the standard interview procedure, imagine how well each consulting firm would work with your existing business.
You don't want either party to feel obligated to change the way they operate on the other party's behalf.
How to set your business up to make the most of new marketing strategies
Setting your business up to make the most of new small business marketing strategies requires a marginal understanding of what's going on within the industry and how the industry operates.
With tools like a Virtual Office from Alliance, you can create a professional online business with a well-known business address. Although this is an excellent start, it isn't enough. You need to stay up to date with outside marketing trends and other fads as well.
---
Read more: Getting Started with Alliance Virtual Offices
---
We've put together another brief list of methods you can use to set your business up to make the most of proprietary marketing strategies.
Stay updated with industry trends
Conduct market research
Set clear marketing objectives
Embrace digital marketing
Ensure accurate business information
Stay updated with industry trends
Remember, the better updated you are on current trends, the quicker you can react to any shifts in the market. In our attention economy, the brands that can hop on the trends quicker than their competition will succeed.
Continuously educate yourself about new marketing strategies, platforms, and technologies relevant to your industry. Follow industry publications, attend conferences, and engage in online communities and discourse to stay informed and gain insights into emerging trends.
This knowledge will help you identify opportunities to leverage new marketing strategies effectively.
Conduct market research
Gain a deep understanding of your target audience and their preferences by conducting thorough market research. This research will help you identify the most effective marketing channels and tactics to reach and engage your potential customers.
Use surveys, focus groups, and analytics tools to gather data and insights that inform your marketing strategy.
Set clear marketing objectives
Utilize SMART marketing objectives that align with your overall business goals.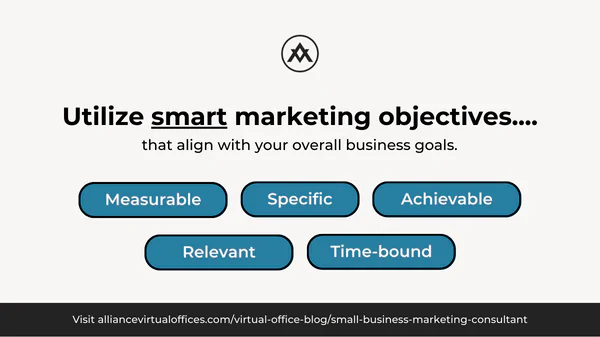 SMART marketing objectives are as follows:
Specific
Measurable
Achievable
Relevant
Time-bound
By setting clear objectives, you can focus your marketing efforts and measure their effectiveness. Examples of objectives may include increasing brand awareness, generating leads, or driving online sales.
Embrace digital marketing
In today's digital age, having a strong online presence is crucial. Invest in a well-designed, user-friendly website that showcases your products or services.
Utilize search engine optimization (SEO) techniques to improve your website's visibility in search engine results. Leverage social media platforms, content marketing, email marketing, and paid advertising to reach your target audience effectively.
Ensure accurate business information
Having the right address and consistent business information across various platforms is essential for attracting customers. This may sound like common sense, but missing a simple spelling error on your business's address is easier than you may think.
Verify that your business's address, contact details, and operating hours are up to date on your website, online directories, and social media profiles.
This ensures potential customers can easily find and contact your business. Regularly monitor and respond to online reviews and feedback to maintain a positive online reputation.
Some of these tips may seem obvious, but they're perilously serious.
You need to double-check listings, ensure that your contact information is spot-on, make sure that your website is accessible, and essentially, doing everything in your power to ensure that the customer feels catered to any time they're using or searching for your offerings.
The more you cater to the customer on the front end, the more grace they'll be willing to give you on the back end.
This means that if you create a welcoming and enjoyable experience for your consumers while they're deciding which of your offerings to try, they're far more likely to give you another chance if something goes wrong during fulfillment.
Finding the right small business marketing consultant
To make the most of new marketing strategies, businesses should stay updated with industry trends, conduct market research, and set clear marketing objectives.
By continuously educating themselves, they can identify opportunities to leverage emerging strategies effectively. It is crucial to have a strong online presence, embrace digital marketing techniques, and ensure accurate business information, including the correct address, to attract and engage customers in today's competitive landscape.
Ultimately, finding the right small business marketing agency in Sydney or anywhere else is as simple as understanding exactly what your business is looking for, the goals you'd like the agency to accomplish, and how your business operates at a fundamental level.
Often, you can prepare your business for the introduction of a small business marketing consultant by preparing as much infrastructure as possible.
This may be securing Virtual Office space through Alliance Virtual Offices, securing a Live Receptionist to help you handle incoming consumers, or other tactics designed to handle high-volume periods better. Whatever the case, the better prepared you are to handle an influx of volume, and the more you understand your business, the easier it will be to find an appropriate small business marketing consultant.
---
Further reading
---
Alliance Virtual Offices offers Live Receptionists, Virtual Offices, and more to established entrepreneurs, new business owners, and everyone in between. It doesn't matter how long you've run your business; all that matters is whether you're ready to take the steps to scale that business or not.
Securing a small business marketing consultant is a step many business owners should take to save capital, reduce risk, and better focus on other operational tasks.
Feel free to contact us today to determine how Alliance can help you secure the right small business marketing consultant, and be sure to check out our Virtual Office Blog.